Hair braids are one of an integral part of our hair styling. There is hair braid for every occasion. And, if you go on counting then you may forget the counting but won't get an exact number of hair braids there are. One of the hair braid that looks classy and must-try is a dutch braid. Though it is considered as complicated hairstyles but that, not the case. With practice, everything seems to be easy and so this braid. To help you we have listed below the steps to do a dutch braid.
Steps to do a Dutch Braid:
1. Prepare your Hair to Do a Dutch Braid
Comb your hair thoroughly, remove all the knots and tangles. For smooth hair, you can apply a hair mousse or serum before combing hair. Brush all your hair at the back. Then around the crown area part your hair into 3 sections.
2. Make Simple Braid to Do a Dutch Braid
Use the hair around the crown area that you separated in the sections to make a reverse french braid. Pick the extreme left section and drop it near the extreme right section of the center section. Similarly, pick the hair from the extreme right section and drop them near the left section under the center. In a similar way criss- cross your hair to get the reverse french braid. Unlike regular braid in this braid, you need to pick and drop the hair under the center section.
3. Add more Hair To Do a Dutch Braid
While making the braid gradually take all the left over hair. First take all the hair from the crown area and mix them with the hair to make a braid. Then take some hair from around the nape area and clasp them together to do dutch braid.
4. Continue the Dutch Braid to Do a Dutch Braid
In a similar way take all your hair to form one single dutch braid. Remember that, this braid is similar to French braid. However, in French braid hair are pulled over the center section and in this braid hair are taken under the center section.
5. Tie The Rubber Band
Once you have finished making the dutch braid tie it with an elastic braid. If you want a messy dutch braid then rub a toothbrush over the braid. It  will give you the tousled look. For a smooth look spray a hair mist. You can team this dutch braid with nice hair accessories.
6. Try Different Hairdo
Your dutch braid is ready and you can flaunt it in the way you like. To take your looks one notch higher you can convert this beautiful dutch braid into a nice hair do. For this, if you have made dutch braid then make a knotted bun of it. It looks as classy as another hairdo. For a funky look, you can color your traces. For a friends wedding just make dutch braid and place a gorgeous hair accessory and you are good to go.
Ways to Do a Double Dutch Braids:
Double dutch is an another variant of the dutch braid. It looks classy and elegant. Once you have a hold on the dutch braid you can make double dutch braids in no times. Below we have listed ways to create double dutch braids for you.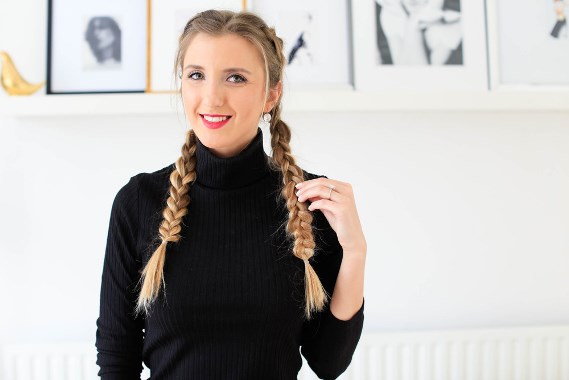 1. Prepare your Hair to Do Dutch Braids
To start with comb your hair thoroughly, remove all the knots from the hair. Once your are thoroughly combed section them in the two sides that are left and right. Make sure the parting is neat. This will help you to braid the plait smoothly, without any fuzz. After combing, you can apply a hair serum to avoid the baby hair. Apply the serum thoroughly all over the hair. However, it should not make your hair greasy. So a drop or two of hair serum is sufficient for you.
2. Separate Hair into Section to Do Dutch Braids
Once you have sections your hair one at the right side and another left, pull one section and separate it into three sections. After making three sections from one section begin weaving the classing dutch braid (that we have already told above). Start with the right piece of section take it below the middle one and then pick the left section and cross it under the middle one. Repeat this.
3. Weave a Dutch Braid Other Side
Repeat the above procedure all the way down to the end and tie it or secure it with and elastic. Repeat the some on the other side. And your double dutch braids are ready to dazzle.
Tip to Do a Dutch Braid:
You may comb or avoid combing but make sure that you remove all the knots from the hair before starting with the braid.
Do not tie the rubber band very tightly.
If you are making a dutch braid with damp hair then make sure that you do not leave the braid for a longer time. Or apply a nice scented hair spray.
Do not comb your wet hair as they are more prone to hair fall.
You can also achieve curly hair with dutch braids.