In this article, we are discussing different simple and short spiky haircuts for women. Short spiky haircut is one of the popular and trendiest hairstyles of this season. If you want to make a fashion statement, try the best short spiky haircuts given in this article. Spiky haircuts are more of bold and beautiful for today's women. So find your favorite and inspired haircut for 2016.
Best Short Spiky Haircuts for Women
1.) Tapered Sides Cuts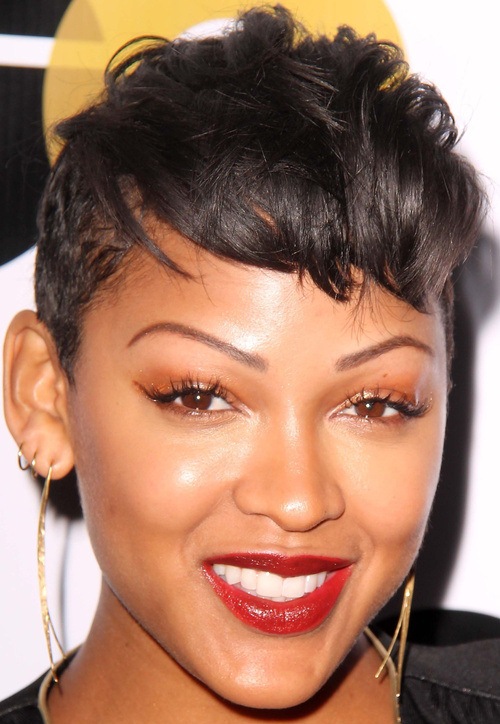 Check out Meagan, she looks great with her tapered sides and feathered locks. You can also achieve this party look that looks sexy and sassy.
2.) Multiple Messy Layers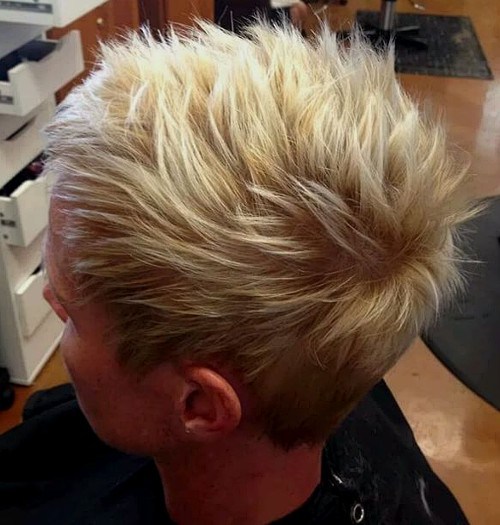 Adding layers to the short hair is the best option to add texture and volume. This hairstyle is ideal for thin and fine hair. Try this cool and casual looking hairstyle for thin hair.
3.) Bold Asymmetrical Haircuts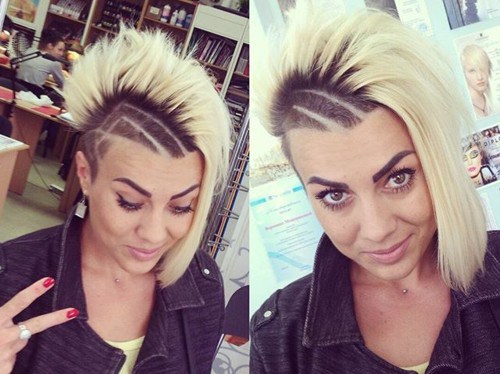 If you are bold enough to express yourself, then try this punk hairstyle for an adventurous experience. One needs to have the major confidence to carry this smart and dramatic spiky haircut this season.
4.) Short Sassy Haircuts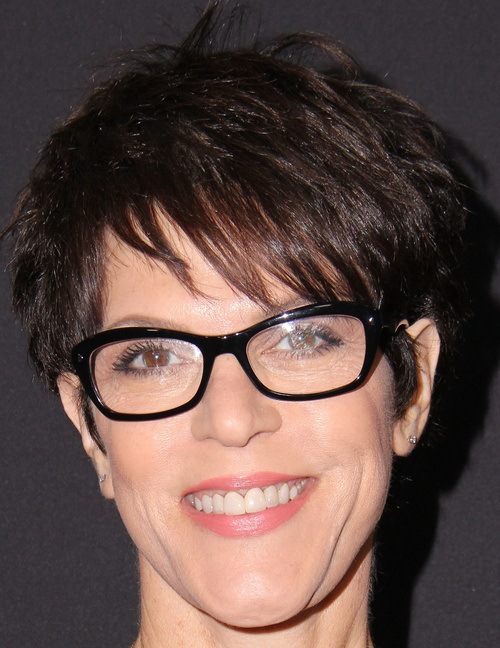 This is a perfect spiky haircut for women over 40. The short and textured hair looks cool and casual for any perfect day. Just run your fingers through your hair with some hair gel and you are ready for the day.
5.) Feathered Faux Hawk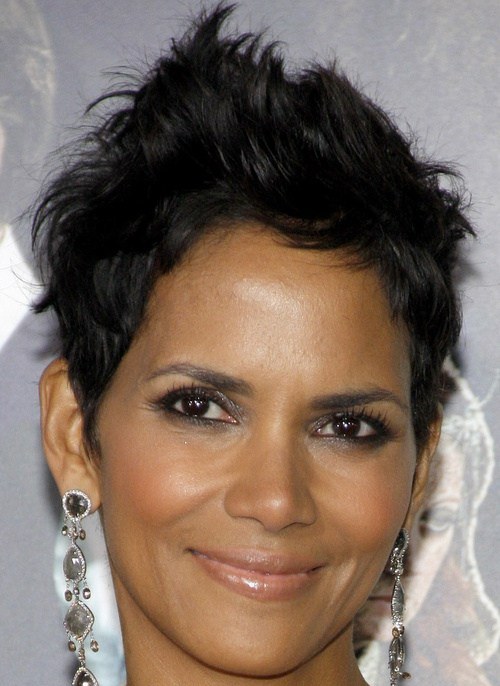 Try this simply gorgeous spiky haircuts for this summer. You need not maintain this haircut. So try this glamorous and sassy with lots of texture and volume.
6.) Short Bombshell Curls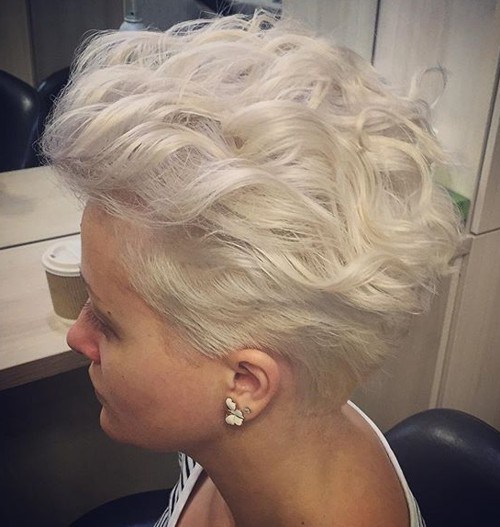 Try this curly hairstyle with platinum back curls. You can also go for a tapered cut that provides you an edgy vibe.
7.) Blonde Asymmetrical Pixie with Bangs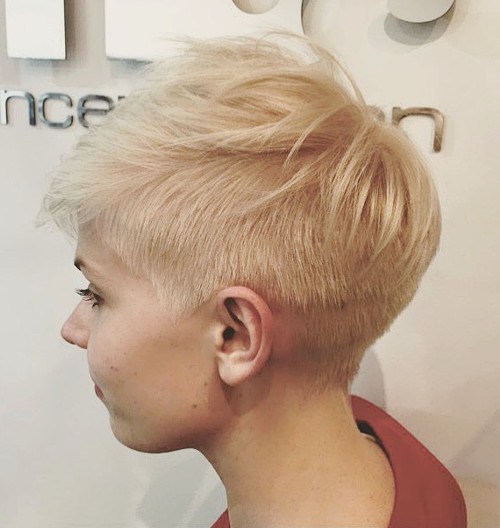 Try this one of the bold yet so spiky haircuts to try this season. Choose the ashy shade to spice out this look.
8.) Short Layered Hairstyle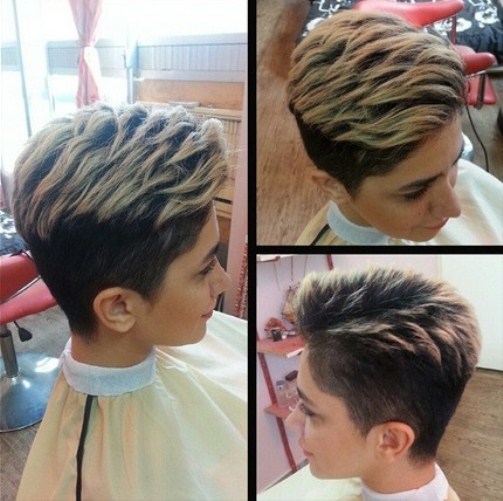 This is one of the gorgeous looking spiky haircuts for this season. The long top blonde hair with black base looks different that let you in the focus of public.
9.) Midnight Blue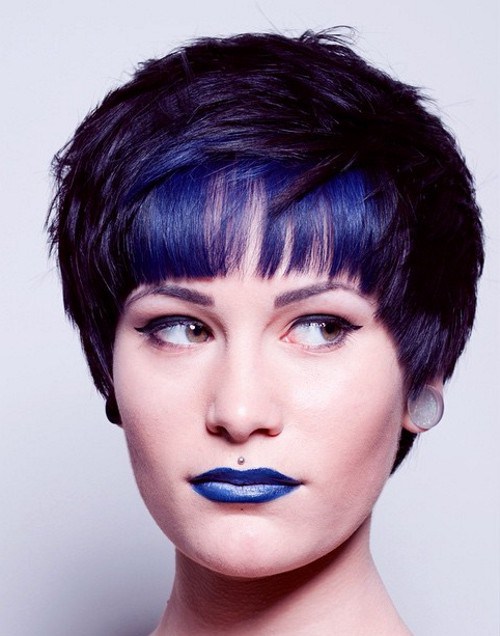 Try this one of the stunning fifty shades of blue instead of shades of grey. For more attention and focus try this iconic haircut with blue lipstick and navy eyeliner for a bold statement.
10.) Short Spiky Haircut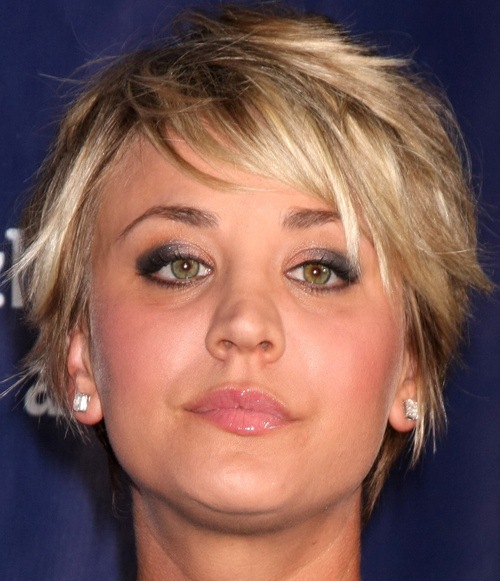 Try this angled layer spiky haircuts with blonde Ombre. The blonde tips and dark roots give you a great dimension to your round face. Try this natural looking hairstyle for short hair.
11.) Platinum Blonde Faux Hawk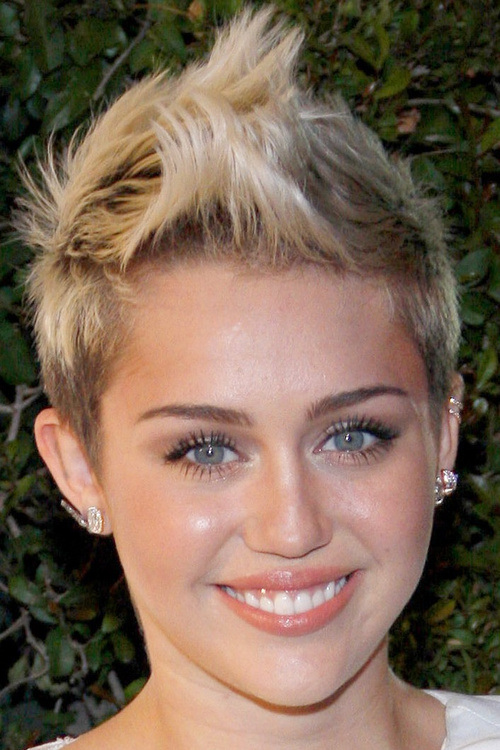 This is one of the great spiky haircuts that come in the category of punk hairstyle. Check out your favorite personality Miley Cyrus, she looks damn hot with her long blonde faux hawk. Try this funky hairstyle to transform your look into edgy and glam one.
12.) Long Pixie with Bangs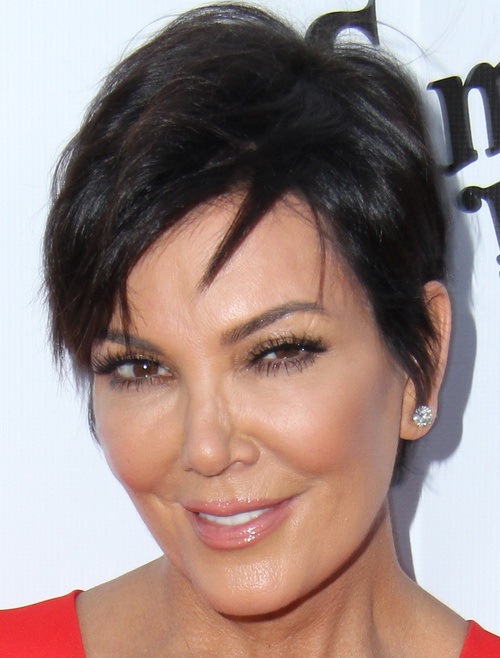 Look at Kris Jenner, she looks red hot with her draping side bangs. This is one of the cool spiky haircuts that frames your face well and emphasize more on cheekbones. So try this hairstyle for your special occasion.
13.) Long Spiky Haircut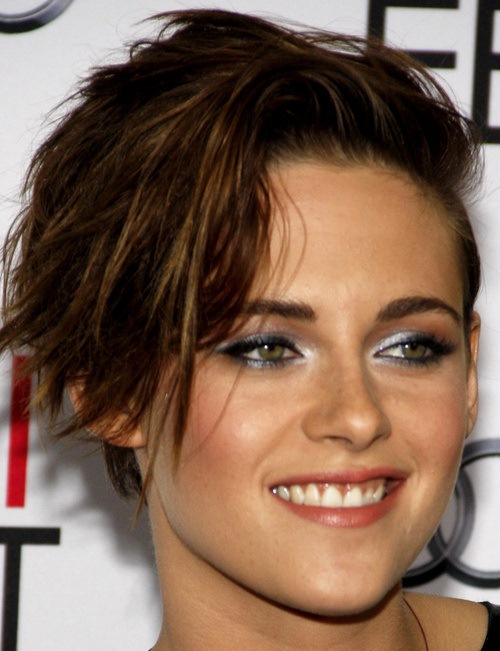 Try this one of the super chic spiky haircuts for this season. This brings you more texture and volume for your short hair. So go for this look today to make your statement.
14.) Swept Back Haircut
Are you ready for this new and unique transformation? Women with short hair must try this one of the hot and sexy spiky haircuts. Wear this look with big round earrings and blood red lipstick.
15.) Majenta Moment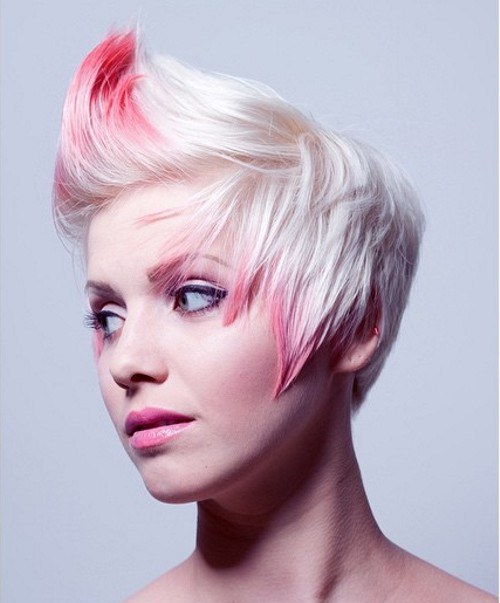 Try this one of the dramatic and spiky haircuts for women. The white blonde and pale hue look stunning with pink tips. So try this iconic hairstyle for 2016.
16.) Short Haircut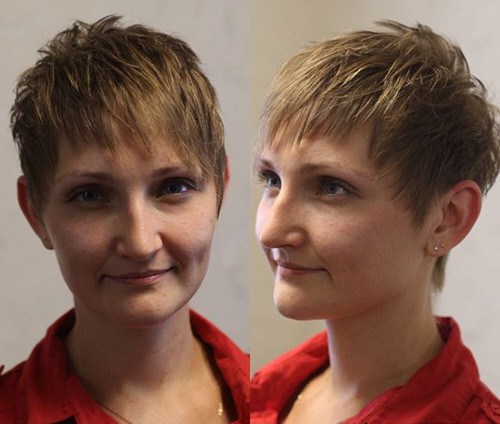 Any women can choose this haircut over 40's. This haircut flatters every personality. Try this one of the sober and simple spiky haircuts for daily wear and at the office.
17.) Mohawk with Side Designs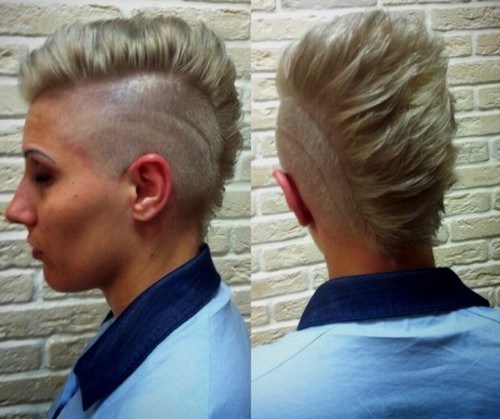 Mohawk is usually a men hairstyle, but a girl with Mohawk always signifies a tough girl with attitude. Try this punk hairstyle with shaved sides and personal flair.
18.) Sliver Haircuts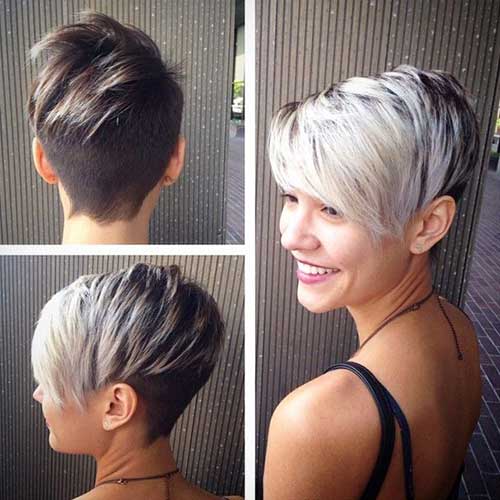 Grey hair is also in trend with spiky cuts. This color actually compliments this short spiky haircut. The long side bangs look great and perfectly frames your face. So try this hairstyle for 2016.
19.) Lively Lavender Locks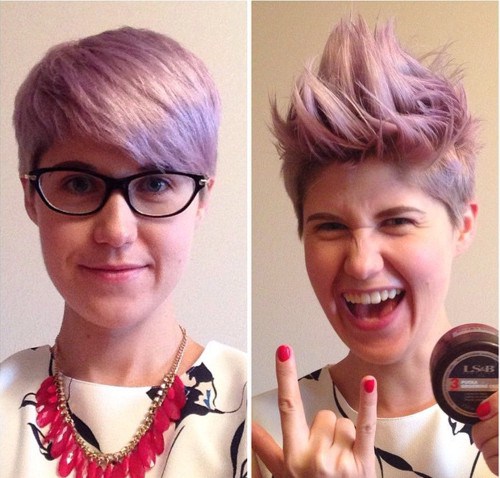 This is one of the hot and sexy spiky haircuts for women. If you want to stand out of the crowd, then this hairstyle is a must. The straight and sleek hairstyle is perfect for all day long.
20.) Dark Brown Sassy Haircut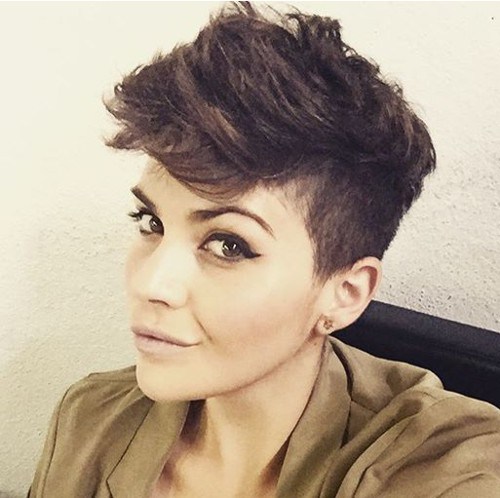 This is one of the sexy and appealing spiky haircuts to try this summer. The dark and messy look with winged eyeliner looks more complementary.