A short pixie haircut is quite in these days. This hairstyle gives a younger look and adds sass to your personality. And, the colors takes this haircut a notch higher. They add a fun twist to your looks. Whether it is champagne, blue, lavender, pink or any other color, you are free to style it with your cropped hair. Below we have listed top 15 colorful pixie cuts that will surely inspire you for a short haircut.
List of Top Colorful Pixie Cuts:
1.) Bleach Blonde Pixie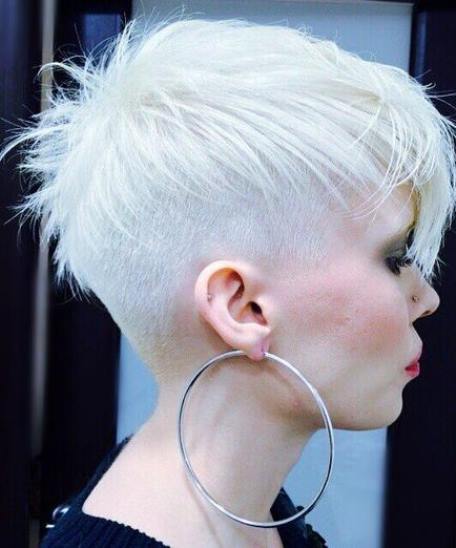 This haircut and hair color is favorite among the rock stars since it has many variations of colors and is a nice blend of the pixie and faux hawk hairstyle.
2.) Platinum Blonde Pixie Cut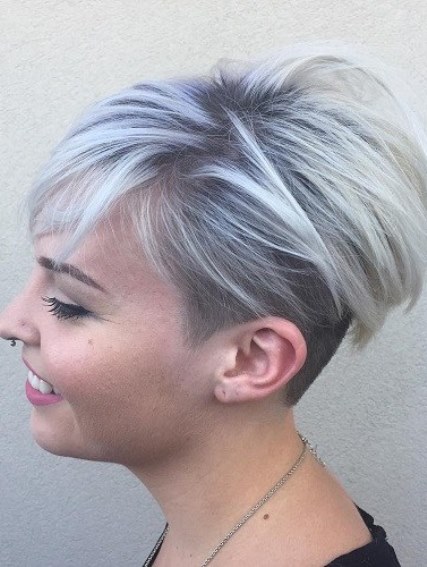 This colorful pixie haircut will add a hint of glamor to your looks. This is a new aviation of the pixie haircut. It features blonde balayage solutions which look two tones. This is definitely one of the classy colorful pixie cuts.
3.) Black Pixie with a Hint Of Green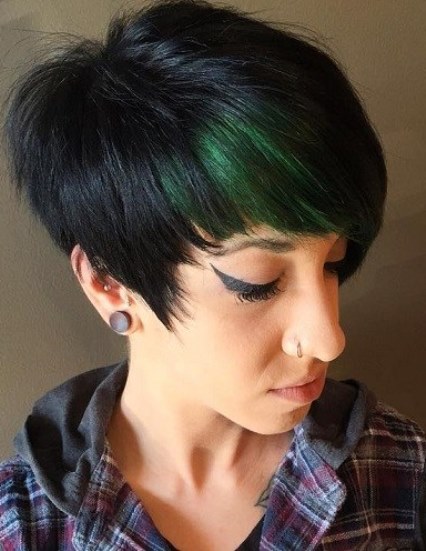 This is one of the classy colorful pixie cuts. It features black hair and the bangs have vibrant green color. You can opt for any of the vibrant colors like pink or blue for this. It will give you a carefree look.
4.) Colorful Pixie Cut
The contemporary brown pixie haircut is upgraded with colorful feathers and side undercut. You can customize this style according to the color of your clothes and accessories.
5.) Frosty Pixie Cut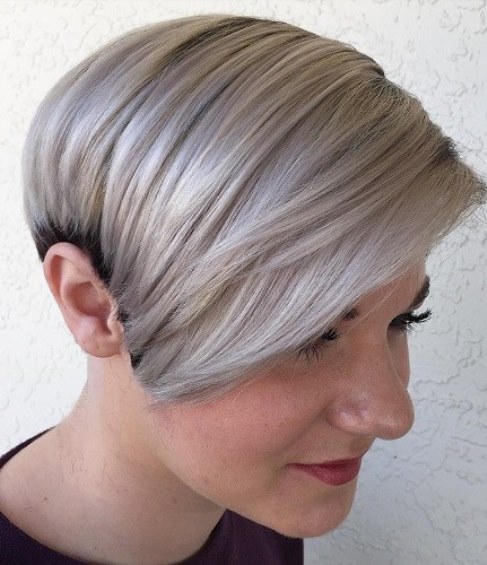 This is one of the sleek and elegant colorful pixie cuts. This is the classy blend of the platinum blonde and black color. This hairstyle adds a dramatic effect to your hairstyle.
6.) Choppy Brown Pixie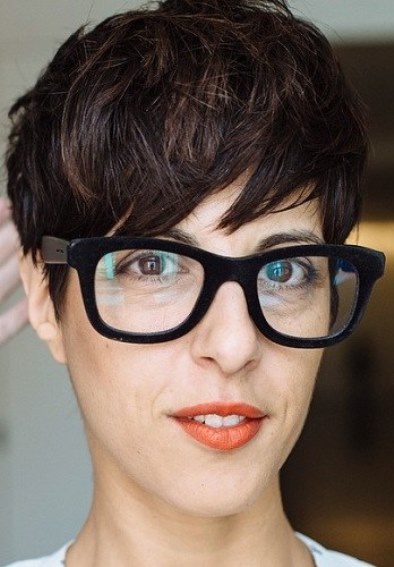 Girls who love the coffee hue of brown will definitely like to have this hairstyle. The tint of brown will add spare sass to your short hairstyle. For a geek look, you can pair this with your spectacles.
7.) Faux Hawk Pixie
For this hairstyle, you can either pair black and blonde or brown with blonde. Any of the color set will look equally mind-blowing. This is one of the perfect pixie cuts for an instant makeover.
8.) Sky Blue Pixie Cut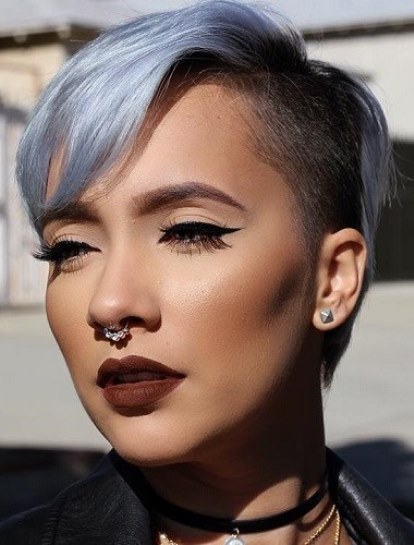 This is one of the trendy pixie cuts. This hairstyle and hair color will give you an exquisite look. This is a perfect pixie cut for the special days when you want to flaunt your funky sides.  The ombre pixie works perfectly on every hair texture and length.
9.) Crimson Pixie Cut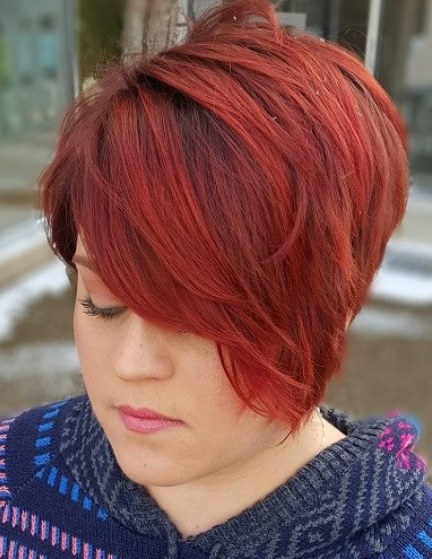 Short haircuts hide your actual age and give you younger look. And the crimson color just works as an icing on the cake. For a perfect look opt for dark roots with subtle highlights.
10.) Gray and Blue Pixie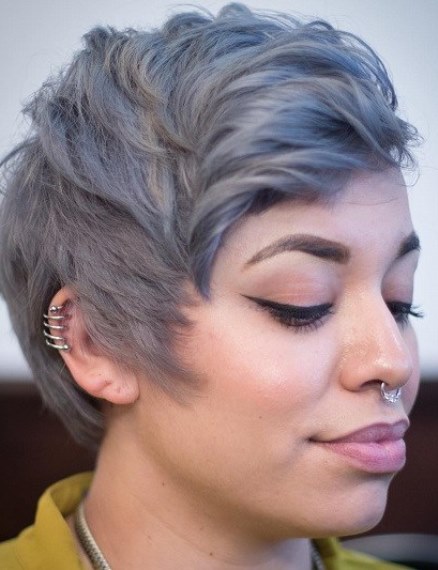 If you are looking for something stylish and new then you can do consider this hairstyle and hair color. The gray or ash blonde hues are one of the popular choices these days. This gray will not let you look old. The hint of pastel blue will add a spare sass to your style.
11.) Spiked Brunette Pixie with Brown Blonde Highlights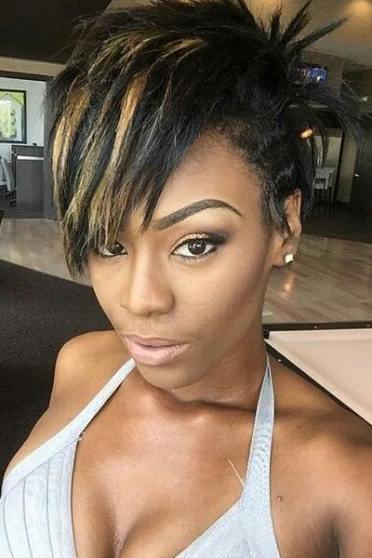 This is one of the bold pixie cuts. This hairstyle is perfect to show off your chiseled cheekbones. The face framing bangs will draw attention towards the cheekbones. This is a perfect style for a night out or a party at the club.
12.) Short Pixie with Green Bangs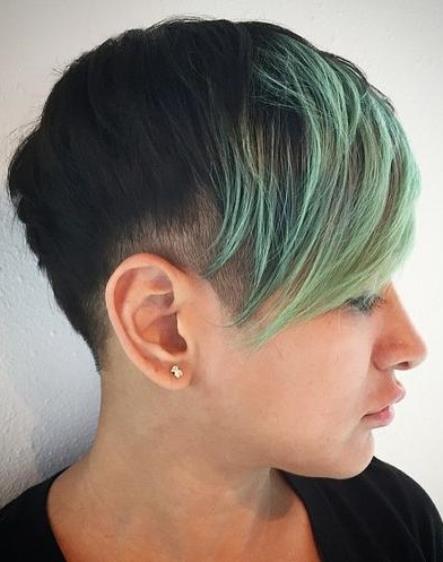 This hairstyle is a classy example of the proportions. It will give you an edgy look. This classy pixie will grab you many eyeballs. The different hues of green on the bangs just elevate the entire look. This is the perfect hairstyle for college goers.
13.) Black Pixie with Choppy Layers
This layered hairstyle is low for maintenance and does not call for too much styling. The dark color gives you an elegant look that is perfect for all the times. You can pair this with your ethnic and western outfits.
14.) Magenta Pixie Cut
This is one of the eye catchy pixie cuts. It will add creative vibe to your looks. This is a perfect hairstyle for office and workplace.
15.) Fuchsia Pixie Cut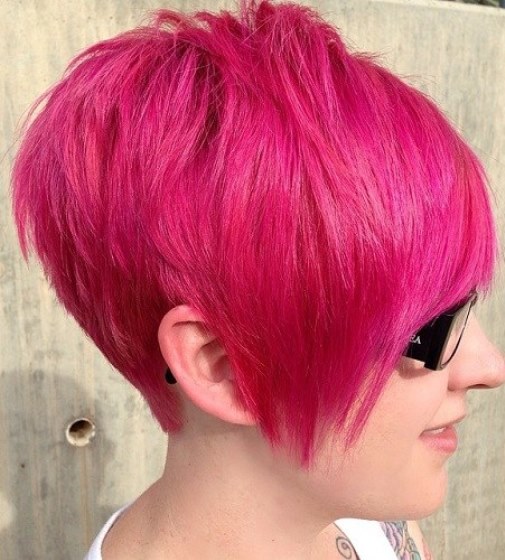 This is one of the bold looks. This hairstyle needs lots of dare and courage. And once you pull this off you will create your own style statement and followers as well.