In this article, we are discussing simple steps to make your hair curly using different techniques. Curly hair is always in trend and never goes out of fashion. Those with straight hair want to have curly hair and those who have curly hair are wishing for straight hair. You will never see a woman satisfied with her hair. If you are one of them then we bring you some easy and simple methods to make your hair curly at home.
Different Ways to Make Your Hair Curly
1.) Braiding Your Hair
Braiding is one of the best and easiest ways to make your hair curly. If you want tight curls then try making small sections and make multiple braids with wet hair. Keep your braids overnight and then unbraid them slowly and gently for rock style spiral curls. Remember not to comb and wash your hair once you have unbraided your hair as it can result in loose curls. For long lasting effect spray, some hair spray and then you are ready to rock your new hairstyle with lots of volume and body to your hair. For big curls, all you need to do is braid 4-5 loose braids on your hair and follow the rest of the steps given above.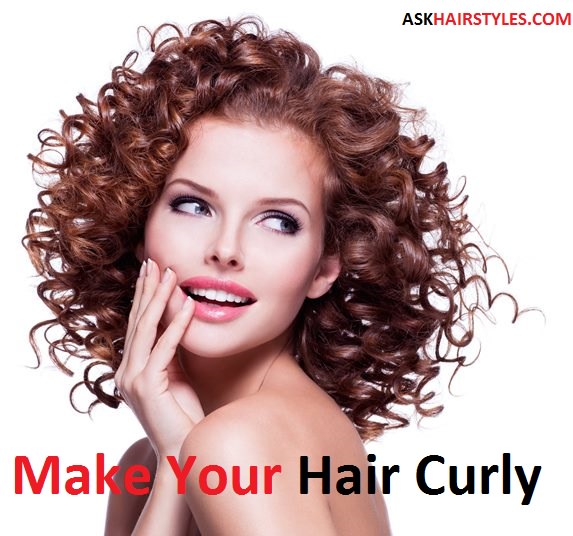 2.) Tie a High Bun
Another way to make your hair curly is tying your hair in a high bun. Just follow few steps given below to get some curly hair naturally:
Pull your hair up to high at crown level.
Twist your wet hair and tie it in a high bun.
Lock your bun with pins and rubber bands.
Keep it overnight or for 4-5 hours.
Now, open your bun to get loose and voluminous waves.
If wish to secure them for lasting effect, then set your hair with spray.
This is one of the easiest methods recommended that keeps your hair natural and shiny without the usage of any heating tool. You can also make tiny or small multiple buns on your head for more wavy curls.
3.) Try a Sock Bun
This is an interesting way to make your hair curly easily at home. You can take small strips of cloth or an unused socks cam also works for this purpose. Follow the steps given below:
Work on damp hair.
If you want tight curls then make smaller sections and vice-versa.
Take the cloth and place it at the end or tip of your hair and start rolling it in backward or inner direction.
Roll your hair till you reach the crown section.
Secure it with pins and keep it overnight.
Next morning, just unroll your sock bun and enjoy some lovely curls.
Just run your fingers through your hair and you are all set to go for any special event.
4.) Use Velcro Rollers
Velcro rollers are another method to make your hair curly. Just work on wet hair with Velcro rollers. Follow the steps given below to make your hair curly:
Comb your wet hair to detangle any knots and tangles.
Separate your hair and make section depending on the type of curls you want.
Taking each section and roll your hair inward and outward and secure it with a clip.
You can blow dry your hair for 10-15 minutes or leave it until dries completely.
Open the rollers and you are ready with huge curls.
5.) Using Tissue Paper
Try this one of the effective methods to make your hair curly safely at home. Follow the steps given below to make your hair curly at home:
Remember to wash your hair as oily and greasy hair can't hold up the curls.
Comb your wet hair to remove any tangle and knots.
Take a piece of clean tissue paper or a thicker paper bag strip.
Start rolling tissue paper in a cylindrical shape. This shape will help you get desired soft curls.
According to your curl type take some small or large section of hair and start rolling tissue paper on your hair.
Once you reach the topmost portions then gently secure your hair by knotting the tissue paper well.
Make sure you tightly secure it to have curvy cocoon-like shape.
Keep it for 3-4 hours then remove the tissue paper to have wavy and tight soft curls.
Do this process with all your hair.
For lasting effect spray hair spray and you are ready for a perfect party look.
All the above methods are safe and convenient and can easily be tried at home. These methods do not include any heating or styling tools that can damage your hair. So try the above-listed methods to make your hair curly naturally at home.