This article is about the eye- catching looks featuring Rihanna's short hairstyles. Songster Rihanna is often regarded as hair chameleon. Like a chameleon, she has hands on the skill of flaunting different hairstyles. With every hairstyle, she looks ravishing. There would be hardly any hairstyle that does not go well with her oval face shape. The queen of hairstyle very well knows how to style the haircuts with different textures, colors, and styles. Let's have a look at some of her short hair.
List of Rihanna's Short Hairstyles:
1.) Tousled Textured Crop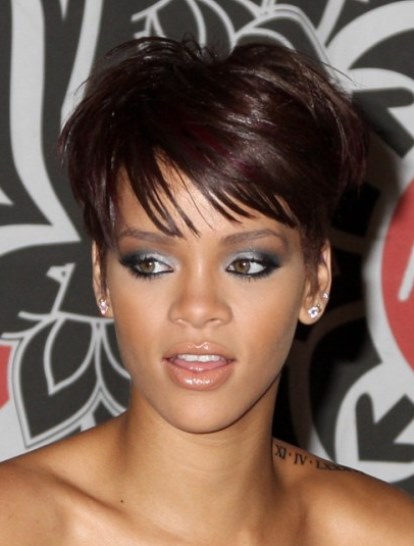 Rihanna has seamlessly pulled this cropped hairstyle. She looks ravishing with the wild bangs lurking on her forehead. The hue of the chocolate with cherry streaks has taken her looks a notch forward. This is definitely one of the classy Rihanna's short hairstyles.
2.) Bold and Edgy Look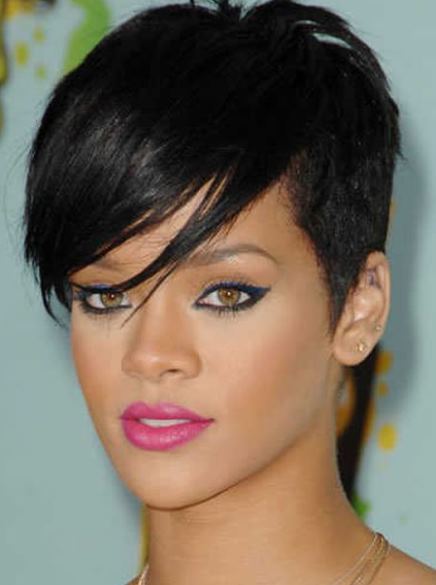 If you are looking for an effortless bold hairstyle then you can consider this one. It will give you an edgy look. Rihanna has opted for the chopped side and well-trimmed temples for a bold look.
3.) Cropped Hairstyle with Balayage Highlights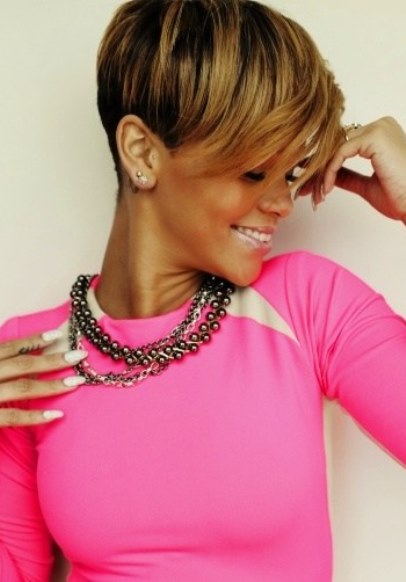 This is definitely one of the classy Rihanna's short hairstyles. Rihanna is rocking with this two-toned hairstyle. This is a nice variation of the mushroom haircut paired with balayage highlights. This hairstyle gives a dimensional look with wavy bangs.
4.) Glamorous Wavy Look
The short wavy hair gives a soft look to the songster. The hue of brown with light waves adds a hint of glamor. For a bold look, she has opted  an orange lipstick that justifies her look.
5.) Blunt Polished Bob Hairstyle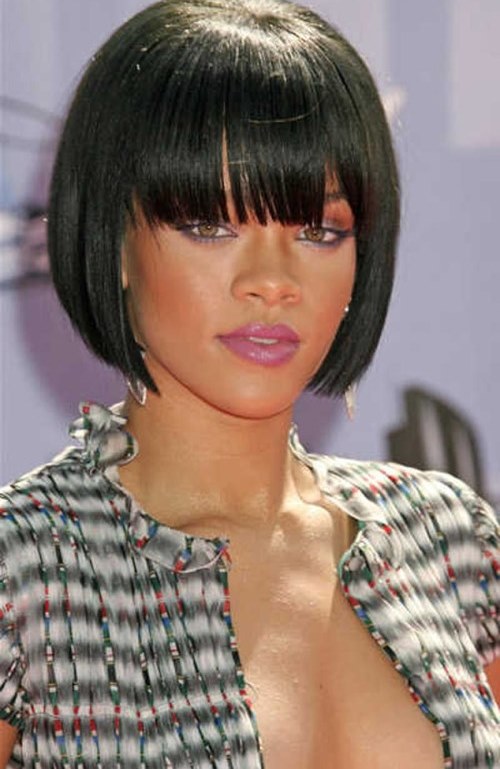 This hairstyle features blunt cut bob and bangs on the forehead. Rihanna looks quite flattering in this hairstyle. The flat ironed polished hair gives her a dapper look. It perfectly matches with her skin tone. This is definitely one of the flattering Rihanna's short hairstyles.
6.) Classy Look with a Short Haircut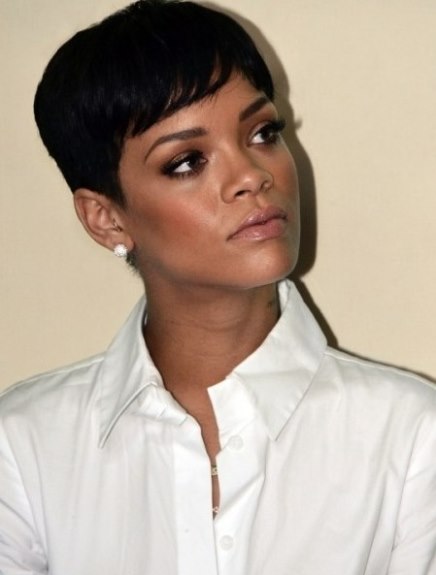 Rihanna has paired the cropped hairstyle with a white men's short and small earings that compliments her look. The nude makeup is a perfect match for this hairstyle.
7.) Stacked Haircut with Elongated Bangs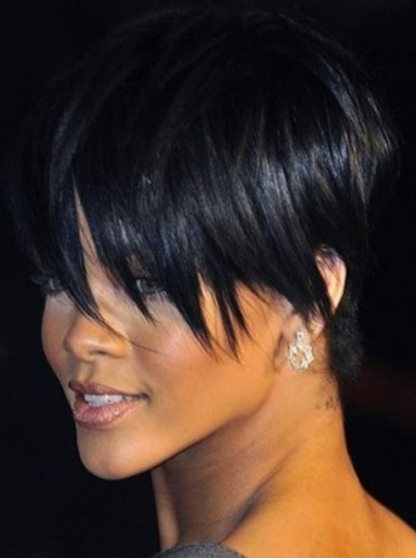 Another awesome look that looks charming on Rihanna!. The stacked back lifted hair with wild bangs are perfect for night parties. This is one of the iconic Rihanna's short hairstyles.
8.) Short A-Line Style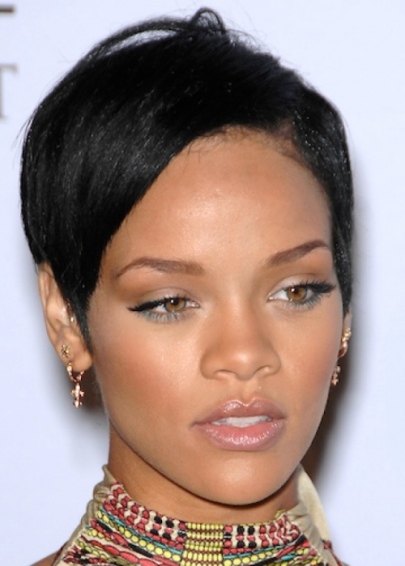 The cropped A-line haircut with sleek bangs compliments Rihanna's look. She looks stylish and ultra-modern in this very hairstyle. The cropped locks perfectly enhances her facial features and draws attention to her scintillating eyes.
9.) Dramatic Mohawk Style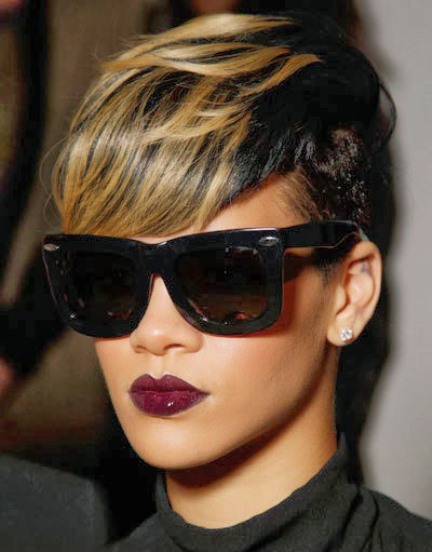 Only Rihanna can pull off such funky hairstyle. The contrasting texture and hue add a dramatic effect to her look. The sides shaved with polished feather haircut looks simply amazing on her.
10.) Faded Golden Blond Bangs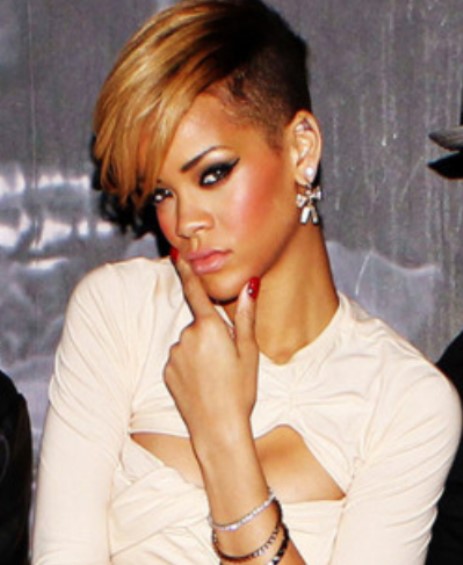 This is a nice variation of the Mohawk hairstyle. The fading haircut at the sides with long gliding bangs makes this simple style breathtaking. We simply cannot stop ourselves from adoring her in this hairstyle.
11.) Short Pompadour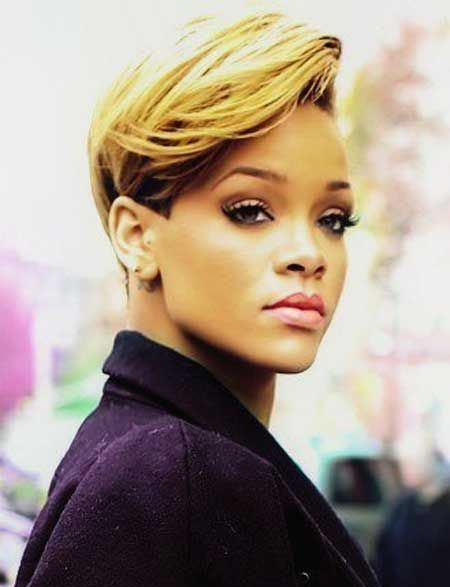 This is one of the elegant and stylish Rihanna's short hairstyles. All thanks to the thrilling texture of her hair and the highlighted tone that gives her flawlessly sculpted look.
12.) Classy Rounded Bob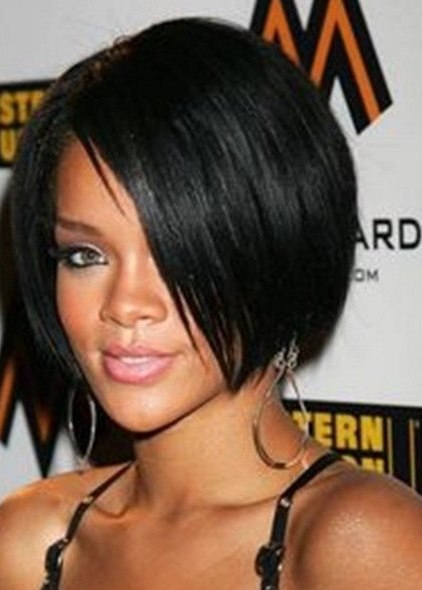 Only Rihanna's know how to transform the simple bob hairstyle into a ravishing hairstyle. This bob haircut is a wonderful example of it. The bangs beautifully graze the jaw line.
13.) Very Short and Wavy
Rihanna very well knows the trick of pulling very short hair. She looks stunning in her cropped haircut. She has paired this hairstyle with a chunky accessory to make it more prominent.
14.) Flirty Bangs with Undercut Hairstyle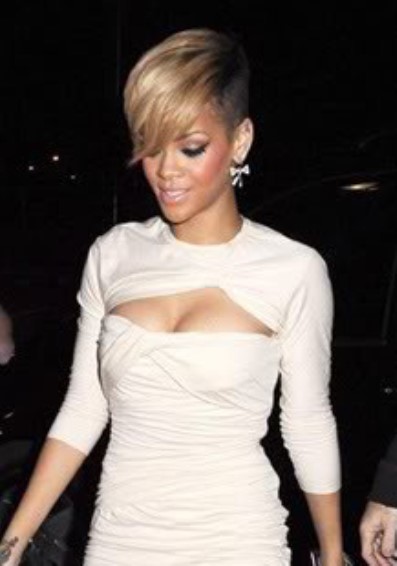 This is probably Rihanna's favorite short hairstyles. The highlighted bangs with asymmetric undercut speak volume. This style very well goes with her oval-shaped face.
15.) Sleek Tapered Bob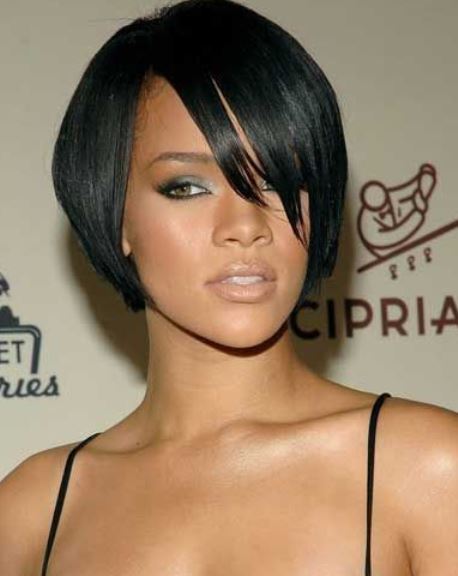 This is also a classy version of the bob hairstyle. Rihanna has kept her looks very minimal with subtle makeup that makes her stand out of the crowd.