A bridal hairstyle should not be too extravagant nor too simple. It should be the combination of elegance, femininity, and comfort. Since you have to hold it for a day so you must be comfortable with it. Look for a bridal hairstyle that compliments your outfit and jewelry you are about to wear on your special day. Below we have compiled 20 iconic bridal hairstyles that will definitely flatter the people around and are high on comfort as well.
List of Iconic Bridal Hairstyles:
1.) Smooth Fold over Chignon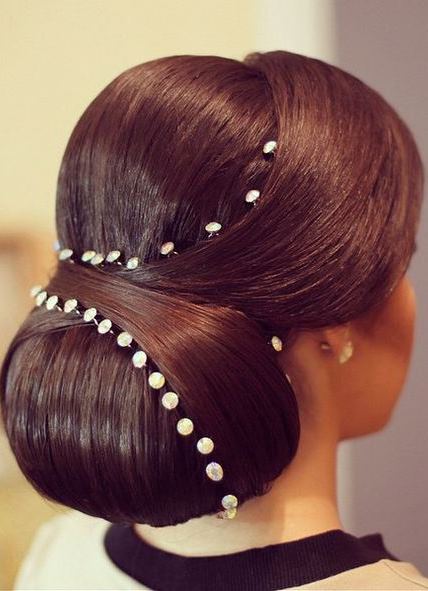 You can achieve this hairstyle by first backcombing and then fold your locks over the ribbons of your hair. A hair accessory or a flower will take this hairstyle a notch higher. This is certainly one of the classy bridal hairstyles.
2.) Loose Tucked Chignon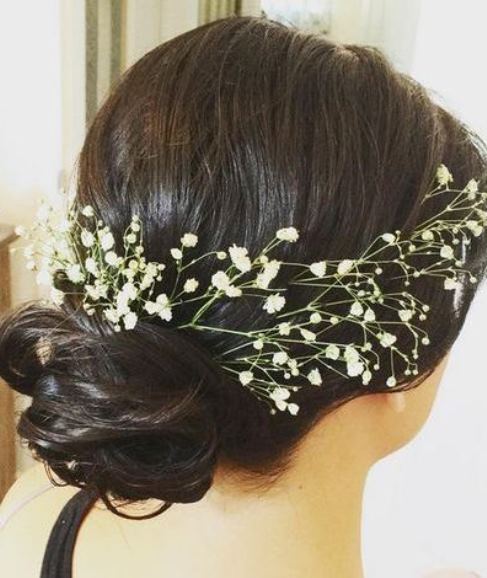 Thi hairstyle gives you simple yet very feminine look. The traces in this hairdo are fastened at the nape and pinned in a messy way. The baby breath compliments the look. You can create this simple hairstyle at home as well.
3.) Woven Braided Bun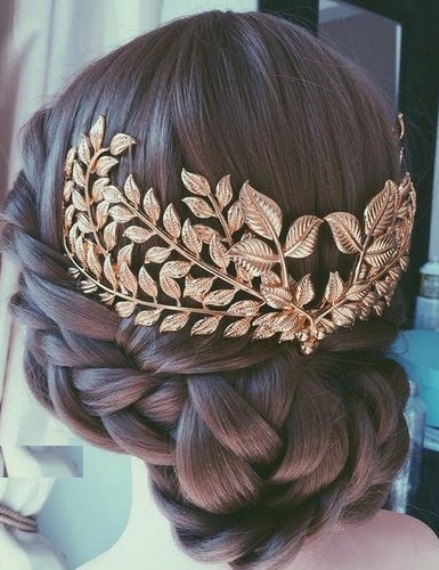 This bridal updo is perfect for long hair. It features two side braids that are intertwined and tucked nicely on the nape. A nice golden hair accessory will make this hairstyle stand out.
4.) Half Updo with Curls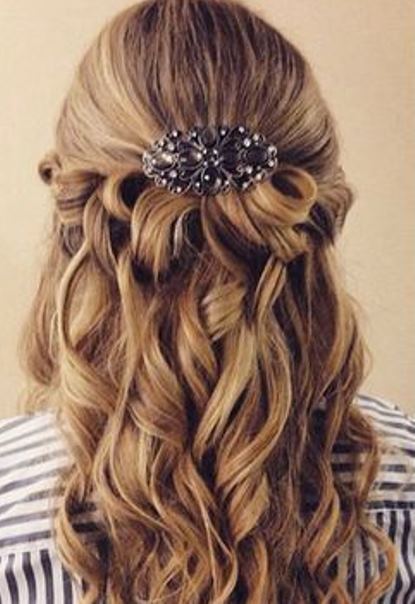 This is definitely one of the iconic bridal hairstyles. This bridal hairstyle features twisted back that is secured with the loops. The Barrel curls cascade beneath and a nice hair accessory completes the style.
5.) Greek Updo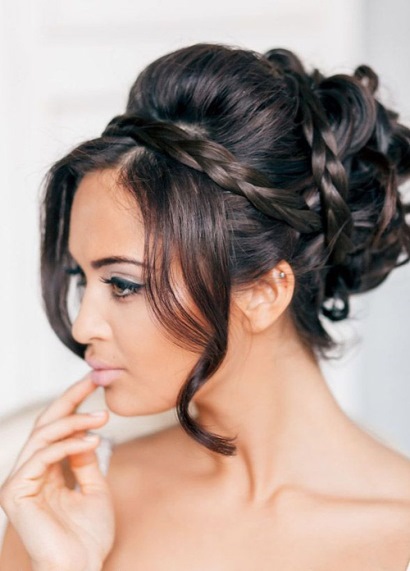 If you are looking for a fancy updo for your wedding, you just found it.  A Greek style updo will recreate a dreamy look of the Grecian goddess who is an epitome of the dazzling beauty.  The side curls will frame your face nicely and enhance your facial feature as well.
6.) Classy Hairstyle for Medium Length Hair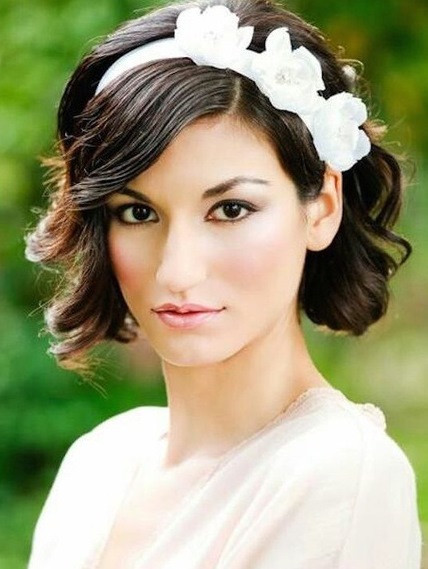 There are too many hairstyle options for shoulder-grazing hair. This is one of the trendy bridal hairstyles for medium hair. This elegant hairdo needs the hair to be curled nicely and a floral headpiece will take this hairstyle a notch higher.
7.) Asymmetric Hairstyle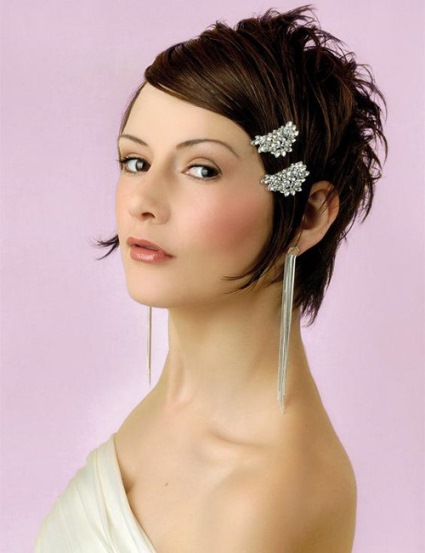 This hairstyle is quite fancy and unique in itself. This hairdo is all about the contrast of textures.  The side bangs will perfectly frame your face and the chunky headpiece will give it an edgy look.
8.) Loose Braided Updo with Flowers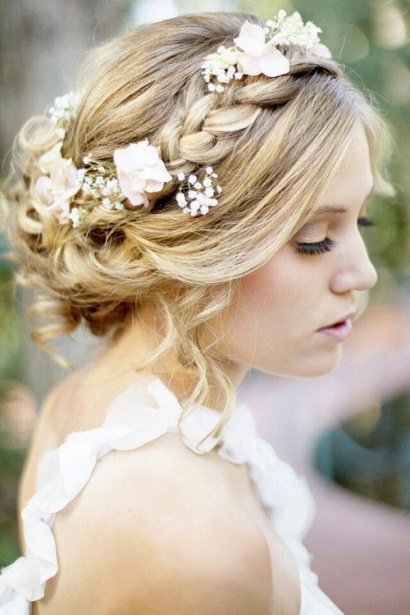 Flowers and brides are a traditional duo. It adds a natural charm to the entire bridal look. This is one of the classy bridal hairstyles. In fact, bride's maid can also don this.
9.) Vintage Updo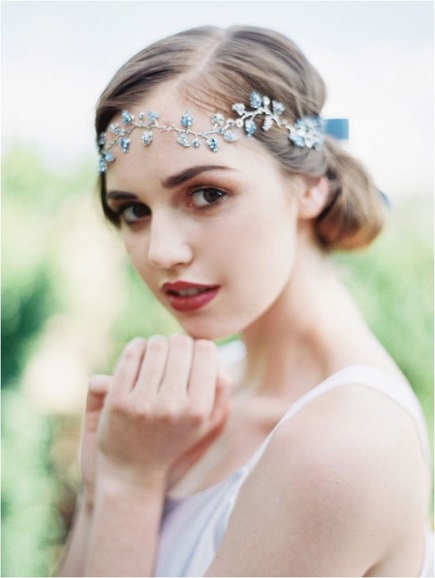 If you are looking for classic hairstyle then this is definitely the one for you. The low knot hairdo with the side parting looks absolutely stunning.
10.) Elegant Downdo with a Bouffant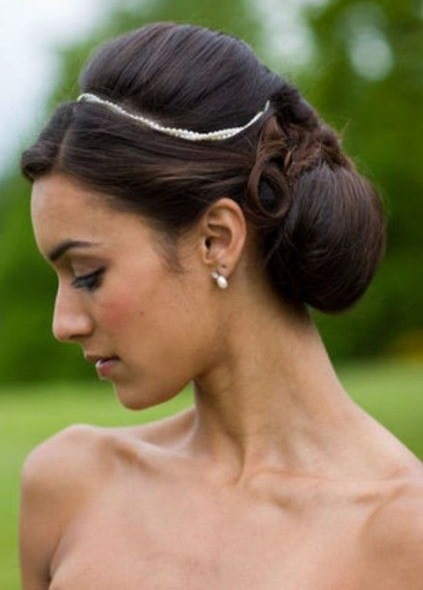 This is one of the simple and sophisticated bridal hairstyles. All thanks to the volume it adds to the dark hairstyle. A trendy updo with a bouffant will go well with the floor length gown. For a fresh look use your neckpiece as a head accessory.
11.) Long Romantic Curls with the Flower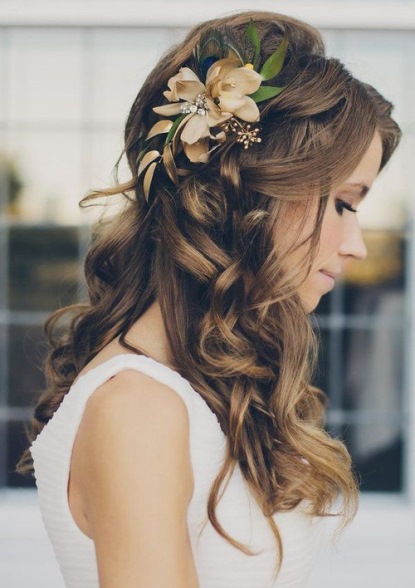 Natural looking hairstyles are ruling the hair trend. They look so graceful and elegant. A light accessory like a flower will make this bridal hairstyle iconic.
12.) Whimsical Floral Braid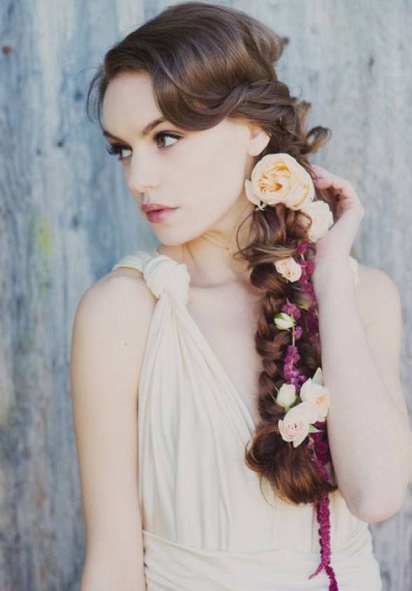 A showy curly braid with ribbons and flowers will give you a charming look. For a perfect look you can experiment with different braids. Curly hair and loose braids is a nice hair solution for brides.
13.) Curly Hairdo with a Bouffant and a Lace Braid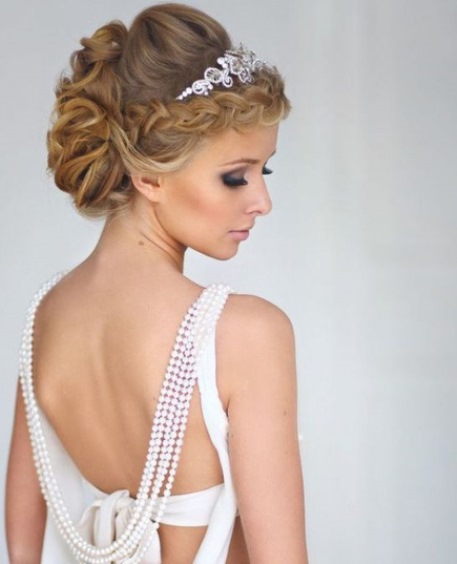 This is a seamless hair solution for all the brides out there looking for simple yet stylish hairstyles. This sober hairdo with bouffant and lace braid will give you a royal appeal and the crown headpiece will add glamor to the looks.
14.) Low Voluminous Knot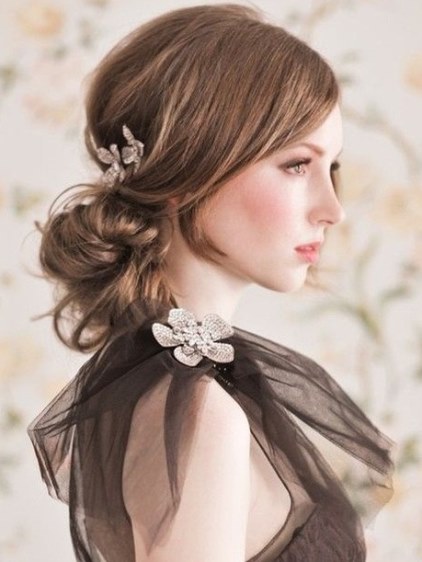 This is one of the cool bridal hairstyles, a perfect hairdo for a beach and boho wedding. A low voluminous knot adorned with the jeweled flower is what all you need to appear a unique and glamorous on your special day.
15.) Voluminous Updo Adorned with Pearls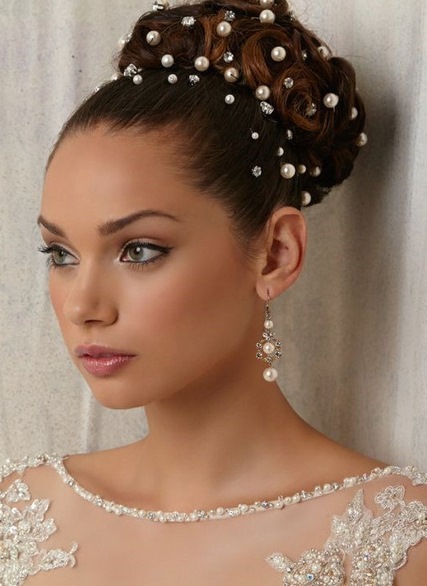 This is certainly one of the decorous bridal hairstyles. The high bun decorated with the pearls all over will give you a picturesque look. Do not forget to work on the texture and the hair color for a perfect look.
16.) Vintage Roll Updo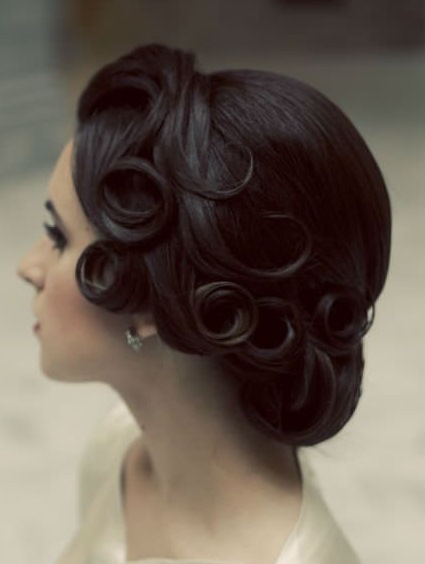 If you are planning for a retro theme wedding then this is the ideal hairdo for you. It flaunts the vintage flair with the sleek rolls and the sheer neatness. This hairstyle will go well with the single toned hair as well.
17.) Bridal Fishtail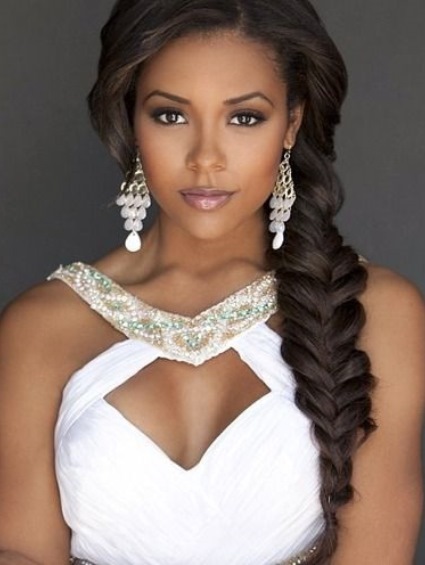 A bridal hairstyle does not have to be intricate and gaudy, in fact, a simple and sober hairstyle speak volume. This classy side fishtail is easy to style and it scores high on the comfort level also.
18.) Pixie Haircut with a Veil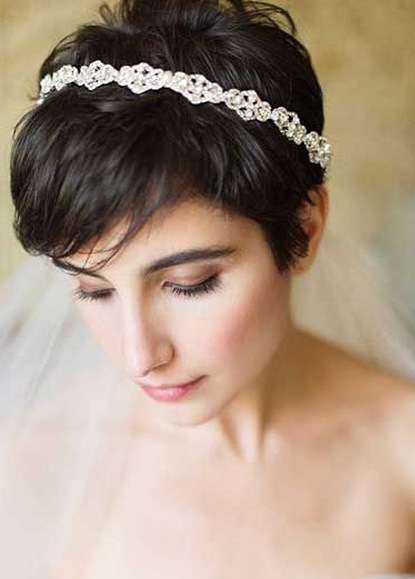 Sometimes more than a hairstyle the hair accessories score you high. A chunky headpiece and a veil with the base of the pixie haircut is a perfect example of it.
19.) Messy Bridal Hairstyle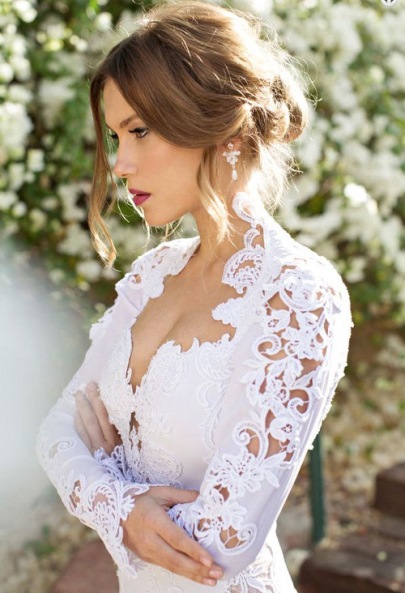 A neat hairdo might give you a monotonous look, whereas messy hairdo is a breeze to style. The low messy knot with the curls flowing on the sides looks fresh and amazing.
20.) Retro Updo for Fine Hair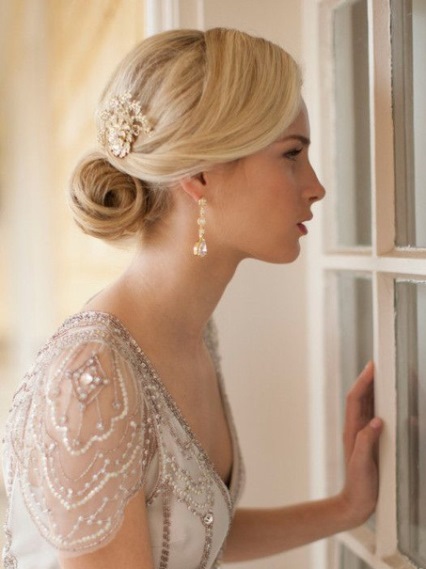 This is definitely one of the iconic wedding hairstyles adorned with the precious head jewelry and sleekness. This delicate bridal updo will definitely fix many people's gaze on you.