Do you want to forget about hair styling for months then braided mohawk hairstyles are the best option to give some rest to your hair and protect it from environmental factors. Mohawk braids spice up your entire look and attract most if the attention, admiration from the people. These hairstyles are incredible, not only for the look they give. But they also manage the high volume and texture of the hair nicely. There are plenty of Mohawk hairstyles. Most of them have shaved sides and many of them have neat sides that look like shaved ones. Read more, to know latest braided Mohawk updo hairstyles.
List of Latest Braided Mohawk Updo Hairstyles:
1.) Curly Mohawk Braid Hairstyles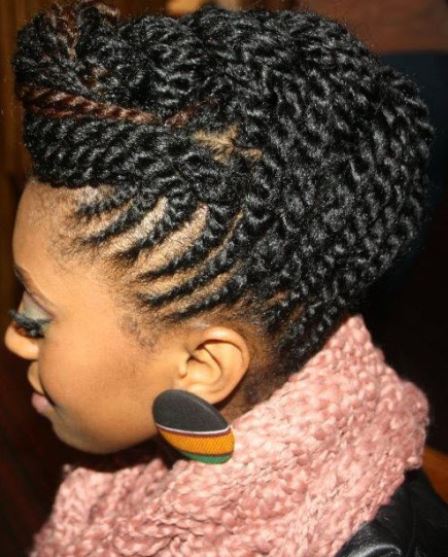 Carrying shaved Mohawk hairstyle is a quite bold step. However, everything has an alternative and this too has. This hairstyle is a perfect example of it. Simply braid your coil on the top like a shell of the snail from the hairline. This is one of the classy Mohawk braids updo hairstyles to try.
2.) Braided Mohawk Twist Hairstyle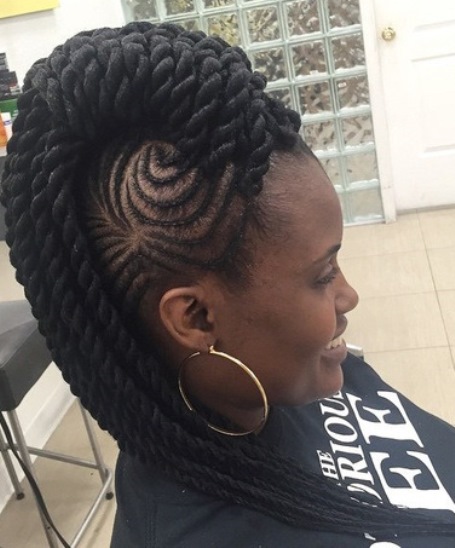 The braided and twisted Mohawk curls represent the dramatic side. The detailed work is a plus point for this hairstyle. For this look, brush your hair thoroughly and pull them at the side and make an arch with the help of the tail comb. Distribute your locks into twos sections and twist them into the small braids. Then pull them together and secure it tightly.
3.) Mohawk Braids Updo for Black Women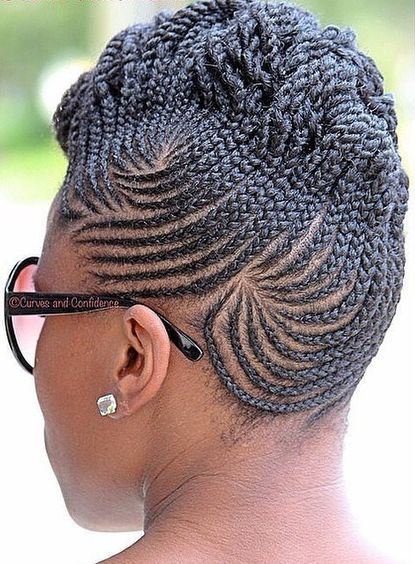 This is one of the intricate braided Mohawk updo hairstyles. The acute and intricate design of this mohawk braids make it more interesting for a head-turning effect. It might take some extra time but you will definitely love the outcome.
4.) Braided Mohawk with Front Bun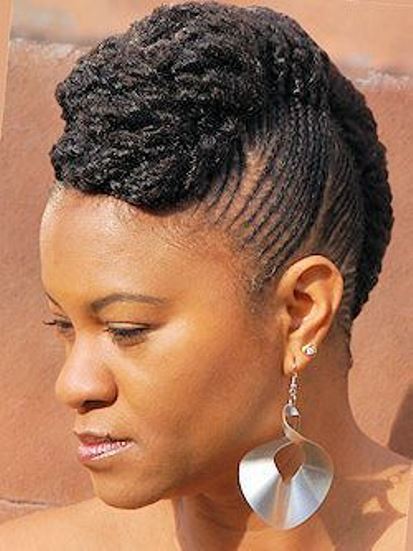 Are you looking for something in faded, then try this trendy Mohawk Braids with snail twist to get some rest from everyday styling. In this hairstyle, the sides are weaved neatly and thus they tend to look shaved. Rest of the hair is pulled in the bun that begins from the hairline. This is definitely one of the catchy braided Mohawk updo hairstyles of 2016.
5.) Braided Bun Mohawk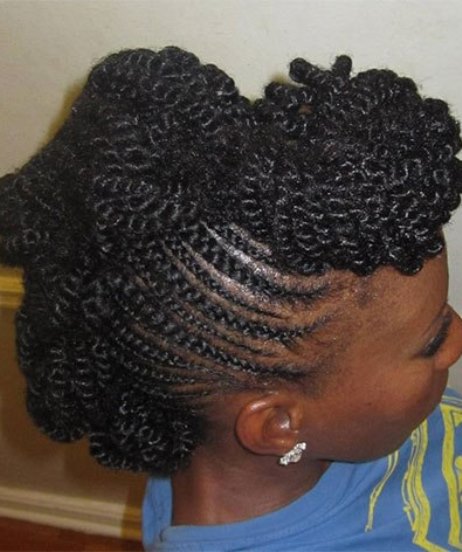 This hairstyle is quite famous among the black women. This hairstyle features braided locks wrapped into a bun that runs horizontally and is quite in these days. All you have to do is braid small sections and wrap it into different buns altogether.
6.) Braided Exquisite Hairdo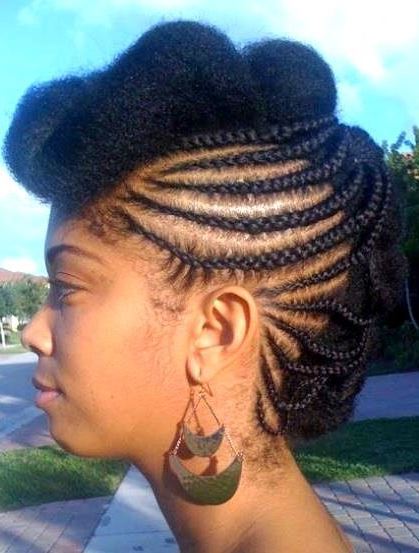 Like the name, like the hairstyle. This is quite a laborious hairstyle. For a perfect look, you have to work on the details. This is a perfect hairstyle for dreadlocks. Try this hairstyle for any special or for a dressy event.
7.) Creative Cornrow Braids Updo Hairstyle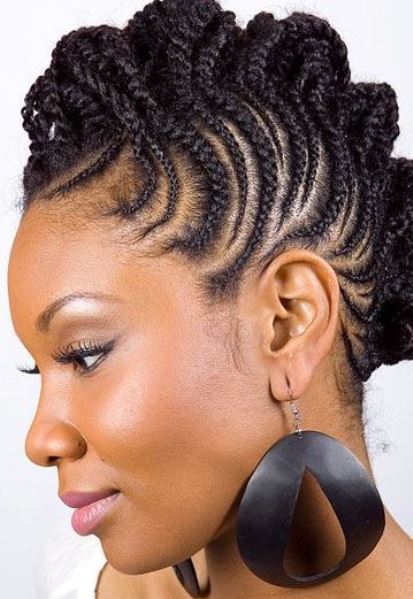 Other latest Mohawk braids updo hairstyles in our list are this creative updo. In this hairstyle, the side seems like shaved and braided neatly into the heavy hairdo.
8.) Frohawk hairstyle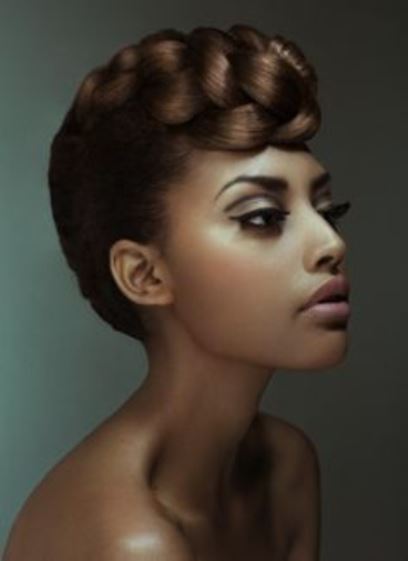 This hairdo is inspired from the funky faux hawk hairstyle. This is a perfect hairstyle for long and thick locks. It is definitely one of the funky Mohawk braid hairstyles. Try this hairstyle for a bold and head-turning effect. You can also carry this hairstyle with nude makeup and a shiny dress.
9.) High Mohawk Braids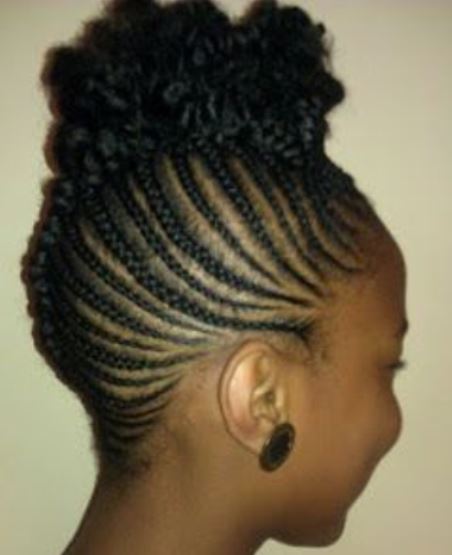 This is a funky variation of the classy high updo. In this hairstyle, the sides are neatly weaved into thin braids and pulled into a high bun. This is one of the contemporary braided Mohawk updo hairstyles to try.
10.) Box Mohawk Braids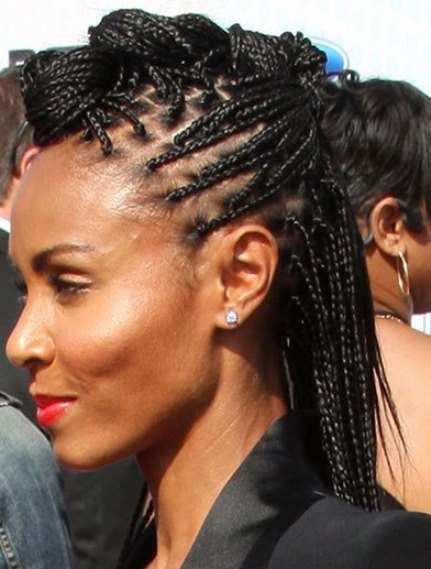 This hairstyle will accentuate your facial features and earn you thumbs up from the fashion police. This classy box Mohawk braid hairstyles speaks volume. Do give it a shot once.
11.) Kinky Twisted Mohawk Braids Updo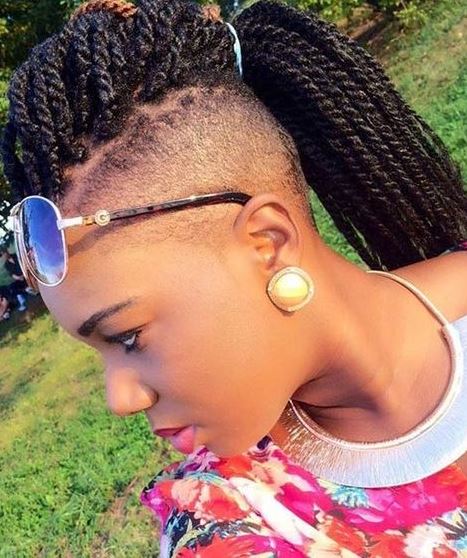 Side shave is in demand these days. If you have thick black hair then try this wild hairstyle for a complete makeover. This hairstyle resembles the original Mohawk hairstyle that has shaved side. The curly braids are twisted and pulled into the high ponytail. This is one of the simple yet stylish Mohawk updo hairstyles.
12.) Many Buns with Braided Mohawk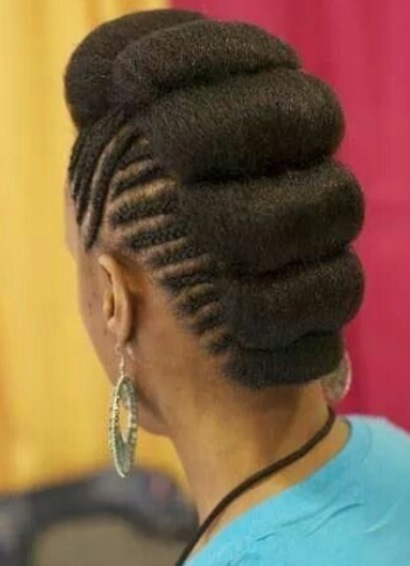 This is quite an intricate version of the Mohawk hairstyle. This sleek look will definitely garner you lots of eyeballs and complements as well.
13.) Messy Mohawk Braid Hairstyles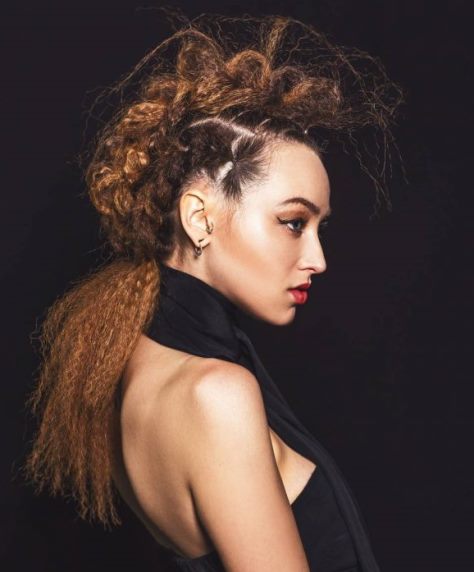 Tousled hairstyle is quite in the days it gives a funky look. This messy hairstyle is perfect for the special occasions and red carpet. For a classy look pair this with a subtle accessory. For a more interesting twist try adding some color fun to this hairstyle.
14.) Mohawk Updo with African Braids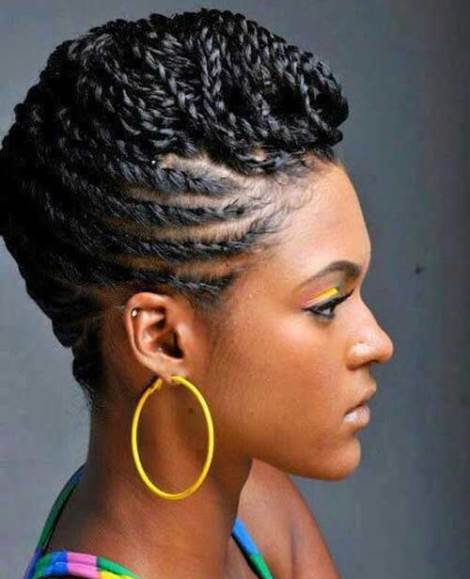 This is the shimmering hairstyle in the list of the latest Mohawk braids updo hairstyles. This is a perfect hairstyle, it accentuates your facial features and draws attention to your face.
15.) Mohawk Updo with Double Braids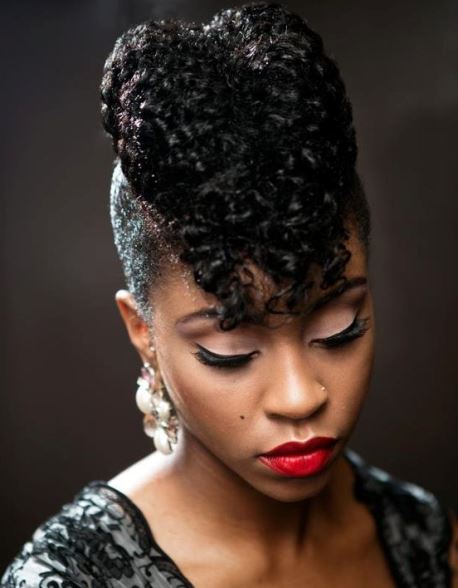 This is one of the captivating Mohawk braid hairstyles. Style it with the shimmery bangs to glorify your looks and create an elegant persona.
16.) Rolling Mohawk Updo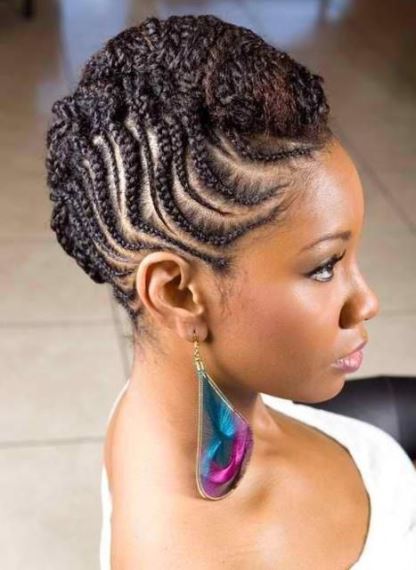 This veteran hairstyle is perfect for this season. It will add a hint of the glamor to your looks and make you stand out of the crowd. This hairstyle is popular among African-American woman.
17.) Mohawk like a Snell Shell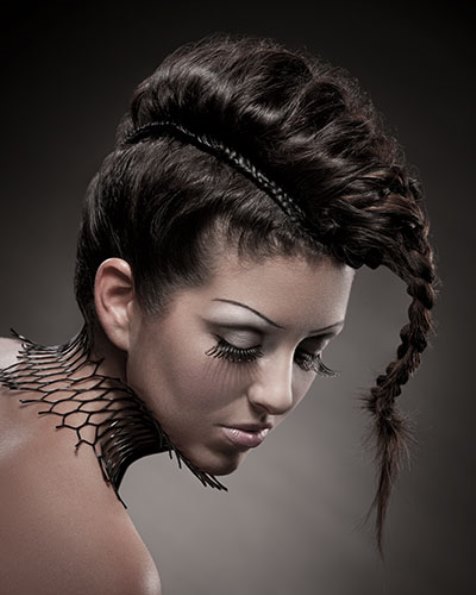 This Mohawk updo hairstyle is inspired by the Snell shell. It needs lots of detailing. This is a perfect hairstyle for the special occasions.
18.) The Willow Effect Mohawk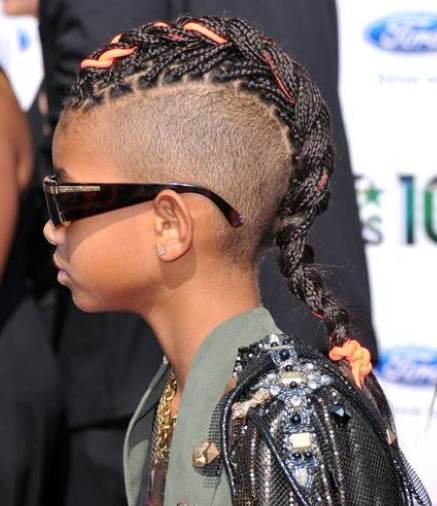 This is quite exquisite, Mohawk hairdo. But on the same hand, it is quite easy to get. The sides are kept shaved and the long hair on the center is pulled into a braid. For kids, add some colorful ribbons for an interesting look.
19.) Twisted Bantu Mohawk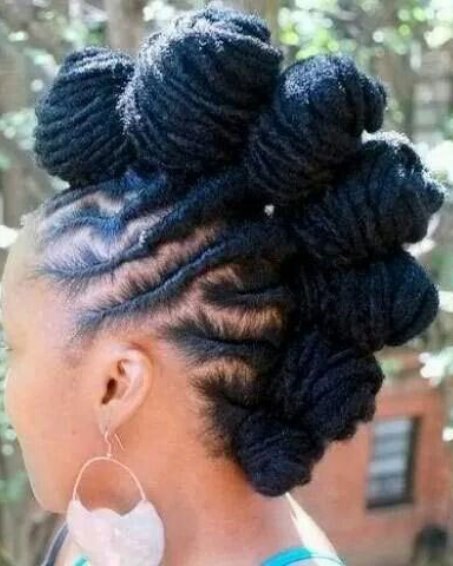 This hairstyle offers the twist of the sophistication to your looks. It looks amazing. It is a perfect hairstyle for black beauties. This trendy updo will definitely change your entire look.
20.) Victory Roll Mohawk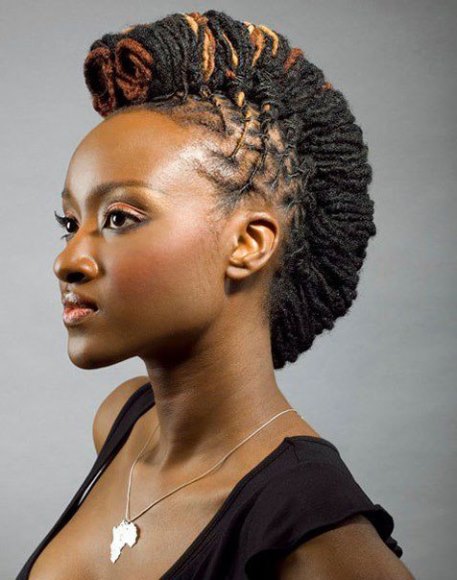 This hairstyle will give a scintillating effect to your looks. Dazzle the floor with this winning hairstyle. This victory roll represents the trend of a new era.
21.) Big Braid Mohawk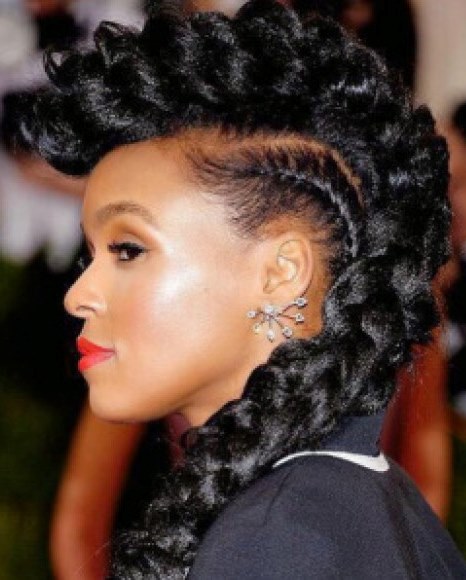 Long hair is another way to grab attention to your natural hair Mohawk hairstyles. Shave your sides for an edgier look with wild and funky designs.
22.) Twisted Braided Mohawk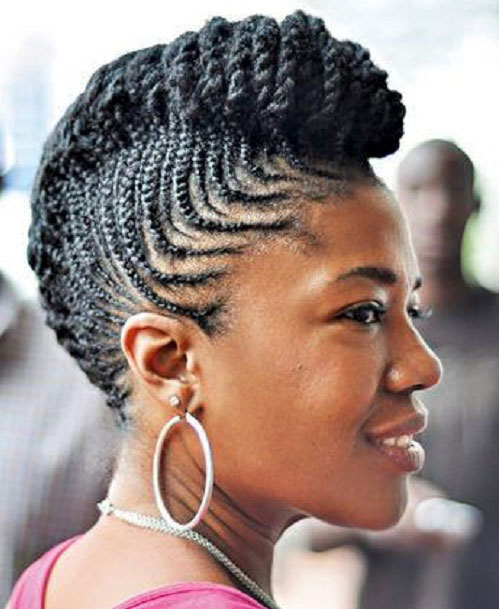 Some women are blessed with thick and long hair. If you are one of them then try this one of the wonderful natural hair Mohawk hairstyles for women. This hairstyle is a nice amalgam of cornrows and a natural mohawk.
23.) Box Braids Mohawk
Check out Jada Pinkett Smith, she looks stunning with her mesmerizing box braids styled into a Mohawk hairstyle. You can also try this hairstyle for any party or a wedding. The highlight of this hairstyle is definitely boxed braids. Doesn't look amazing!
24.) Funky Mohawk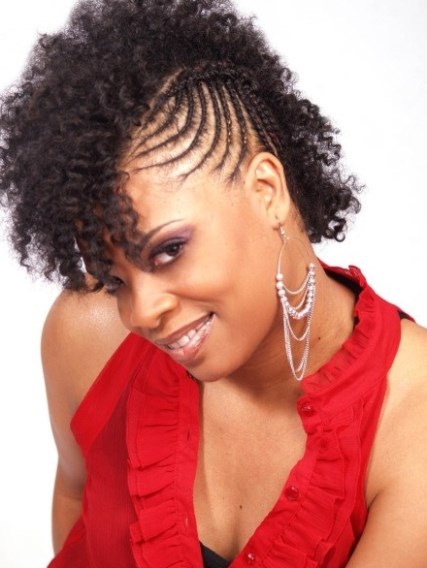 Mohawk hairstyle is probably one of the versatile haircuts. You can transform this hairstyle in any other hairstyle. You can also achieve this hairstyle without shaving the ends as well. This hairstyle calls for classic Mohawk hairstyle with braided sides. 
25.) The Chic Braided Mohawk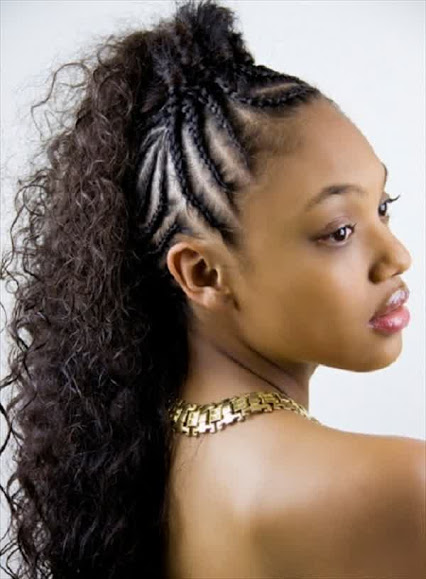 If you have long locks and want to adapt Mohawk hairstyle that too without chopping your tresses then this is the best way.
26.) Box Braids Mohawk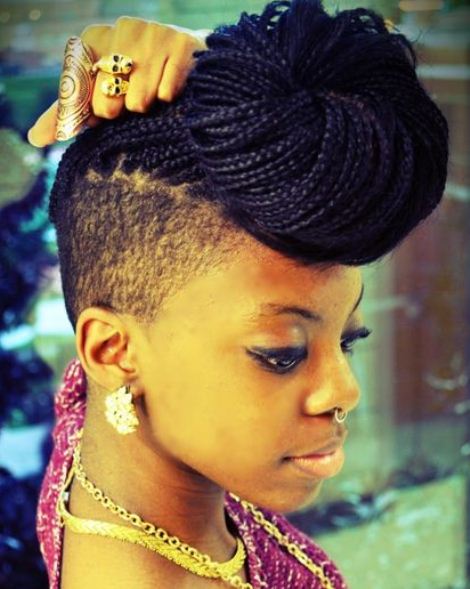 Next in the list of stunning Mohawk hairstyles we have box braids Mohawk. If you want to shed the monotony with your box braids then this hairstyle is definitely for you. This gorgeous Mohawk hairstyle will give you a new look altogether.