Undercut hairstyles are the current popular trend for 2016. Undercuts can be short, medium or long hair. You can get undercut hairstyle at your temple side or at the nape section. Although this hairstyle is more popular among men's but when we talk about girls and women they also keep them up with new and latest trends. So in this article, we have listed best stunning and rocking undercut hairstyles to try this season.
Top 15 Short Undercut Hairstyles
1.) Undercut Hairstyles with Longer Bangs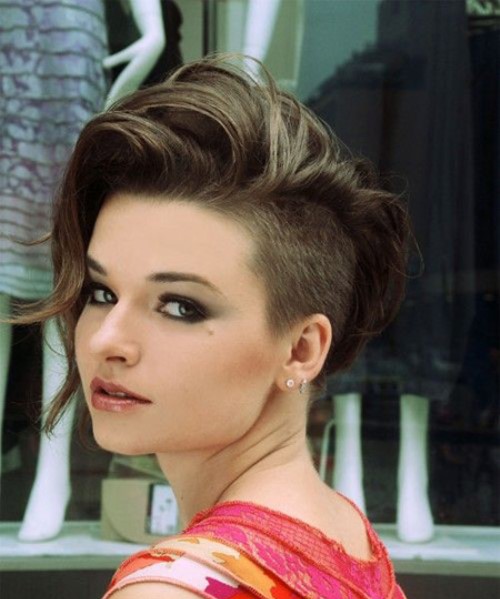 This is one of the lovely undercut hairstyles to try this season. This hairstyle is very attractive and alluring with longer top and side bangs. The shaved sides look more interesting with neat and clean look.
2.) Mohawk with Braids and Undercuts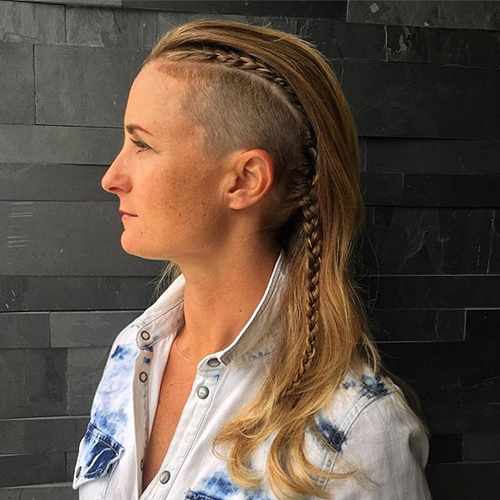 If you have long hair and shaved side then try this one of the creative and beautiful hairstyles to rock this year. The side braids complimenting the cute undercuts between the long and short sections.
3.) Business Casual Hairstyle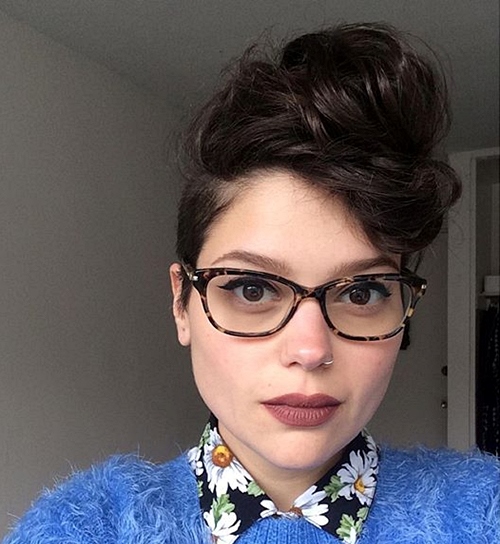 Try this one of the stylish formal looking undercut hairstyles for any formal meeting. Keep sides short and make a messy bun on the top of your head to achieve this cool look.
4.) Colorful and Creative Short Styles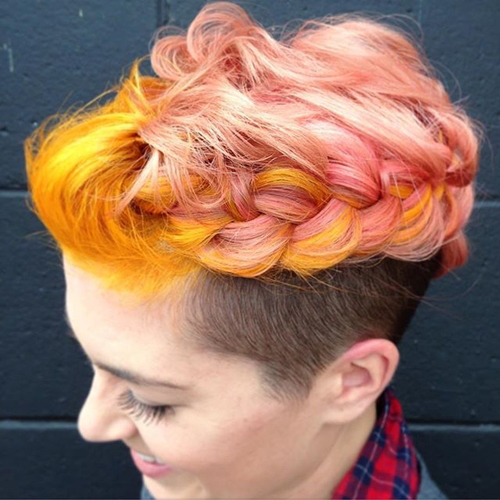 Try this new and versatile undercut hairstyle for 2016. The long top hair twisted into a pony or braid looks interesting with bright and bold hues.
5.) Fantasy Inspired Undercut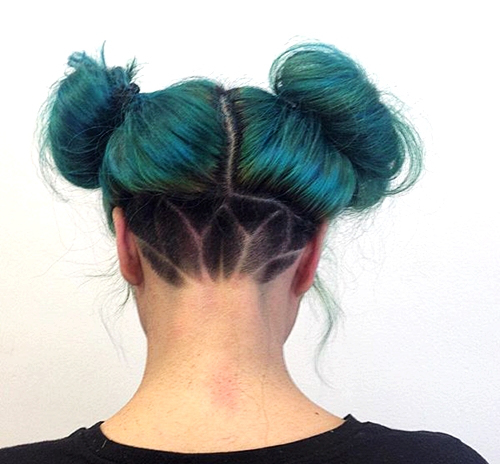 This year try something new and creative short undercut hairstyles. The comic look goes best with nape undercut with etched design and bold aqua hair color. You can also try this cool and dramatic look for fun.
6.) Powerful Top Undercut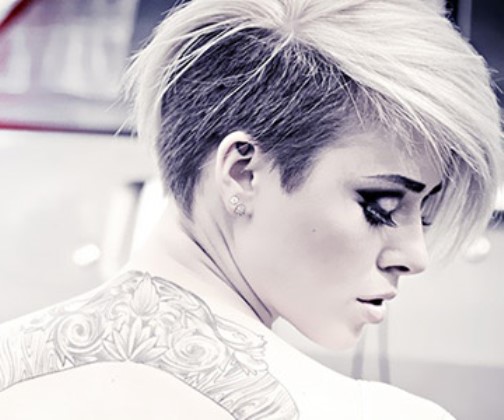 Try this one of the creative and dramatic undercut hairstyle for women with short hair. The platinum blonde and side dark shaved base looks contrasting. You can also try this hairstyle for every day look.
7.) Feminine Designs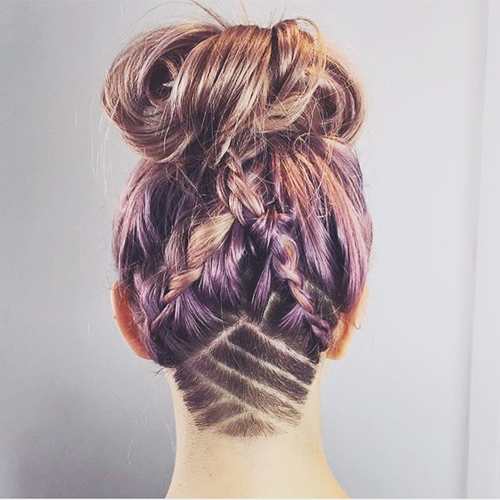 This is one of the creative undercut hairstyle for long hair. The underneath shaved design is best for this unique piece of art is perfect for a feminine look. You can add buns, ponytails or braids top this intricate hairstyle.
8.) Triangular Style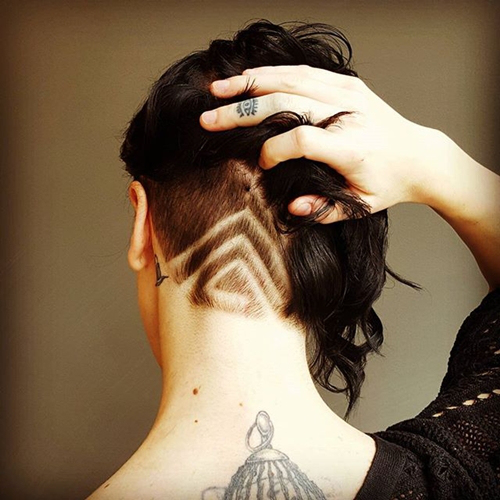 Try this one of the cute shaved under hairstyles. This design is one of the popular and trendiest of all designs. To reveal this design just opt for a ponytail or a bun.
9.) Loop Braid Undercut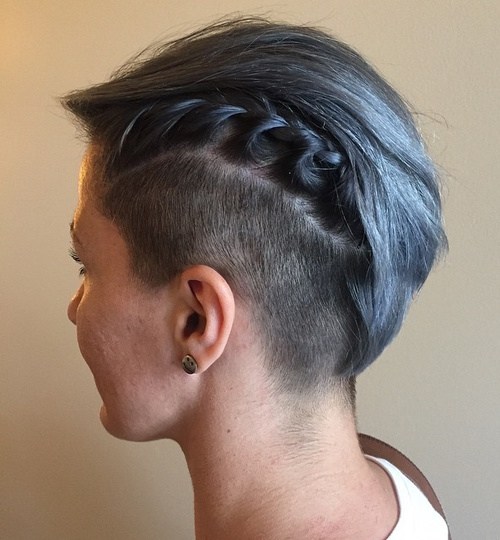 Try this one of the super chic undercut hairstyles. The loose French braid looks amazing with brushed out layers. The unique blue-gray hair is perfect for hard buzzed details.
10.) Long and Blonde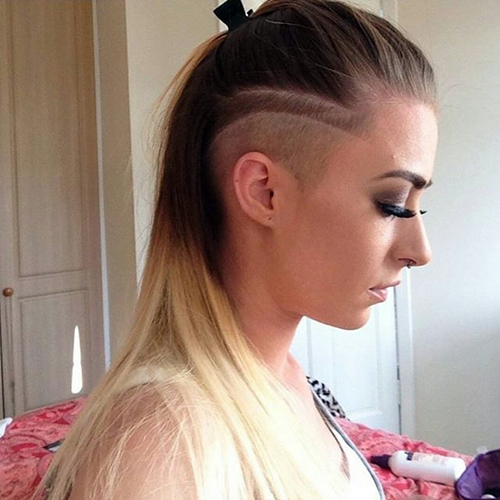 This is another one of the hot looking undercut hairstyles with a modern twist. The subtle shaved pattern is superb with traditional hair.
11.) Sweet and Spicy Spikes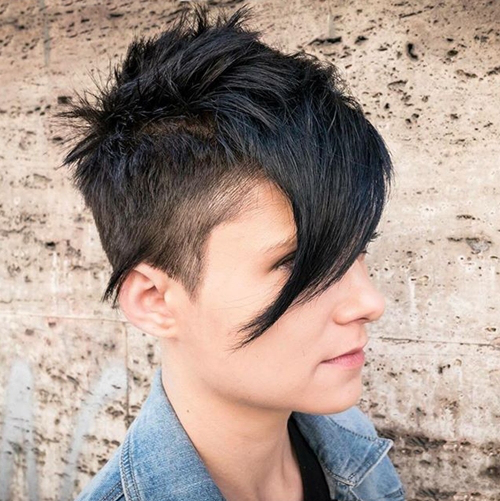 Get some inspiration from boy styles with some spikes and long side swept section across your forehead. Just a hand of gel and tousling with fingers can help you get this stylish hairstyle.
12.) Platinum Undercut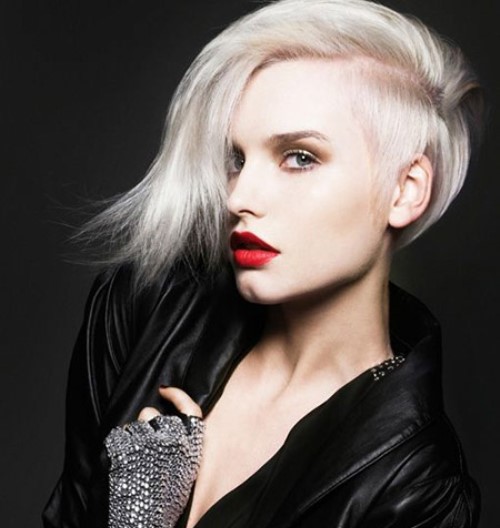 This is one of the awesome undercut hairstyles to try this season. The side swept bangs and undercut sides look amazing with long side bangs.
13.) Stylish Pixie Cut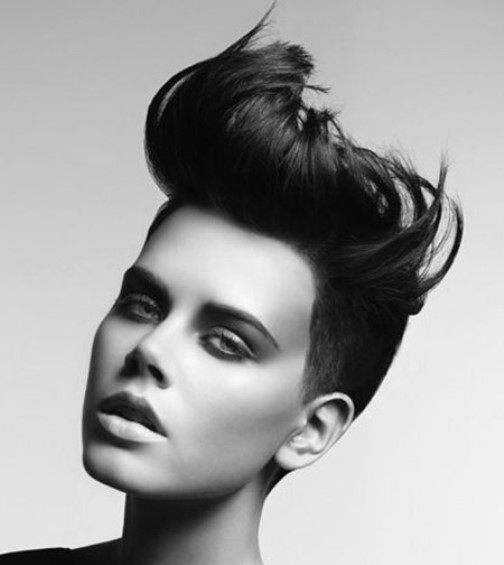 Try this one of the sexy looking undercut hairstyles for short hair. If you are bold enough then try this cool and rebellious hairstyle for this season.
14.) Short with Shapes
Try this one of the classy and vintage undercut hairstyles to try this season. The short undercut bob and straight locks with angled layer looks flattering to every woman.
15.) Long Hair Rebellion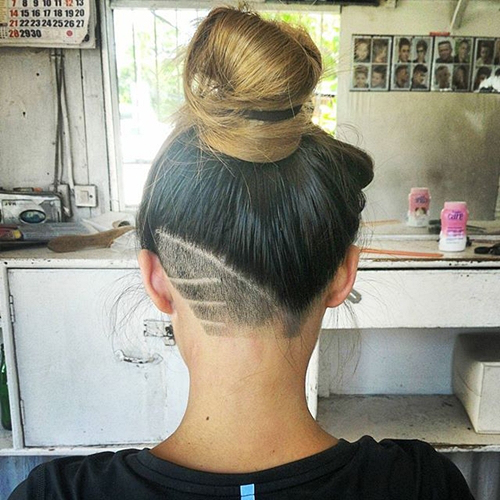 Check out this one of the pretty long undercut hairstyles for every occasion. Just tie your topknot high to reveal your edgy shaved design underneath.