Coconut oil is renowned for hair growth. This oil has been used throughout history, for healthy hair, skin and metabolism. External application of this oil is highly beneficial for health. It is highly beneficial for those who find it difficult to grow hair fast also. Coconut oil has various properties nutritional properties, antioxidants, and antibacterial properties. It seems that coconut oil has all the essential things necessary for the growth of hair. External application of this oil is highly beneficial for the hair. Coconut oil for hair growth is often a highly sought after remedy, especially for those who find it hard to grow their hair naturally. In essence, coconut oil is one of those products that seem to have it all. Now let's learn more about the usage of this super product to promote your hair growth.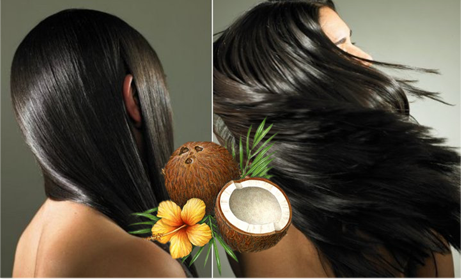 Benefits of Coconut Oil for Hair Growth:
There are lots of reason for using coconut oil for hair growth as a part of your hair care. Some of the health benefits are listed here.
1.) Provide Nutrition
Coconut oil is rich in vitamin K, vitamin D and iron. This oil helps in keeping our scalp healthy. It penetrates into the hair and provide nutrition to our hair and make them strong.  The stronger the hairs remain the longer they remain.
2.) Protect Hair Protein
Coconut oil contains lauric acid that helps to prevent loss of protein in hair. This important content is that element in coconut oil which makes it the best hair care natural product in comparison to others. Hair needs proteins for good growth and healthier scalp.
3.) Lock the Moisture
There are many external factors that are responsible for drawing the moisture from your hair. The loss of moisture from your hair may result to brittle, dry and damaged hair. Use of coconut oil helps to lock the moisture of your hair and protect them from external damage.
4.) Promote Blood Circulation
Softly message your scalp with coconut oil to increase the blood circulation. Healthy circulation of blood in the scalp ensure that you have stronger hair follicle which in return enables stronger hair growth and beautiful hair. Message your scalp with this oil so the hair follicle will be at its peak strength.
5.) Add Strength to Your Hair
Due to the many healing characters of coconut oil, it will penetrate the hair follicle and thus ensure that the strand of hair is stronger. Stronger hair is going to allow the hair to keep growing, and this can actually encourage better hair growth that does not have split ends.
6.) Make Your Hair Shine
Have you ever wished to have dazzling silky and shiny hair like that of the divas in the silver screen? The use of coconut oil does not only make your hairs grow but they also make your hair shinier and silkier.In addition to these this miraculous oil also helps to maintain the hair color.
7.) Work Against Bacteria and Fungus
Other issues which are obstacles for hair growth are dandruff and lice. They damage our hair and cause hair fall. Coconut oil has anti-fungal properties. The coconut oil hair is a natural conditioner which provides your hair with a natural defense against these ailments and further prevents further damage to the hair.
Ways to Use Coconut Oil for Hair Growth:
1.) Choose a Proper Cover
Get natural coconut oil. Various organic coconut oils are available in the market, get organic once or the virgin coconut oil. They are the best coconut oil for hair growth and care. The oil is beneficial on for hair but can prove to be a real mess on your clothes. So it's better you take precaution, take a proper cover to cover your shoulder and save your clothes from the oil. You can use an old towel or an old shirt when applying this to your hair. These will help you to prevent this oil from ruining your good clothing.
2.) Heat Up Some Coconut Oil 
Use warm coconut oil for hair growth. The appropriate amount of oil depends on the length and thickness of your hair. Pour the required amount of oil in a microwave safe bowl and heat it up for 30 sec. Do not over heat the oil you will only need warm oil for a message.
3.) Massage Your Hair with Coconut Oil
Let the coconut oil hair conditioner cool slightly, check properly if it is warm. Later pour this on the top of your head and use your fingers to evenly distribute it evenly on your scalp and hair. Gently continue the message from the crown to the lower part of the scalp and hair. Let the scalp absorb the oil. If you have exhausted the oil pour some more or dip your fingers to apply the oil, where ever necessary. Spread this into the scalp and then run your hands along the rest of the hair from the roots to the tips. For split ends or if you want to hydrate the hairs at the ends you can apply this oil at the ends only.
4.) Give it Time or Go for Turban Therapy
After a proper message, you will find your hair soaked with coconut oil. You can now use an old towel to wrap your hair or just simply use a shower cap to let the oil penetrate. You should keep the oil for at least 1/2 an hour. You can also leave it overnight to get the best results.
If you want a therapy you can use coconut oil for a warm therapy. The turban therapy is the best therapy, you can do this by yourself at home. All you need to do is to get some warm water and use a towel to do the therapy. Use a medium to long size towel for the purpose so that it is comfortable for you. Dip the center part of the towel as much as you can and roll the towel hard to squeeze out the extra hot water. A sure that the towel is squeezed properly that much that no water drops from it. Later wrap this warm towel on you head like a turban. To steam your hair and get a healthy hair. Do it for several times, change the turban as soon as the towel gets cold.
 5.) Wash It Off
After keeping the oil for the required time remove the wrapping from your head and wash your hair until you get rid of the oil. You ill need 2 to 3 washing's with a gentle shampoo. You will surely get an amazing feeling after you dry your hair. You will see amazing looking hair that is beautiful and healthy. This is the best way to use coconut oil for hair growth.