The asymmetric haircut is one of the contemporary haircuts that has gain a huge fan following in recent years. This haircut looks best on girls with round face and weak chin. It accentuates the chin and contours. This quirky and cool haircut is in every girl style list but few dare to get it. To upgrade your style statement we have come with 20 cool asymmetric haircuts.
Cool Asymmetric Haircuts List:
1.) Short Asymmetrical Bob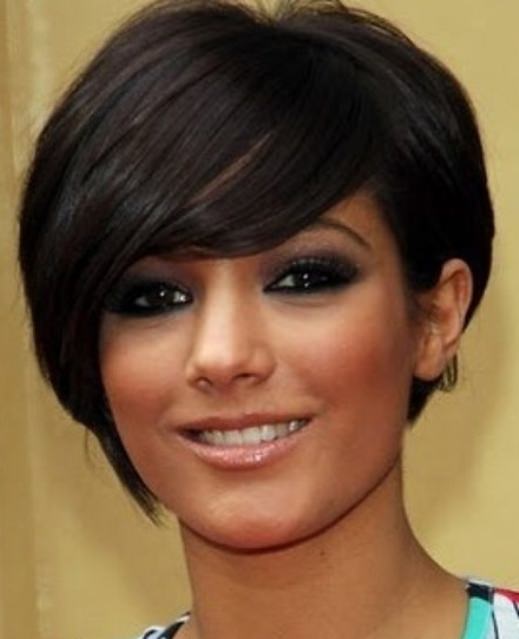 First in our list of cool asymmetric haircuts is short asymmetrical bob. In recent times, bob cut has redefined the meaning of short hair. It  will add oomph to your personality and makes you look classy. To make this haircut more interesting you can go for an asymmetrical bob.
2.) Asymmetrical Layers
If you have medium texture locks then asymmetrical layers is an in an ideal haircut for you. To accentuate this haircut get your tresses colored. A solid color will definitely work for you.
3.) The Wind- Swept Asymmetric Bob Hair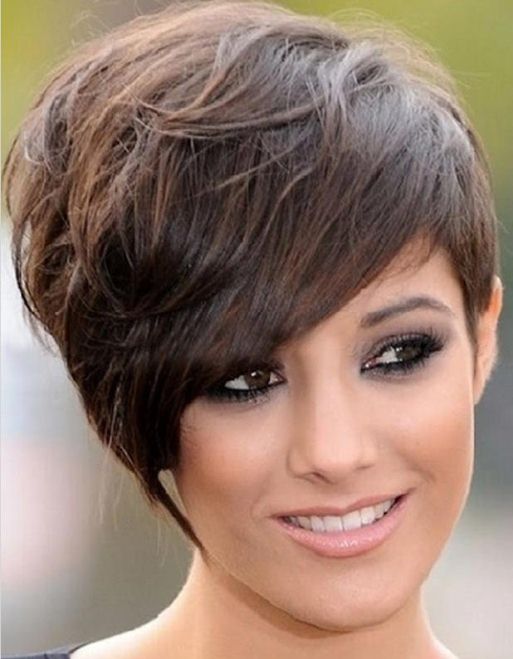 This lovely asymmetric bob hairstyle will look fabulous on you. At one side your hair will be short and another side will have wind swept and flipping out hair. This side swept bangs is definitely one of the coolest asymmetric haircuts. It is perfect for this hot season.
4.) Wavy Asymmetric Bob Hairstyle
If you want to add glamour to your look then try your hands on wavy asymmetric bob hairstyle. It will give you celebrity like look. On one side you will have asymmetric hairstyle flipping out and on another will have alluring soft natural curls.
5.) Blunt- Ended Asymmetric Bob Hairstyle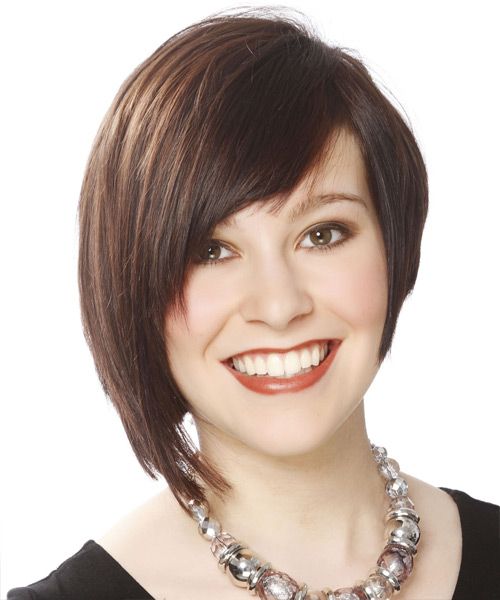 Another bob hairstyle that you can choose for a cool-chic look is this blunt-ended asymmetric bob hairstyle. This will add volume to your tresses and give you a new  quirky look altogether.
6.) Wavy Asymmetrical Bob with Bangs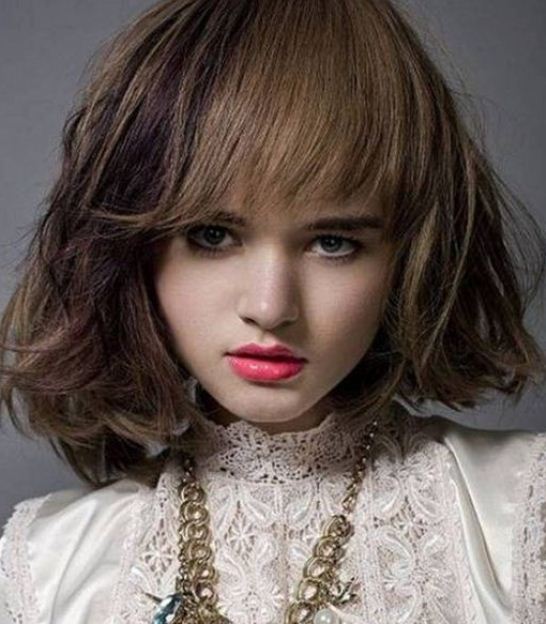 Wavy tresses never go out of the fashion. They work for almost every face shape. To take wavy asymmetrical bob one notch higher ask for bangs from your hairstylist. It will give you a cute and sassy look. This haircut is ideal for college goers.
7.) Bleached Blonde Asymmetrical Haircut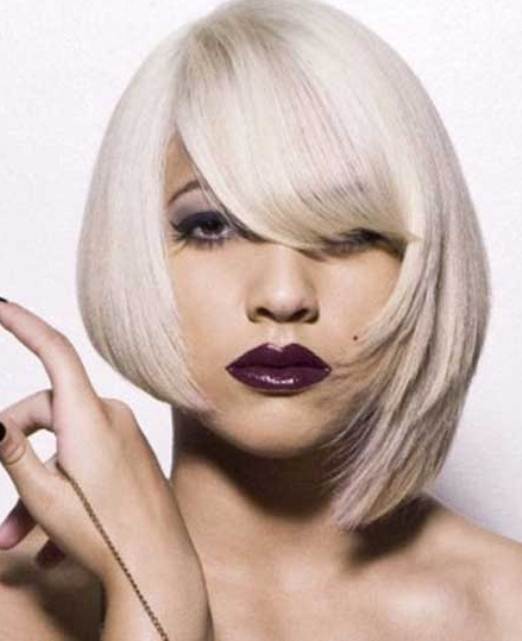 Another asymmetric haircut that you must try is bleached blonde asymmetrical haircut. Blond hair is favourite among Hollywood style divas. It gives a sassy look. Once you achieve this look all you have to do is blow dry your tresses and you are good to go.
8.) Long Asymmetrical Hair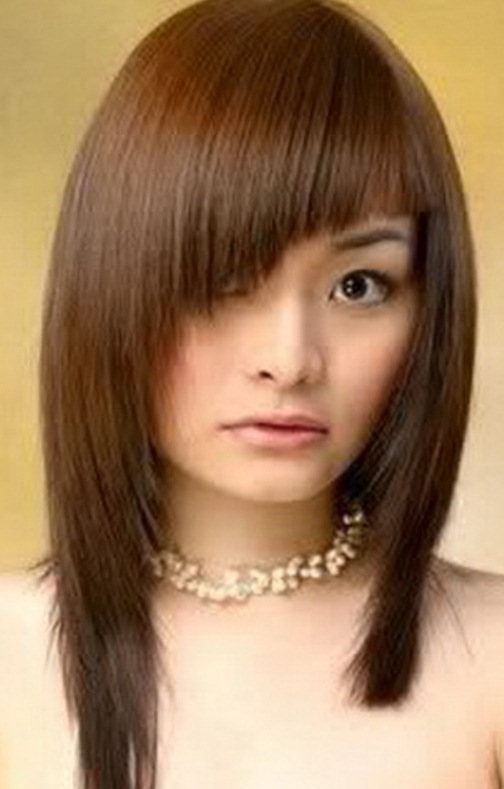 If you do not want to compromise on your length of the tresses then you can opt for a long asymmetrical haircut. It is one of the iconic asymmetric haircuts. It will redefine your looks.
9.) Edgy Shoulder Length Cut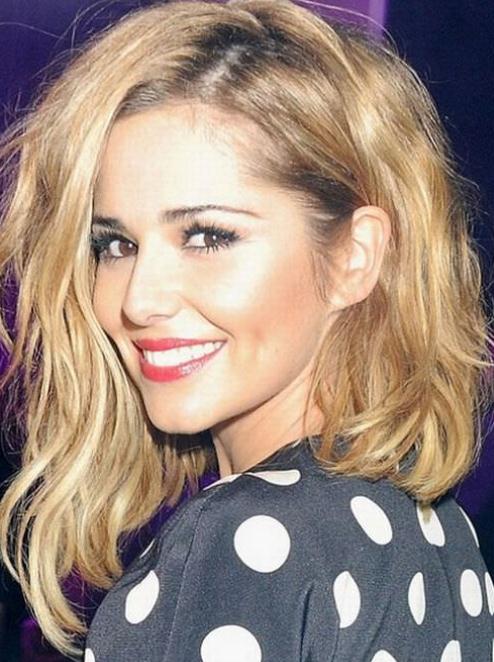 Next in our list of asymmetric haircuts is this cool edgy shoulder length cut. This long asymmetrical bob will add a twist to your looks. For a casual occasion, you can just leave them loose. For a formal look, you can tie them neatly.
10.) Deep Red Half Pixie Half Bob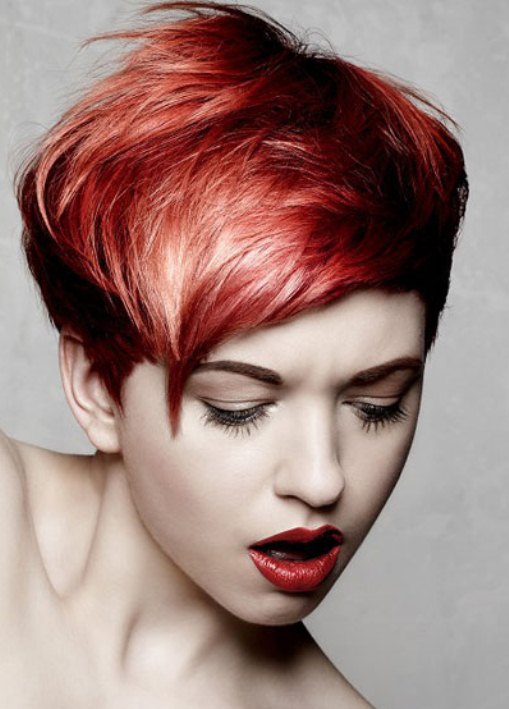 If you are looking for a unique haircut which has been tried rarely then deep red half pixie length cut will surely mesmerize you. The exquisite hair cut plus hairstyle will definitely make you stand out from the crowd. For a carefree girl in you , it is an ideal haircut.
11.) Short Graduated Blonde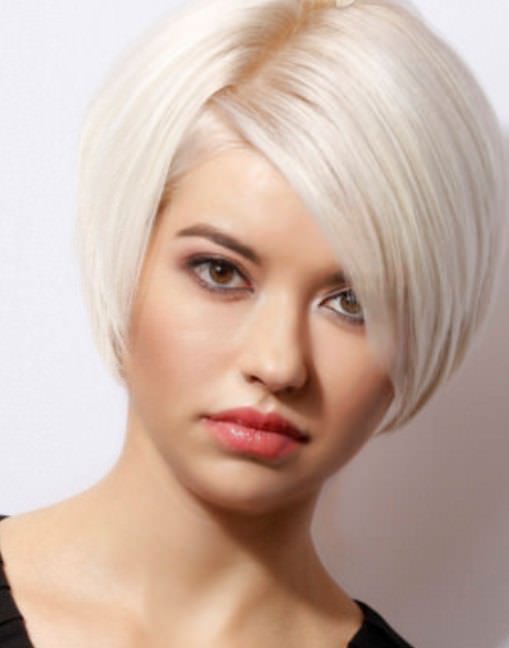 Short graduated blonde is one of the coolest and stylish asymmetric haircuts. It adds punk in your look. This haircut is ideal for both males and females. The choppy layers with sharp angle make it a unisex haircut.
12.) Curly, Layered Bob with Highlight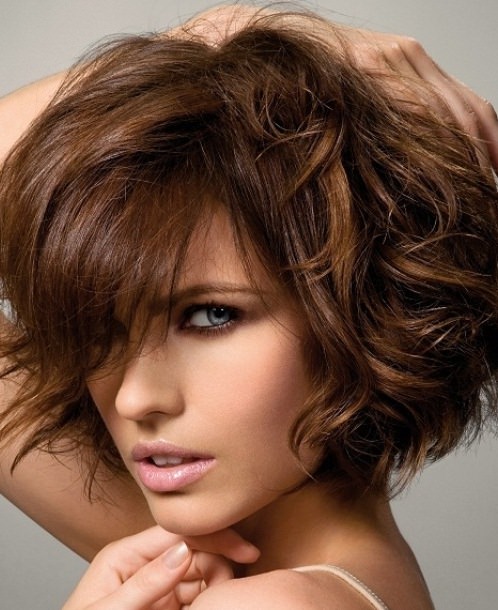 Add some volume to your tresses with this cool curly, layered bob cut with highlights. It will give you a new look altogether. You can opt for an ombre hair color that is dark from the root and light colored from the bottom or you can simply head for solid color highlights.
13.) Choppy Asymmetric Bob Hair Cut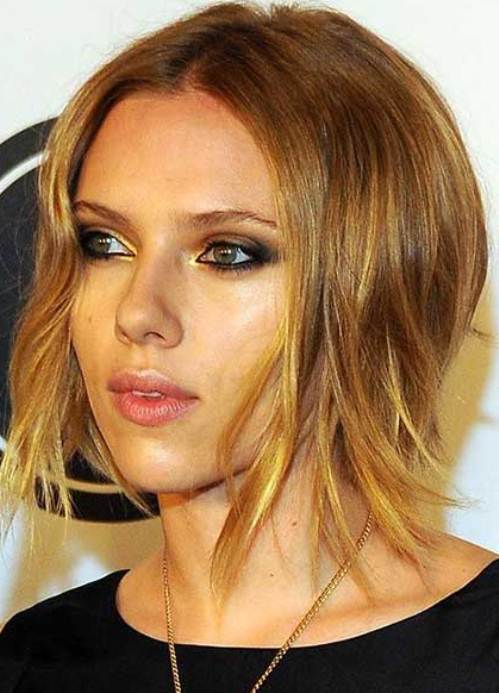 This haircut is apt for the matured women. Just because you have crossed your 40's doesn't mean that you aren't eligible for experiments. This haircut will give you cool look.
14.) Asymmetrical Pixie Haircut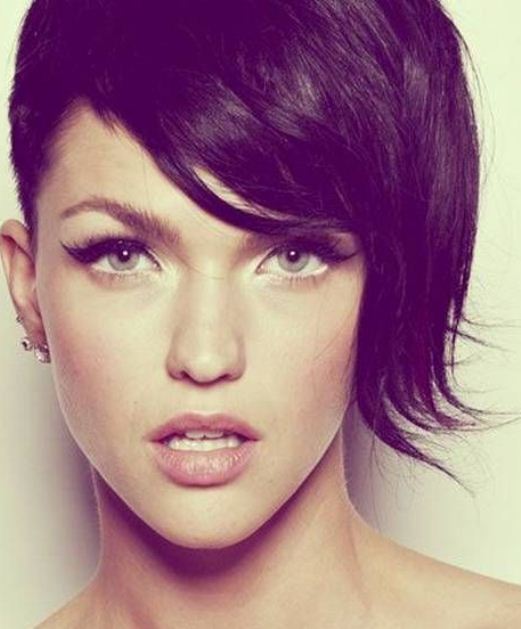 Asymmetrical pixie haircut is in vogue and it is among the coolest asymmetric haircuts. This haircut is quite different from usual asymmetrical haircuts. This haircut looks best on short hair. The pixie asymmetric haircut looks classy on grey and blonde locks as well.
15.) Asymmetrical Haircut with a Punk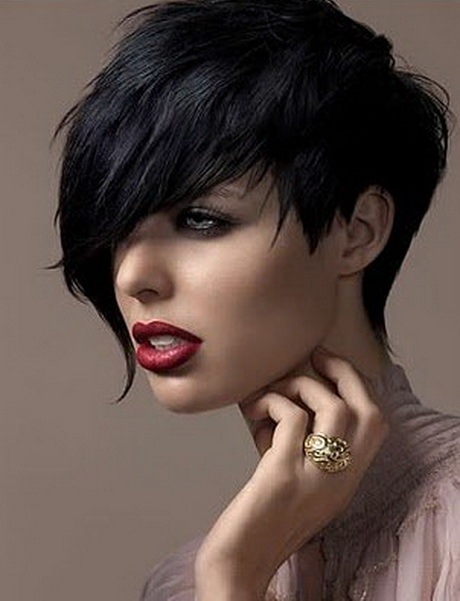 This haircut will transform you from simple looking girl to a stylish diva. The bold colors will add life to your hair. Vibrant shades of purple and red will look amazing on your dark tresses.
16.) Short Asymmetrical Haircut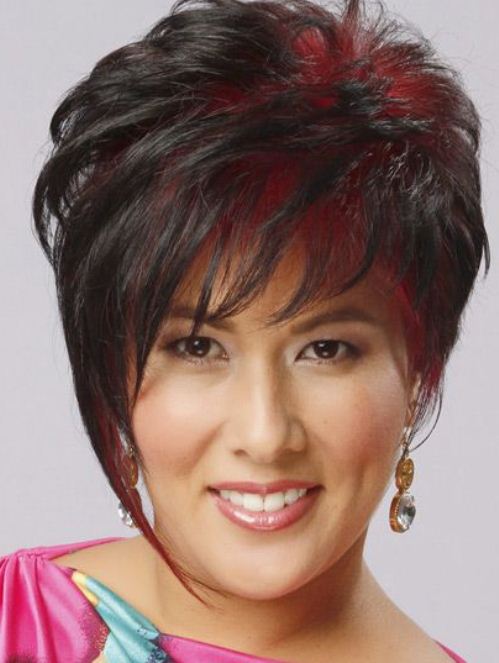 People with thin hair are not left with many hairdo options. A short asymmetrical haircut will definitely rescue them from their monotonous look.
17.) Miley Inspired Asymmetrical Haircut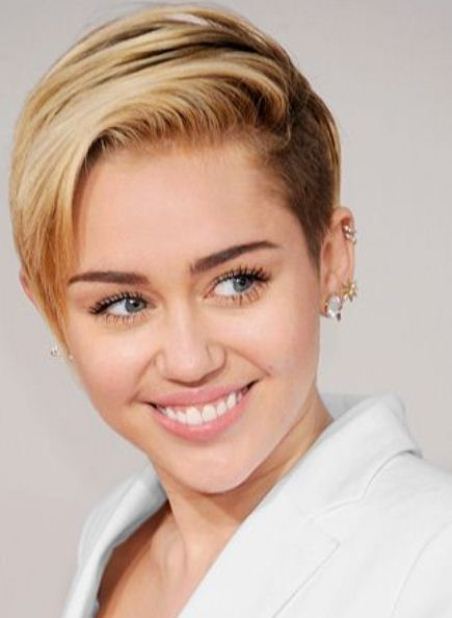 If you are a huge fan of Miley Cirus, then you will surely love this hair cut. The featured top layer and side bangs will give you a catchy look like your favorite songster.
18.) Mermaid Asymmetrical Haircut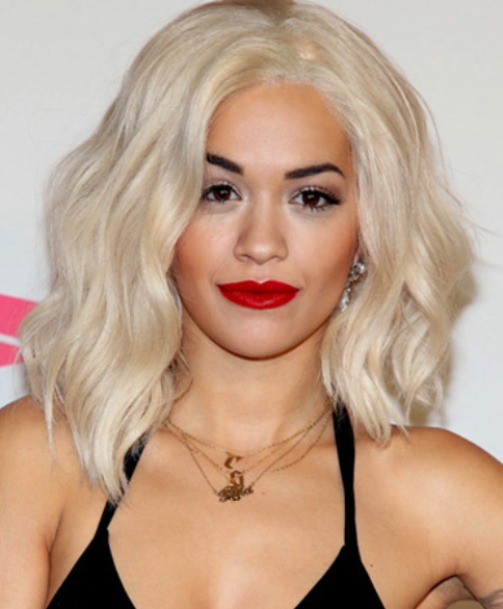 Yes, you guessed it right, this haircut is inspired from the pretty mermaid. They look so mesmerizing. Doesn't they! For this, you do not have to chop your tresses much.
19.) Asymmetrical Shag Haircut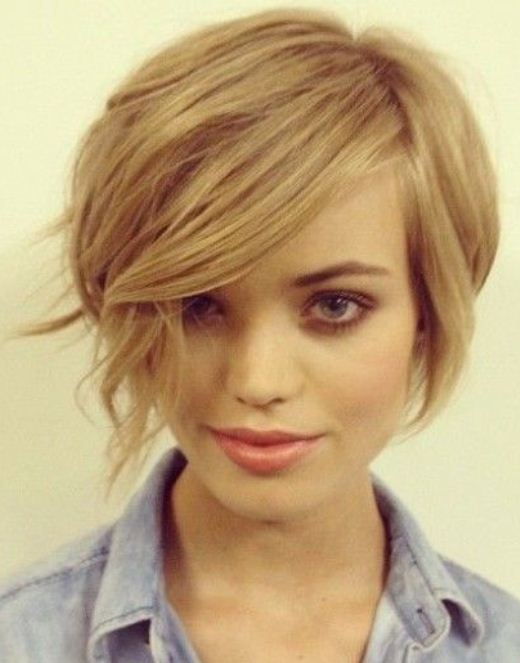 With this haircut, you can experiment with your tresses. It will give you shower and a cool look. Your girlfriends will definitely envy you for this look girl!
20.) Flowing Silky Asymmetrical Haircut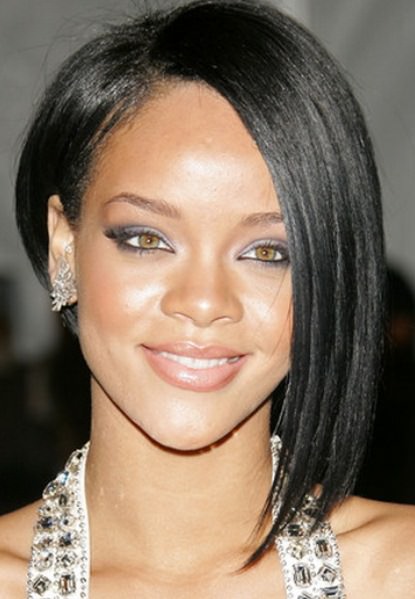 Last but not least in our list of cool asymmetrical haircuts is a silky asymmetrical haircut. Who does not love silky long tresses but they can give you a hard to time manage. To cut off all the hassles flowing silky asymmetrical haircut is an apt remedy.