Rosemary is considered as one of the most powerful essential oil on this earth. The oil is a treatment for hair fall, baldness, gray hair and dry scalp. This aromatic herb is considered sacred by the ancient Greeks, Romans and Hebrews. The evergreen herb belongs to the mint family and has earned its reputation as a therapy for various health and beauty problems. The value of antioxidants in rosemary is the richest. It also has anti-inflammatory properties. Here we will go through the best use of rosemary oil for hair.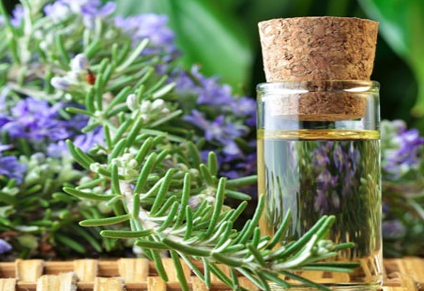 Benefits of Rosemary Oil for Hair:
Rosemary has many benefits for hair here are some of them.
Stimulates hair growth.
Increases hair growth by 22.4%.
Heals the scalp.
Repair the damaged hair.
Improves the ability of hair to resist traction.
Prevents hair fall and baldness.
Treat dandruff and dry scalp.
Improves circulation to your scalp.
Gently cleanses your hair.
Increases shine and texture of your hair.
Helps you to get rid of dry hair and dandruff.
Rejuvenate hair follicles.
Ways to Use Rosemary Oil for Hair:
1.) Rosemary Infused Water for Hair
Rosemary can be applied externally to your hair and scalp. You can use green or the dry herb for this purpose. Consider fresh ingredients for best results.
Take the adequate amount of water you need to rinse your hair.
Add some rosemary to the water to let them boil.
Allow it to boil for 15-30 minutes.
Separate the leaves.
Use the rosemary infused water to rinse your hair.
Accompany the rinsing process with a gentle massage to your scalp. Use the tip of your fingers for the purpose.
2.) Rosemary Oil with Olive Oil
The rosemary infused oil is highly concentrated. You can use few drops of these oil with the essential oil for daily use. If you want to use the green herb than follow the following easy and simple steps.
Crush the herb with your hand and put it into a glass bottle.
Pour the oil of your choice like olive or the jojoba oil. Try to avoid temperature sensitive oil.
Keep the oil in a cool and dark place for 2-3 weeks.
Apply the rosemary infused oil to your scalp and hair for a light massage.
3.) Rosemary Vinegar for Hair 
You can also combine the greatness of the oil with the goodness of the apple cider vinegar. This will help to cleanse, maintain the pH level and condition your hair. Here is the simple and effective process.
Crush Fresh rosemary and add it to a jar of apple cider vinegar.
Keep the jar in a cool and dark place for 3-4 weeks.
After shampooing use 1/4th of a cup of this mixture to 1/2 cup of water and rinse your hair.
4.) Hot Oil Treatment with Rosemary Oil for Hair
Hot oil is a treatment for all types of hair problems and if its rosemary oil, it is the best. The oil provides instant relief from hair loss, dry hair and damaged hair. It helps to open the clogged pores and nourishes the roots. Use rosemary oil for the massage.
Take 3-4 tablespoon of olive oil and add a few drops of rosemary oil.
Mix them well.
Warm the oil in a microwave.
Apply the lukewarm oil to your scalp and hair.
Use your fingers to give a gentle massage.
Wrap a towel around and let it leave for  20-30 minutes.
You can also use a shower cap.
Later wash your hair. Repeat this treatment once or twice a week to witness healthy and problem free hair.
5.) Mix Rosemary Oil for hair with Shampoo
There is also another convenient use of rosemary oil for hair. You can simply add a few drop of this essential oil to 4 ounce of the shampoo you use for hair wash. Rub the mixture onto your scalp and the hair for a few minutes. You can also use lavender, sage or peppermint oil with rosemary essential oil to mix with shampoo to get a perfect hair wash. You can also add it to your conditioner.
6.) Grapeseed with Rosemary Oil for Hair
You can mix the grape seeds with the essential oil to give a light massage to your scalp and hair. For this purpose, you can mix 2 tablespoons of the essential oil with one ounce of grapeseed oil. Massage the oil into dry hair each day. Use your fingers to give a gentle massage to your scalp for better results do it every night and wash your hair the nest day.