A prom night is a special event where every girl looks forward for a gala time. Many of you zero in the dress and hairstyle you have to carry on a special day before the time and many could not decide till the last hour. If you are one of them, no worries we are here to help you with the list of stunning hairstyles for prom. These styles are elegant and make you dazzle the night.
List of Stunning Hairstyles for Prom:
1.) Twisted Flower Crown
This is one of the stunning hairstyles for prom. This messy hairdo with a floral headpiece will definitely earn you lots of compliments. You can pair it with an elegant long gown.
2.) Twisted Mohawk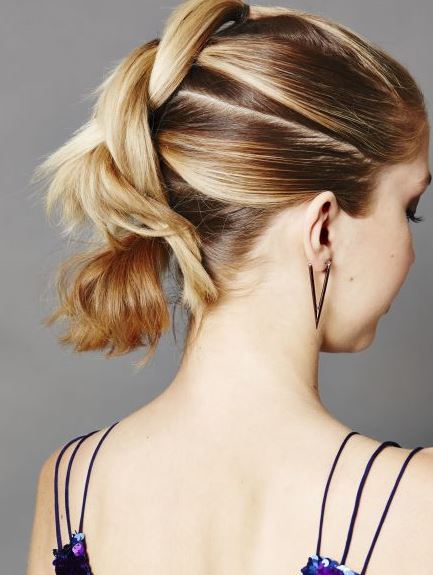 Another hairstyle that you can don on your prom night is this classy twisted Mohawk hairstyle. Traditional Mohawk hairstyles call for sides shaved but this is all about twisting the locks to give a Mohawk look.
3.) Braided Ribbon
If you are looking for an easy hairstyle that does not call for too much styling then you can consider this style. Simply braid your hair into with a classy vibrant ribbon matching with your dress. Wrap the ribbon around the crown area and then braid it for a classy look.
4.) Colorful Bob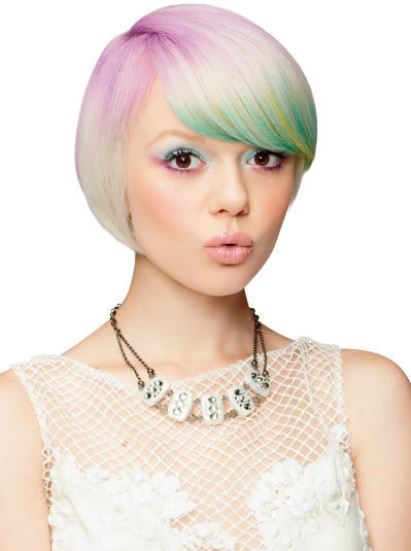 This is definitely one of the cutest hairstyles for prom. A colorful short hairstyle like this is also one of the ideal hairstyles for prom. The colors will give you a fresh and brighten your look. Pair this hairstyle with a sober dress.
5.) Side Twist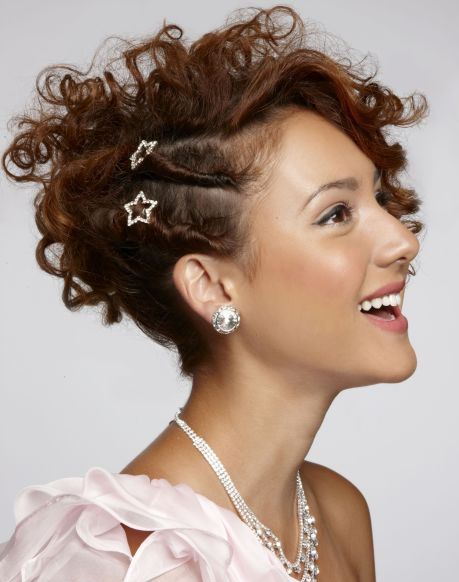 This is also a nice option for a prom night. This is a perfect hairstyle for the short haircut. All you need is classy hair accessories to adorn this look. This is one of the elegant hairstyles for prom. To draw the attention towards you go for a subtle makeup.
6.) Cornrow Braids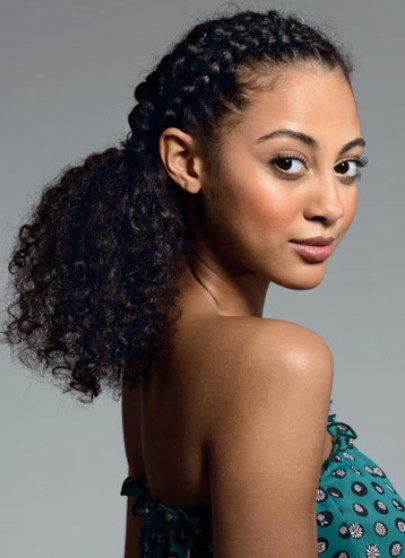 This is one of the ideal black hairstyles for prom. The cornrows braids weaved from the crown will give you a dapper look. If you have curly locks then do not straighten them, leave loose instead.
7.) Loose Bun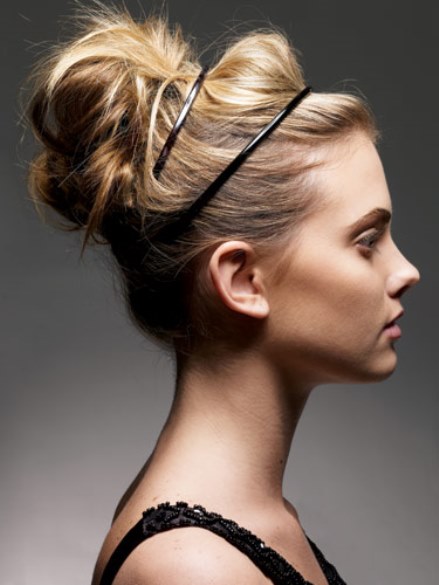 For a special night like prom you can also give a thought to this classy hairdo. The messy up do speaks volume. To add a little sass to it you can place a sober hair accessory.
8.) Sleek Bump
This is an apt hairstyle for long hair. A bump on the crown area will accentuate the entire look. For this go for straight hair. It will give a sophisticated look.
9.) High Polished Pony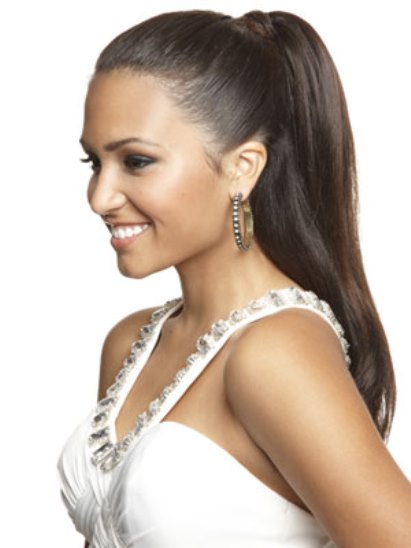 A ponytail is one of the versatile hairstyles that can don in different variations for different occasions. This high pony is perfect for night parties like prom. It will give you an attractive look and grab many eyeballs too.
10.) Fishtail Braid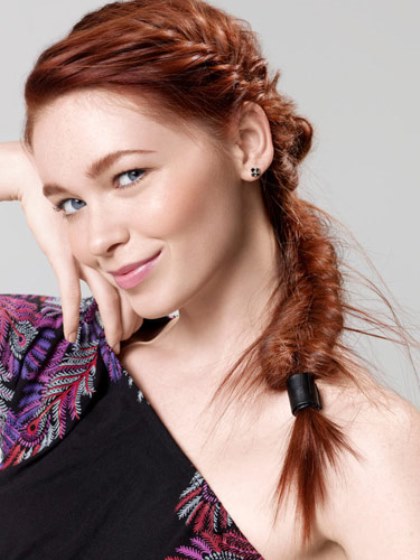 The tousled fishtail is also one of the perfect hairstyles for prom. This fancy side braid will go well with every dress. To add spare sass to it, secure the ends with a classy hair accessory.
11.) Braided Updo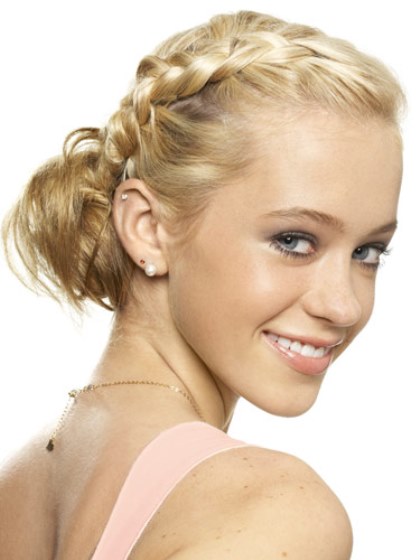 A braided updo looks classy and is easy to style as well. For this begin the braid right from the crown area and roll it into a bun. A messy bun will look equally classy.
12.) Twisted Knot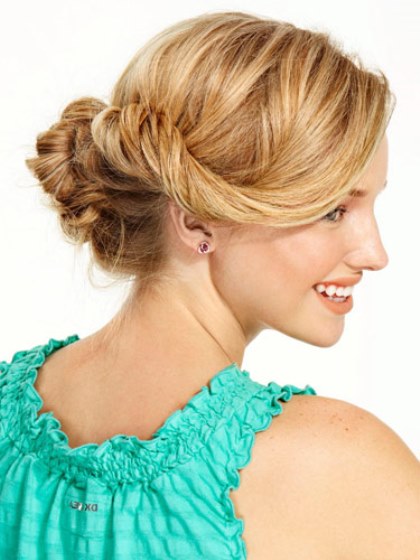 You can also consider this hairstyle for the special occasion like prom. The twist will add zeal to your looks and will definitely earn you thumbs up from fashion police.
13.) Loose Ponytail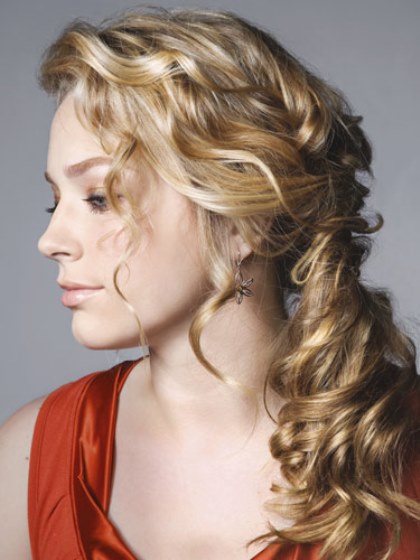 You do not have to don a complicated hairstyle for a prom night. The simple it would be, classier you will look.  For this hairstyle curl your hair.
14.) Middle Part with a Flower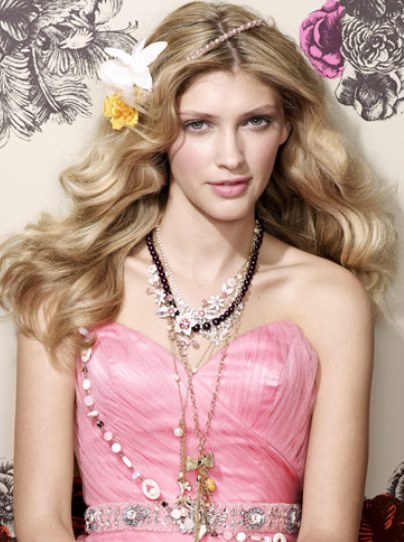 This is definitely one of the eye-catching hairstyles for prom. The loose curly locks adorned with floral head-piece will give you a charming look. For a dazzling look, you can pair this hairstyle with chunky accessories.
15.) Swept Away Curls
This sophisticated hairstyle will definitely be a head turner for you. For a girl next door image, you can don this hairstyle and people won't resisted themselves complimenting you.