Long and healthy hair is a dream of every woman but there are many hurdles in growing hair. Sometimes it becomes difficult to get the desired length. Here in this article, we will be going through some of the best tricks to grow long hair. But remember there is no magic to make them grow overnight. All you can do is, boost the growth of your hair with various remedies and care.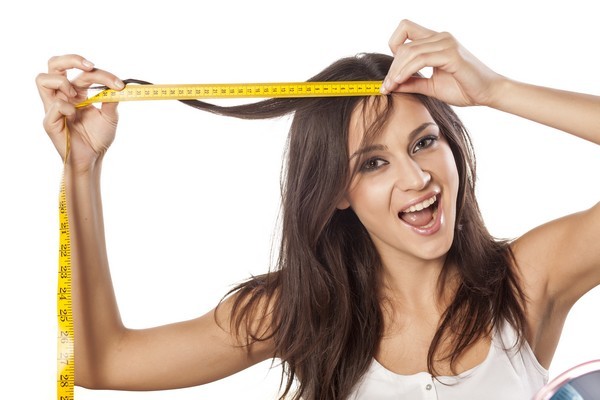 Tricks to Grow Long Hair Fast:
1.) Trim Your Hair Regularly to Grow Long
You need to trim your hair regularly, it will keep the tips looking healthy and prevent split ends. The split ends prevent from working their way up strands, requiring you to chop hair off more often. This helps your hair to grow faster and longer. You should trim your hair after every 3 months.
2.) Do Not Use Shampoo Every Time You Wash Your Hair
Shampoos have harsh chemicals that can cause damage to your hair. So use an herbal cleanser or an herbal shampoo for regular use this will help you to cleanse your hair without damaging the hair. The purpose of the shampoo is to wash away dirt and oil from your hair. But harsh chemicals of the shampoo wash away the essential oil leaving the scalp dry and unhealthy. This affects the health of your hair and results hair fall. So it is better not to use the harsh chemicals for daily use.
3.) Always Condition to Grow Long Hair
Every time you use shampoo to wash your hair be sure to condition them. The regular conditioning helps to replace the lipids and proteins inside the hair shaft. It protects and prevents your hair from further damage and helps them grow healthier.
4.) Oil Message to Grow Long Hair
The regular message to your hair and scalp helps to moisturize your hair and also helps to regulate the blood circulation in your scalp which promotes hair growth. You can use almond oil, coconut oil or any of the base oil for this purpose. Warm the required amount of oil, remember not to overheat the oil this might burn the nutrients in the oil. Apply the oil on your scalp and hair, use your fingers to give a gentle massage to your scalp.
5.) Avocado Mask to Grow Long Hair
Avocado is a fruit which has proved to be beneficial for skin, health and hair. The beneficial property of avocado was discovered by the Egyptian. They used this amazing fruit to promote hair growth, prevent hair fall and get shiny long hair. This fruit has been used as a hair care product for hair treatment. Raw avocado is the storehouse of vitamins and minerals. You can combine this fruit with honey for hair growth. Here is the simple method to make this hair mask.
Take a ripe avocado scoop it out.
Add 2 tablespoons of honey and 2 tablespoons of olive oil.
Mash the avocado until it makes a smooth paste avoid lumps in the paste.
Apply this smooth paste to your hair and scalp like a mask. Clip your hair.
Cover it with a shower cap.
Leave it on for 40-50 minutes. After that rinse your hair thoroughly and condition them.
6.) Banana Mask to Grow Long Hair
You can also make a fine mask of banana for your hair. Bananas are rich in hair friendly nutrients like folate and B6. I,it also helps to lock the moisture in hair. Again olive oil helps to seal the hair cuticle while milk has a protein that helps to strengthen and moisturize your hair. You can use this hair mask on your colored hair to deep condition and grow long hair.
Peel 2-3 ripe bananas and slice them.
Use a blender or food processor and smash the fruit.
Add 2 tablespoons of yogurt, 2 tablespoons of olive oil and 2 tablespoons of honey.
Apply the mask evenly on your hair.
Cover your hair with a shower cap.
Leave your hair for an hour and wash the hair with a gentle shampoo and warm water.
Use cold water for the final wash.
7.) Healthy Diet for Hair Growth
The diet is the most important factor for healthy life and hair. Your daily diet should contain proteins as it is crucial to make your hair grow strong and healthy. Iron is an important mineral for boosting the blood supply. Vitamins like C is a good anti-oxidants on the other hand vitamin A helps to get a healthy scalp and help you to get rid of itchy scalp.
8.) Biotin to Grow Long Hair
Biotin which is also known as Vitamin H is one of the B-complex vitamins that help the body to convert food into energy. Biotin is reputed to keep the hair and skin healthy. The recommended amount of biotin is 30-100 mcg per day for adolescent and adults. The best way to get biotin for your diet is taking raw or less processed version of  its sources for hair growth.
9.) Brush Your To Grow Long Hair
You should brush your hair carefully especially after a hair wash. Use a comb with broad teeth to detangle your hair. Always start from the ends. Later you cam use a fine comb or brush. Try to use wooden comb they are better than the plastic once. However, do not comb your wet hair. They are more prone to hair fall.
10.) Avoid Wrapping Your Hair with Towel
You can use a towel to wipe your hair or wrap but do remember that is not healthy to use the towel for too long. The towel is hard on the fragile strands and make them week, it makes the hair dry as it absorbs the oil from your hair.