In this article, we have listed 20 best hairstyles for little girls. Your little might have got bored with that same ponytail and braided hairstyles. Here in this article, you will find several cute and adorable hairstyles for your younger one for every occasion. Try the super chic and easy hairstyles for everyday look.
Top Hairstyles for Little Girls
1.) French Braid Headband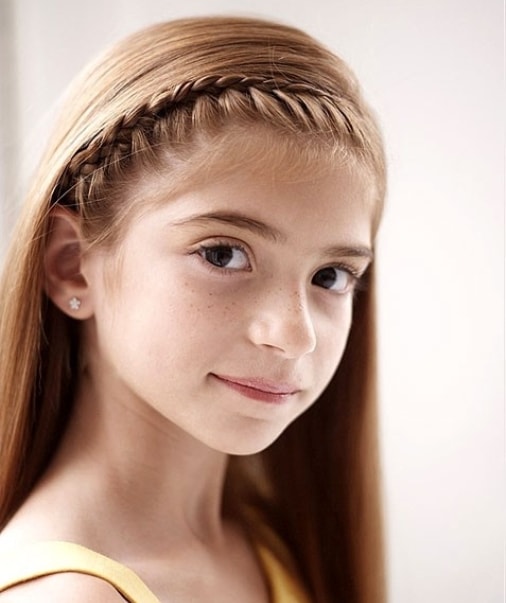 It's good to be creative and unique sometimes. When your daughter has such a long and beautiful hair, try every day something new like this. Try this French hair braid headband for a cute and sweet look.
2.) The Wrapped Pony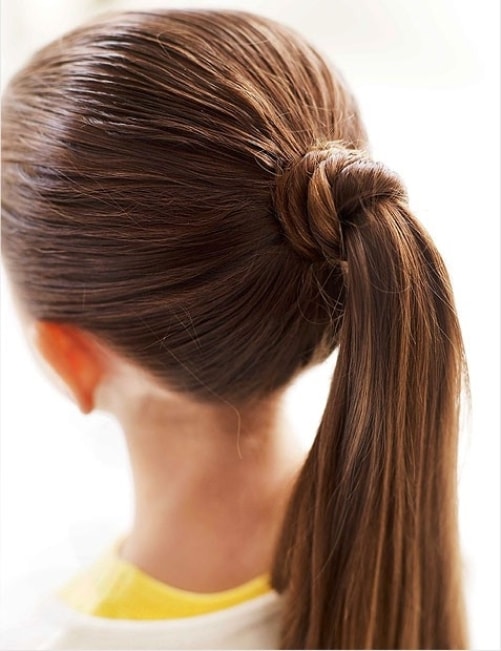 This is one of the easiest and simple hairstyle for a little girl with long hair. Try this wrapped pony by gathering all the hair and make into a pony by wrapping with a small section of the hair. This is a cool hairstyle for school and a birthday party.
3.) Ponytail Veil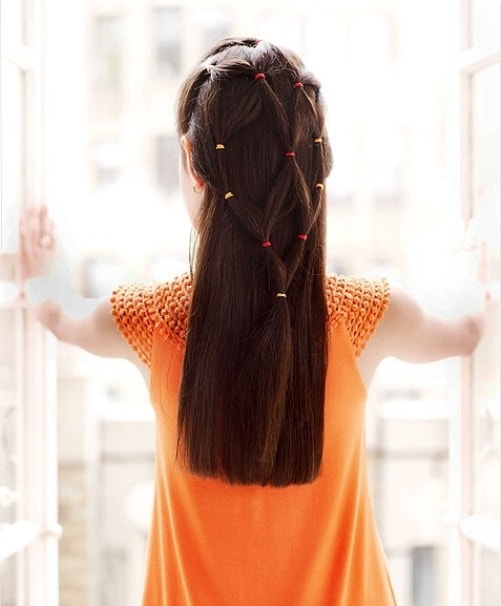 This is another creative and complex hairstyles for little girls. Ponytail Veil is ideal for long and thick hair. It looks more interesting with fun accessories. So try this super chic hairstyle for your young one.
4.) The Fishtail Braid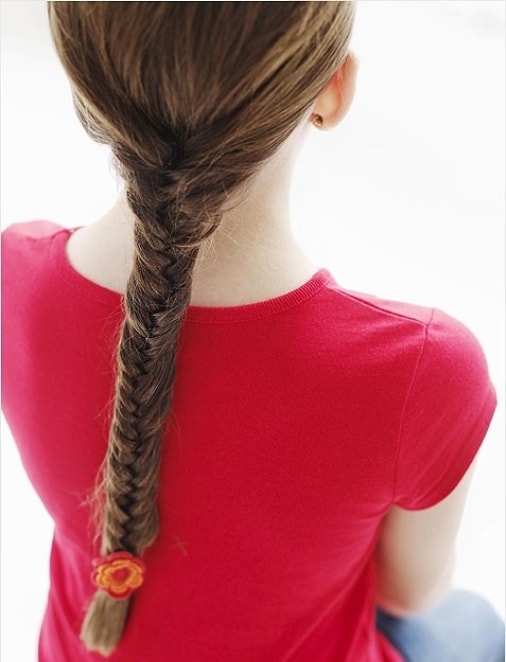 This is another creative and stunning hairstyle you can make for your little princess. Girls like to be creative and look clean. So try this fishtail braid for her natural looking hair.
5.) The Quadruple Twist
This is one of the best hairstyles for little girls. If your young one has straight, wavy or curly hair then, try this simple hairstyle. Just make 3 braids with small sections on the top of the head and pinning it with small butterfly clips. Use spray bottle to give a finished look.
6.) Double Twist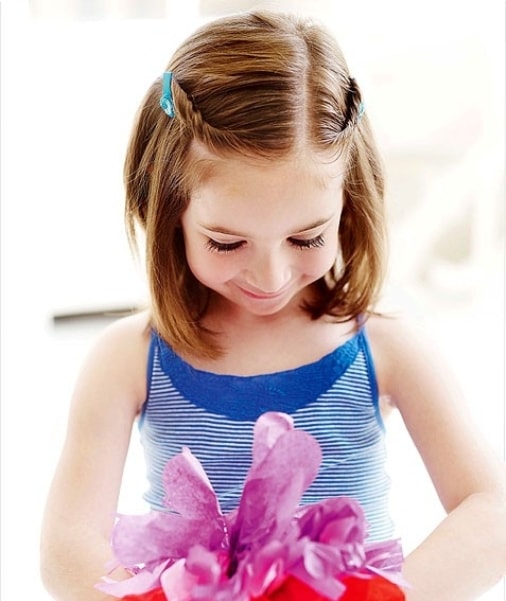 This is one of the trendiest and popular hairstyles for little girls. This hairstyle is ideal for medium to short hair. Just grab some small section of hair in front of both sides and clip it with fun accessories like butterfly clips etc.
7.) The Flip Tail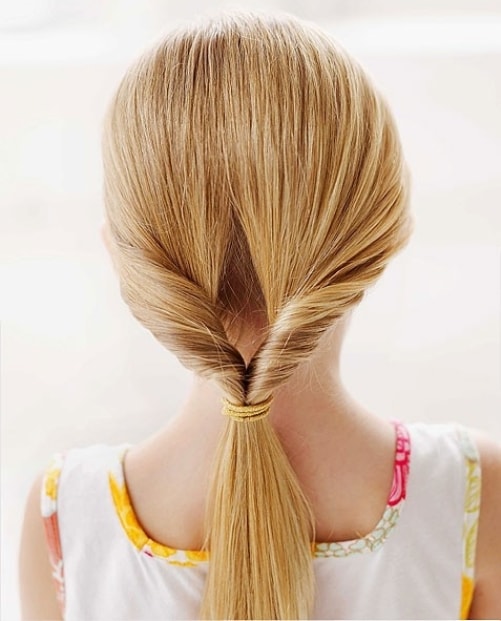 Try this creative and unique hairstyle for your little one. This looks simple yet so gorgeous on long hair. Try this easy to make a pony for your princess.
8.) A Big Bun Hairstyle for Little Girls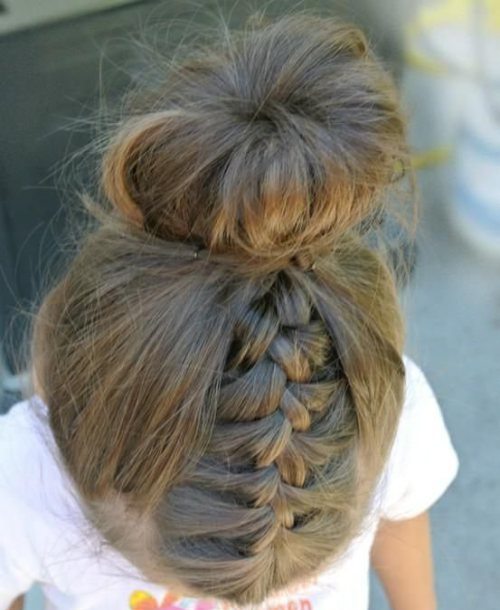 This hairstyle is ideal for long and thick hair. This is perfect for school and for a party fun. A center French braid and a high bun look gorgeous beautiful on little girls.
9.) Violet Fun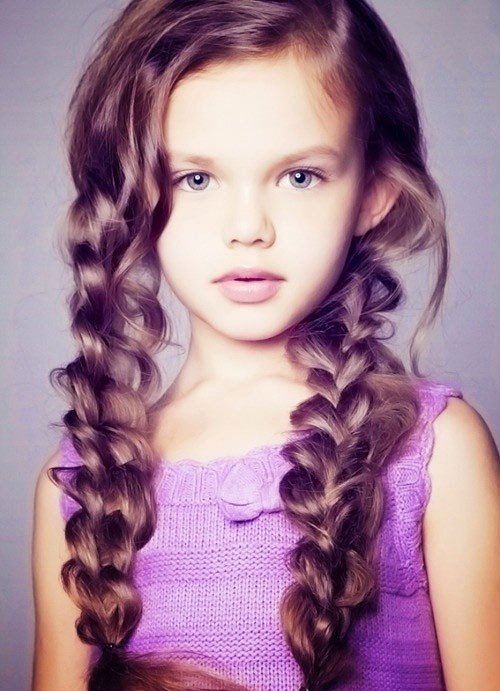 Try this messy and braided hairstyle for an amazing look. You must have seen this hairstyle rocked by many teen celebrities on the red carpet. Get some inspiration from this hairstyle and make your own unique look.
10.) Young Lady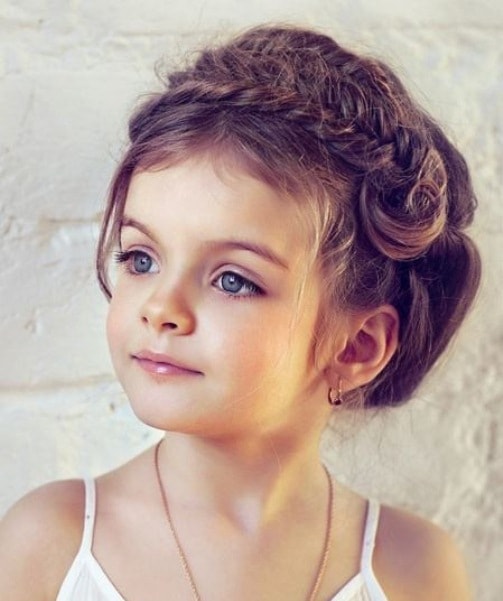 For an elegant and vintage look, then try this hairstyle. This hairstyle is going to make your daughter stand out of the crowd.
11.) Creative Ribbon Hairstyle
This is a bit difficult hairstyle but looks cute and adorable. Try making two French braids along the hairline and weave them with a satin ribbon and tie it with elastic at the end.
12.) Twisty Bob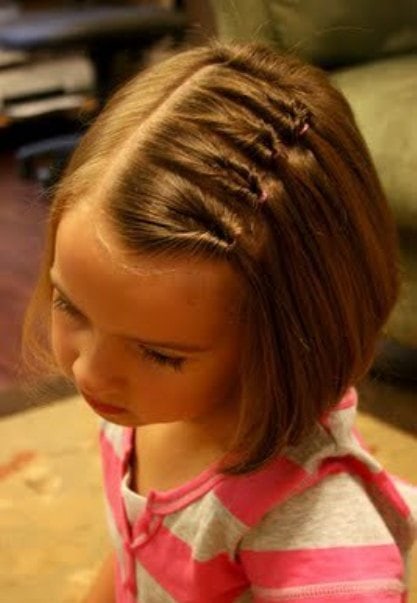 Girls like some unusual and creative fun with their hair. So try this popular twisty bob hairstyles for little girls. For a creative look make 4 rows with a double twist with side parting and fix it with elastic. Make your daughter feel special with this cool hairstyle.
13.) Classic Child Updo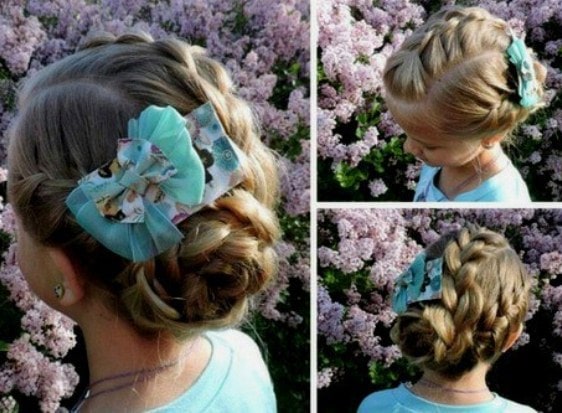 Try this vintage and classic hairstyles for little girls. This hairstyle adds more texture and volume to the hair. If your young one has long hair then try this hairstyle with lots of hairpins and elastics to make it more playful.
14.) Pretzel Hairstyle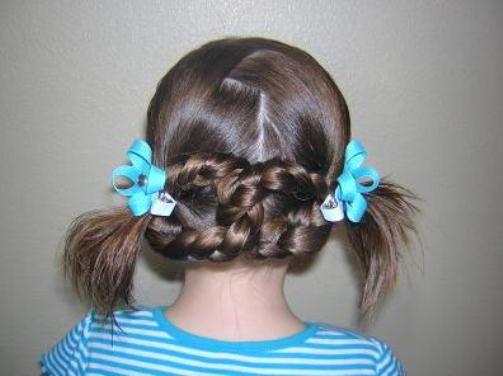 This is funky yet so cool looking hairstyles for little girls. This looks complex but it is very easy to make hairstyle. Just give some twist to double braids with some cool looking satin ribbons.
15.) The Wraparound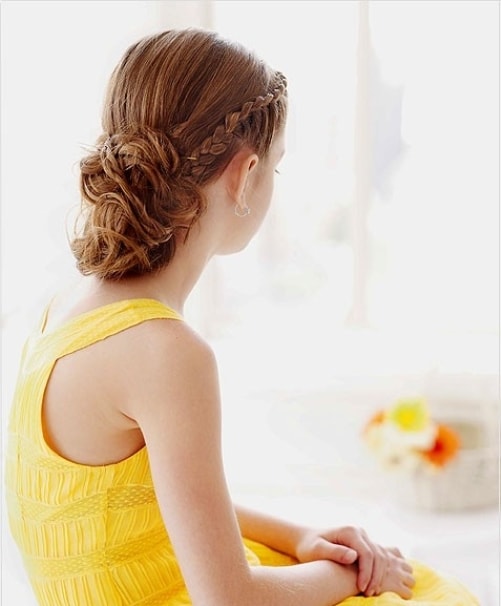 This is a little complicated hairstyle but looks gorgeous with long hair. Children love variety with long hair. So try this beautiful looking hairstyle for your daughter.
16.) Braided Tieback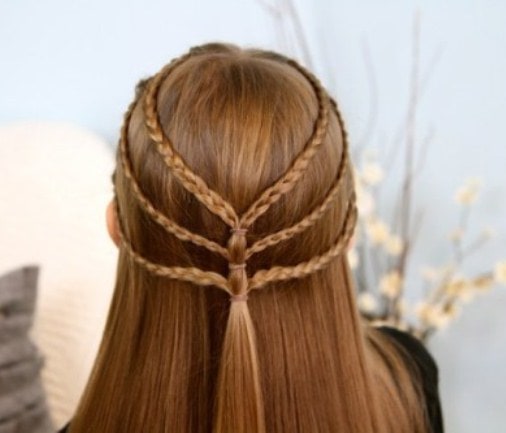 This is one of the fun hairstyles for little girls. To achieve this look just make multiple braids from the front tresses and bring them together at the back. Tie them with some colored elastics or rubber bands for more interesting look. You can also use some colored beads in between the braids for a more funky look.
17.) Forest Nymph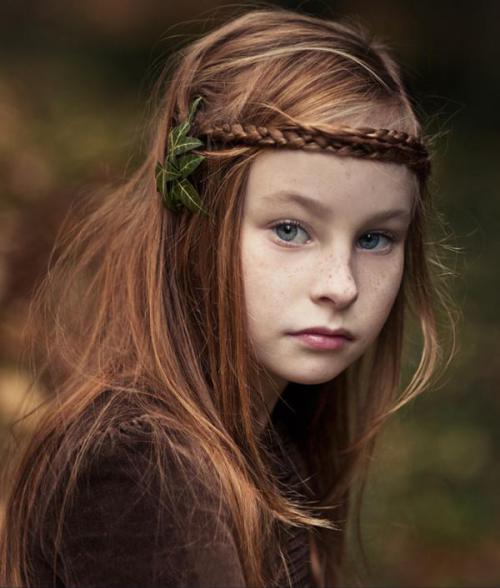 This hairstyle looks more harmonious and charming. This messy hairstyle and the forehead braid with triple vine leaf looks irresistibly unique.
18.) Basic Bun
This is basic but great hairstyles for little girls. You need not do much with this hairstyle. Make a high bun on top for a casual and cool look.
19.) Sleek Braided and Twisted Ponies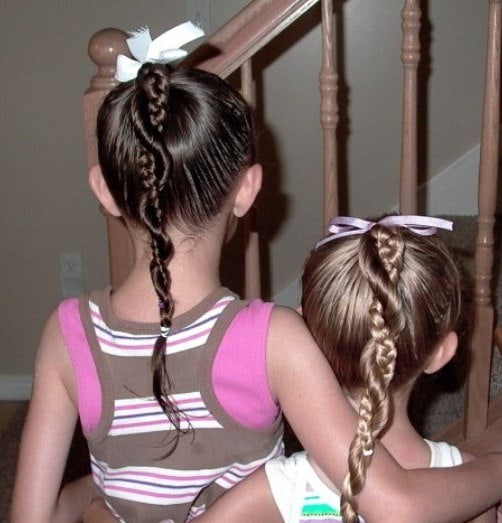 This is another twisted hairstyle with the magnetizing look. This is ideal for school days and kids party that looks more stylish and casual among kids.
20.) A Vintage Updo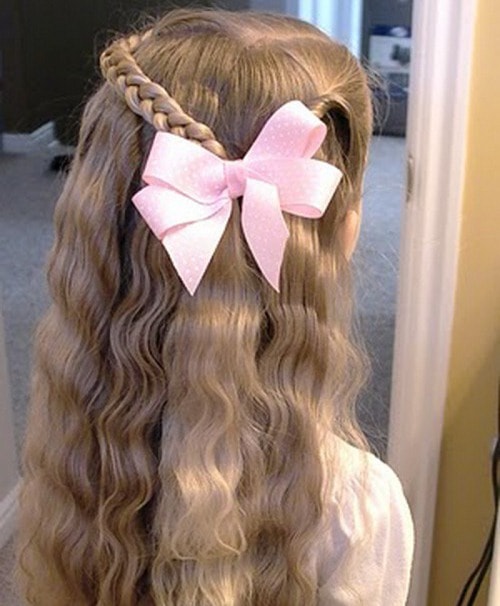 Kids look cute with volume and fantastic waves. Try this lovely hairstyle with a tight braid and side twist with a graceful dotted bow at the top. This is one of the great hairstyles for little girls for a day out with family and friends.