In this article, we will guide you about simple cornrows braids for kids. Braid hairstyles are one of the popular hairstyles for kids. Every mother should try different and interesting hairstyles and different braided designs. Beautiful stylish cornrows and French braids are the trendiest and popular braided hairstyles for 2016. Braided hairstyles are more secure and protective hairstyles for kids. They are easy to maintain and protect your child hair from environmental damage. These types of braids not only flatter kids but their moms as well. So try these simple and cool cornrows for kids.
20 Top Simple Cornrows for Kids (Cornrows Braids)
Curvy Cornrows with Beaded Ends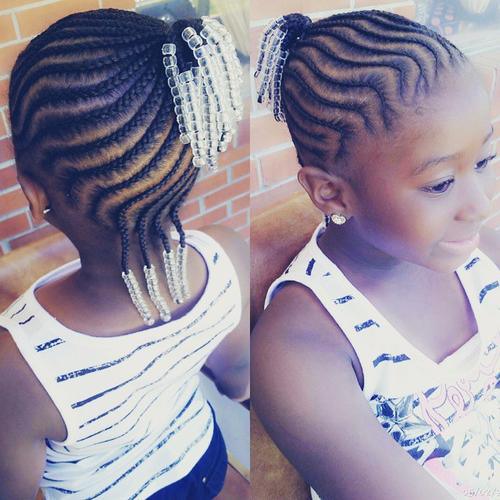 If your girl has short and dark hair then try this hairstyle with an interesting look. Children like to try things they see on other kids. They want everything from a toy to dress like someone else's. But parents should teach them individuality at a particular age. So try this curvy cornrow hairstyle with beaded ends that look cute and sweet on kids.
Chunky Purple Cornrows For Kids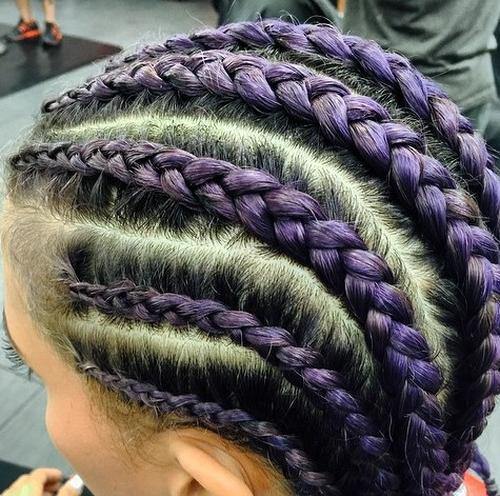 If you are searching for something cool and interesting then try this one of the trendiest and popular cornrows for kids. The thicker purple cornrows look contrasting with dark base root. Making cornrows are a simple and easy task. So try this super cute hairstyle for your daughter.
Heart Shaped With Cornrows For Kids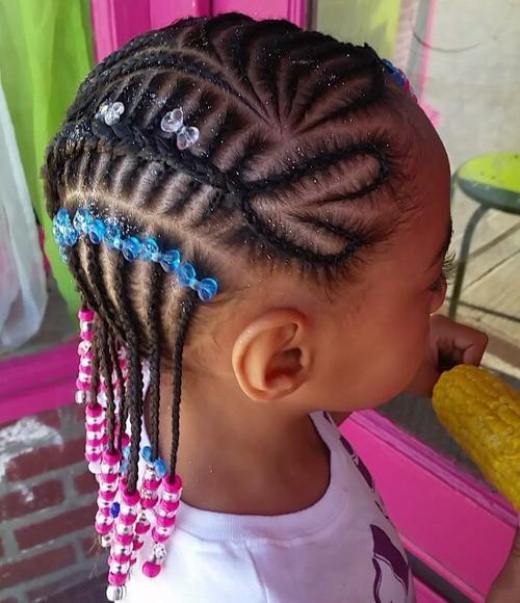 Little girls like fancy braid designs and a lot of hair-styling accessories. Dedicate this cute hairstyle to your daughter with protected and organized braids for her natural hair.
Angel Cornrow Braids for Kids
This is another best simple cornrows for kids. Try this braided cornrow with finished twists. The angled and braided pattern is the main wow focus of this look. Keep one ponytail little higher than other. This hairstyle gives you a pigtail finish with fuller look.
Spreading Cornrows Braids for Kids with Twists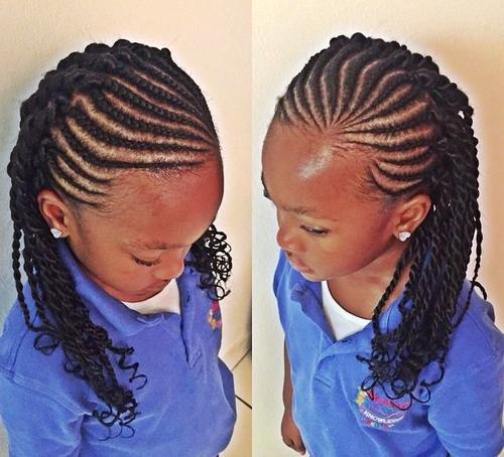 If your kid has long and beautiful hair then try this a playful look. Try these spreading cornrows with twisted and curly ends. You can leave them loose or make a high pony of that.
Braids in Half Updos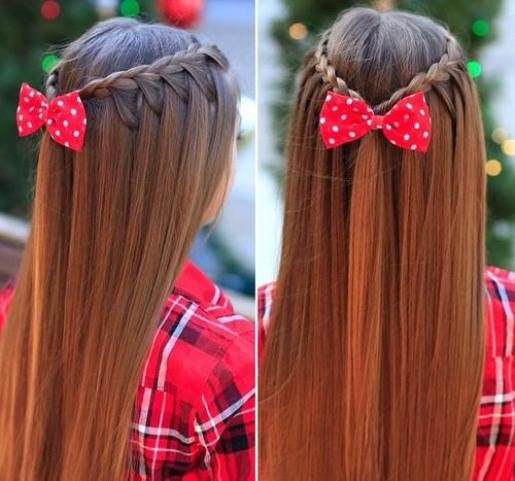 This hairstyle is ideal for long and straight hair. The half Updo or a braid will be great for a free flowing and interesting hairstyle just like a waterfall with a bow.
Curly Mohawk Cornrows Braids for Kids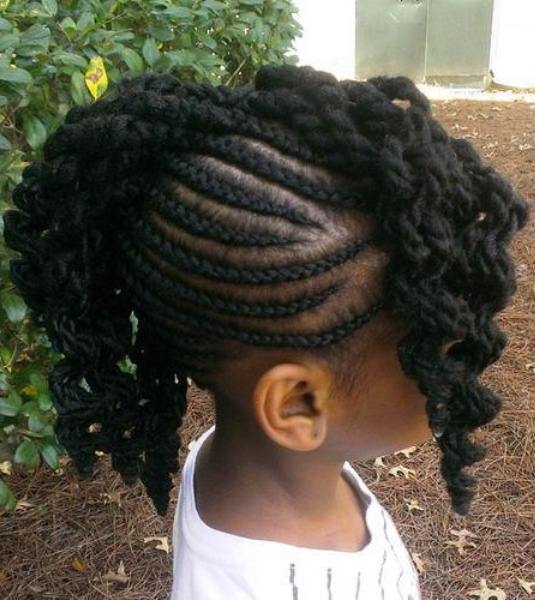 Kids always like something unusual and different. Try this hairstyle that no one has ever seen before. This is one of the stunning and cool hairstyles for kids. Try this neat and easy braided hairstyle for your lovely kids.
Pigtail Hairstyles with Beaded Ends
Colored beads are in trend and This is one of the popular simple cornrows for kids. Girls like these hairstyles with a fun side. You can use plenty of beads to make her look stylish and cute. This beads hairstyle go well with every occasion.
Cute Cornrows Braids for kids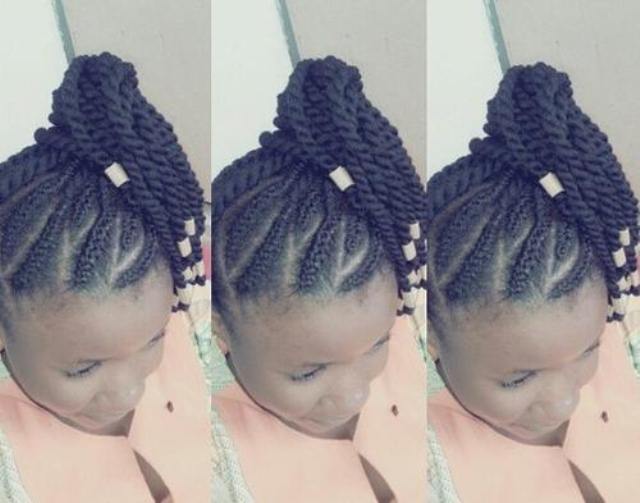 Keep this braid natural and protective for your daughter. Create this v-shaped braided furrow with a twist of a high pony. With this cool hairstyle keep their hair secure and protective with a great body to her hairstyle. Also, try some extensions if you want, as they are not only for adults. They also look great on little girls.
Loose Braids for Kids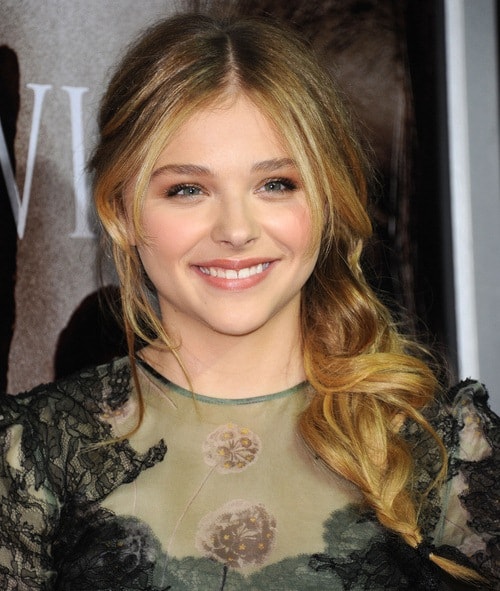 You can call it a fancy hairstyle for a little girl that is great for a birthday party or a day out with family or friends. The middle part with side messy braid add more volume to your hair and enhances face features well. Wear a cute dress with frill to rock this look.
Creative Braided Design for Kids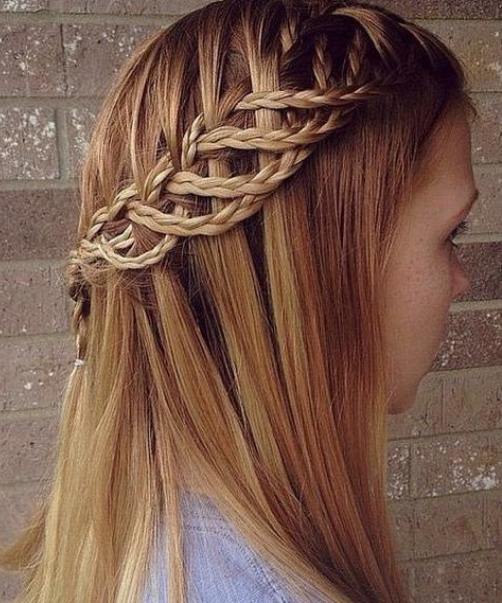 Try this creative braided hairstyle for your daughter. This side braided headband looks complex but it is easy to make them. You just need to braid three thin braids that go through the side hair just like a waterfall braid. This hairstyle is ideal for those who have long and thin straight hair.
Curly Braided Pony for Girls
Get these lovely spiral curls with curly ends and cover the pony base with another braid for a most creative look. The side pony may not be that great but with braids, it looks stunning keeping them loose at the back.
Thick Box Cornrows Braids for Kids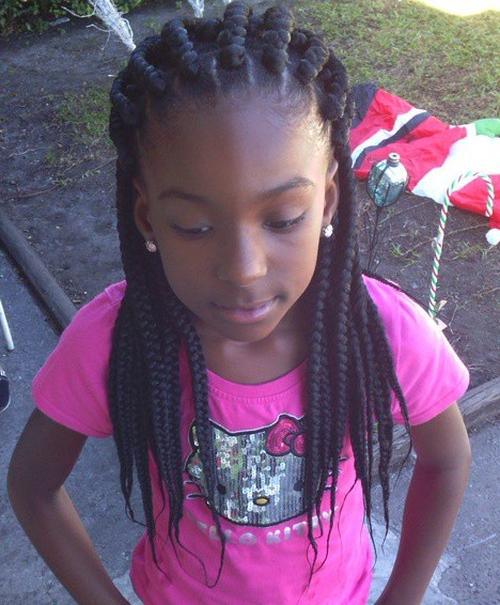 If your girl likes braids, try this stunning braid hairstyle. It provides easy and unique texture for thick hair. This hairstyle is popular among African-American kids with long thick hair. Your kids can carry this hairstyle to any special occasion like birthday parties,
Circular Mohawk Cornrows Braids for Kids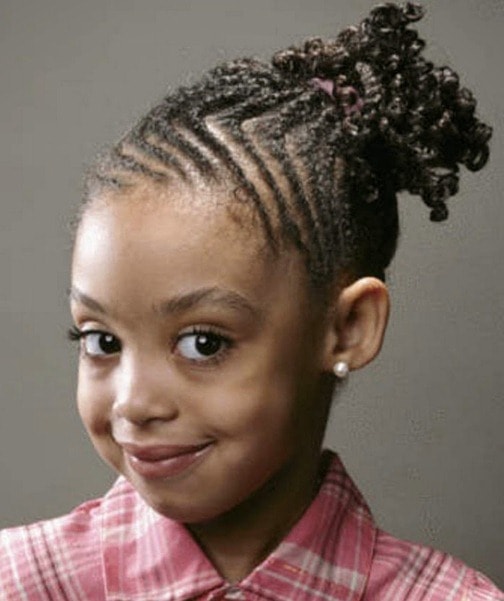 Try this circular braid that is more of stylish and adult-like. If your little girl already has this taste and wants a cool chic look. Try this cool and creative hairstyle with braided Mohawk.
Chunky Lacy Double Braids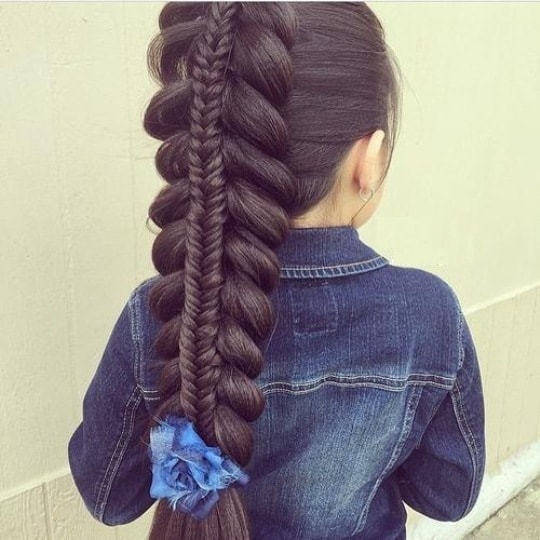 This is one of the most inventive braided hairstyles with two separate and different braids into one style. Try this sophisticated hairstyle for a composed Dutch braid with a top fishtail that looks casual and fancy at the same time.
Crown Braided Hairstyle for Kids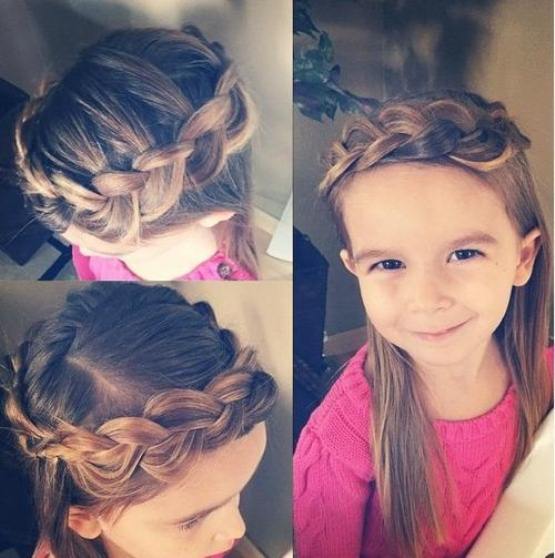 If your daughter has long and beautiful hair, try this simple and gorgeous braided hairstyle for any special event. Create a front crown braid and make it loose to enhance the crown like a real princess.
Cornrows and Black Crown Braid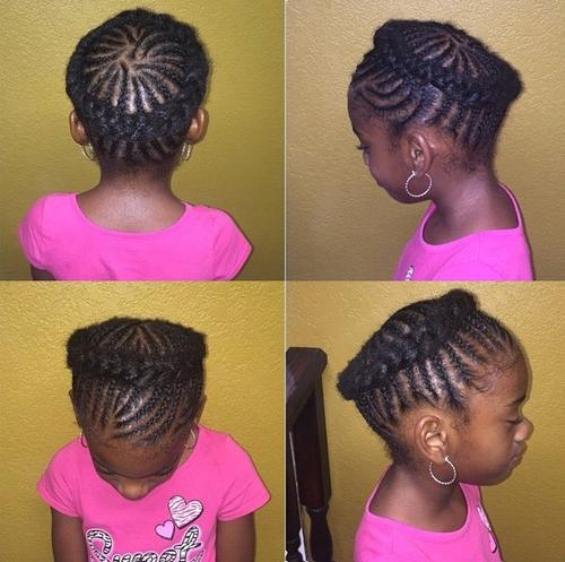 This is one of the lovely hairstyles for your princess. When you add an interesting element like hair crown, the cornrows makes it more beautiful and appealing for a little girl.
Sleek Tight Bun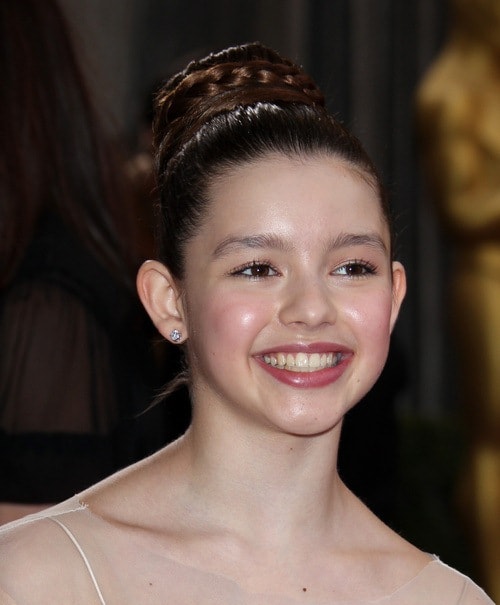 Check out Fatima Ptacek, she is rocking her sweet and cute look with tight and sleek bun. Give it a twist by wrapping it over the bun for a creative look. Try this simple and easy hairstyle for your girl.
Skinny Cornrows Braids for Kids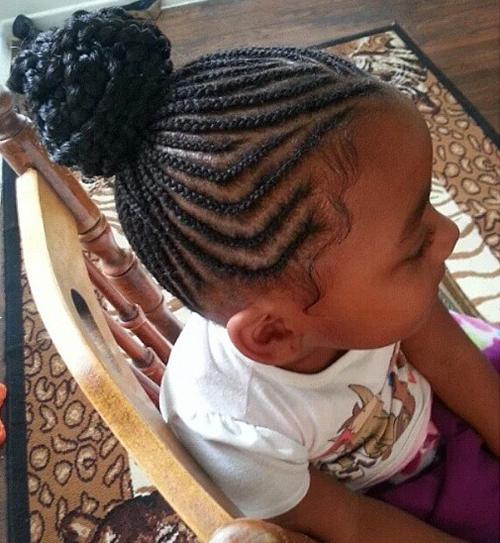 Black kids mostly like this kind of hairstyles. If your daughter has pretty hair length then this is going to be a rocking hairstyle for her. Try this braided hairstyles that add more volume and length to her natural hair with cornrows designs.
A Showy Box Braids Ponytail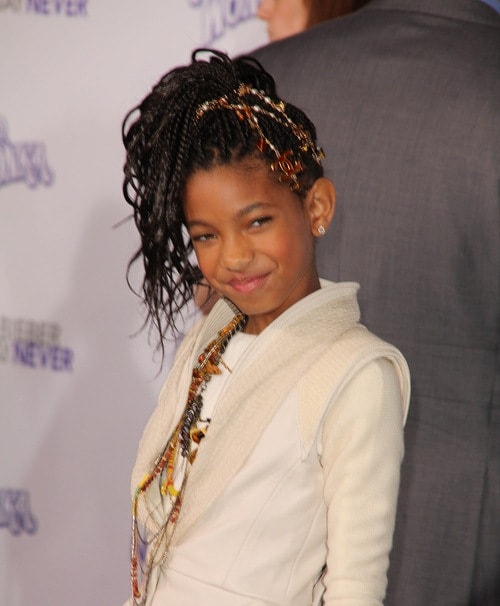 This is one of the popular cornrows braids for kids. Check out the stunning looks for Willow Smith with her braided lifted high pony that looks cuter with matching necklace. So you can also try these cornrows braids for kids for a cute look.