In this article, we are discussing how to curl hair at home. While there are plenty of hair tutorials on different ways to curl hair, but sometimes we actually don't know how to use a curling iron for curling hair. So in this article, we are going to give you tips on how to curl hair while using a curling iron.
Easy Steps to Curl Hair
1.) Heat up the Curling Iron
Before you start the curling hair. Make sure you use the best quality curling iron. The low-quality curling iron can damage your hair. Most of the curling irons take the time to heat up before you can use them. Make sure it reaches to correct temperature before you start curling.
2.) Your Hair Should Be Dry Enough
Applying hot iron on wet hair can actually damage your hair completely. So let your hair dry completely either on its own or by using a hair dryer. If you have thick hair then running a blow dryer will be the best option as you can keep it on a cool setting.
3.) Brush Out Any Tangles
Once you are done drying your hair. Brush out your hair to de-tangle them completely. This helps a smooth curling of your hair. This also helps reduce the damage like fallout, split ends, etc. So always remember to comb your hair well before you start the process.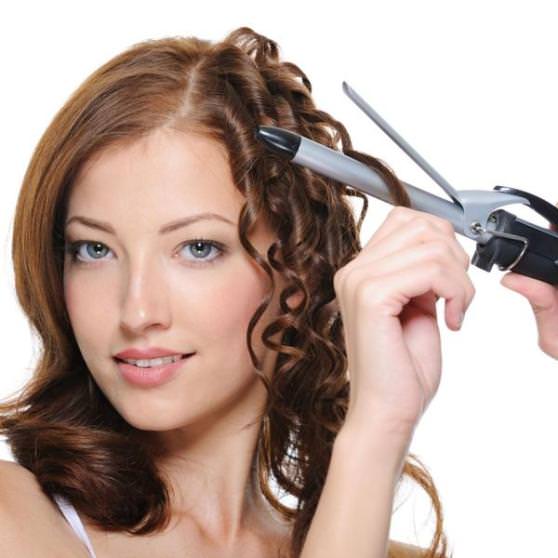 4.) Apply a Heat Protection Spray
If you use styling products regularly, then it's very important for you to use heat protection spray. This helps you protect exposure to high temperature, prevent dryness and frizzy looking hair. Just spray it freely all  over your hair length after you have brushed your hair. You can find heat protector sprays can at most drug stores and hair salons.
5.) Split Your Hair Into Sections
Splitting hair and making sections is always a better option even if you have thin hair. make small sections, layers, strands. This helps you to curl each layer perfectly and neatly. Also, with sectioning, this ensure a uniform and even curling of your hair. Hold your hair up with a pin or clip on top of your head while you do the curling. Repeat this process of pinning and releasing one by one hair layer.
6.) Start Curling Your Hair
Now, that you have done all the preparation to curl hair. Start curling hair by beginning at the top or bottom depends on your hair length. Take small sections and wrap around the curling iron and hold for a few seconds. Do this process with each layer or strands.
7.) Hold the Iron in Place
When you wrap around your hair. You need to hold on to curling iron for 8-10 seconds while the hair curls up. The time may vary depending upon the thickness and intensity of the curling iron. You need to try 1-2 times to know the exact time of heating of curls. Keep all the curly curls away by pinning them in different directions on the top of your head. Release the curling iron if you feel burning or swishing sounds as your curling iron might be too hot for this reason.
8.) Move onto the Next Curl
Once you have done 2-3 curls, now, you are confident enough to do it the right way. So try the next piece of hair and repeat the steps. Make sure that you are wrapping all the curls in the same direction, so the curls will look uniform.
9.) Loosen Your Curls (optional)
If you want your hair to look looser and softer, run your fingers all through your curls a few times. You can also turn your head upside down and just run your finger gently to fluff up and separate curls for a voluminous look.  Avoid brushing your hair once you have curled your hair.
10.) Set Your Curls with Hairspray (optional)
To keep your curls set all day you can use hair spray to avoid frizzy or falling out curls. Just mist some of the sprays and do not over spray it. Make sure you never apply hair spray while your hair is still wrapped around the iron. Now, you are ready to flaunt your new look and hairstyle. If you want some creativity with your look. You can also tie some of your strands on the top of your head at the back for a wavy and curly hairstyle. A loose bun will also be a good option with a few curly bangs to the side. The choice is yours, do it your way.