In this article, we are discussing simple and easy steps to curl short hair. Short curly hair looks sassy, sexy and super chic with short curls. Stunning and gorgeous short hair with curls can add a certain volume to your hair. Give a break to your monotonous look with a refreshing hairstyle. Learn how to curl short hair with few easy and simple steps.
Many of us think that it's difficult to curl short hair. But with the use of appropriate styling products you can curl short hair easily. Those who are going to use a curling iron for the first time may find it quite difficult but with few practices, it becomes easy and simple. So try the following steps given below to curl short hair.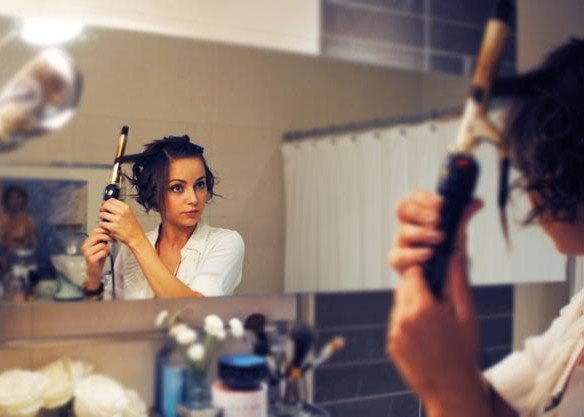 Things You Need:
Here are some items you need to start the preparation when you curl short hair. Check out the items given below:
A good quality curling iron.
Moisturizing cream, conditioning mousse or styling gel
Mild hairspray
Hair pick
Root booster
Hair protector
Simple Ways to Curl Short Hair
1.) Pre-Preperation to Curl Short Hair
Pre-preperation is important before you start curling your hair. You need to wash your hair properly in order to remove all the dust, pollution, and dirty hair to prevent any damage. Use any smooth hair shampoo and conditioner for the smooth curling process.
Next, your hair should be dry enough before you start the process. Let your hair dry on its own or use a hair dryer. Wet hair can lead to damage and split ends. The hot iron on wet hair dries and damages the texture of the hair, so avoid wet hair while curling.
After you are done drying your hair completely. Apply any moisturizing cream, conditioning mousse or styling gel, small is enough. Also, spray hair protector on your hair from tip to top. This prevents your hair from extreme heat. Make sure you use a good quality hair protector.
2.) Divide the Sections
After, washing and drying, this is the time to section your hair while the iron is heating up. Sectioning helps in uniform curling. Use pins or clips and section them in strands, layers and tie on the top of your head. Sectioning is important because it makes it clear and simple for you to curl one by one layer.
Pre-heat your curling iron at medium setting, while you section your hair into two inches of width, start at the roots and wrap your hair around the curling iron barrel.
3.) Start the Curling Process
Now, start the curling process by taking a small section of hair from the front and wrap it around the iron barrel. Make sure you hold the iron barrel away from your skin. The curling iron should be handled from the back of your head that enable you to roll the curl away from your face instead of towards it.
Sometimes, we need to leave the end strands for some length as it helps prevent awkward curls and provides you a good length. Short hair needs to have their ends.
If you are using a curling iron with clamp, then clamp down on your hair separated sections. Hold it an inch away from the bottom before you roll upward.
Hold the curl for few seconds. You need to play with some curls to know the exact time you need to curl a section perfectly. Do it once or twice then you will be able to do it properly.
The time also depends on the type of curl you want. Loose waves take about 5-6 seconds hold and then release it. If you want ringlets, hold your hair for seven to eight seconds. Remember, not to touch any curl until it is cooled completely to avoid any frizz.
4.) Spray Some Hair Spray
For a finished look, you need to use hairspray sometimes. Hair spray is optional, those who want to keep their curls stay longer and frizz free may use some. Avoid spraying while your curls are still on curling iron. Use a hair pick to separate finished curls before moving on to the top layer.
Finish the bottom layer first. Repeat this process for each layer. For softer and natural look, make small sections of the sections again that will help you with even curling. Now, loose your curls or tie them on one side for a voluminous look.
For a fuller look, gently run your fingers through the curls for some wavy ringlets. Remember never comb after curling your hair, it lose all the curls and create frizz. Spray a final mist of mild hairspray for a finished look and you are ready to rock the day or any special event.