Medium hair does not offer many hairstyles is just a myth, in fact, it enfold number of hairstyles and hair do's. Leave them loose or create a sassy chignon or messy bun, in any way you are going to look stunning. Below we have listed some of the classic hairstyles and haircuts for shoulder-grazing hair. Keep reading best hairstyles for medium hair.
List of Best Hairstyles for Medium Hair:
1.) Classic Chignon Updo Hairstyle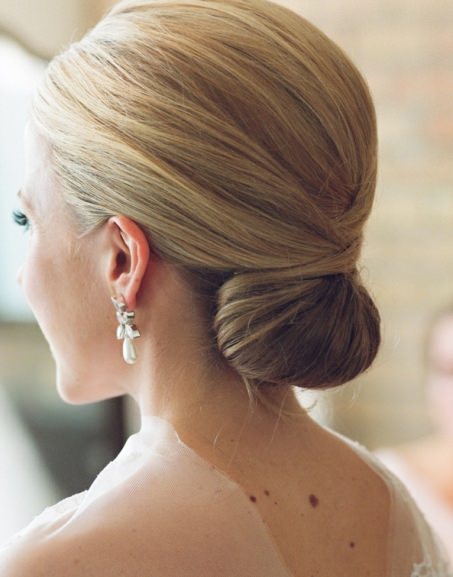 Chignon hairstyle is not restricted to long tresses only, it goes well with medium hair length as well. Whether you are heading for a party or casual meeting this hairstyle will definitely work.
2.) Braided Updo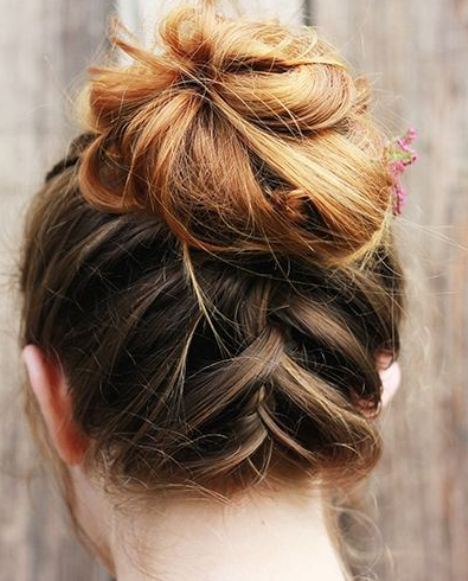 Braid is one of the best hairstyles for medium hair. How about experimenting with braid? Well, you can create your own updo with the braid. It will redefine your looks. This classy hairstyle is apt for all times.
3.) Messy Bun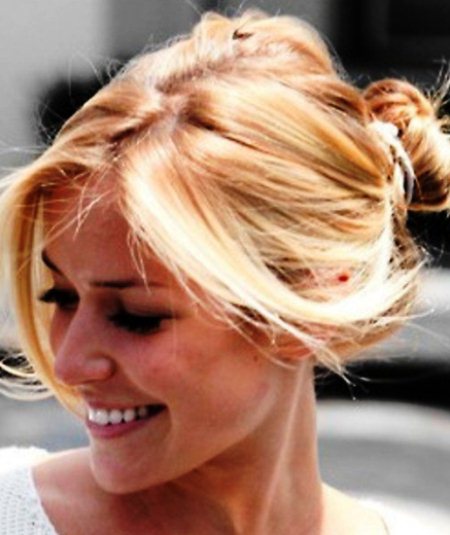 This hairstyle is definitely for all the girls out there who battle with time. This messy bun is easy to create and it takes no time. In just a few seconds you will be ready to rock the day with a smart hairstyle.
4.) Updo with Mohawk Hairstyle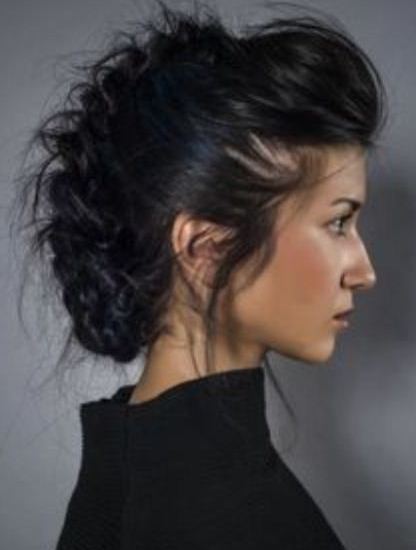 If you do not want to compromise with the length of your tresses and still wants a funky hairstyle then this hairstyle will surely fill your bill. It is one of the best hairstyles for medium hair. A classy braid stacked in the updo with sides looking like mohawk hairstyle is what you get.
5.) Perky Ponytail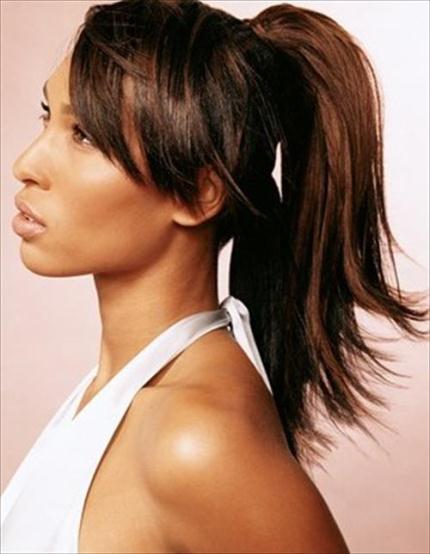 Ponytails are one of the classiest hairstyles for medium hair. To raise the bar you can experiment with the simple ponytail and create a bold and glamorous look.
6.) French Roll with Flowers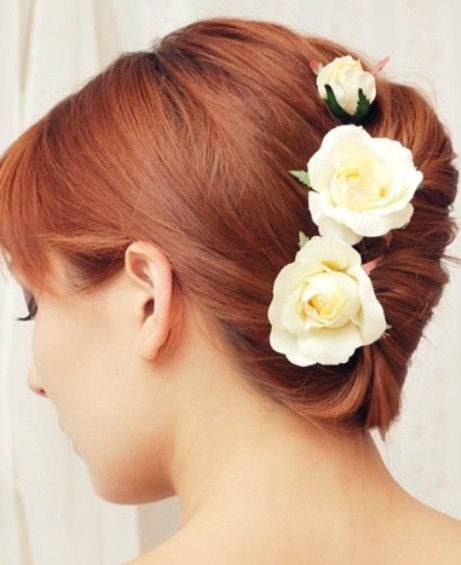 This hairdo is timeless and one of the simplest hairstyles for medium hair. This classy updo will work for every occasion. To add a classy touch to the simple french roll place some flowers around the roll.
7.) Simple High Bun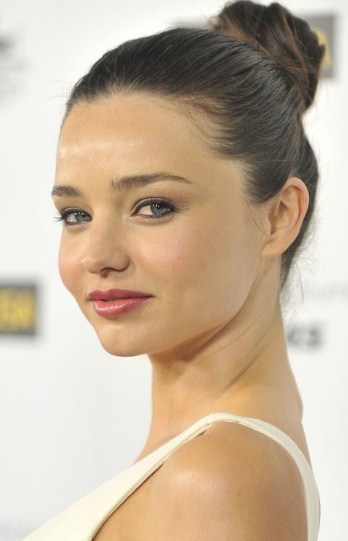 This hairstyle is ideal for summertime. The high bun is just apt to beat the heat this season. The sun will definitely get jealous with your classy hairstyle.
8.) Side Knot Ponytail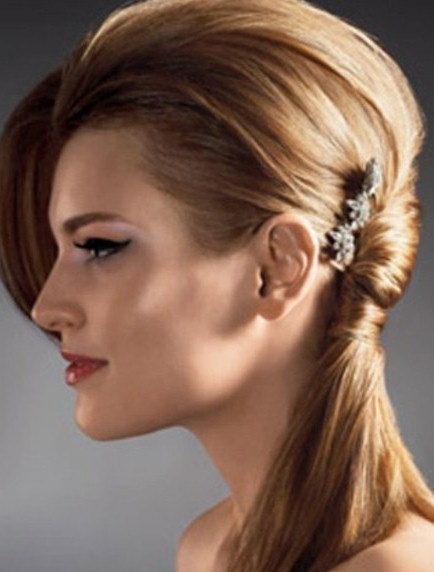 Side knot ponytail compliments every girl. It is easy to make. A knot hairstyle might be everyone's cup of cake but side knot ponytail is don by few only.
9.) Loose Curls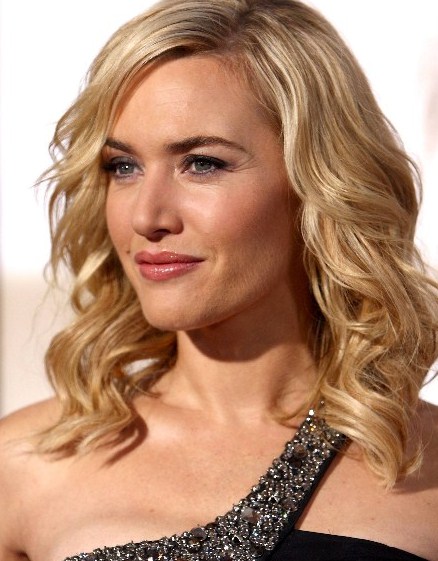 If you love leaving your tresses loose then you will surely love this hairstyle. All you have to do is blow dry your hair and curl the edges. To make this hairstyle more appealing you can pin your side swept with cool accessories.
10.) Ponytail with Bangs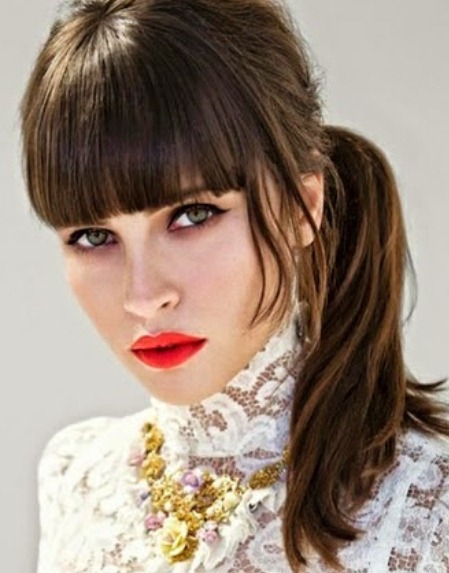 Ponytail with bangs are not only for small girls, anyone can don it. To make it more funky team it with a classy hairband. With this hairstyle, you will look younger and refresh too.
11.) Flaming Hot Fringe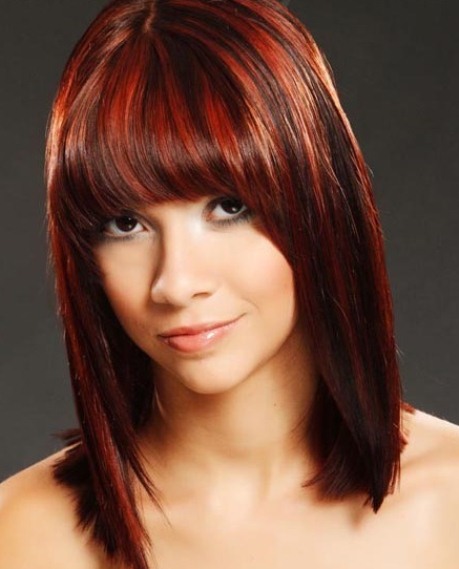 If you have no time to look for a hairstyle then just get your fringes colored. It will give you a bold look . Make sure that you chose a color that suits you and is current fashion.
12.) A- Line Haircut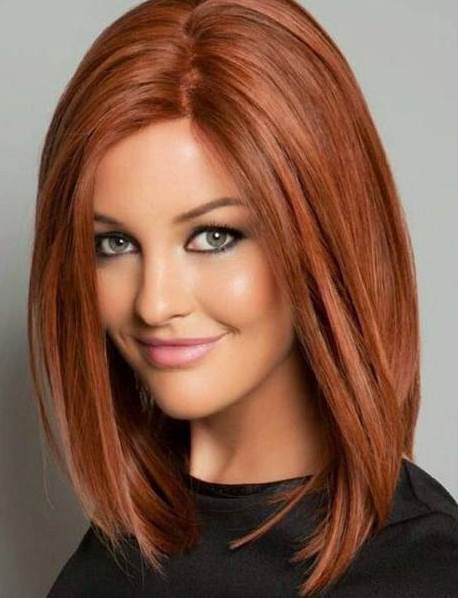 A smart haircut is enough to create a style statement and A- line haircut falls in the same category. It will give you a modern and chic look.
13.) Layers with Medium Hair Length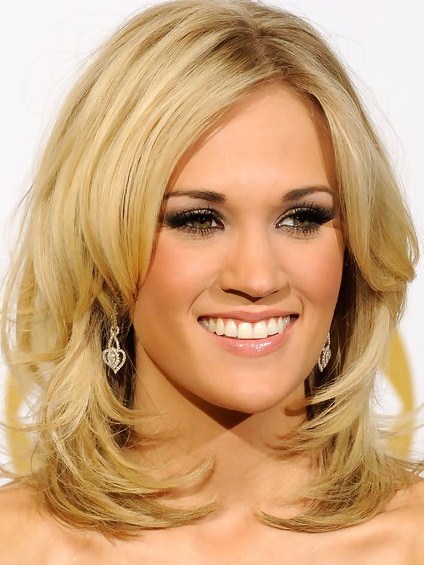 Layers are one of the classic hairstyles for medium hair. They provide aid from the fuzz and bad hair day. To flaunt your layers just blow dry them.
14.) Sleek Cheek Hairstyle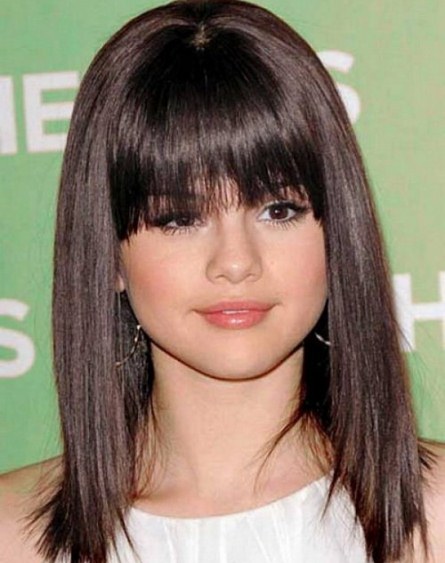 Sleek cheek hairstyle will never go wrong. It will give you classy and simple look. Just smooth your hair, apply a hair cream and with the help of round brush set all the front hair at the back and you are ready.
15.) Tousled  Wavy Tresses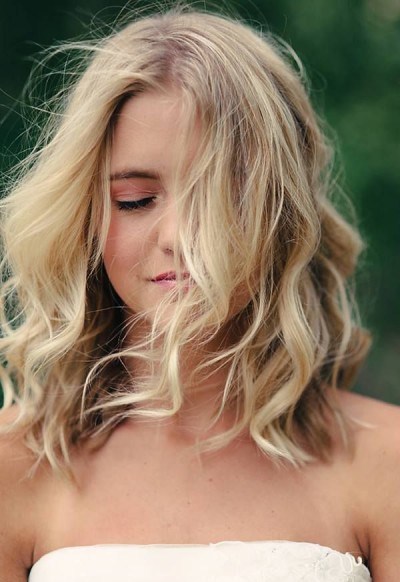 Tousled wavy tresses are one of the fine hairstyles for medium hair. It gives you a bold and gleaming effect that is just apt for all the occasions.
16.) Side Swept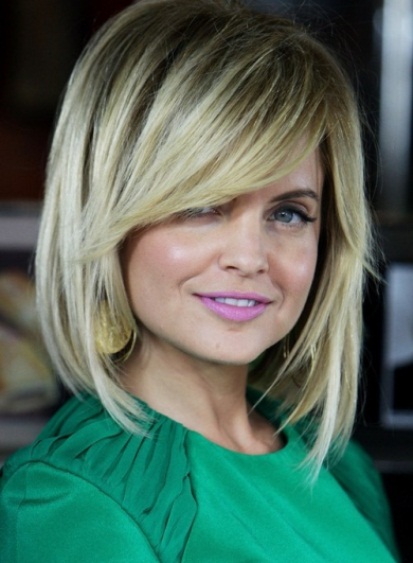 Side swept is one of the easiest hairstyles for medium hair. All it needs is  quick hair blow and all the hair stacked at one side. To accentuate this look you can leave a side swept and team it up with a classy hair accessory.
17.) Shoulder Length Blunt Bob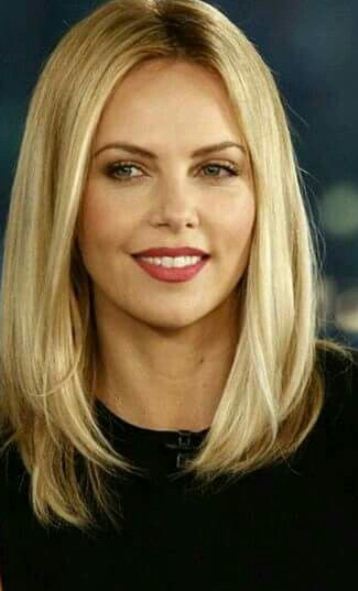 Blunt bob haircut has been a trendsetter. It is one of the classic hairstyles that need no introduction. For a simple yet sassy look this hairstyle will definitely work.
18.) Angled Layers for Shoulder Length Hair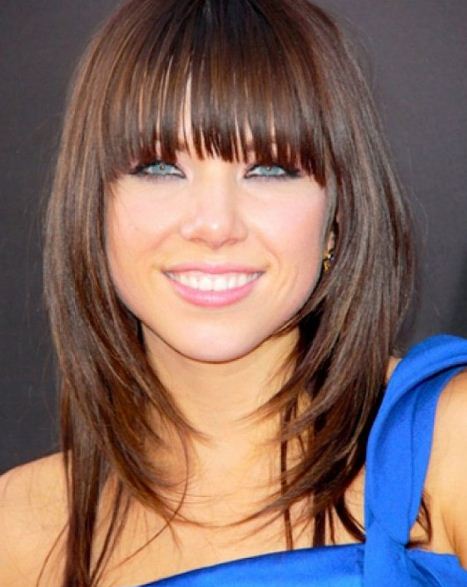 The jagged layers will give torn edges look that is ideal for wavy hair. After this haircut you do not have to do much, just blow dry your tresses and you will ready to dazzle whole day with this classy haircut and hairstyle.
19.) Shag Cut with Bangs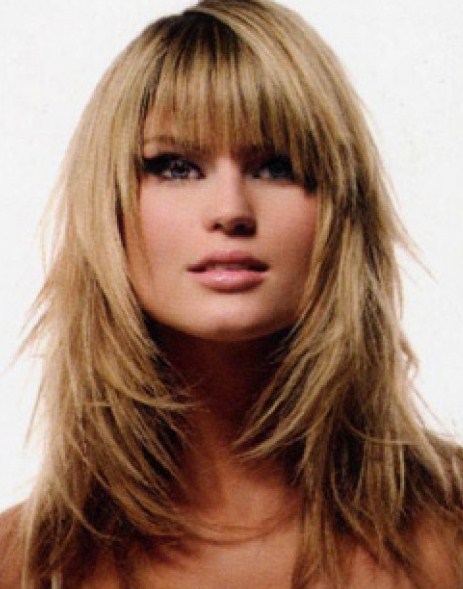 This haircut will surely redefine your looks. This hairstyle will create v shape from the back that will give a different look. For a casual event, you can team up with a classy hairband or hair accessories.
20.) Wavy Blonde Hairstyle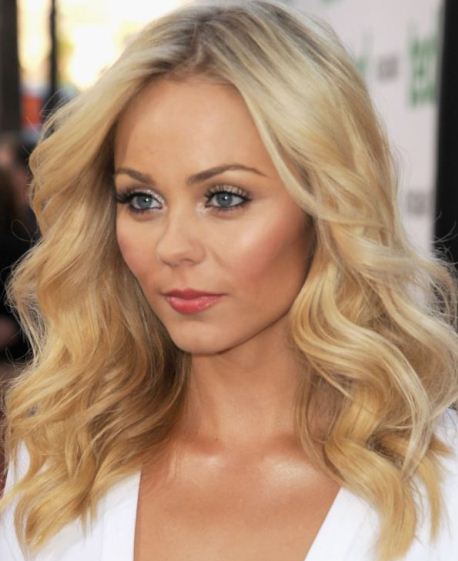 If you have natural shoulder length wavy hair then just blonde them. For a friend's wedding just team it with a crown or leave them casual for a casual meet greet.