Are you running out of ideas when it comes to style hair for a special day? Don't worry in this article we have listed 20 great black short hairstyles for women. Here you will find popular and trendiest celebrity hairstyles for short hair. Get some inspiration from your favorite celebrity for glamorous to lovely Updos and elegant curls for everyone.
20 Great Black Short Hairstyles
1.) Super Short Straight Bob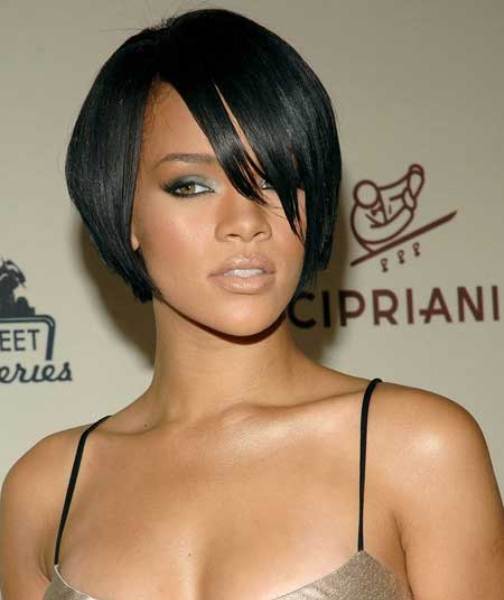 This is one of the best black short hairstyles for black women. Just check out singing sensation with her super short haircut. She looks fabulous with jet black locks that amazingly define her facial features.
 2.) Colored Pixie with Bangs
Try this gorgeous black short hairstyles that look great with caramel highlights. For hot and glamorous look try some dark blonde highlights with vibrant makeup that is best for a picture perfect look.
3.) Spiked Pixie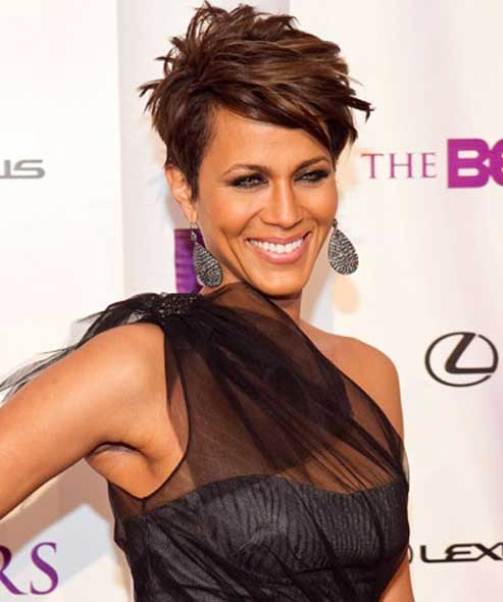 Check out Nichole Ari Parker, she looks sassy and elegant with her short straight locks. You can also achieve this look by adding some spiky flavor and some gel works perfectly for this spunky look.
4.) Pixie with Tight Curls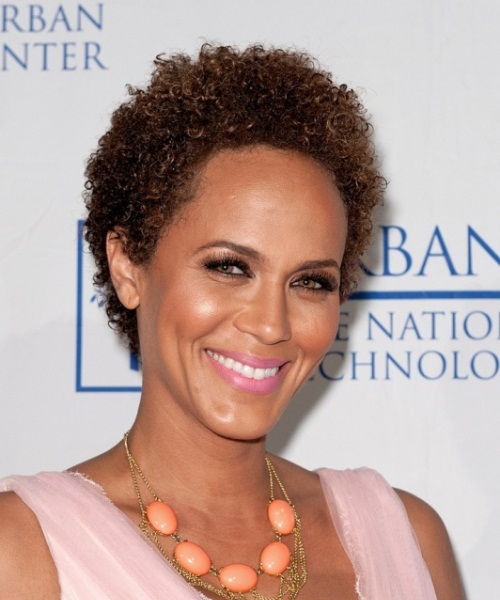 Try this popular and cool black short hairstyles with some tight curls. If you don't have tight curls like Nicole Ari Parker then try using a roller for this look. This hairstyle adds more volume and texture to your hair.
5.) Angled Cut with Side Swept Layers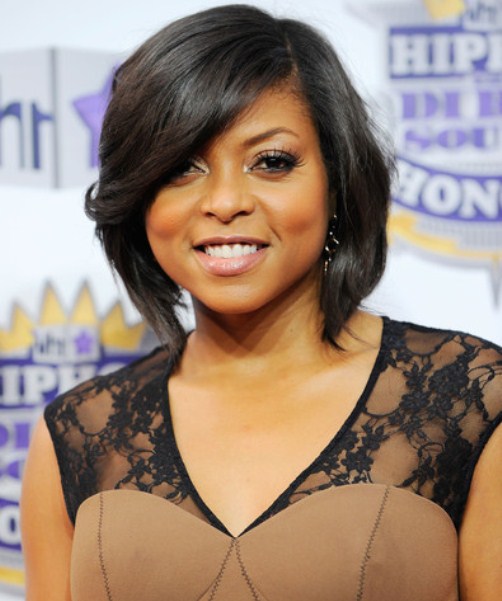 Sometimes it is good to flaunt your natural hair locks. So try this simple yet so cool looking black short hairstyles for black women. For some inspiration check out Taraji P. Henson, she looks charming and delicate with side swept bangs that are perfect for any occasion.
6.) Textured Updo
This season try something new like textured Updo. This hairstyle looks gorgeous and iconic with lots of twists and curls. Check out Michelle Obama she looks stunning with this piece of art. You can also try this black short hairstyles for next important event.
7.) Side Swept Updo with Curls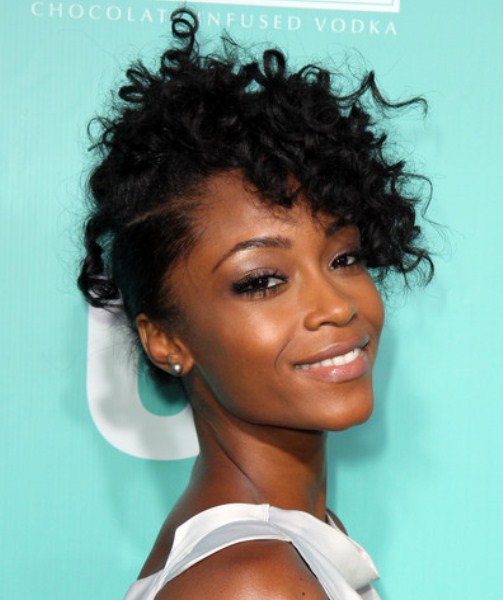 This black short hairstyles is fabulous for an elegant look. Check out the popular celebrity Yaya DaCosta for her lovely loose curls paired with the elegant long dress. You can also rock this style with some short loose curls.
8.) Vintage Updo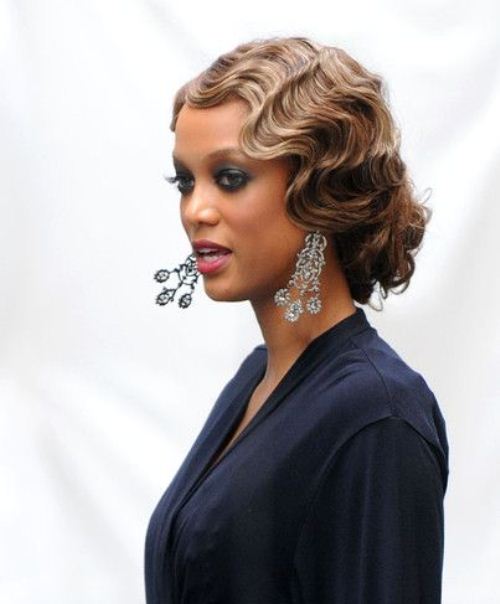 Try this super classy black short hairstyle for black women. Tyra Banks looks gorgeous with vintage waves pulled back into a vintage updo. She looks more interesting with navy outfit and earrings. You can also recreate this look for a special date.
9.) Bob with Curls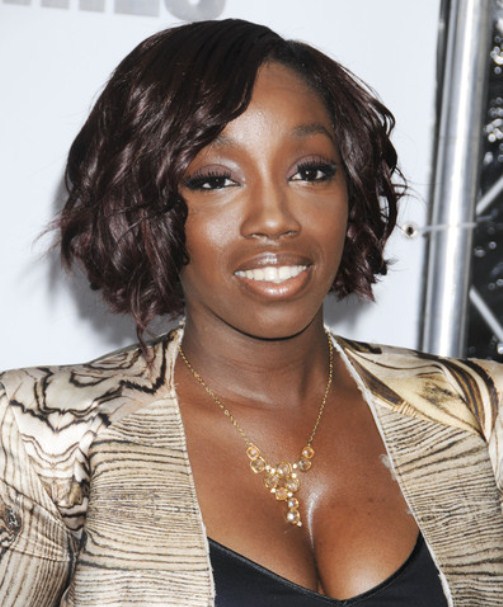 Try this beautiful and cute looking black hairstyles that are perfect for any occasion. Look at the gorgeous singer Estelle, she looks sexy with short curls and short bob haircut just flatters her overall personality.
10.) Pulled Back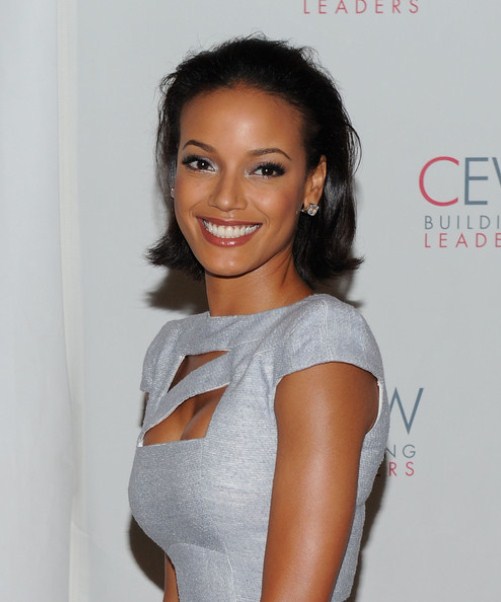 Try this superb black short hairstyles of this season. Simple natural and pulled back hairstyle sometimes makes your day just like Selita Ebanks. She looks simple yet so cute with her smoky makeup. So try this hairstyle this summer.
11.) Side Swept Bob with Side Bangs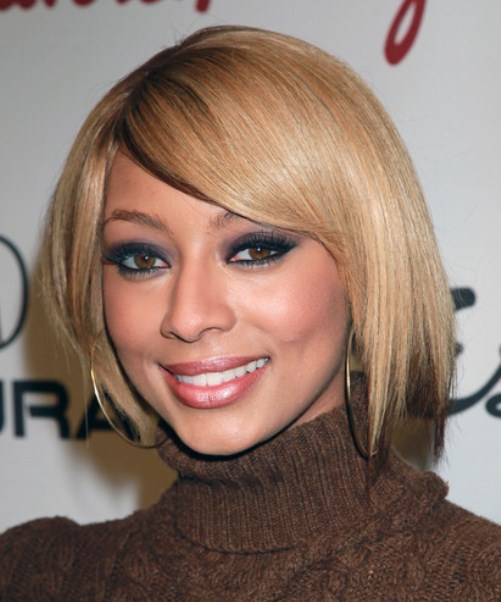 Golden highlights are just perfect when it comes to brightening up your face. Check out this stunning diva Keri Hilson, she pulled off this look with blonde golden locks that compliments her skin tone perfectly. You can also try this sexy looking hairstyle for any special day.
12.) Wild Shaves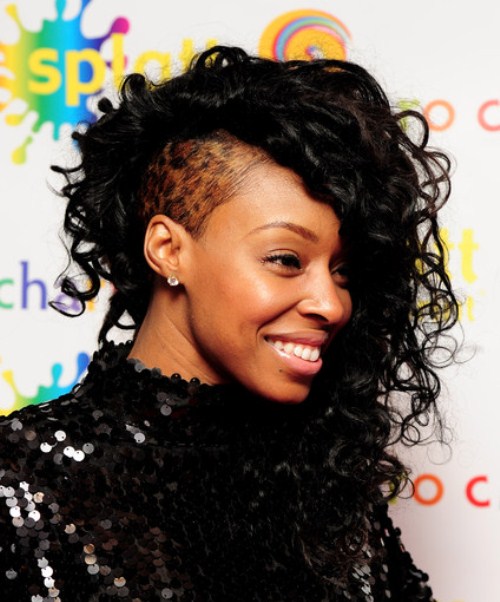 This is another best black short hairstyle for black women. Not every woman dares to shave her head, but Sabrina Washington has pulled off this punk hairstyle with one side shaved. She looks super-hot and sexy with leopard print. Try this is funky hairstyle in 2016.
13.) Side Parted Pixie Crop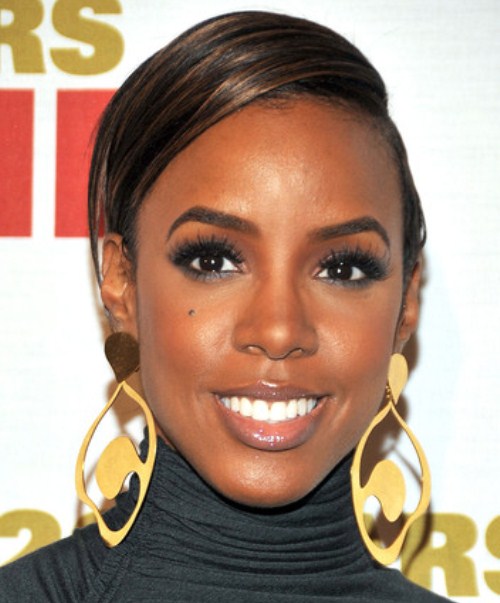 Try this sexy looking pixie black short hairstyles this year. This hairstyle looks beautiful with sleek and super blonde hair locks that look hot on Kelly Rowland. This hairstyle looks more beautiful with dazzling brown eyes.
14.) Voluminous Pompadour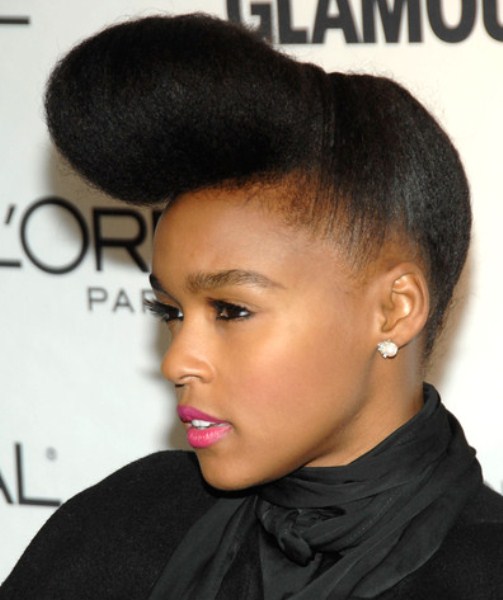 This is one of the super cool and interesting black hairstyle for black women. This hairstyle makes everyone turns their head towards your unique and iconic hairstyle. Just check out Janelle Monae with her super edgy pompadour hairstyle.
15.) Swept Back Updo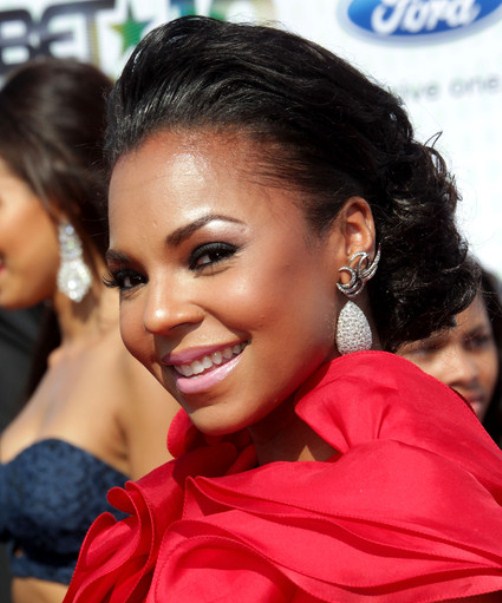 Check out Ashanti, she looks charming with her fancy and feminine Updo. You can also try this seductive look with charms and dazzles the crowd with her fancy and feminine updo.
16.) Tight Curls with Headband
This is another gorgeous black short hairstyles with a headband. Actually, we all love headbands since elementary school, so you can still wear them and look pretty. Check out this beautiful celebrity Raven Symone, she looks adorable with a white headband and voluminous tight curls.
17.) French Twist with Bangs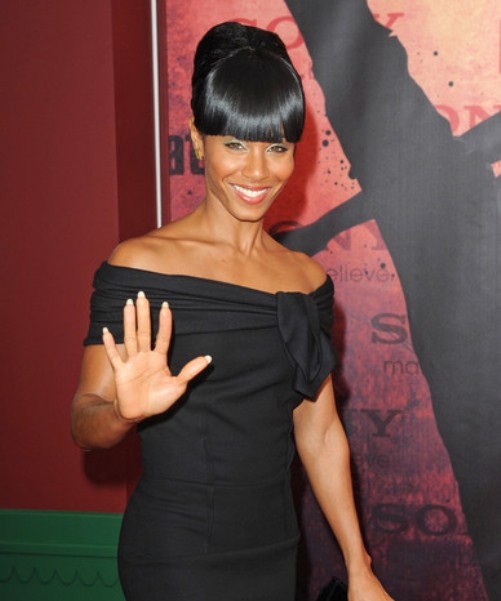 Anyone can fall for this black short hairstyles for women. Look at Jada Pinkett-Smith, she looks gorgeous with this French twist bangs that are just flattering for her long face. The matched black sexy dress makes it more appealing. You can also try this super cool hairstyle for a special event.
18.) Voguish Waves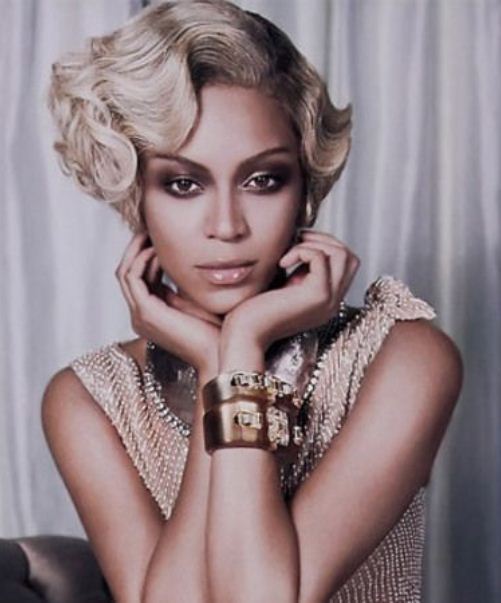 This year takes a tour back to 1920 with Rihanna with her gorgeous look. She looks sophisticated and classy with her voguish waves. Try this perfect party look with light blonde color and some striking makeup.
19.) Messy Side Bun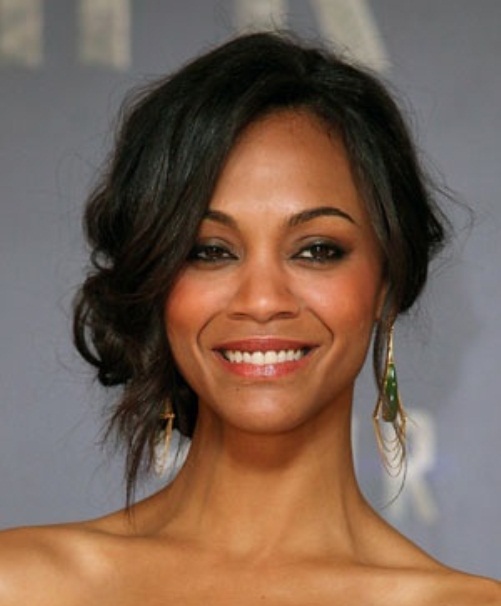 This is another amazing and popular black short hairstyles. For an alluring and appealing look just go messy with a side bun. This is easy and simple hairstyle you can easily make at home.
20.) Super Short Waves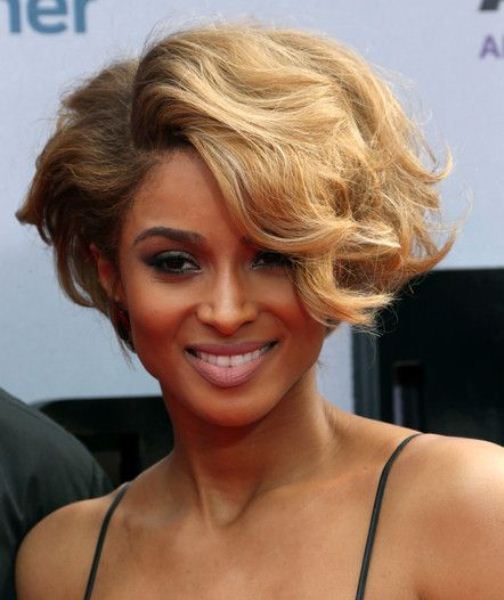 Check out Ciara looks hot with black short hairstyles. This is retro inspired look with caramel blonde highlights that boost your attitude and looks more appealing with smoky makeup.