Updo's for natural hair are a breeze especially when the temperature is soaring high. Such hairstyles are a retreat for the summers. Plus, they are not only practical in fact calls for the creative skills as well. So put you hair styling tools down and experiment with different natural hairstyles this season. To help you we have listed below classy updos for natural hair.
List of Classy Updos for Natural Hair:
1.) Easy Knotted Updo for Natural Hair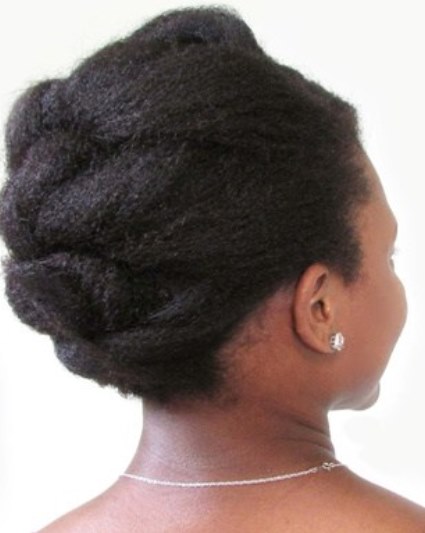 This is one of the simple updos for natural hair. All you have to tie 4 different sections into a knot and gradually add the leftover hair into it.
2.) Twisted Updo for Natural Hair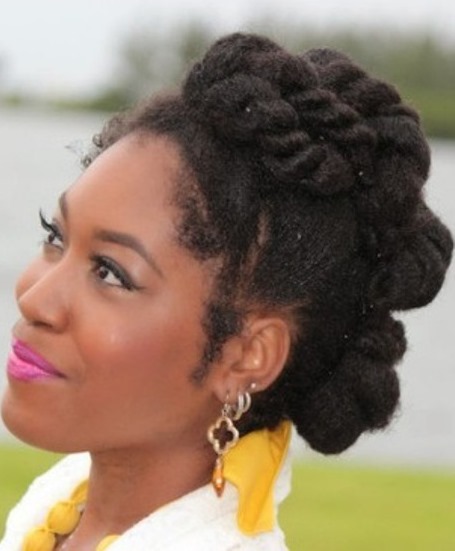 This style might look complicated but it is quite easy to create. This is an ideal hairstyle for the casual day, outing with friends, your first date or any other special occasion.
3.) Twisted Pompadour Updo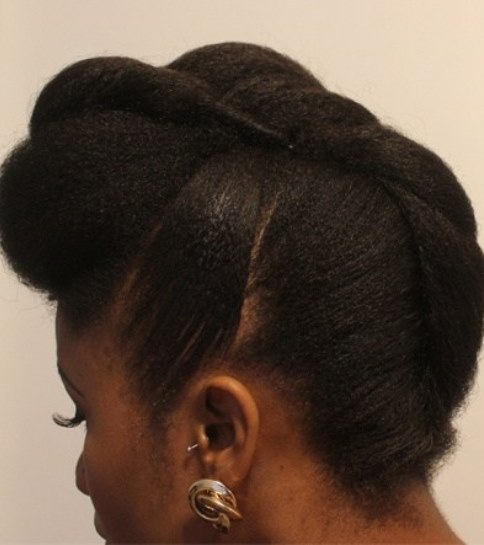 This fancy updo is definitely one of the classy updos for natural hair. This hairdo is a retreat for summers. It is perfect for the casual meetings, party at the beach and even a get together with your friends.
4.) Beehive Updo for Natural Hair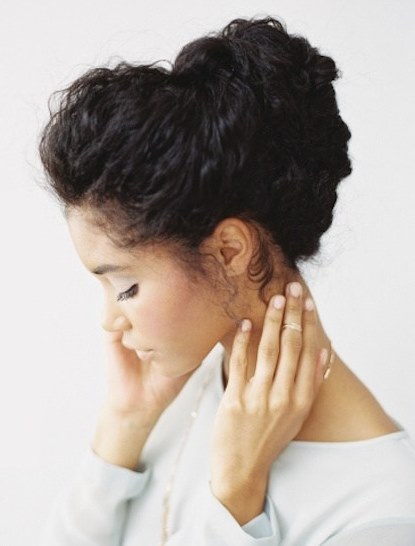 This hairdo resembles a beehive. It has a huge volume that will make you fall for this hairdo. Either you are a would be bride or a bridesmaid this is a perfect hairstyle for you. To make it more interesting you can place nice hair accessories or can leave it simple for a classy look.
5.) Easy Afro Updo for Natural Hair
This natural puffy black hair updo is one of the easiest updos for natural hair. This is an apt hairstyle for voluminous natural curls. All you have to do is tie a ribbon around your head.
6.) Pin Curled Twists Updo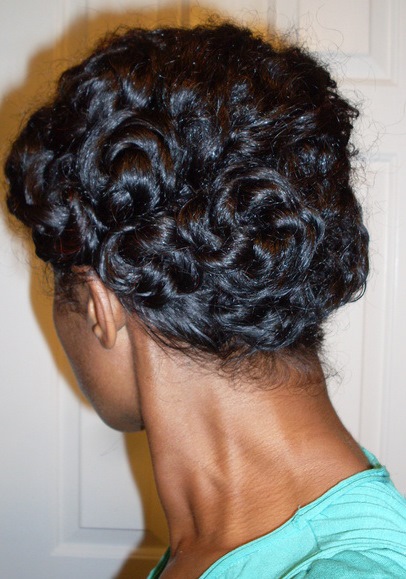 This gorgeous hairstyle takes some more time than the usual ones but it's totally worth for the outcome you will get. This hairdo is perfect for all the events and occasions. All you have to do is carry this with a sheer confidence.
7.) French Braided Bun Updo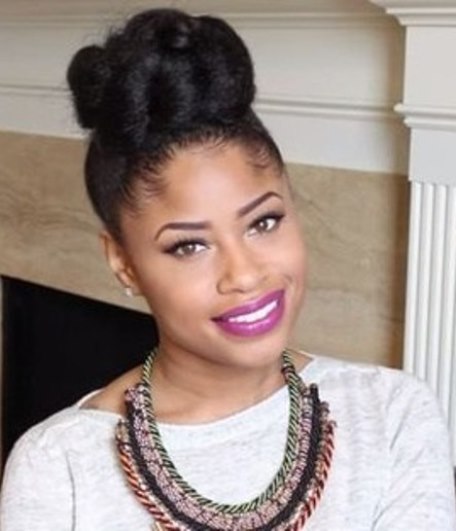 If you are looking for a hairstyle that you can wear at the office and at after party as well, then this is the one for you. It will definitely earn you many compliments from your colleagues and friends.
8.) Contrasting Top Afro Updo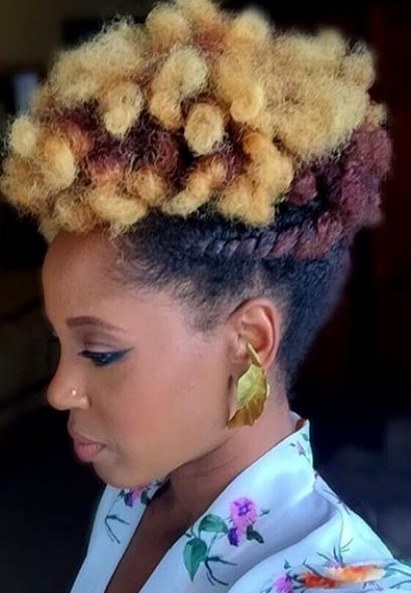 If you want to try your hands on a different hairstyle then you can consider this for yourself. This pinned hairstyle is quite easy and will give you nice look. It requires a side twist and regular puff on the forehead. A pop of color will make it more interesting.
9.) Big Bun for Shoulder-Grazing Hair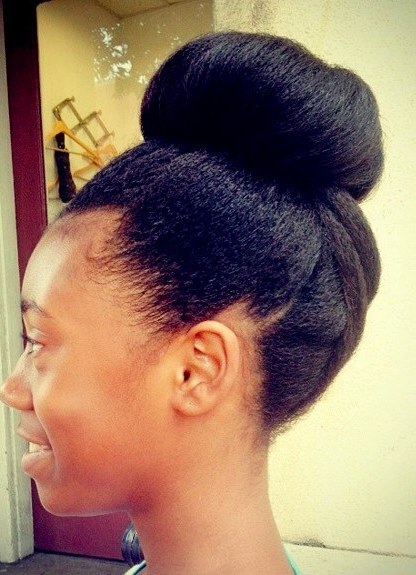 This is a nice hairstyle for fully naturally Afro-American hair. Just pull your locks into the bun on the top of the head and slightly twist it and wrap it on the lower side of the head. This twist will be prominent with the stretch hair.
10.) Half Braided Curly Cornrows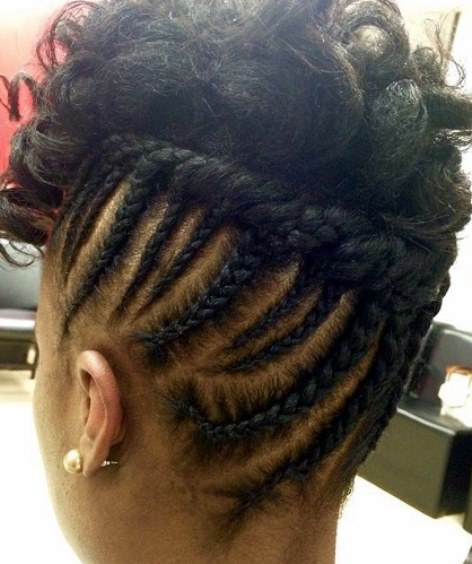 This is one of the ideal updos for natural hair. It features natural curls that braid on the sides and pulled upwards on the top into an updo. This is a perfect hairstyle for short and shoulder length hair.
11.) Knots with Twists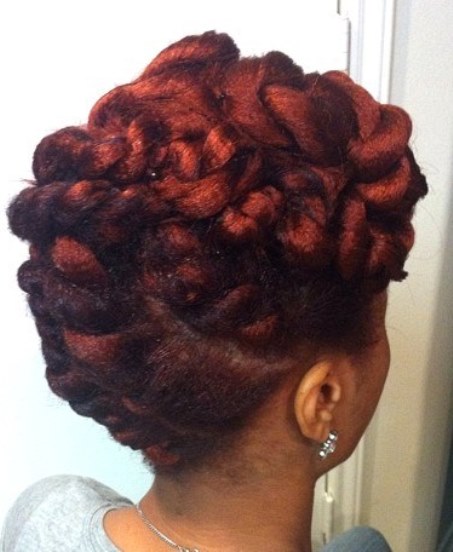 This is nice hairstyle for all types of hair length. Simply braid your hair and twist it in any way you want to make your own style statement.
12.) Naturally Curly Tie Up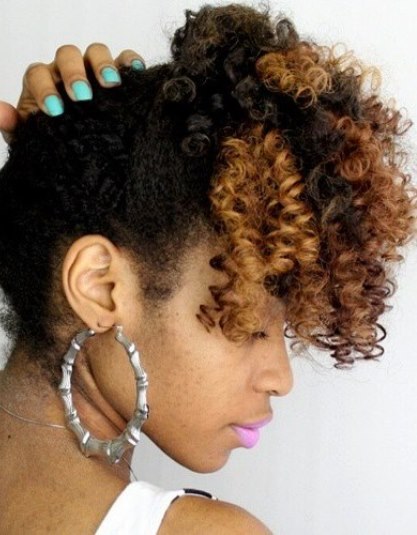 This is the simplest among all the updos for natural hair. Just tie your hair on the top of the head then style it in any of the ways to get a nice look.
13.) Cornrow Labyrinth and Top Bun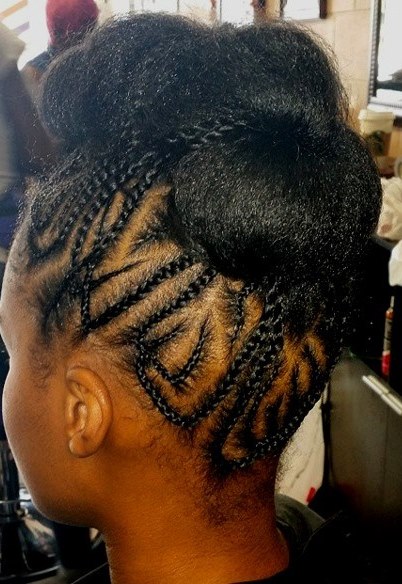 This funky cornrow braided hairstyle is just perfect for all the events and the occasions. Whether you have long or shoulder-grazing hair, you can always give a try to this cute hairstyle.
14.) Horizontal Flat Twists and Bun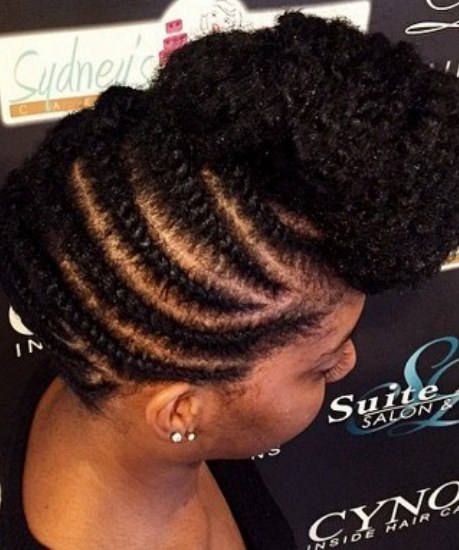 This hairstyle is not only easy to create in fact it is visually appealing as well. All you have to do is braid the cornrows and gather the ends of the tresses and pin them in a way they look like a front roll.
15.) Mohawk Inspired Hairstyle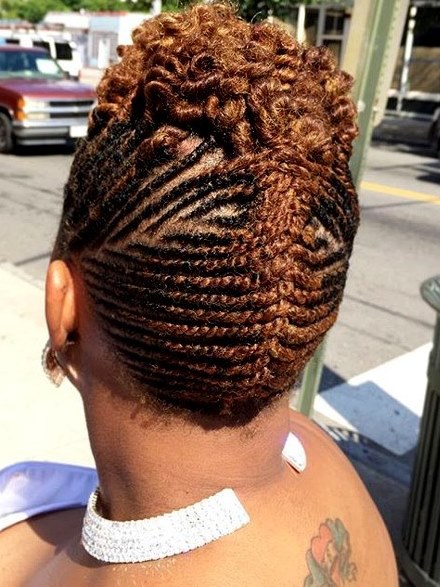 If you are looking for a funky hairstyle to grab attention then this is a nice option for you. This hairstyle is inspired by the Mohawk look with flat twist and cornrows on the bottom.
16.) Flat Twist with Caramel Coils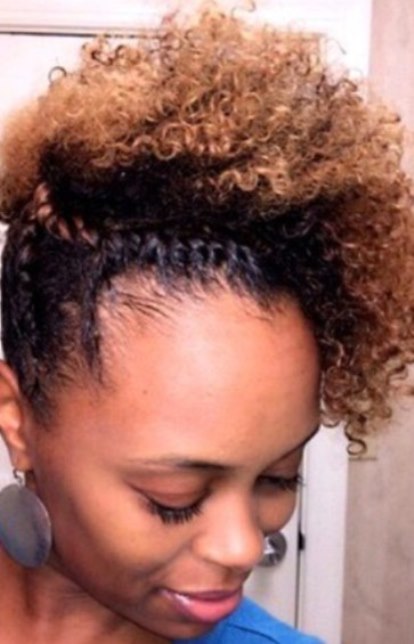 This is a nice hairstyle solution for all the girls looking for a wild hairstyle. It is low on maintenance and will score you high on the fashion scene as well. Just braid side cornrows and piles your curls on the top of the head to give it Mohawk like look and fix it with the bobby pins.
17.) French Braided Hairdo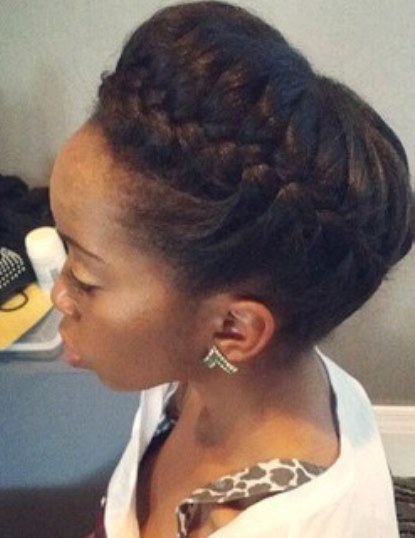 This is one of the gorgeous updos for natural hair if you have shoulder-grazing hair. This is a nice hairdo for all sorts of events and occasions like a formal meeting or pal's wedding.
18.) Janelle Monai

 Inspired Updo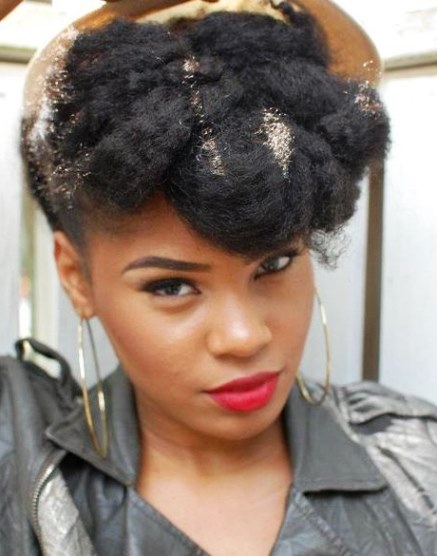 This is one of the prominent hairstyles. Most of the hairdo is visible at the back only but this is visible from the front as well. Simply secure the French rolls with bobby pins and you will be good to go in no time.
19.) Faux Hawk Updo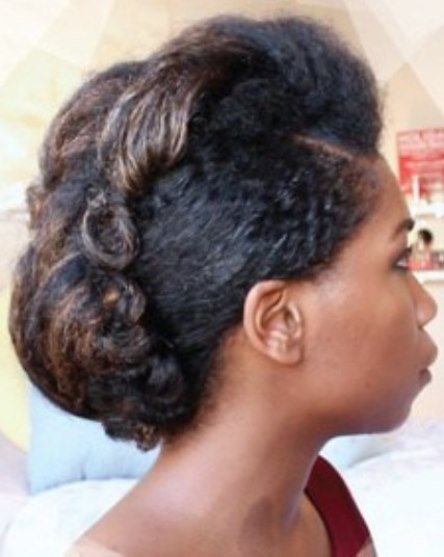 It really needs lots of courage to get Mohawk or faux hawk hairstyle. But, for this, all you have to do is flaunt your creatively.
20.) Flat Twist Updo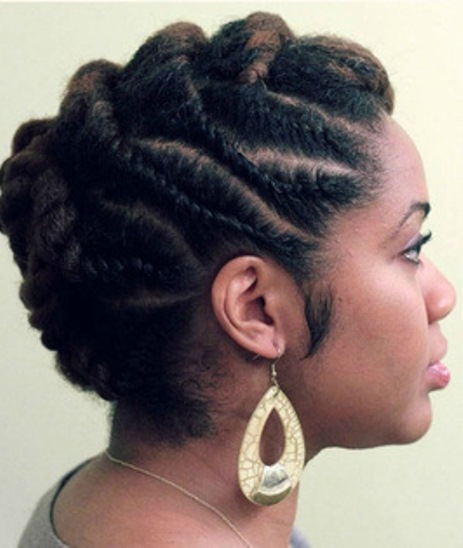 This is an all-rounder hairstyle. Whether you have to go for a party or have to attend a meeting this hairstyle is always there for you.