Flowers are natural accessories that accentuate the entire look of a girl. Whether it is a wedding day, birthday party or any other special occasion, the flower hairstyle is praised by all. Though small girls do not need to be styled overly. But when it comes to flower hairstyle they would love to don the petal-dropper look. Below we have listed 15 flower girl hairstyles that are easy to style.
List of Cute Flower Girl Hairstyles:
1.) Free Natural Curls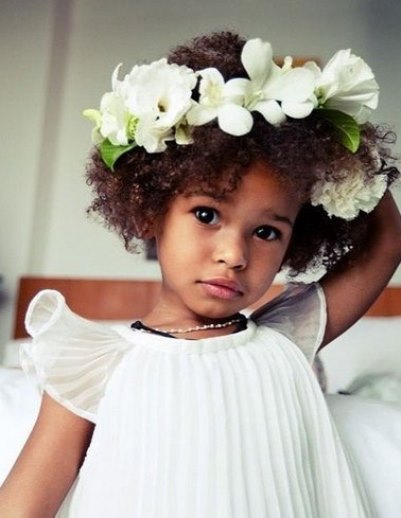 Style your young one with this cute flower hairstyle. The floral headpiece will speak volume. This is one of the adorable flower girl hairstyles to try.
2.) Triple Waterfall Style
This fancy style is apt for all the special occasions. The triple slanting flowing braid looks cute and the white flower completes the look. This is one of the adorable flower girl hairstyles for long hair.
3.) Loose Messy Curls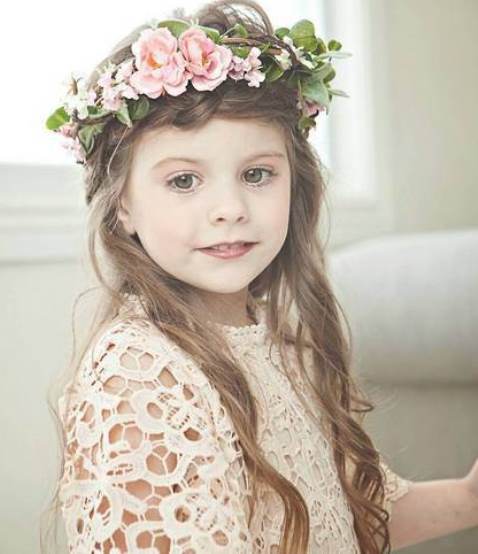 Whether it is her friend's birthday party or she has to attend a wedding this hairstyle will compliments her everywhere. The messy lavish long hair with a floral headpiece looks so adorable.
4.) Mixed Floral Headpiece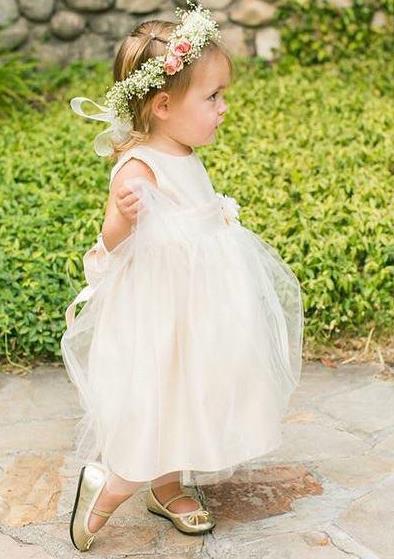 This little girl in the image below looks like an angel. Doesn't she! Her floral headpiece speaks volume. Her pretty white dress compliments the entire look.
5.) Sweet and Chic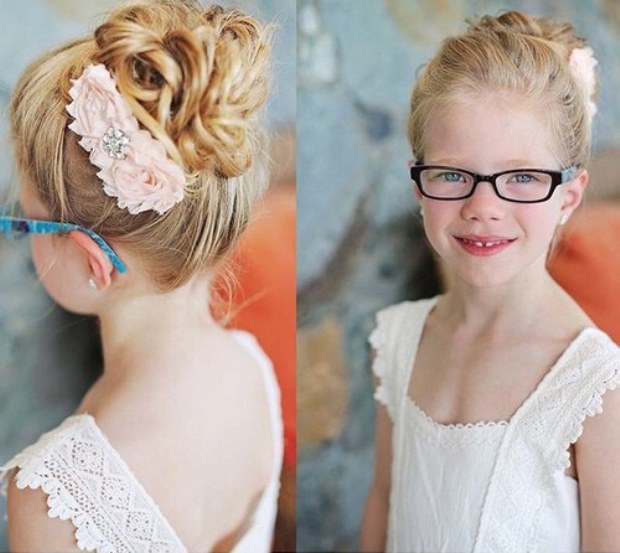 This is the perfect hairstyle for a wedding or a special occasion. The curly bun with cute flowery accessories looks cute on the young girl.
6.) Whimsical Braided Updo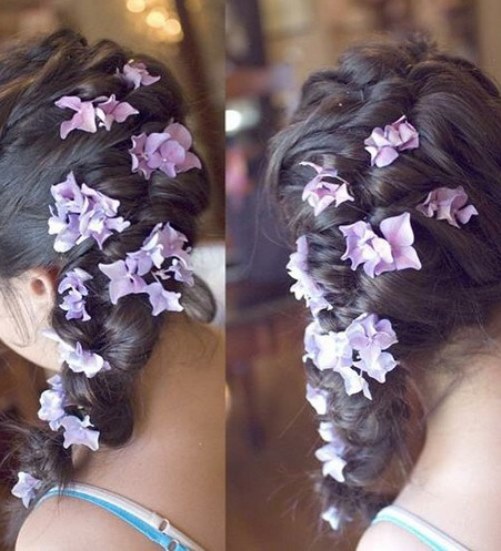 If you find floral headpiece quite monotonous then you should style your little daughter this hairstyle. Braided hairstyle is apt for the long hair and the violet flowers just compliment the entire look. You can go for white flowers as well.
7.) Hippie Chic Girl's Hairstyle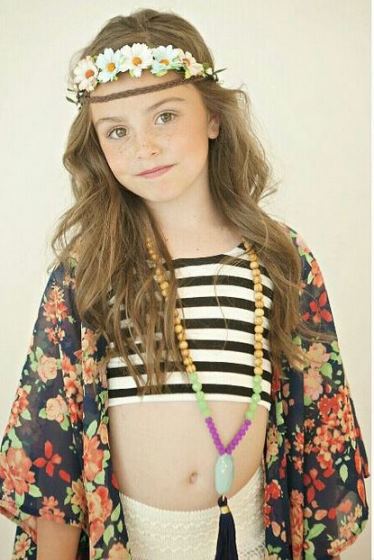 This hairstyle is ideal for a casual wedding. In fact, your daughter can also don this hair style for the fancy dress competition. This amazing hairstyle will definitely win her many compliments and prize as well.
8.) Braided Bun with Double Flower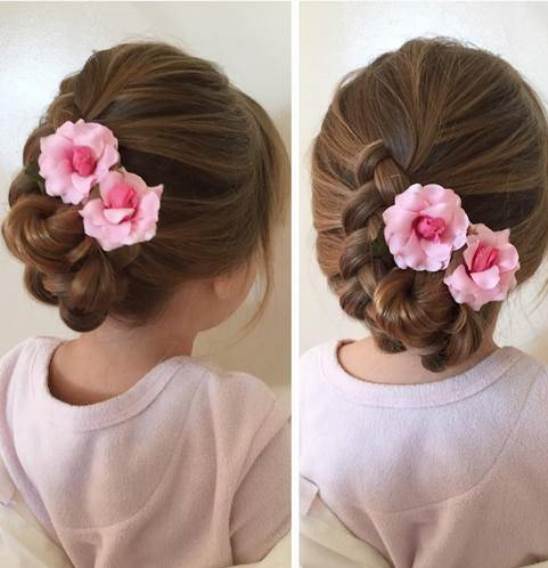 This style will enhance the simple bun hairstyle. The braided bun with pretty pink flowers will make your young one's stand out of the crowd. And she will definitely like this style for the very color.
9.) Charming Flower Crown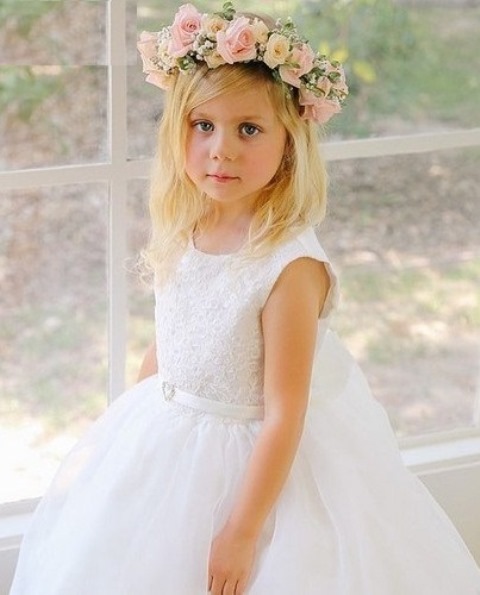 This is one of the flattering flower girl hairstyles. The charming flower crown will add a cute touch to your little one's daughter. The pastel pink color looks amazing on the white dress.
10.) Straight Hair with a Side Part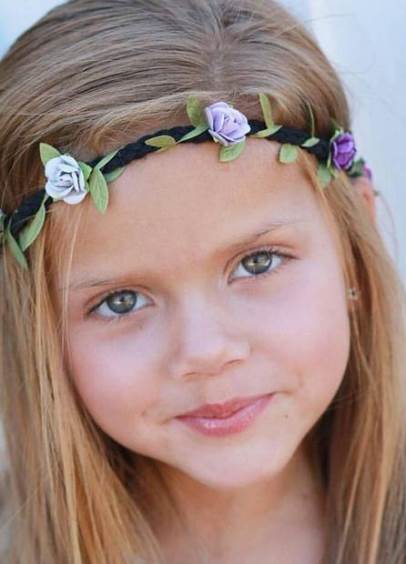 If you want to keep your little one's look minimal then you should get her this look. This is one of the simple and easy flower girls hairstyles. This looks perfect with straight hair.
11.) Simple Side Ponytail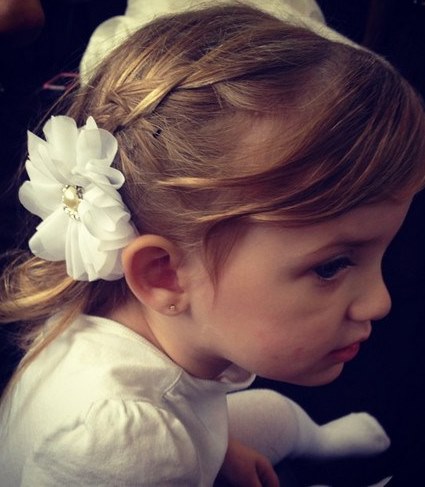 This is an ideal hairstyle for little girls with short hair. The classic braid tucked with the nice white flower accessory speaks volume. This style is apt for the casual outing or birthday parties.
12.) Hippie Double Braid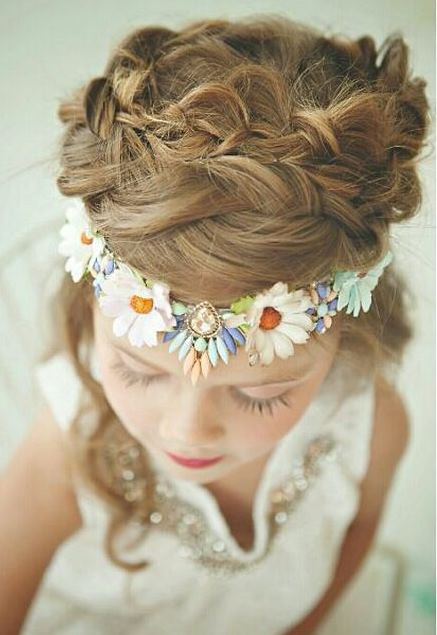 This braided updo with a chunky floral piece looks smart. This hairstyle is perfect for the low-key wedding.
13.) High Braided Bun
It's hard to showcase the intricate details with dark hair, thus the floral headpiece comes handy. The floral accessory compliments the high braided bun. It is one of the perfect flower girl hairstyles for all the occasions and events.
14.) Polished Preppy Hairstyle for Girls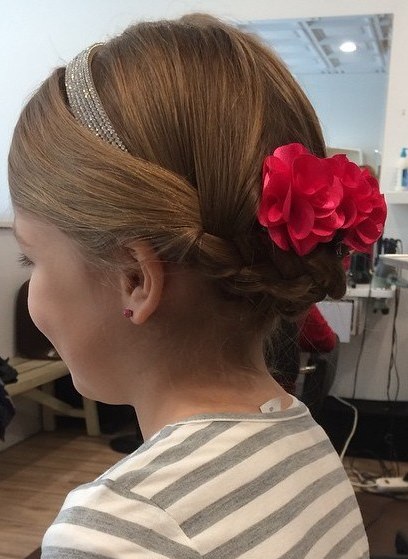 A tiara is nice head accessory and girls love to flaunt it. This hairstyle will give your princess an adorable look. The red flower at the back will complete the entire look.
15.) Simple Hairstyle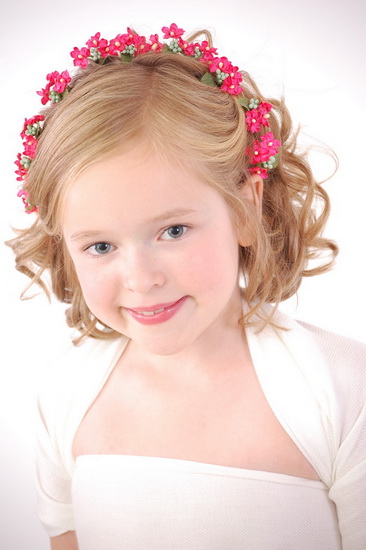 If your daughter or small sister does not like styling too much then just comb her hair and place the nice headband that has a flower on the top and she will ready to dazzle in not time.