Girls love to style their hair. Depending on their mood they like to change it from straight hair to curly or wavy hair. All these hairstyles have been a trendsetter. But, one hairstyle that is creating a huge buzz these days is wavy hair. It gives you a bold, elegant and classy look. Read more, to know different ways to get wavy hair at home.
Ways to

Get

 Wavy Hair:
1.) Use a Curling Iron to Get

 Wavy Hair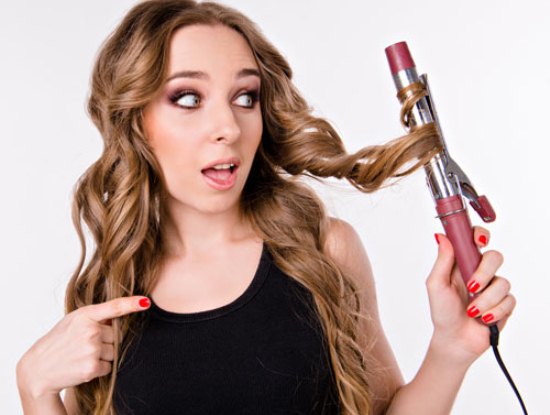 For luscious loose waves use a curly iron. Most of the celebrities use a curly iron to get a nice curly hair do and you can also get a similar look by the heating tongs at home. However, do not overuse it otherwise your hair will get damaged and also do not hurt yourself with the heating tong or a curling iron.
Steps to Get Wavy Hair with Curling Iron:
Wash your hair, pat them dry and apply a generous amount of hair mousse it will protect your hair from the heat.
Divide your hair into various sections. You can clip them on the top of the head and curl one by one.
Hold a curling iron and wrap a section of hair in it. To get the soft waves do not curl the entire hair strand.
After curling, comb your hair with fingers and apply a texturizing spray. With this, you will achieve nice waves.
2.) Use Velcro Rollers to Get

 Wavy Hair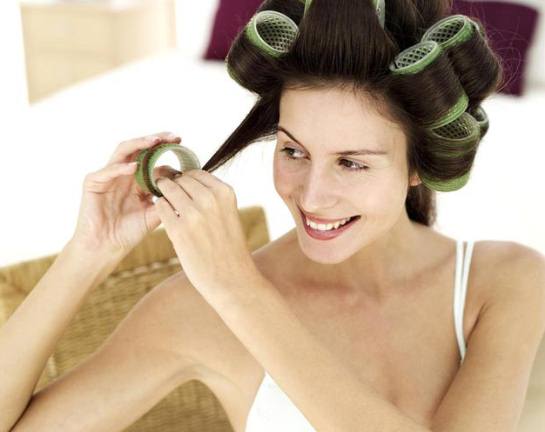 Over usage of the curling tool can damage your hair and might hurt you as well. So it's good to avoid it and use velcro rollers to get smooth waves.
Get Wavy Hair with Velcro Rollers:
Wash your hair and pat them dry.
Then apply a generous amount of mousse to your tresses.
Divide your tresses into three sections. With the help of a duck clip secure them on the top.
Unclip the bottom section of the tresses and divide it further into different sections. Then place a velcro roller in the a section, roll it on the upper side and secure it there with a hair pin.
Repeat this for every section. Once you have placed the velcro rollers on all the sections, blow them dry.
Leave the rollers for a few minutes and then remove them. Then finger comb through tresses and to get the loose and soft curls.
3.) Blow Dry Your Hair with Round Brush to Get Wavy Hair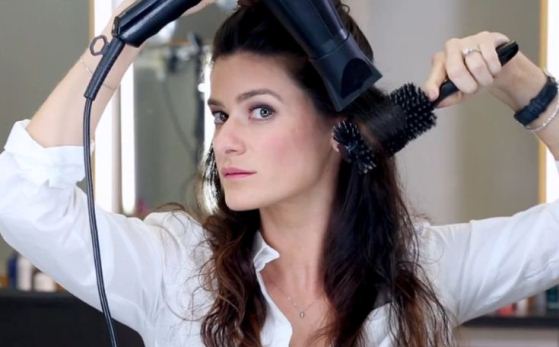 If you want to avoid all the hassles then simply curl your tresses with the help of blow dryer and a round brush.
Get Wavy Hair with Round Brush and Blow Dryer:
After washing your hair apply hair serum to the damp tresses.
Divide your hair into different sections.
Grab a section and comb it with round brush and roll the round brush in such a manner that your hair is rolled in it.
Blow dry the hair and repeat this with every section.
At last, finger combs your hair and complete your look with the anti-humidity spray.
4.) Hair Products to Get Wavy Hair
You can also use different  products to achieve waves. These products are easy to use and won't harm your tresses as well
Different Products to Get Wavy Hair:
Mousse: Apply a generous amount of mousse on your hair and scrunch them into tousled waves. Then blow dry your hair. However, avoid combing your hair.
Sea Salt: In a spray bottle mix some salt and water. Shake it well before using. Wash your hair. Then wrap the towel on the head and squeeze the extra water from your tresses. Once you pat dry your tresses spray a the salt spray on your hair and then with the cotton shirt scrunch your hair. This enhances the texture of the hair and adds volume. Then simply blow dry your hair.
Dry Shampoo: You can also get wavy hair with dry shampoo. Spray the dry shampoo thoroughly in your tresses. Then scrunch your tresses from the bottom to roots. Then comb them with your fingers and you are good to go.
5.) Hairstyles

 to Get Wavy Hair
If you do not have the curling machine, velcro rollers or find unsafe to use them then simply make hairstyles that  scrunch your hair and you get soft waves naturally without making an effort.
Hairstyles to Get wavy Hair:
Braid: For soft curls or waves make braid. You can try any plait whether french tail braid, traditional braid or any other. Before going to the bed make a bread. Next morning undo the braid and you will get soft curls.
Buns: Divide your hair into different sections and make buns. Leave it on for few hours and then blow them dry.