A French braid ponytail may be reminiscent of your school days. But on the contrary, it is more than just a French braid. It is not only about a simple braid but there is more to it. There are bundles of cute and adorable hairstyles that one can adopt from the simple French braid. From classy hairdo to intricate ponytail the French braid offers plenty of hairstyles. Read more, to know various cute French braid ponytails.
List of Cute French Braid Ponytails:
1.) Flowy Side Braid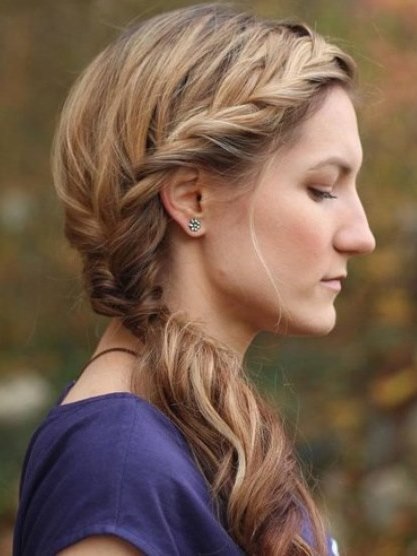 This is one of the romantic French braid ponytails. It is a cute fishtail braid version. It gives a messy look. This side braid is perfect for a class at college, gym, professional meeting and you can also pair this with a classy dress at a special function.
2.) French Braid with Bubbles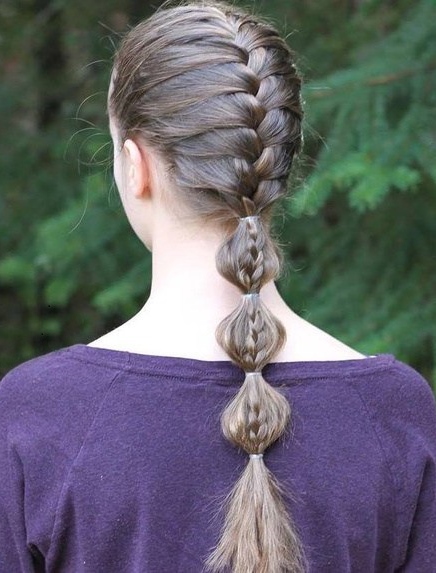 French braid with bubbles is one of the exquisite French braid ponytails. It involves detailed braiding. Simply braid the hair from the top and at end secure it with elastic band at the nape and then braid a thin French braid and complete the look like in the image above.
3.) Triple Braid Style
The triple braid style is one of the simple French braid ponytails. This hairstyle is apt for the times when you are on go. Just three braids ending into a ponytail and you are good to go for the day.
4.) Diagonally Braided Ponytail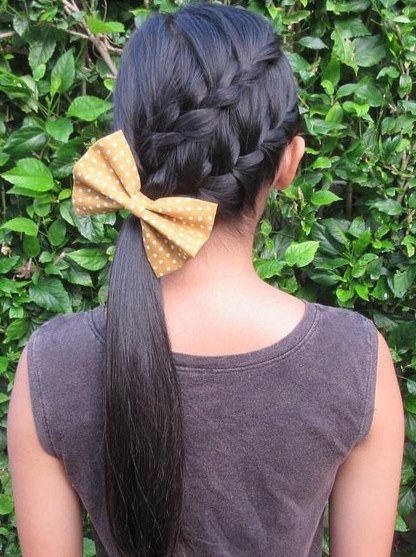 This is one of the exquisite French braid ponytails. Start with the braid and work diagonally. It is somewhat similar to waterfall braid but is this quite simple. To secure the ends use a funky hairband like a bow in the image.
5.) Artistically Undone Braid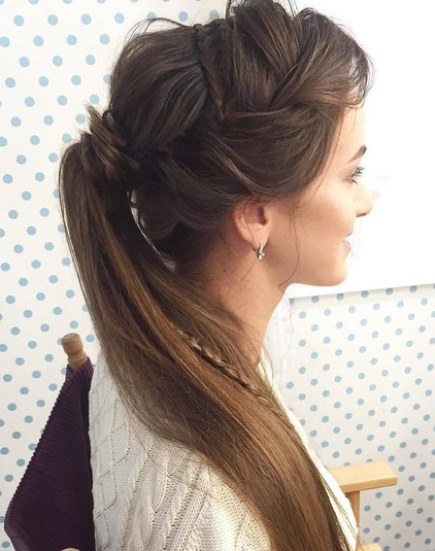 This messy French braid ponytail is quite different from the regular ones. It is a cute blend of the loose and tight braids. It completely justifies the name artistically undone braid.
6.) Fiercely Braided to Perfection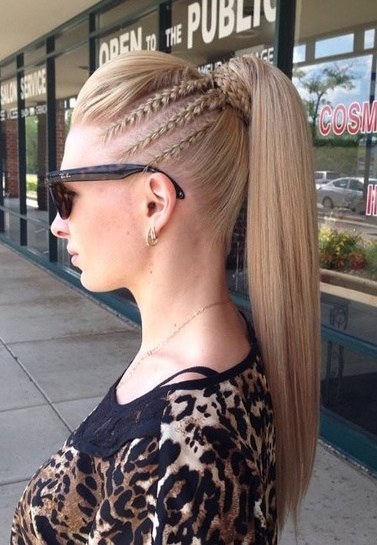 This braided ponytail will definitely make you stand out of the crowd. The tight cornrow- styled- braids with high ponytail adds glamorous appeal to your look. This is quite a Bohemian look that you can easily carry at a casual outing.
7.) Intricate and Adorable French Braid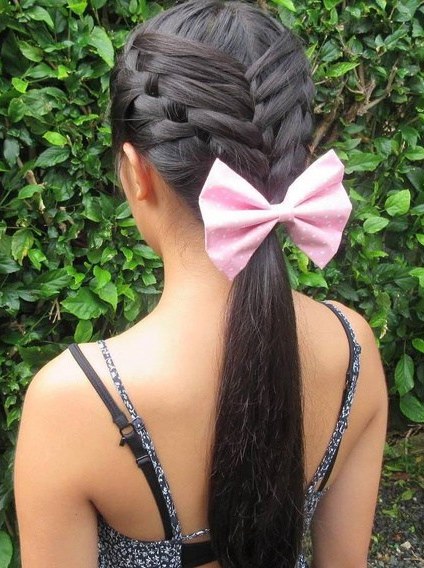 This is one of the intricate French braid ponytails. Once you have a hand on this hairstyle, it will take no time for a perfect look. Secure the ends with a classy hair accessory to make it interesting.
8.) Multicolored Jumbo Braid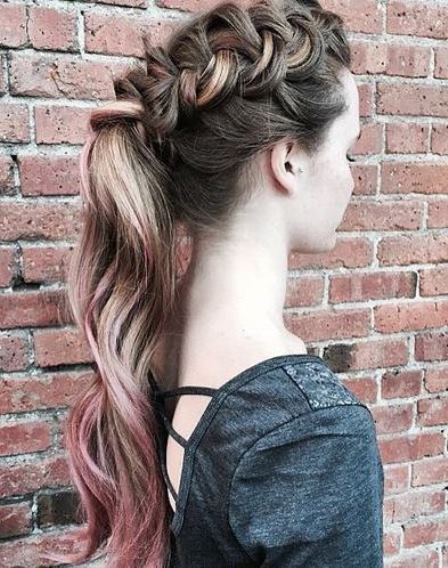 Girls who love to style their Barbie dolls will definitely find this hairstyle fascinating. The jumbo braid with blonde and pink highlights looks stunning. This is one of the fancy French braids ponytails that you can style according to you.
9.) Blond Pony with Double Braid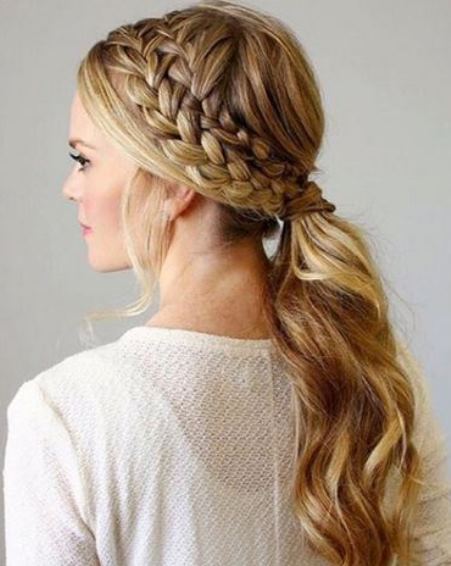 The details make this hairstyle stand apart from other hairstyles. The double braid at the one side looks classy. To give it a messy look leave, some hair strands out of the braid and once you have secured the ponytail wrap it with your hair to give it a neat look.
10.) Long Elegant Ponytail with a Puff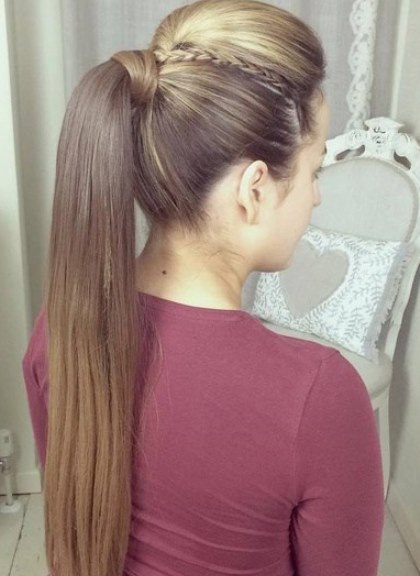 This is quite a simple hairstyle. It features a thin braid at the side and nice puff and ponytail. The highlights will take this hairstyle a notch higher.
11.) Cute and Carefree Ponytail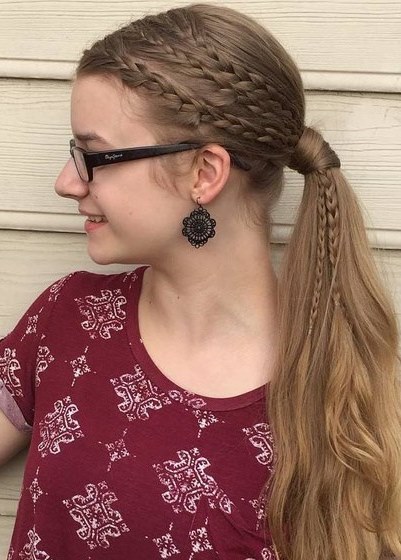 This style is definitely inspired from the Hipster's hairstyling. The partly braided with partly straight hair looks mesmerizing. Just make sure your hair is smooth enough while working on braid and ponytail. To get a geek look you can wear your eye glasses.
12.) Braided Glam Hairstyle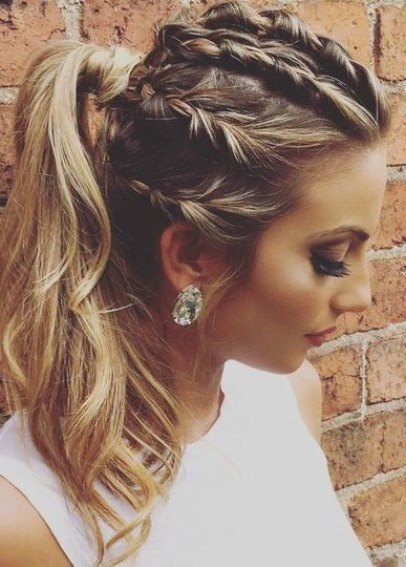 The largely undone cornrows on the top are a highlight of this hairstyle. It is simply scintillating. The high ponytail will add a hint of sass and glamor to your hairstyle.
13.) Charmingly Soft Ponytail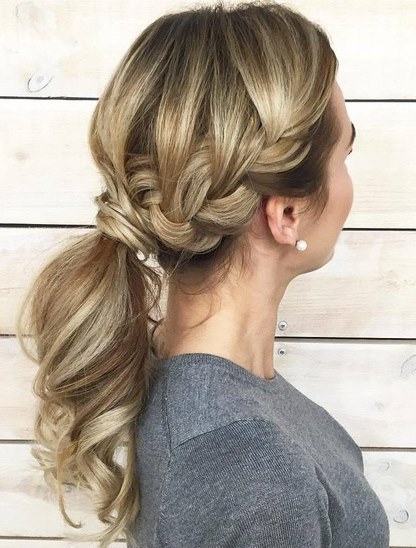 A French braided ponytail adds a volume to the hair. The prominent braids at the side look cool. This is is an ideal hairstyle for a party and professional meeting.
14.) Unique Braid Updo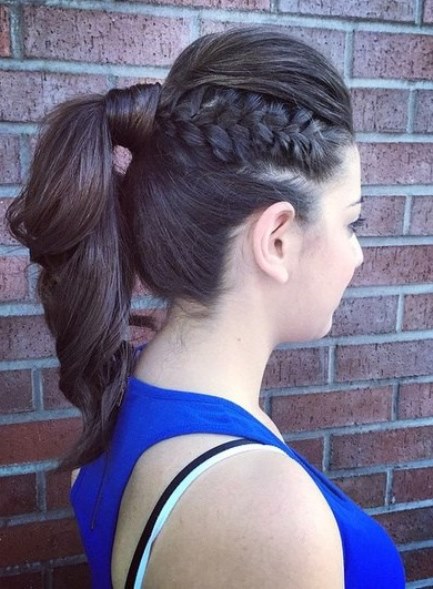 Like name like hairstyle! This is a lovely hairdo that you can carry at your workplace and at the casual outing as well. To add a little sass to it keep your pony wavy.
15.) Sculptural Punky Ponytail
If you are inspired by the faux hawk look but are not willing to chop off your hair then this is the cool idea to fake the faux hawk look.