Lemon is bliss for hair. It is one of the versatile ingredient. It can be used for numerous purpose. From kitchen to skin and hair you can use it anywhere. Since it natural, therefore, it does not damage hair like hair products tend to do. And moreover, it's very economical and easily available too. Read more to known benefits of lemon juice in hair.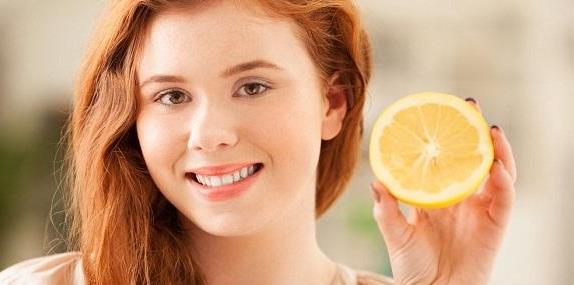 Benefits of Lemon Juice in Hair:
1.) Exfoliates the Scalp
Lemon juice has natural exfoliating properties. It exfoliates the scalp and removes all the impurities from the scalp. It removes the dead cells and bacteria that lead to scalp infections. It is gentle on hair and strip off the buildup of the chemicals in the scalp. Lemon juice in hair should be applied 1-3 times weak to maintain the health of the scalp
Directions:
Mix generous amount of lemon with vinegar thoroughly.
Use this solution to massage on your scalp.
While massaging use your fingers and move them in the circular motion.
Continue this for good 10 minutes and rinse it.
2.) Naturally Straightens Hair
Yes, you read it right. Lemon juice in hair helps to strengthen them and gives you smooth hair texture. It is a best natural way to straighten hair without damaging them. The heating tools used to straighten the hair will damage your hair so to be on the safer side use natural product.
Directions:
Mix a generous amount of coconut oil with lemon juice thoroughly.
Store it in the refrigerator for an hour or until you get a thick consistency.
Then apply this solution your hair nicely. Make sure each strand is covered with this solution.
Leave it on for 10-15 minutes and then rinse your hair with cold water.
At Last shampoo your hair.
3.) Treats Dandruff Naturally
Dandruff is one of the common hair problems that give rise to other hair problems such hair fall, hair thing and sometimes balding also. Dandruff is caused by the bacteria in the scalp. Lemon juice stops the growth of this bacteria and works as an anti-dandruff ingredient. It cleans the scalp.
Directions:
Mix generous amount water with half lemons juice thoroughly.
Apply this solution on the scalp.
Leave it for 10-15 minutes
Alternatively, you can use lemon juice in hair with slightly warm hazel oil also. Massage this solution on the scalp for 15-20 minutes and then rinse it off.
P.S –Do not apply lemon juice directly on the skin.
4.) Treats Oily Scalp
Sometimes the sebaceous gland releases more natural oil and this the scalp gets oily. When this oily scalp comes in contact with dirt it leads to main hair problems. However, this problem can treat with lemon juice in hair. It removes the excess oil from the scalp and maintains the health of the scalp.
Directions:
Thoroughly mix water with the generous amount of lemon juice.
Soak your hair in this solution for 10- 15 minutes or rinse your hair with it and leave it on for 10-15 minutes.
This will clean your hair and remove the buildup of the natural oil.
5.) Treatment for Itchy Scalp
Lemon juice also comes handy for treating the itchy scalp. It has a citrus acid that helps to prevent the itching in the scalp. It also balances the pH level of the scalp and gives you clean scalp. Itchy scalp can be embarrassing at times. Moreover, it may also lead hair fall. To avoid this apply lemon juice to hair.
Directions:
Mix a generous amount of lemon juice with the shampoo.
Massage your hair with this mixture of the shampoo and lemon.
Continue this for 7-10 minutes. Leave it on for a minute.
At last, rinse it off with cold water.
6.) Helps in Hair Growth
Long hair is a distinguished epitome of the feminity. It elevated the feminine beauty and thus most of the women urge for long lustrous hair. However, you will not get long hair in just one day. But lemon will help in hair growth over the time. It has vitamin C that provides the nutrients for hair growth. For best effects use lemon juice along with hair oil.
Directions:
Mix juice of half lemon with any carrier oil like almond, olive or coconut oil.
Apply this hair mask in your hair and massage it for a few minutes.
Leave this hair mask of hair oil and lemon juice in hair for a few hours.
At last, wash your hair nicely to remove the oil.
7.) Lemon Juice in Hair Prevents Splitends
One of the prime cause irregular hair growths is split ends. The hair from the and looks damaged and does not have any life. To treat often we trim our hair and thus our hair length gets short. If you do not want to compromise with the length of your hair then use lemon to prevent split ends. However, trimming hair once in 2 months is good for the hair.
Directions:
Trim all the damaged hair from the end.
Apply a hair mask of lemon juice and oil on the ends of the hair properly.
Leave it for a few hours and the wash it.
8.) Lightens Hair Color
Sun kissed locks are bliss, especially in the summers. However, the products used for lightning hair contain too much chemical that can damage your hair. So it good to opt a natural way. Lemon juice will lighten the shade of your hair give you a nice color.
Directions:
In a spray bottle mix warm water and lemon juice.
Shack it well before using.
Spray this solution onto your hair and sit in the sunlight.
Leave it on for half an hour then rinse your hair.
9.) Naturally Conditions the Hair
Lemon juice conditions the hair and gives you smooth and lustrous hair from the very first wash itself. It will remove the frizzed hair and treat the unruly hair.
Directions:
Mix water and lemon juice thoroughly.
Shampoo your hair and then rinse your hair with this solution.
Leave it for minutes and then rinse it with cold water.
To use it as leave-in –conditioner you can spray few drops of lemon juice on frizzy hair.
10.) Get Rid of Lice
Lice are common hair problem that is evident among children's and girls with long hair. The prime cause of lice infestation is unhygienic conditions. But you do not have to worry; lemon juice is always there to your rescue.
Directions:
Mix equal amount of garlic paste and lemon juice.
Apply this mixture on your thoroughly.
Leave it on for few minutes and then rinse it off.