In this article, we have listed 20 classy hairstyles for round faces. Every hairstyle is not good for a round face, but below listed sassy hairstyles are just pleasures that you can't deny for a change. For a round face you need to cover your ears. If you have round face and short hair, you can just try any hairstyle using mouse and blow dryer easily. So check out some stunning and classy hairstyles listed below in this article.
Best Hairstyles for Round Faces
1.) Pixie Haircut and Side Parting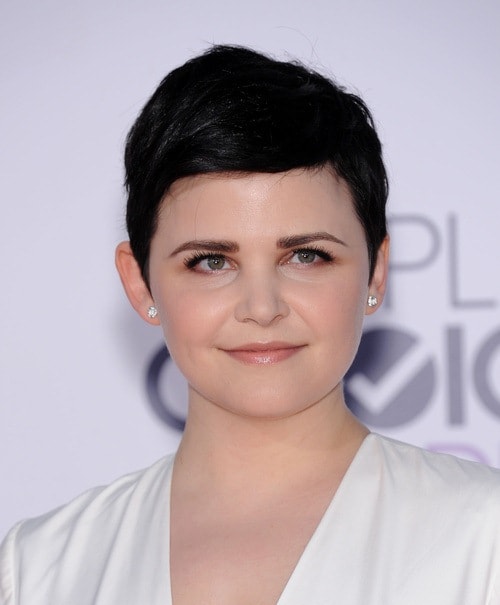 Look at Ginnifer Goodwin, she has set a trend with her several looks this season. This is one of her best hairstyles for round faces. She looks pleased with side parting and volume crown. So try this hairstyle for any party or event.
2.) Pixie with Tapered Side Burns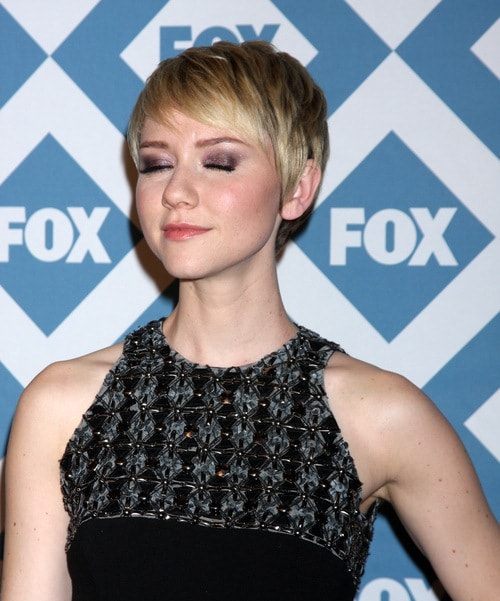 Sideburns frames round face very well. Try this hairstyle by creating side bangs with blonde and darkened roots. This is simple and easy hairstyle to make at home.
3.) Short Playful Ringlets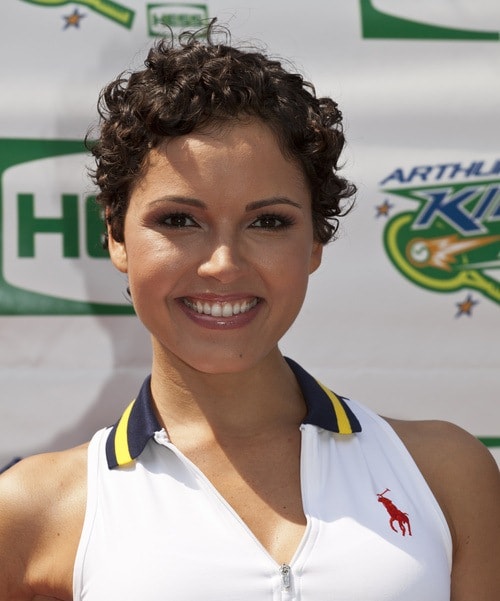 Not every round face needs visual correction. Try this curly, cute and sweet hairstyle, just like Susie Castillo. This hairstyle flaunts her look with playful ringlets.
4.) Retro Short Waves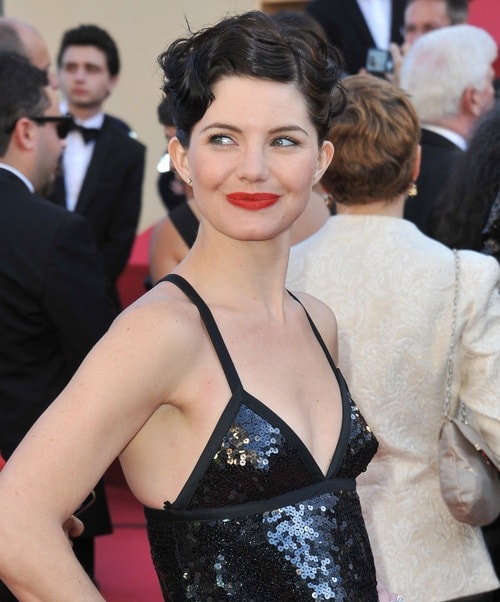 This is another popular and classic hairstyles for round faces. Delphine Chaneac has pulled her look with sassy pixie and messy Updos. She doesn't accept the no-no hairstyle options for her round face. She makes her own remark with short glossy retro look for a playful look inspired from 20's.
5.) Cropped Bob with Jagged Edges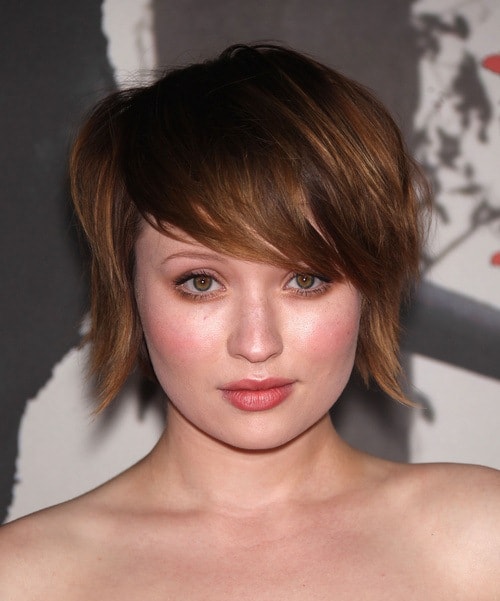 This is one of the best hairstyles for round faces. Cropped bob covers your ears and adds more volume to your hair. Try this stunning hairstyle with razored edges that flatter your face.
6.) Wavy Pixie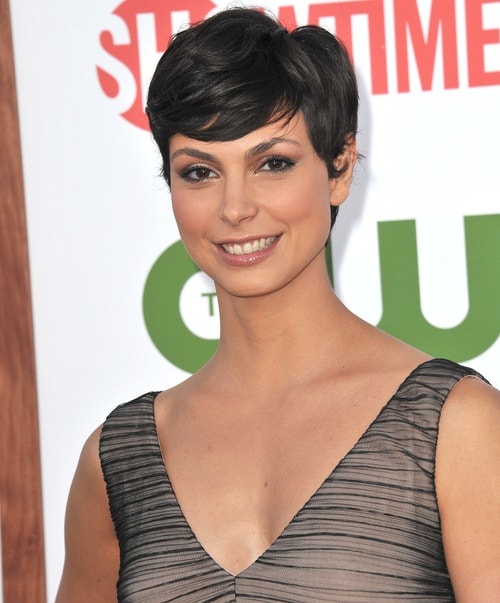 If you see Morena Baccarin looks simple yet so gorgeous with her medium length hairstyle. This hairstyle gives you more of a visual elongation and grabs most of the attention towards your hairstyle than round face.
7.) Layered Haircut with Elongated Bangs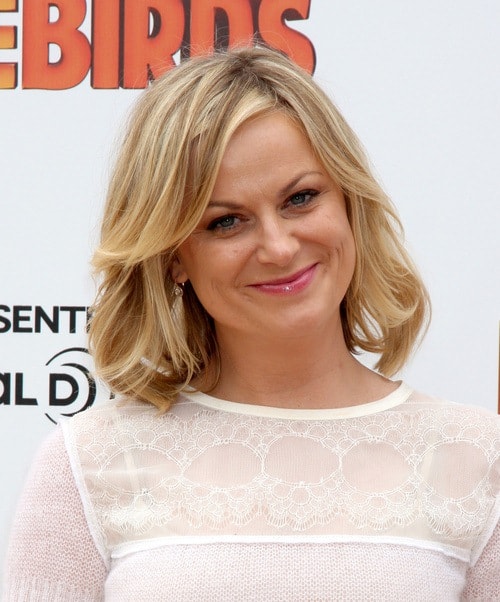 For a broad and round face like Amy Poehler, she manages her look with medium length layered haircut. A pixie haircut doesn't look nice in this case. So if you have same face shape try pair layered haircut with side bangs. You can also try an updo with same long bangs for face framing.
8.) Messy Updo with Wavy Bangs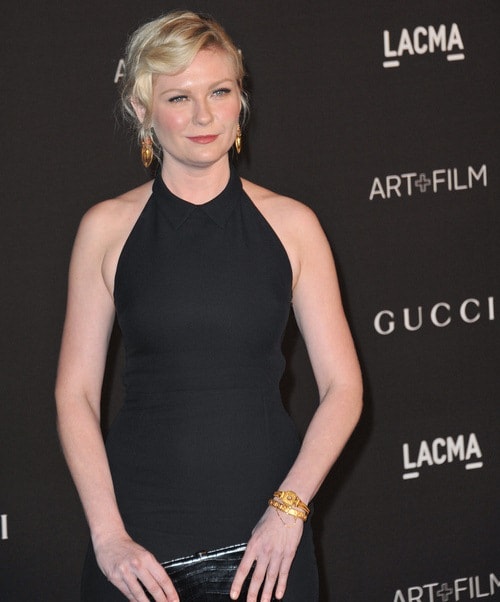 This is one of the classic hairstyles for round faces. Check this gorgeous looking hairstyle of Kirsten Dunst, she wears it with messy updos with a disheveled knot. You can also try this hairstyle for a delightful look with wavy bangs and wispy locks.
9.) Short Elongating Locks
Not every woman dares to flaunt short locks because they probably don't know how to look stylish that way. Just check Even Rachel, she looks confident with her elongating waves and short sexy hair. Try this hairstyle for more volume and great texture.
10.) A-Line Bob with Side Parting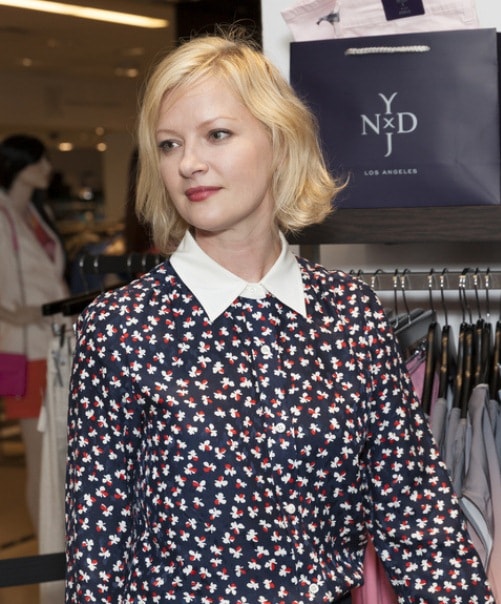 Check out your favorite celebrity Gretchen Mol looks iconic with her silhouette bob haircut. This hairstyle is perfect to frame your round face and compliments with messy waves.
11.) Long Voluminous Pixie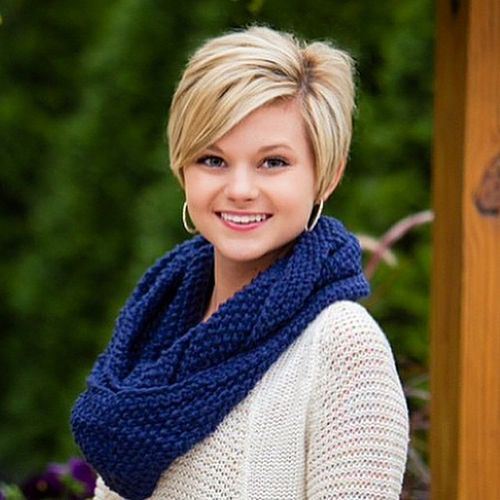 This is one of the popular hairstyles for round faces. For a sophisticated and classy try this hairstyle.
12.) Chic Bob Hairstyle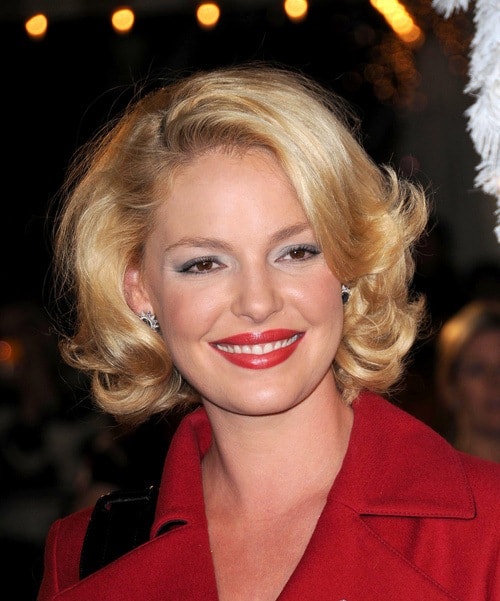 Katherine Heigl always stuns everyone with her stunning looks. She looks extremely gorgeous with classic Hollywood hairstyle and curled end locks. You can also try this simple hairstyles for round faces.
13.) Short to Medium Layered Haircut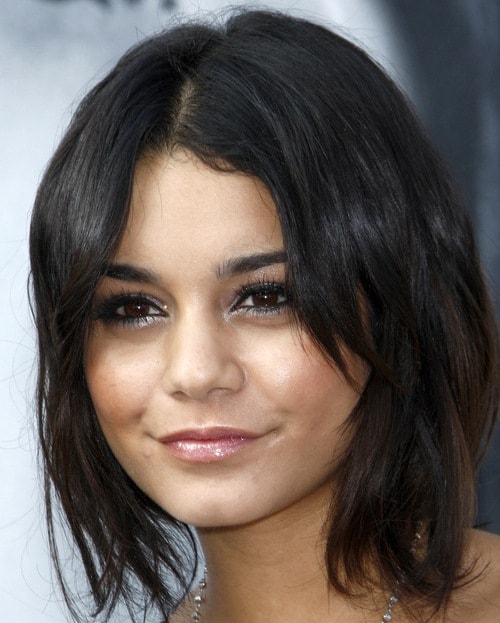 Vanessa Hudgens looks cute and smart in this layered haircut. It gives a perfect texture and vertical lines flatter her round face well. Try this hairstyle for a cool and casual haircut for thick hair.
14.) Boyish Haircut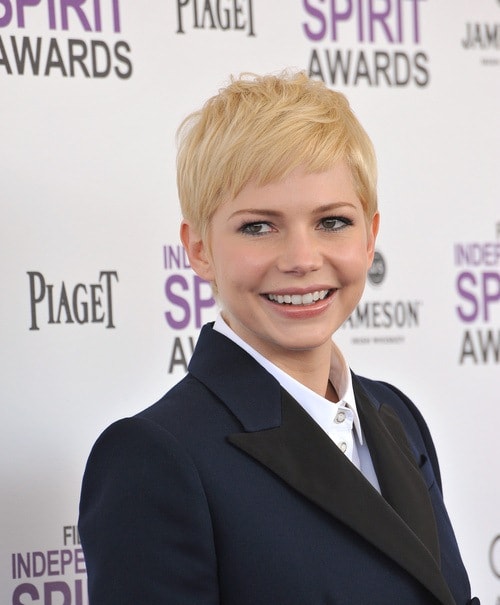 Look at the magnetizing personality of Michelle Williams with short lengths. You can also try this hairstyle with extra short pixie haircut for more interesting look.
15.) Blunt Subtly Angled Bob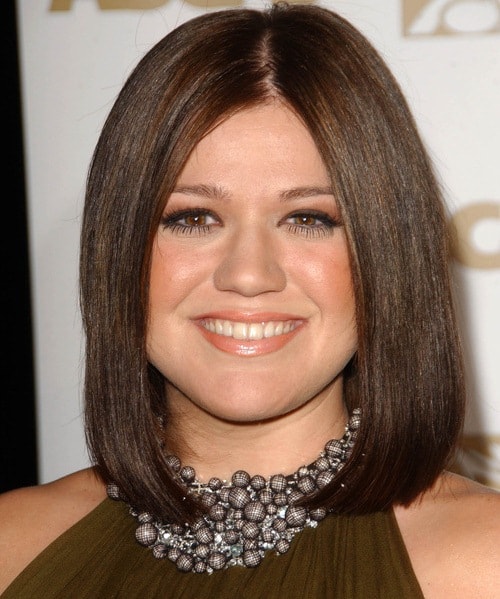 This is one of the trendiest hairstyles for round faces. The collar bone with bangs is always flattering for a round face and middle or side part. This makes your looks bigger and enhances your features well.
16.) Shoulder-Skimming Haircut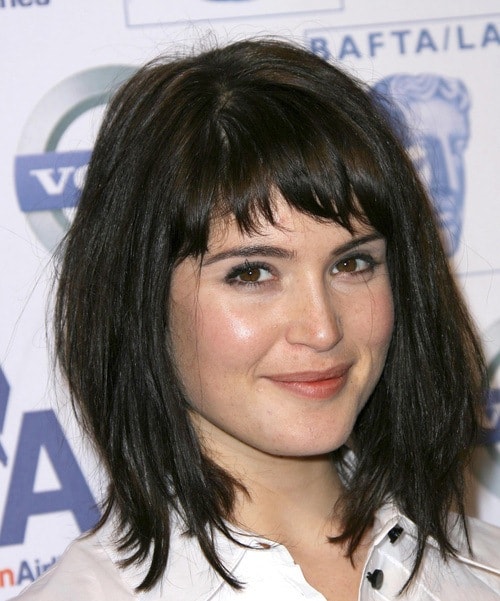 Check out Gemma Arterton looks hot with her short edgy skimming haircut. She looks even more stylish with straight locks that flatters and elongated her round face.
17.) Cute Short Bob Bangs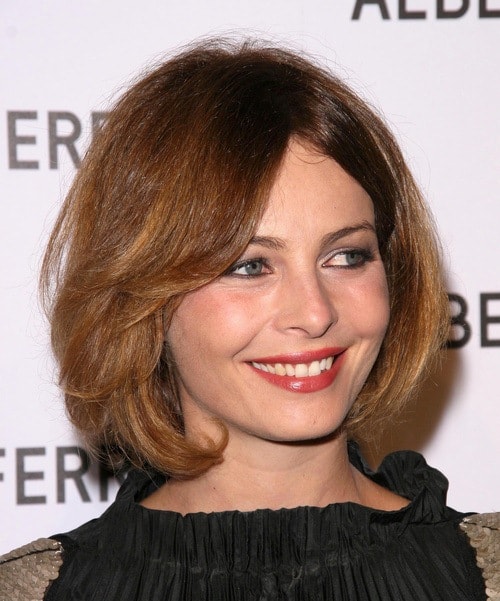 Violante Placido shows off her short bob hairstyle with curled curls inside. This is perfect hairstyles for round faces that enhance her cheekbones and forehead. You should also try this hairstyle for a perfect party look.
18.) Graceful A-line Wavy Bob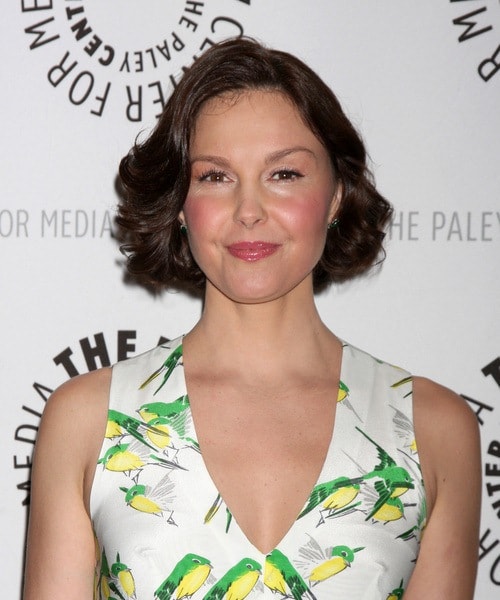 This hairstyle is self-explaining that blends Ashley Judd with a compassionate look. You can also try this centered parting and asymmetrical curled ends that add more volume to your face.
19.) High Short Curly Pony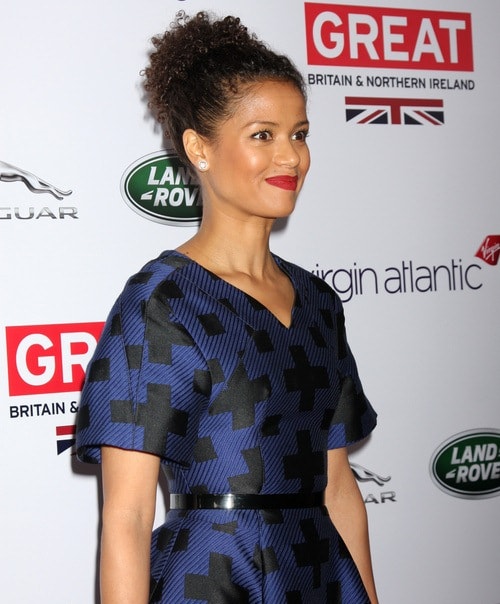 There are several hairstyles for round faces to choose from, but for a confident and beautiful woman any hairstyle can flatter your face. So try this high pony to discard all the conventionalities and styles.
20.) Bowl Cut Hairstyle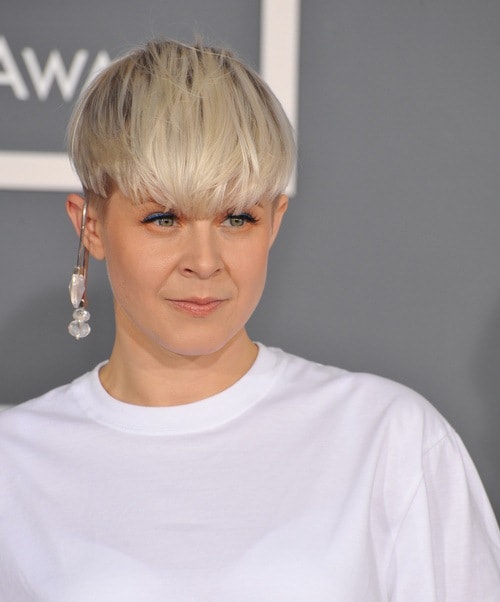 Check out Robyn stunning looks with horizontal edges. This is one of the popular hairstyles for round faces. The deep bangs and vertical streaks grab attention to your eyes.