Castor oil is one of the best natural formulas for keeping your hair healthy, shiny and strong. It is one of the traditional ways of hair care. The oil contains ricinoleic acid and omega- 6. These are essential fatty acids which help to enhance the blood circulation to the scalp. Here in this article, we will go through benefits and usage of castor oil for hair.
Castor oil has medicinal properties. It's often used as a laxative and is highly beneficial for hair growth and health. It has a unique chemical composition, for which it has potential to heal. The main content of this oil is a triglyceride of fatty acids. It also contains essential vitamins for hair like vitamin E, omega-6 fatty acids, minerals, and proteins. These are important elements for the health of your hair and scalp.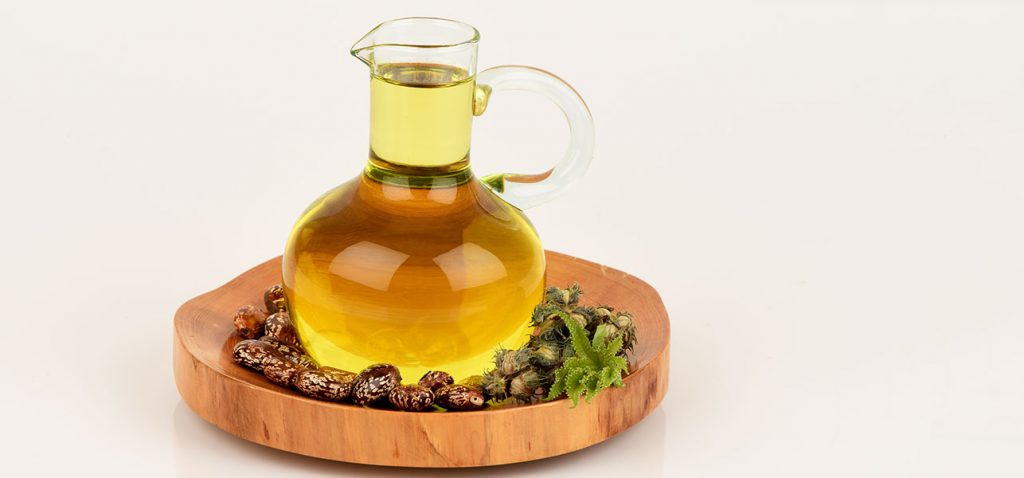 Benefits of Castor Oil for Hair
Helps hair regrowth.
Prevents hair loss.
Makes the hair richer and darker.
Prevents split ends.
Treats dandruff.
Moisturises dry scalp.
Moisturizes the hair and makes it shine.
Works in an antifungal and antibacterial way and can prevent problems such as piedra, ringworm, and folliculitis.
Ways to Apply Castor Oil Mask to Hair:
1.) Castor Hair Mask
Castor oil as a hair mask is best for hair care. Use this oil particularly if you're trying to regrow hair or want to add more moist and shine. Castor oil has a thick consistency, so you can mix it with other oils like coconut oil, olive oil or jojoba oil. Mix the oil in equal amount. after mixing them with other oil it will become easies to distribute evenly throughout your hair.
2.) Part the Hair
Part hair into sections and apply the oil (mixture) to each section until all your hair is covered properly and evenly.
3.) Use Fingers or a Brush to Apply Castor Oil for Hair
Use your fingers or a brush to apply the oil. Gently apply the oil onto your scalp in a circular motion. The gentle massage helps to increases the blood circulation and rejuvenates the hair. It also stimulates hair growth.
4.) Wrap Your Hair with a Warm Towel
Use a towel to wrap your hiar. If you donot want to spoil your towel you can use a shower cap. After covering your hair leave it for two to eight hours. If you want you can also leave it over night. This will give the oil enough time to penetrate the follicles and hydrate your scalp and hair thoroughly.
5.) Wash Your Hair
After keeping the oil for the required time wash your hair until you get rid of the oil. You ill need 2 to 3 washings with a gentle shampoo. Wash your hair as usual using shampoo and conditioner. Make sure you rinse the oil out of your hair. You will surely get an amazing feeling after you dry your hair. You will see amazing looking hair that is beautiful and healthy.
Ways to Mix Castor oil for Hair:
1.)  Magic Potion for Hair Growth
Castor oil is an amazing oil to treat hair loss and for the growth of hair. But for some the dense structure and peculiar smell of the oil becomes intolerable. So here is the solution, which most women call the magic potion for hair loss. The mixture of this oil helps to supress the odd smell of the oil and also adequate and equal mixture of other oils with it decreses the thickness of the oil. This will make castor oil easy for you to use and most importantly get rid of the oil while washing. Washing becomes a really tought and time-consuming job. This will help you to save the extra minutes in your strugle to get rid of castor oil from hair.
2.) Mix the Oils
The magical portion is the combination of four oils, coconut, sweet almond, sesame, and castor. While you can add all this oil with the castor oil in equal portion or just choose any one from this depending on availability and preference. You can add coconut oil with castor oil if equal amount. similarly, you can mix two or three oils in equal quantity to use castor oil for hair.
3.) Apply the Castor Oil on Hair
Take the oil on your palm and apply it throughly to your hair from the roots to the tips. Apply it evenly and later gently massage your scalp using your fingers. Make sure you use the correct amouont of oil excess of oil will make it difficult for you to wash out the thick oil.
If you want a proper massage as someone to do the job for you. Pour the oil onto your crown and gently massage the oil, Use the fingers and gently massage form the crown to the lower part of the scalp. this will help to spread the oil evenly and effectively. Relax and let the scalp absorb the oil. If you have exhausted the oil pour some more or dip your fingers to apply the oil evenly to the scalp and the tips. Run your hands along the rest of the hair from root to end. For split ends you can apply this oil at the ends only.
4.) Wash It off
You can leave the oil for a minimunm of 15 to 20 minutes. If you wish you can also leave the oil in overnight. Later you can wash off the castor oil. Th eoil is thick so you will have a tough time to get rid of teh oil from your hair. Use warm water at the start to flush the oil sucessfully, use a mild shampoo for 2-3 times. Deepending on the length and the amount of oil used you might need to use shampoo for multiple times. Do not forget to use conditioner after the shampoo.
5.) Dry your Hair
Once you wash your hair, wrap your hair with a dry towel for a few minutes. Let the towel absorb the water and help you to dry youor hair. You will notice silky and shiny hair after the wash. You can avoid using heate for styling immediately after the wash. The heating tools are sometimes harmful to your hair and when you have already gained beautifull and manageable hair you wont need to neat them.