Asymmetrical Pixie cuts are classified as a bold hairstyle. This hairstyle has been symbolic for women from different ages and centuries. This hairstyle was adopted by women in the twentieth century when they took a revolutionary change and unapologetic comeback in the year 1960. This is one of the bold and gorgeous hairstyles. It looks great in different texture. Here in this article, we will discuss various asymmetrical pixie cuts.
20 Bold Asymmetrical Pixie Cuts:
Layered Asymmetrical Pixie Cuts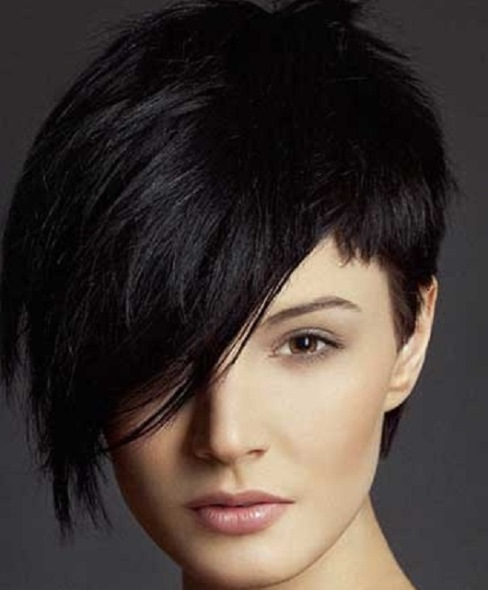 This haircut is one of the soft hairstyles. The strands are apt and short enough to stay in a place. This hairstyle takes less effort to manage. Whether you have to go gym or have to attend your classes this is a perfect hairstyle to opt.
Feather Asymmetrical Pixie Cuts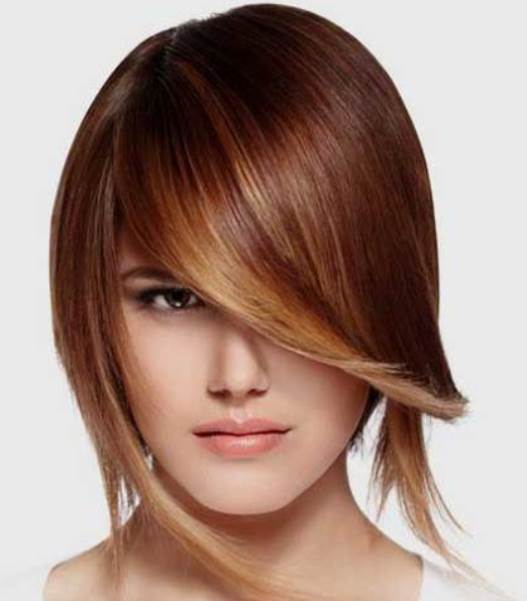 If you want a feminine look with short hair you can go for feather pixie haircuts. In this haircut, the fringes and the end are curled life soft feathers. The side swept bangs will take this haircut a notch higher. For a casual look simply blow dry your hair.
Wavy Asymmetrical Pixie Cuts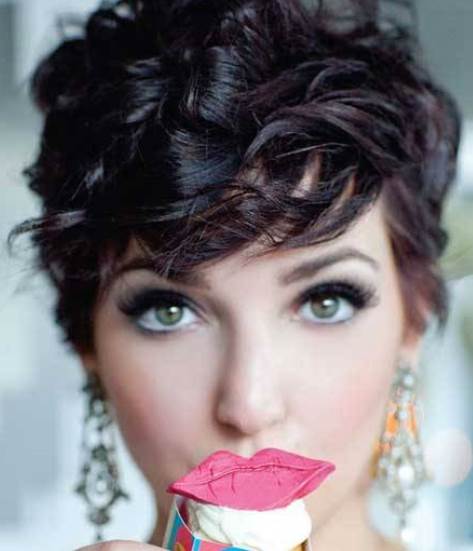 The asymmetric pixie cut looks gorgeous on the wavy hair. If you want to enhance this style you can go for some shades of brown and red. You can also ask your hairstylist for the bangs as they will nicely frame your face and enhance your facial features.
Tapered Asymmetrical Pixie Cuts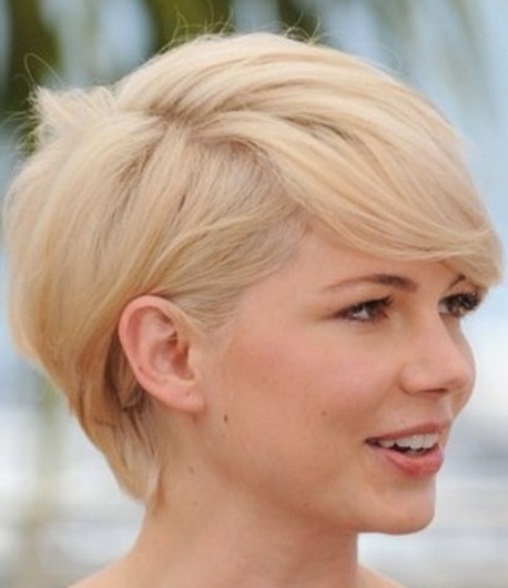 In this hairstyle, the side sections are slightly cut right above the ears and tapered off slowly to the top. The hair in the front remains long. For a classy look ask your hairstylist for a trendy hair color.
Choppy Asymmetrical Pixie Cuts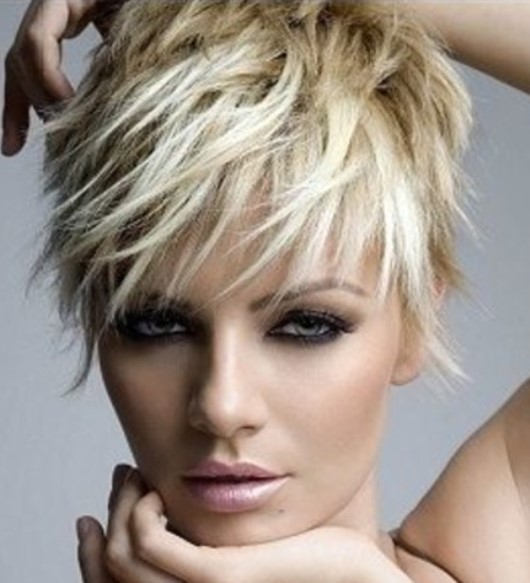 The bangs in this choppy haircut are uneven. Choppy hairstyle mostly comes with short layered hairstyle or the tapered once. This choppy pixie cut is perfect is perfect for girls who love try distinctive styles.
Extreme Asymmetrical Pixie Haircuts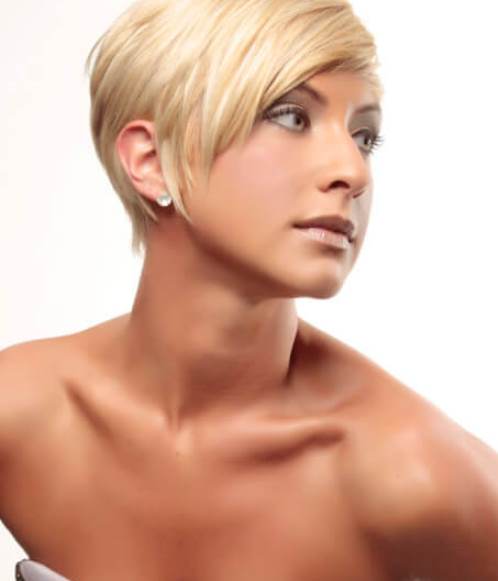 The main feature of this haircut is that the hair is relatively short at the back and extremely long from the front. The choppy side bangs are the highlight of the haircut. This Asymmetrical pixie definitely needs a try.
Short Bangs Asymmetrical Pixie Haircuts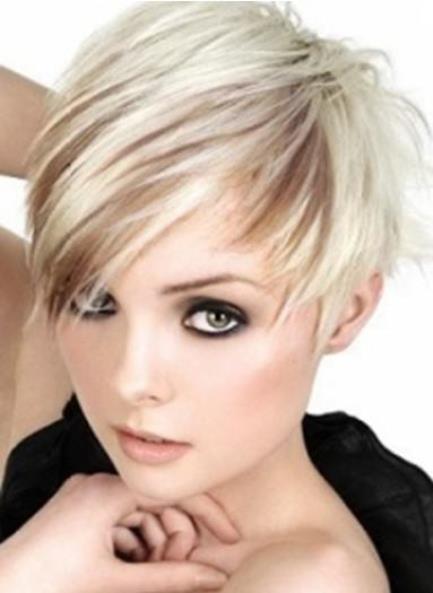 This pixie haircut also comes with bangs. You can customize your look by giving a simple short bang at the front. This is usually preferred for girls with a broad forehead. To take this asymmetrical pixie a notch higher with two-tone hair color.
Edgy Asymmetrical Pixie Cuts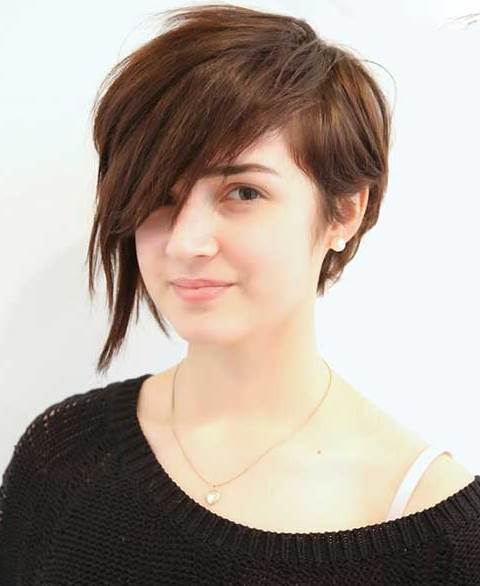 This edgy asymmetrical haircut is like a chopped pixie haircut but the difference lies in the fact that the ends here remain edgy rather than looking chopped. They both look uneven. This messy haircut is quite in these days and is low on maintenance as well.
Long Bangs Asymmetrical Pixie Haircuts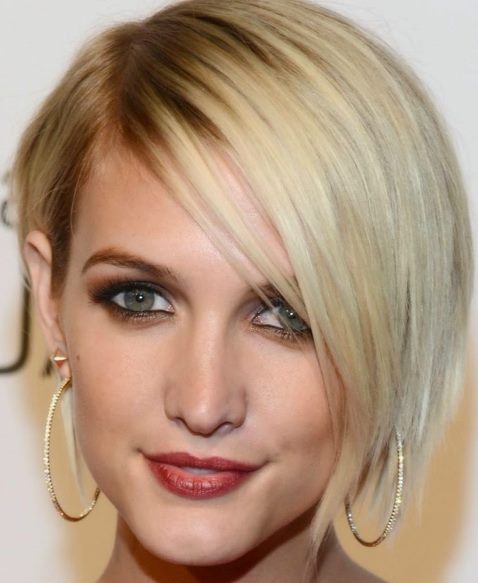 Sometimes when you don't want your front haircut to be short you can just simply keep the length long. It gives a nice look. To balance this that hair at the back can be short.
Sassy Asymmetrical Pixie Cuts
This haircut is much classy and stylish. You can try this hairstyle if you want a bold and extremely classy look. This asymmetrical pixie is similar to layered pixie that makes this haircut stand apart.
Curly Asymmetrical Pixie Haircuts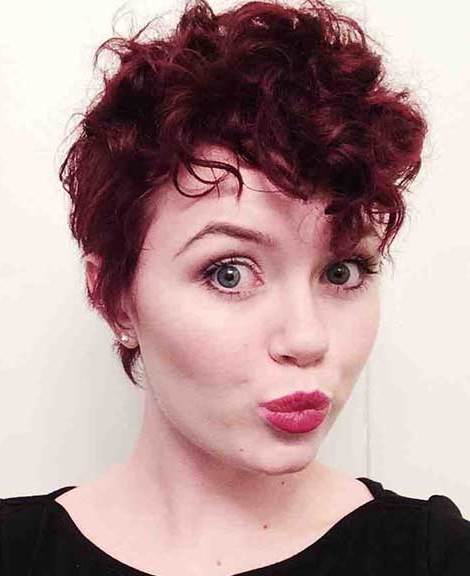 Who says curly hair are hard to manage? Curly hair looks good in this hairstyle. You can sometimes use a curler on the long bangs and get them curled. This asymmetrical is low on maintenance and easy to style as well.
Shaggy Asymmetrical Pixie Haircuts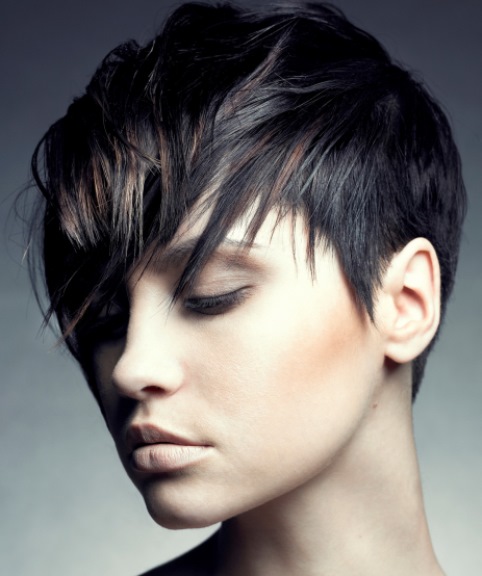 The Shaggy pixie cut is the one which is layered. This hair cut has high tops and lower ends. The back is shaved. The choppy bangs are the highlight of this haircut. Isn't it mesmerizing!
Undercut Asymmetrical Pixie Cuts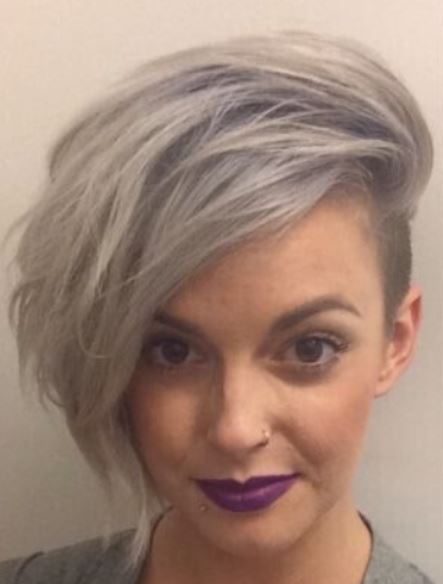 The undercut haircut is for the boldest of women. This haircut has shaved sides. The short layers are tapered for which it fits all kinds of face. If you like to experiment with your looks, this is definitely one for you.
Textured Asymmetrical Pixie Cuts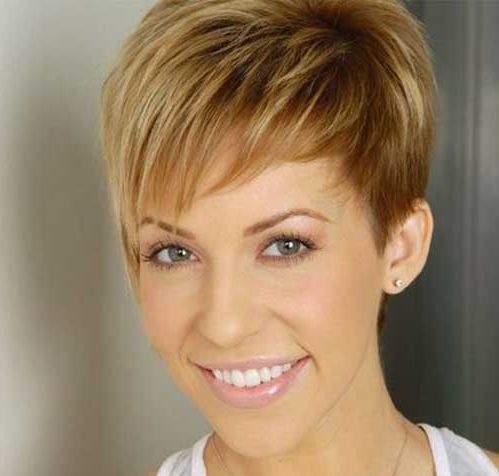 This haircut is characterized by chunky and choppy layers to add some amazing texture. It gives a complete asymmetrical finish by the layers of hair one side out and away from the face and the other side towards the face.
Spiky Asymmetric Pixie Cuts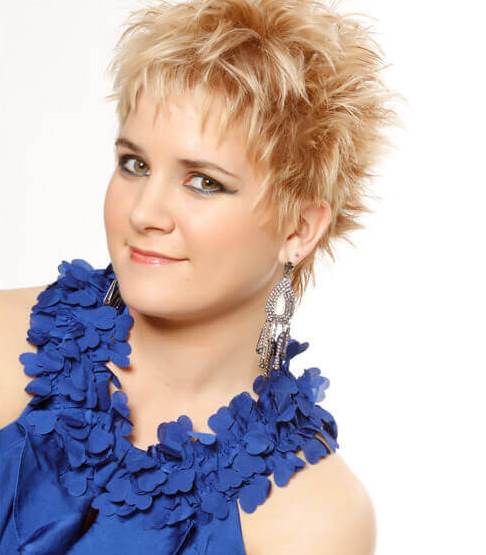 The spiky haircut is also a bold haircut, the sides are shaved and the hair on the top are spiky. This is will give you altogether a different and edgy look. Do try this cut.
Emo Asymmetric Pixie Cuts
This asymmetric pixie cut is ruling the hair trend right now. Emo style has been categorized as the punk style. This haircut is characterized by short bangs and extreme pixie bangs.
Grown-Out Pixie Haircut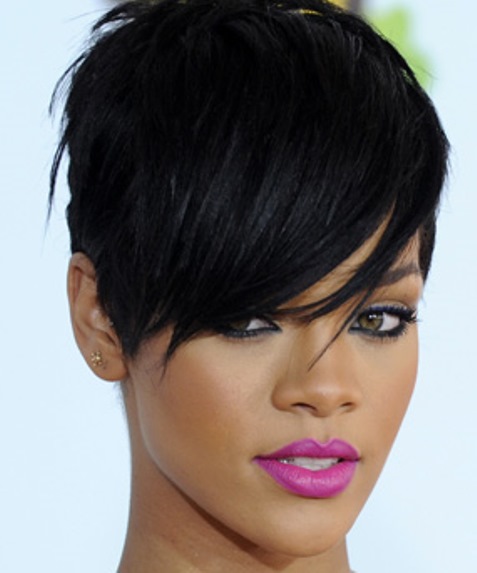 This haircut is mostly preferred for girls who want to grow their hair. This haircut is characterized by the uneven hair and overgrown textures of the earlier haircut.
Long Layered Asymmetric Pixie Haircuts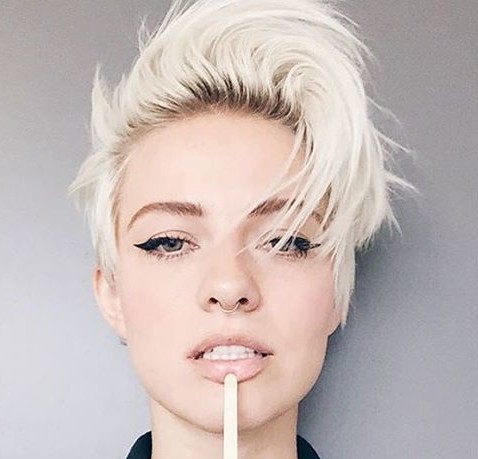 The long layered pixie haircut is next level of the layered haircut. The hair in the front is longer than the normal layered pixie haircut.
Asymmetric Pixie Cuts with Blunt Bangs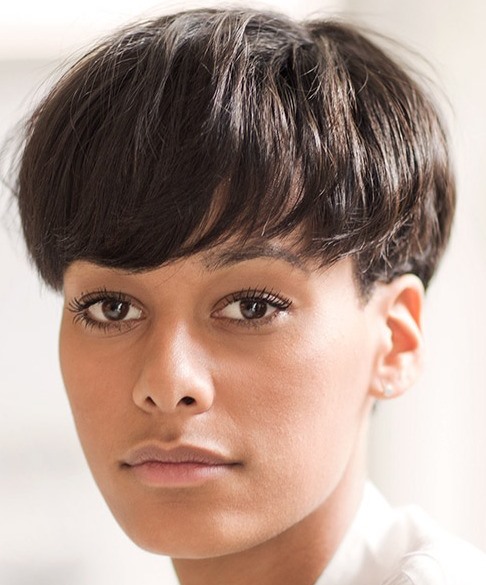 If you want to go short and smart then you can have a pixie haircut with blunt bangs, the bangs at the front look great with the asymmetrical haircut. Though it looks like boy's haircut but it has feminine essence intact that makes this asymmetrical pixie cut different.
Pixie Bob Asymmetric Pixie Cuts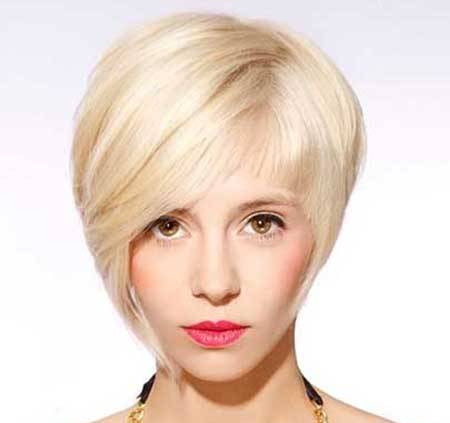 Pixie-bob hairstyle is a mix of two hairstyles where the back remains identical to short bob haircut but the front remains asymmetric.