Bob haircut, specially angled bob haircut has gained a huge popularity. This haircut is liked by the girls of all ages. Whether it is school girl, teenage girl or old women they just ask for this haircut. And why shouldn't they ask when this haircut offers so many variations. So for the girls who are looking for different variations of angled bob haircut, we have come up with spectacular angled bob haircuts that need to be tried now.
List of Angled Bob Haircuts:
1.) Basic Angled Bob with Side Bangs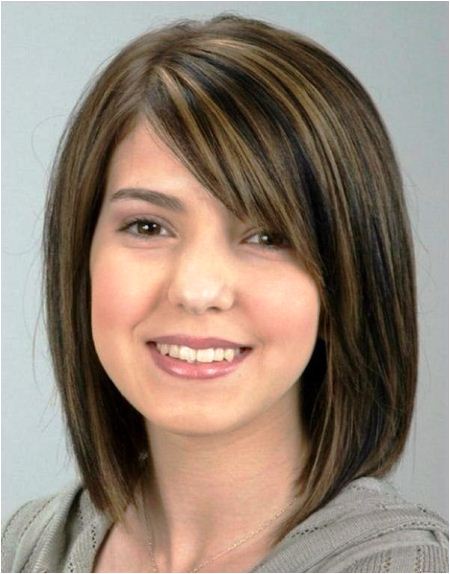 This haircut has been ruling from long ago. It will give you simple and sober look. The side bangs will just accentuate your looks.
2.) Auburn Red Bob with Bangs and Lowlights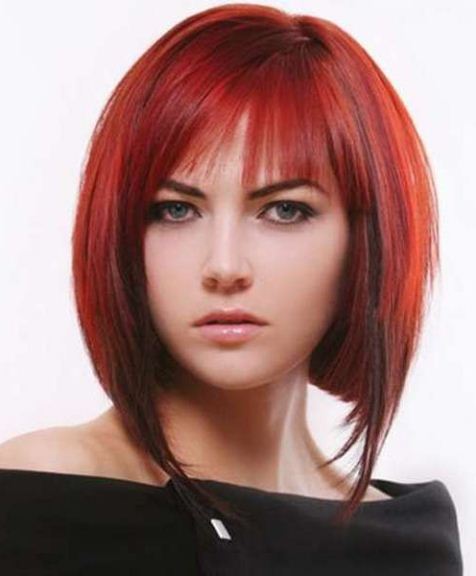 If you are bored with your regular bob cut then you can color them red. Or you can just dye your side swept and black low light. This haircut will make you stand out of the crowd and you will surely love your new look.
3.) Steep Angled Bob Haircut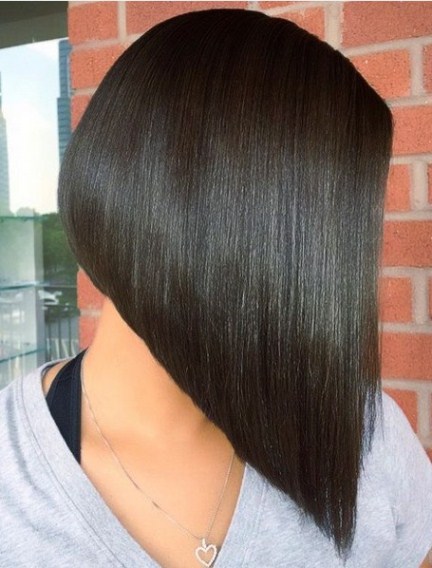 Are you looking for a crazy haircut? Then this haircut is definitely for you. This steep angled bob will give you cute-girly looks.
4.) High-Low Angled Bob with Highlights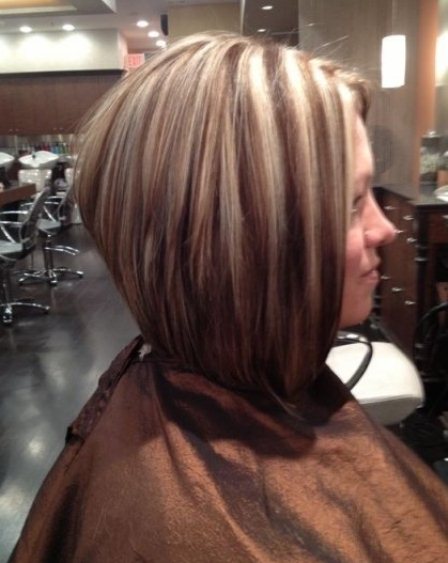 Next in our list of classy angled bob haircuts is this sizzling haircut. The high-low angled bob with highlights will give you an amazing look. The high-low highlights are in trend and have been don by many stars as well.
5.) Blue and Silver Angled Bob Haircuts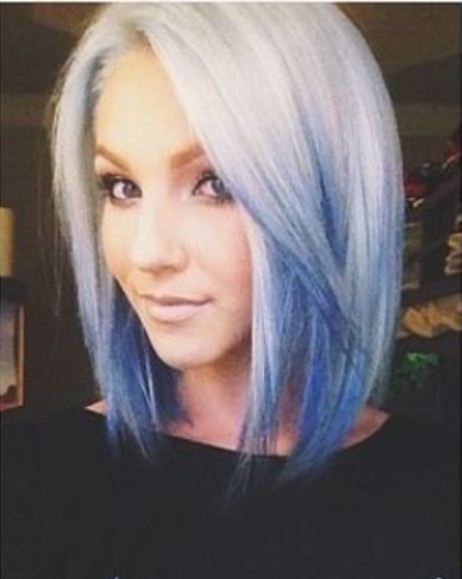 Blue and silver color will give your angled bob haircut beautiful and intense look. The dark roots and silver hair will give you a quick makeover.
6.) Asymmetrical Angled Bob Haircut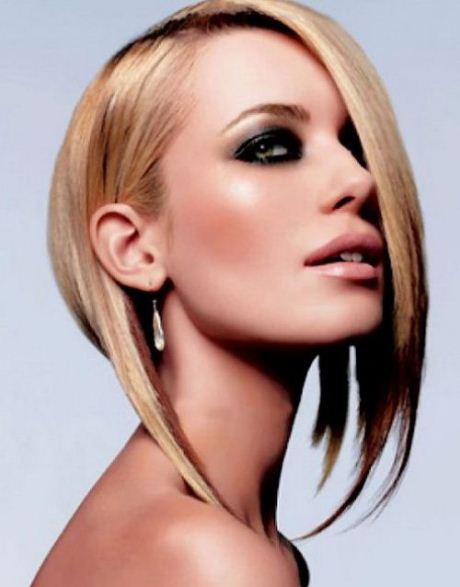 For an edgy look, this haircut is perfectly fine. It will make you look stunning and gorgeous.
7.) Red Angled Bob
Red is a color of power and strength. This haircut will give you a charming look that will steal many eyeballs. The best thing is, this hairstyle calls for minimum styling. If you have wavy or natural curls then just wash them, finger comb and you are ready to go. Isn't it one of the simple and sober angled bob haircuts!
8.) Feathery Side Bangs with Angled Bob Haircut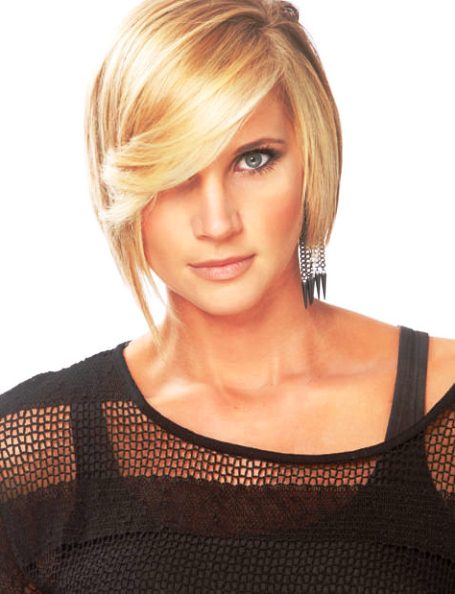 If you love bangs and fringes then feathery side bangs are definitely for you. It will give you a bold and sassy look that you can carry anywhere.
9.) Sleek Angled Bob Haircuts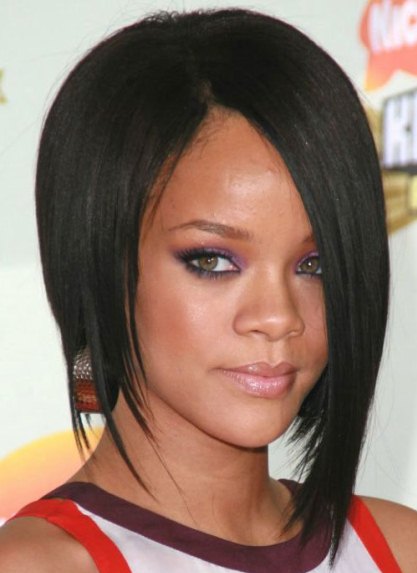 If you want a stylish look yet want to keep it minimum then go for this haircut. This sleek angled bob cut looks so charming and dapper. To make it interesting you can color your tresses.
10.) One Side Parted and One Side Shaved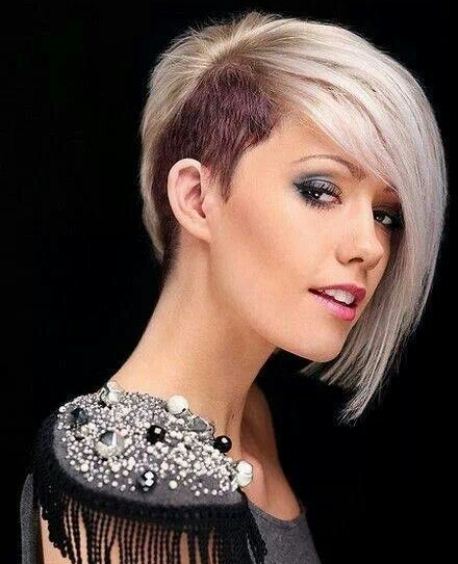 This haircut is apt for all those girls who love to experiment with their tresses. This haircut with sided partition and another side shaved will give an exquisite look that is just enough to set the trend.
11.) Subtle Purple Angled Bob Haircuts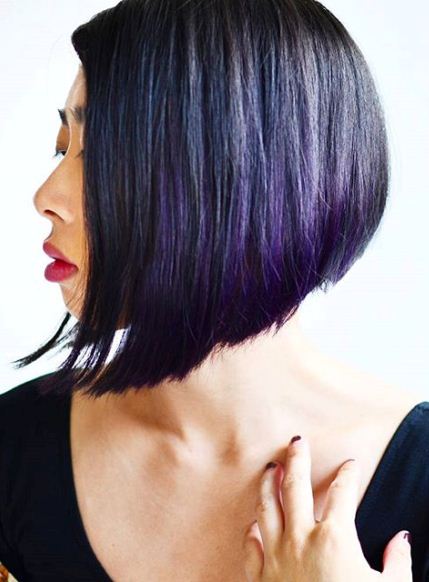 This haircut with subtle purple color is perfect for all the occasions and places. You can carry this hairstyle even at your school and workplace also. It looks so elegant that your boss your teacher will not resist himself to compliment you.
12.) Angled Bob with Colored Streaks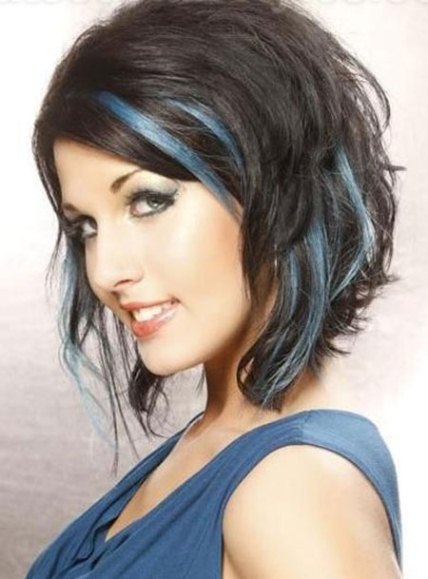 If you find your regular bob haircut boring then get random hair colored. It will give you a two-tone hairstyle that is currently in the trend.
13.) Fun and Flirt Angled Bob Haircuts
This hairstyle is one of the best-angled bob haircuts 2016. This will give you casual look with a tinge of flirty and fun flair. For a perfect look soften the curls.
14.) Angled Lob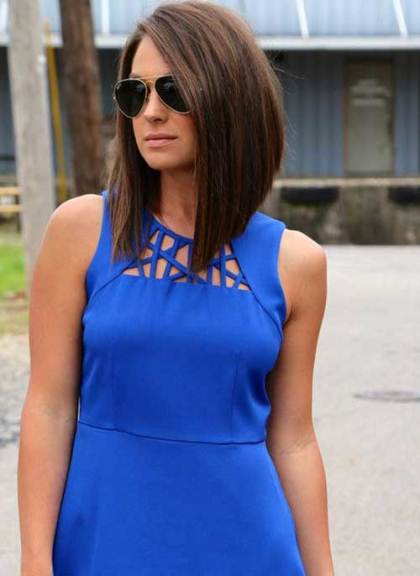 If you do not want to chop your traces much then go for angled lob that means long bob. This will give you a nice and elegant looks.
15.) Face Framing Angled Bob Haircuts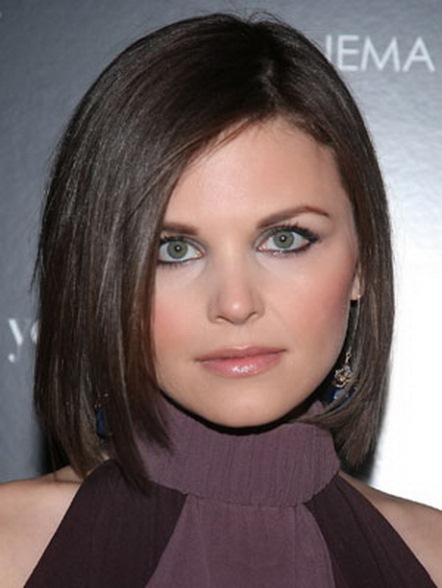 If you want bob haircut but do not want to compromise on much with hair length then this haircut is ideal for you. This face-framing haircut with shoulder sweeping look with slightly angled touch will give you a classy look.
16.) Ombre Angled Bob
The different hues of ombre that are light and dark will give you a younger and fresh look. Plus it will be a change from regular colored hair for you.
17.) Angled Bob with Curls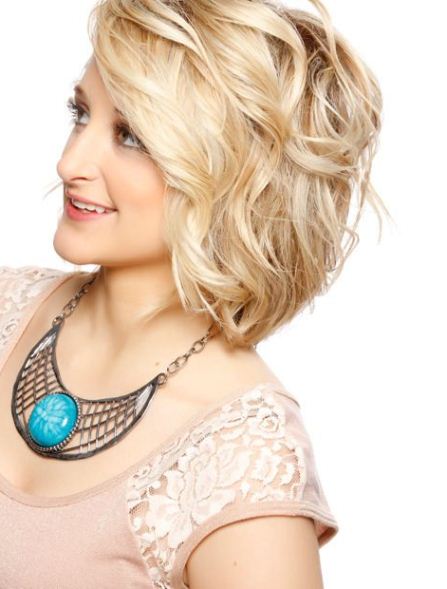 People often thing that bob haircut cannot be style, but this hairstyle breaks all such myths. For a party or special occasion slightly curl them and see the difference. This is one of the stylish angled bob haircuts.
18.) Angled Mob Haircut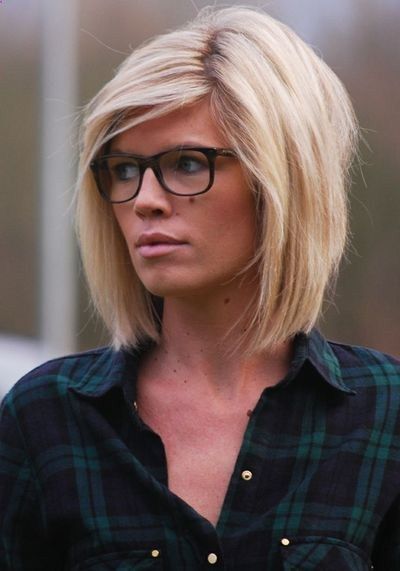 This haircut is perfect for the girls who do not like too long and too short hair. The medium bob doesn't need any justification the name itself speaks the volume.
19.) Angled Medium Bob
If you do not want to chop your traces too short then go for this hairstyle. To make this look interesting you can have blunt bangs. Or if you do not prefer bangs then side bangs are just enough. It will frame your face and won't cover the forehead.
20.) Highlighted Blonde Angled Bob Haircut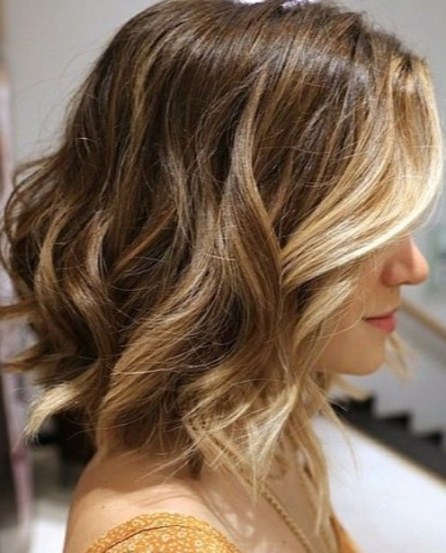 If you love highlights then nothing can be better than blonde. It will give you a quirky look. To make it look different you can curl your straight hair. This haircut calls for no fuss. Just wash your hair blow dry if you want and you are ready to go.