Have you got a new hot short haircut and don't know how to style it? Well, don't worry in this article, we will guide you about 20 different hair updos for short hair. Get inspire by your favorite celebrities like Julianne Hough, Scarlett Johansson, Rihanna, Amber Heard, Emma Watson, Carey Mulligan, and much more. Choose from different stunning and gorgeous braided updos, glamorous headbands and mini chignons. So try your favorite hairstyle given in this article.
Top 20 Stunning Hair Updos for Short Hair
1.) Half-up Hairdo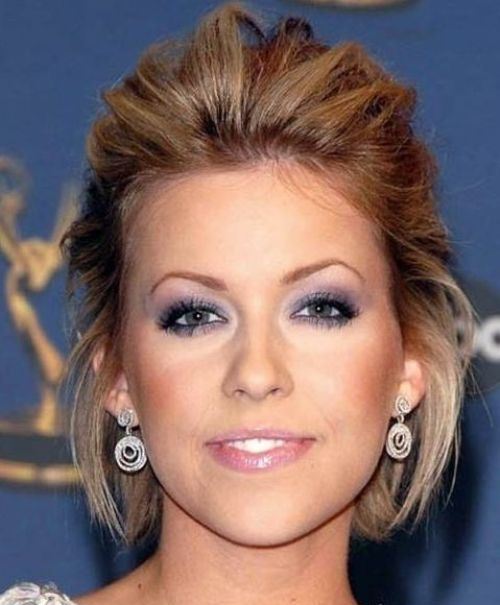 Here actress Farah Fath looks striking with her simple-yet-chic half-up hairdo. This short updo is flawless for fine and thin hair, as it gives her locks more volume and definition. To recreate this look just gather all your hair up in a mini bouffant pinning it at the back and rest leaving loose for a romantic look.
2.) Tousled with Floral Headband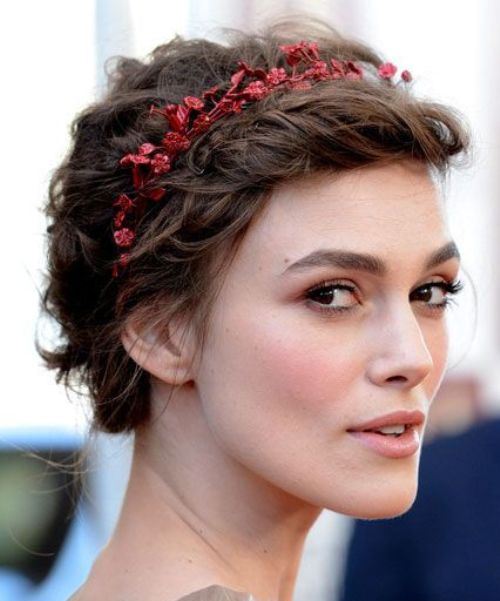 This is one of the great hair updos for short hair. The actress Keira Knightley looks spectacular with her tangled up'do and a subtle floral headband with brown locks. Try this simple yet so stunning updo that defines your face features well.
3.) Twisted and Rolled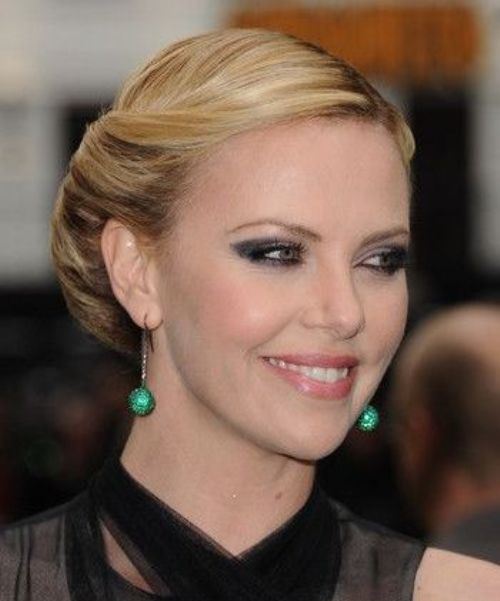 The bond end side parting hairs updo looks simple and iconic for short hair. Check out South African-born actress Charlize Theron looks stylish with her smoothed rolled and twisted hair updo.
4.) Two-Tone Swirl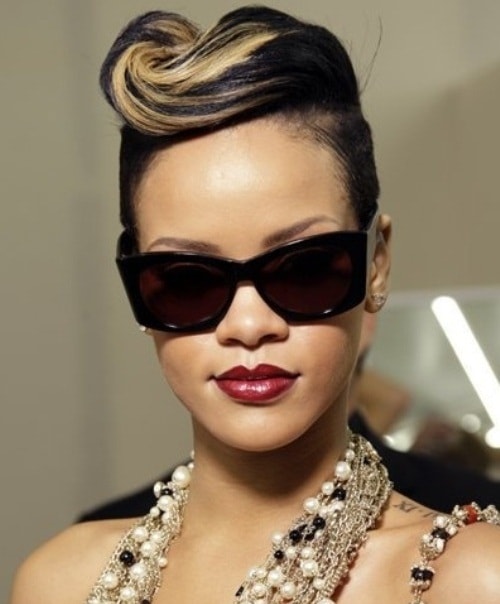 Try this popular hair updo for short hair. Check out the singing sensation looking hot with her two-tone hair twisted up. Just pin your curls up by pumping the top section.
5.) Pixie Cut with Headband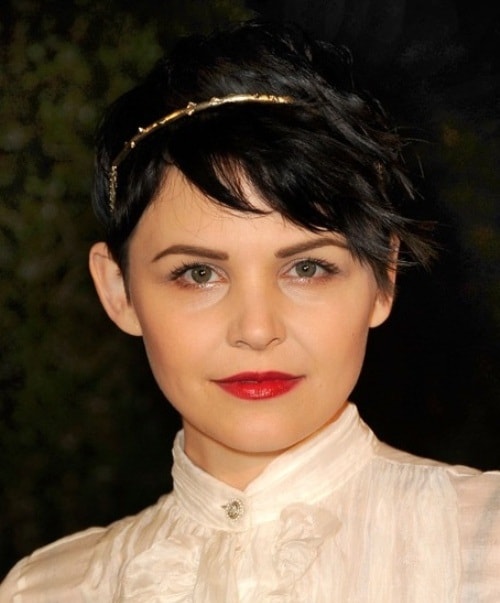 Ginnifer Goodwin always stuns everyone with her gorgeous hairstyles. This time, her delicate gold headband with a chic pixie cut is a great option to add more glamor to her looks. You can also try this easy and simple hair updos at home.
6.) Quirky Knots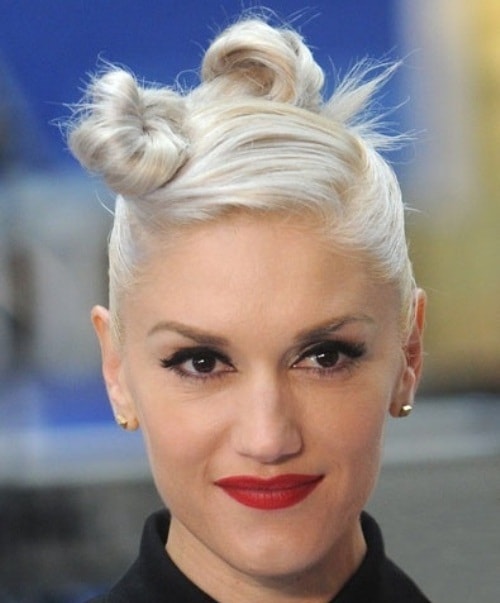 For this trendiest look check out the famous Gwen Stefani with her quirky knotted bun. She looks glamorous as well as funky at the same time. The side deep parting gives a polished asymmetrical look of a modern age. Try this funky hairstyle for a party.
7.) Cute Curled Side Fringe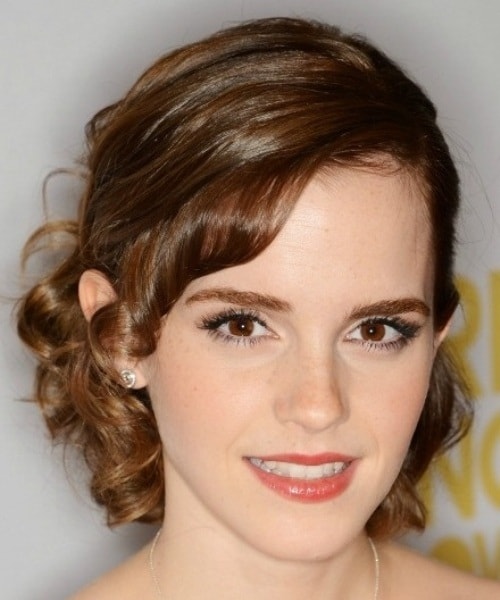 Emma Watson has a cute personality. She even looks gorgeous with her short and chest brown locks tied in updo. Get some inspiration from your favorite celebrity like Emma Watson for a sweet and cute look.
8.) Soft Wave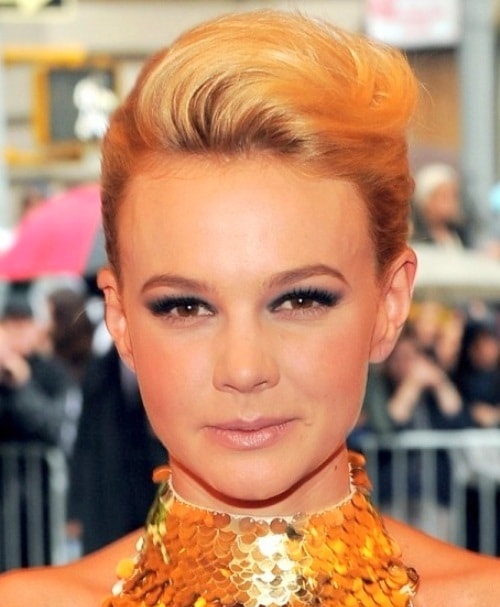 Check out the actress Carey Mulligan looks phenomenal with her short hair done up in a soft wave. She flaunts it with a little quiff on top. To achieve this look just apply some hairspray and blow dry your hair with a small brush for a round shape and you are ready to rock this hairstyle for short hair.
9.) Romantic Loose Curls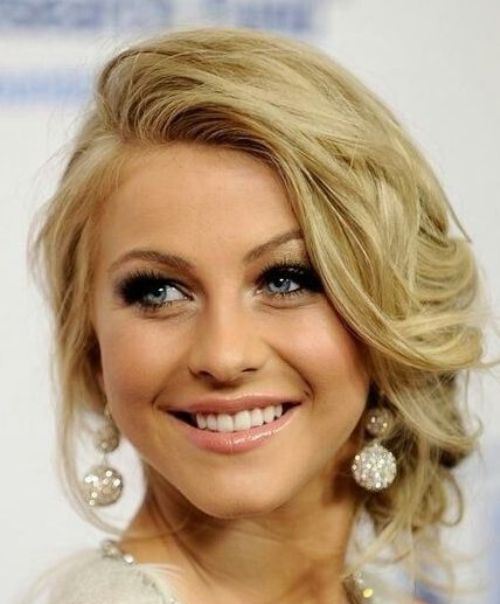 Check out your favorite celebrity Julianne Hough with her gorgeous side swept fringe and the soft curls that compliment her face frame. It is simply divine to watch her. Try this look for a romantic and whimsical look.
10.) Fauxhawk with Pink Streaks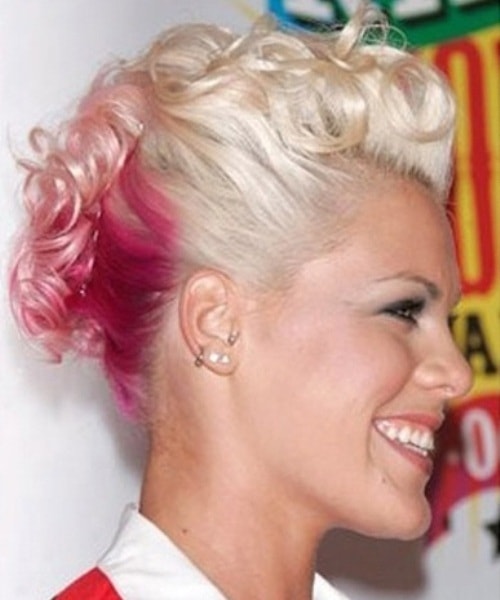 For playful and confident look try this one of the best magnetizing hair updos for short hair. Singer Pink looks amazing with her hot pink nape section. This look is perfect for an easy to go woman. Try this look to look bright and confident.
11.) Mini Bun and Pretty Headband
Try this one of the stunning hair updos for short hair for a sparkly look. The Gorgeous actress Natalie looks sexy and hot with the wispy texture of her hair. Complete this look with smoky eye makeup and shimmery nude lips.
12.) Curled Chignon and Sparkly Headband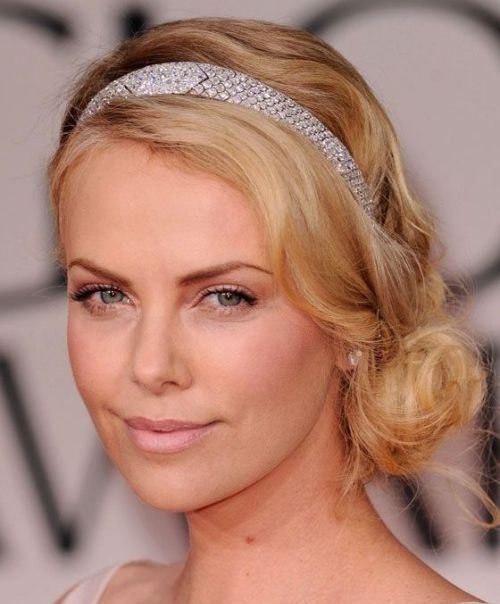 Check out this movie star, Charlize Theron. She looks great with her short golden tresses with her sparkling headband. If you are looking for a party stuff, curled chignon is the best option and easy to style.
13.) Spiked Pixie Cut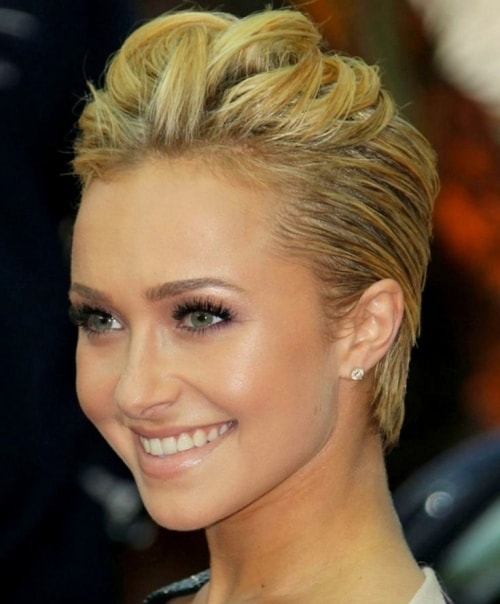 Nashville actress Hayden Panettiere looks outstanding with her spiked blonde pixie cut. This is one of the best hair updos for short hair. This gives your hair a sexy volume and adds more texture to your hair.
14.) Up-and-Over Sweep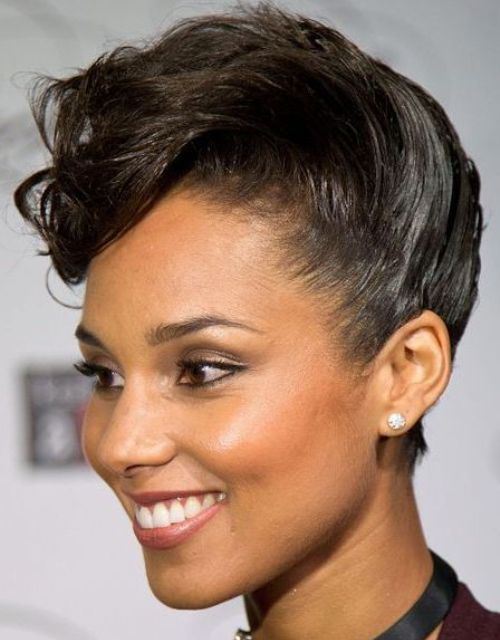 Alicia Keys looks stunning with her short and dashing hair updo. Just try the upside down wave with wet look gel to keep hair in place.
15.) Side-Swept Fringe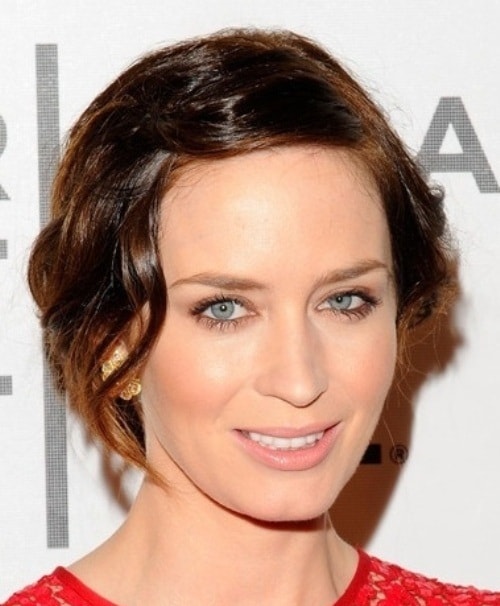 Try this short hair updo for a classy and sophisticated look. Actress Olivia Blunt pulled off this look with her sleek and shiny short up'do. You can also try this hair updo for a special date or an event.
16.) Playful Pixie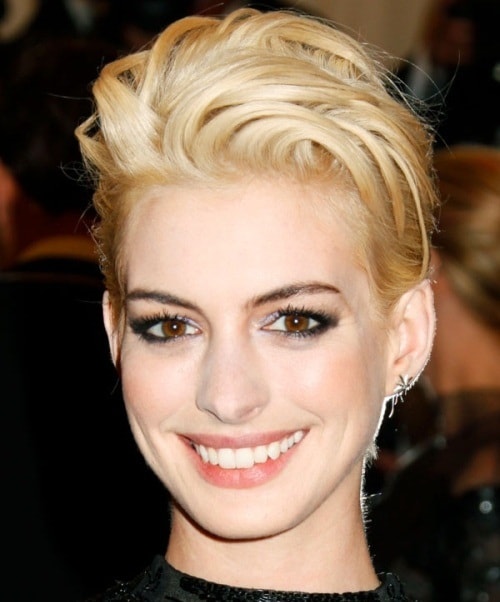 Playful Pixie looks gorgeous and playful with short hair. Check out Anne Hathaway, she looks iconic with her golden dress and dynamic pinned waves at the top of her head. You can also try this look by spraying some hairspray by keeping the top bun tight.
17.) Sexy Quiff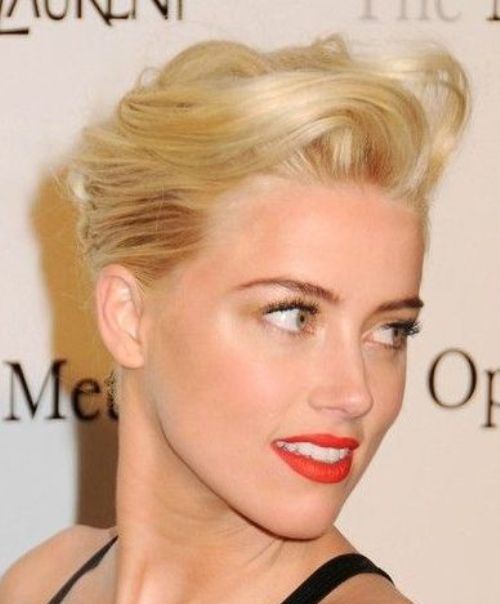 This is one of the cool and stylish looking hair updos for short hair. American actress and model Amber Heard looks carefree and confident with her platinum blonde locks in a quirky quiff hairdo. You can also achieve this look by twisting at the crown and use a hairspray for a perky look.
18.) Rose Gold Twists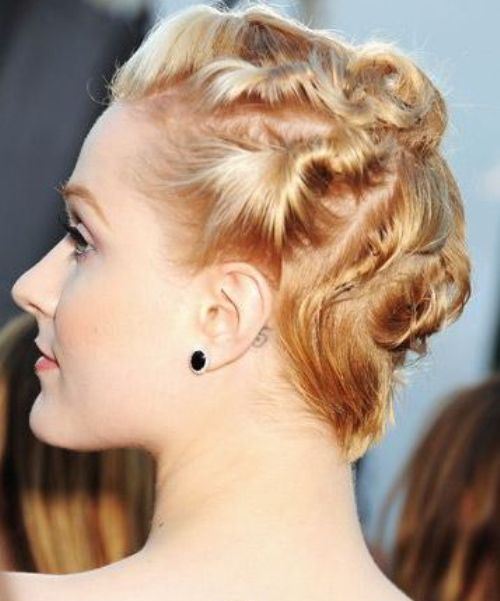 This is one of the amazing hair updos for short hair to do at home. Check out actress Evan Rachel Wood, she looks charming with rose-gold twists in her short hair. It is easy to create this look by taking some sections and pinning it above.
19.) Puffy Bouffant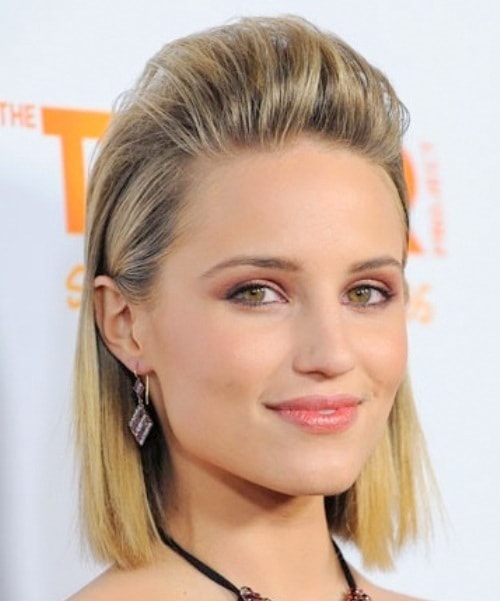 Try this one of the trendiest hair updos for short hair. The puffy, blunt bob and voluminous bouffant are perfect for straight and fine hair. It is super easy to recreate this look. To make it more defined mist some hairspray over the updo.
20.) Curled and Slicked Back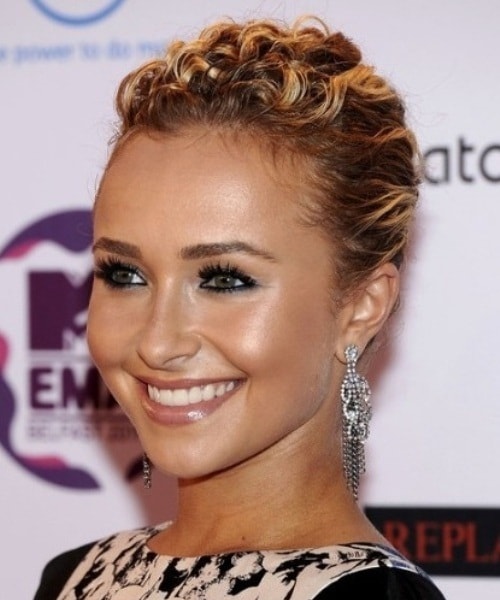 Actress Hayden Panettiere rocks with this stunning hair updos for short hair. This is one of the great updos for wavy, straight and curly hair. Apply some gel for wet look for a neat and clean look. Pair this look with dewy skin, shimmery nude lips, and smoky eye makeup.