Every woman gets excited for this big day. To help you out we have listed the best 20 gorgeous black wedding hairstyles. Planning all of your weddings is such a fun task full of excitement and lots of crucial decisions. After you have finalized all your invitations, dress, venue, color scheme etc. The hairstyle is also one of the important and a difficult task to achieve. You need not worry about it because we made it simple for you to decide your best matching hairstyles to your dress and in which you are comfortable.
20 Gorgeous Black Wedding Hairstyles
1.) Circle of Love Black Wedding Hairstyles
It is always important to stand out, your hairstyle at the time of your wedding. Sometimes it's hard to find any subtle designs for dark and black hair. So if you are one of them, then try giving them some texture for exquisite details.
2.) Frills and Thrills Black Wedding Hairstyles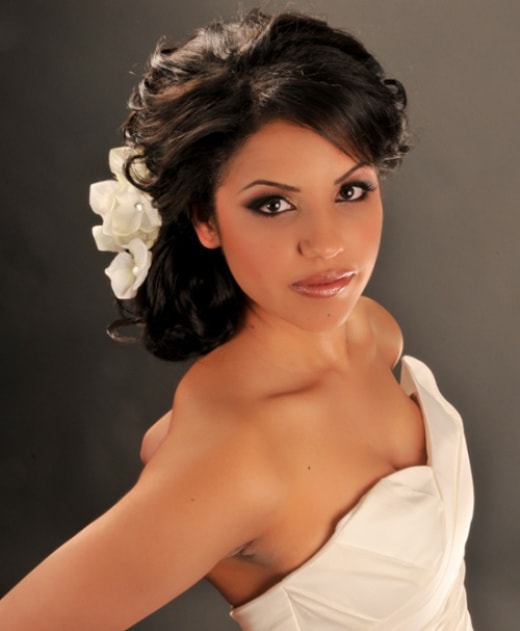 This black wedding hairstyle is iconic yet so classy. It is a perfect hairstyle for long and beautiful hair. You just need to double roll your hair from back with pearl pins and frilly headband.
3.) Waterfall with Bangs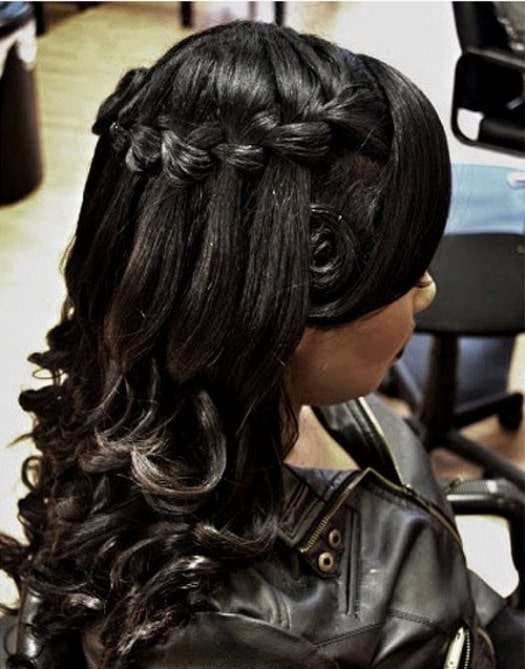 This hairstyle adds a lot of texture to your dark and black hair. The water falls looks elegant while bangs will easily frame your face. If you try adding something, avoid doing at the bottom ends.
4.) Buttery Curls Black Wedding Hairstyles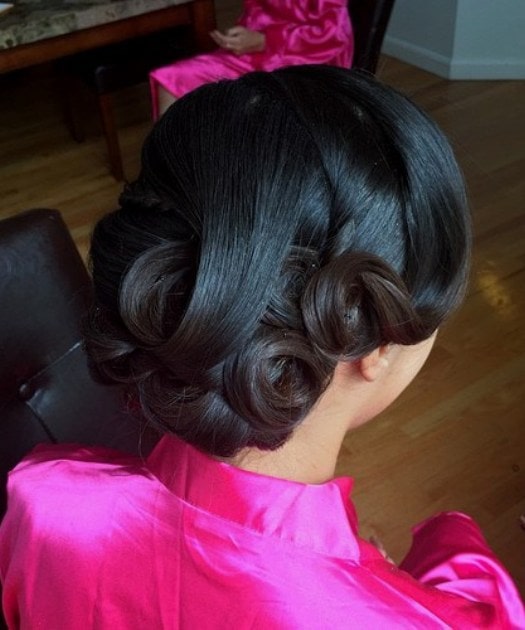 This hairstyle is incredibly romantic on the occasion of wedding. To get this look you need to curl your hair and just pin it giving a wave.
5.) Twisted and Regal Black Wedding Hairstyles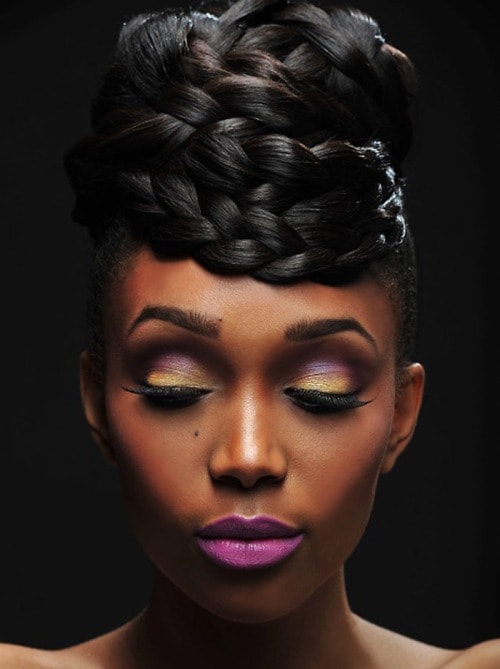 This is another mesmerizing look for black wedding hairstyles. Just make sure you add some volume to the texture other it  may look flat from the front.
6.) Braided Black Wedding Hairstyles
Sometimes it is difficult to find an Updo that looks elegant but should be formal looking. For short hair, it is easier to braid this style own your own. You can also add some hair accessories for more stunning looks.
7.) Grecian Looks Black Wedding Hairstyles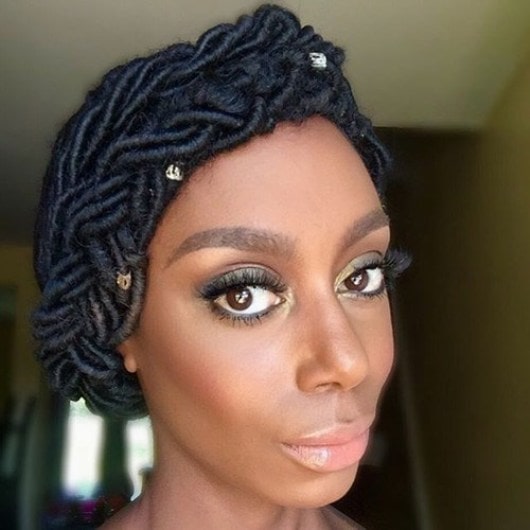 Grecian hairstyle is fabulous and elegant wedding hair style for black women. Try giving it a new look using few hair accessories for a magnetizing look.
8.) Bold and Braided Black Wedding Hairstyles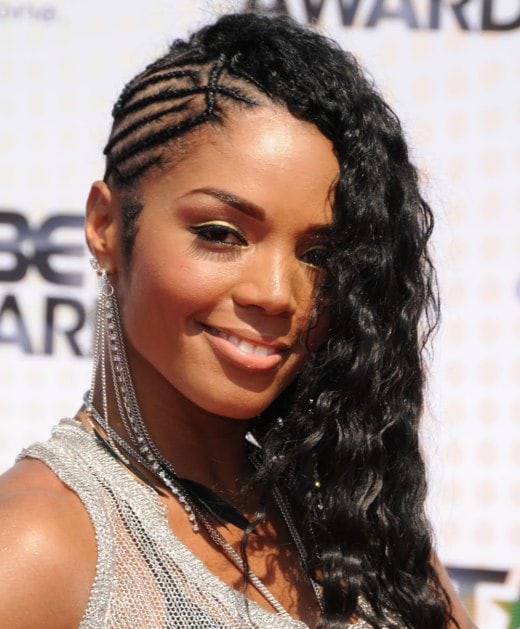 It is not necessary that every hair style for black women should be elegant and sleek. It just needs a lively personality to carry any type of hairstyle for the big day. Just keep some attitude with this casual side band and braided back.
9.) Floating Flowers Black Wedding Hairstyles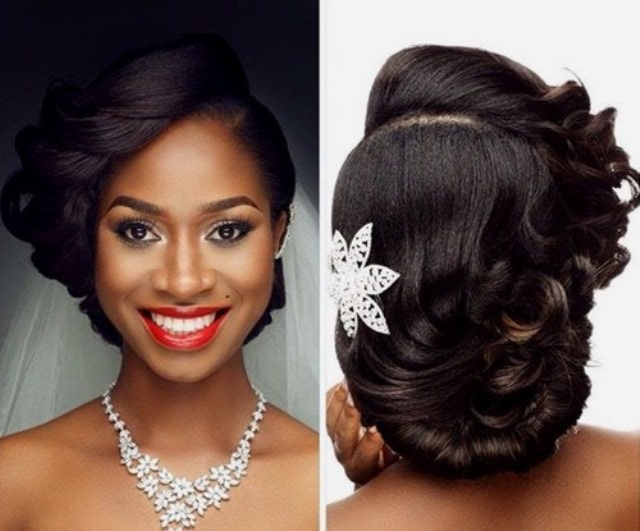 This is one of the stunning hairstyles for a black wedding. Create a shape by pinning the bottom curls and maintain some volume in front with a jeweled flower.
10.) Bouquet of Curls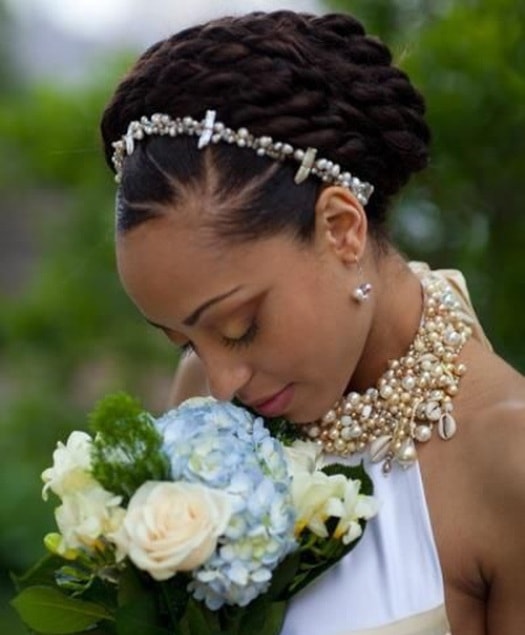 This unique bun is one of the best black wedding hairstyles. This hairstyle also adds some texture to the bun. You can also try some pearls and headband to compliment the look.
11.) Draped in Diamonds Black Wedding Hairstyles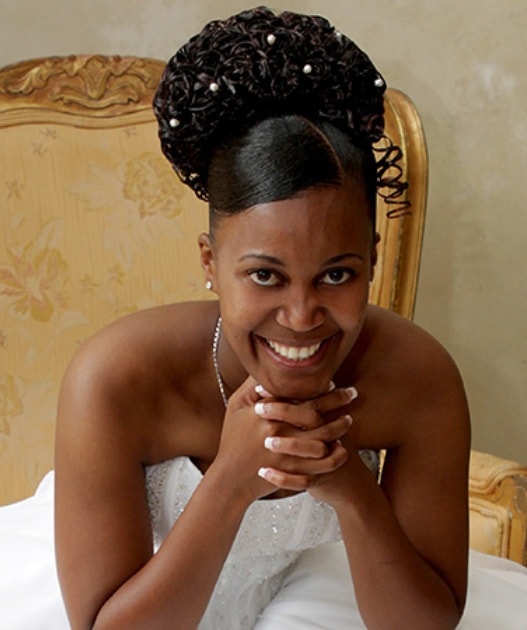 This stunning look with sparkles at every head turn, a big and bold bun gives you a dramatic look. This hairstyle is far from being hackneyed and boring.
12.) Box Braid Bun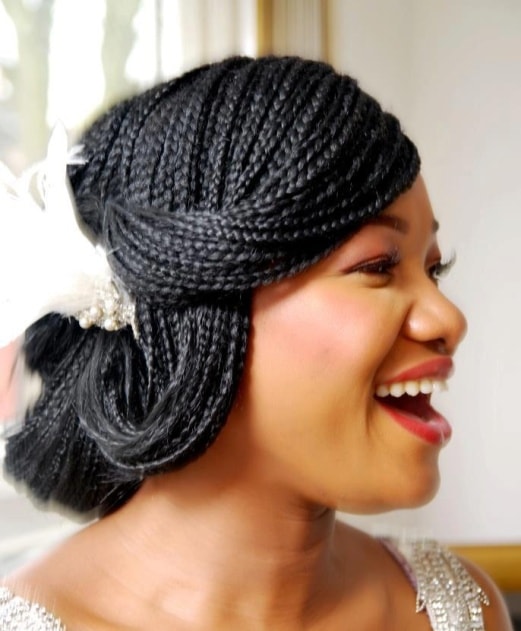 As box braiding is the protective style of summer, but it can be worn amazingly all year long. The thick and volume bun with the jeweled bun is a compliment for the Updo hairstyle.
 13.) White Vision Black Wedding Hairstyles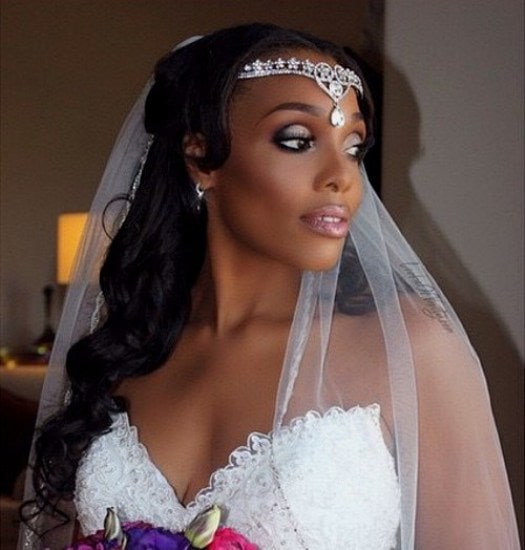 You need not have heavy hairstyles and accessories every time. Women with long hair can make half up and a half down hairdo for this big day. Accessories come into play as a headpiece for looking like a bohemian princess.
14.) Flawless Finger Waves Black Wedding Hairstyles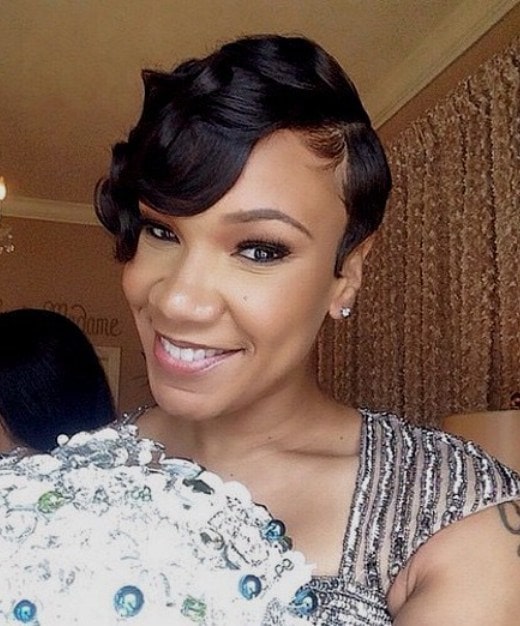 Those who don't want to wear any extensions and accessories, just curl them on side bangs for a vintage and iconic look. This hairstyle is a glamorous and wonderful for a retro vibe.
15.) Asymmetric Black Wedding Hairstyles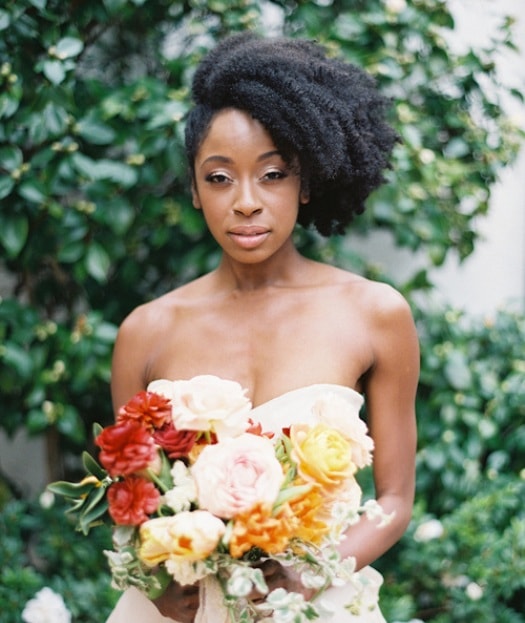 This is a great hairstyle for those who have short hair. It boosts the shape of your face, neck and make a beautiful shoulder line.
16.) Dread Black Wedding Hairstyles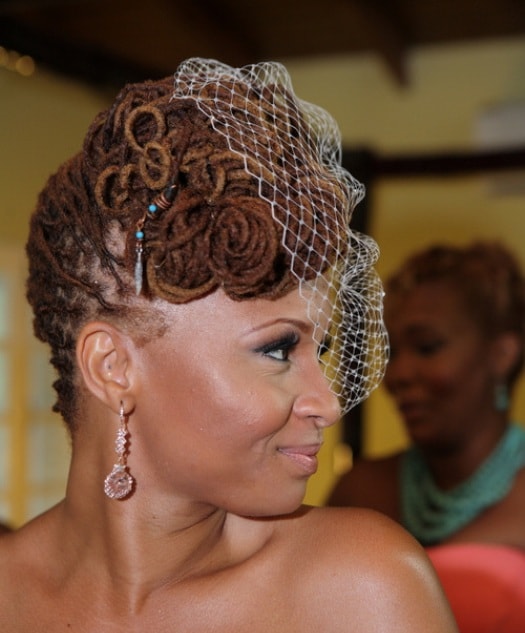 If you have skinny dreads then that are best for sophisticated wedding Updos. You can twist them, curl them, drape or roll as per your wish for a fantastic texture and refined hairstyle.
17.) Simple and Elegant Black Wedding Hairstyles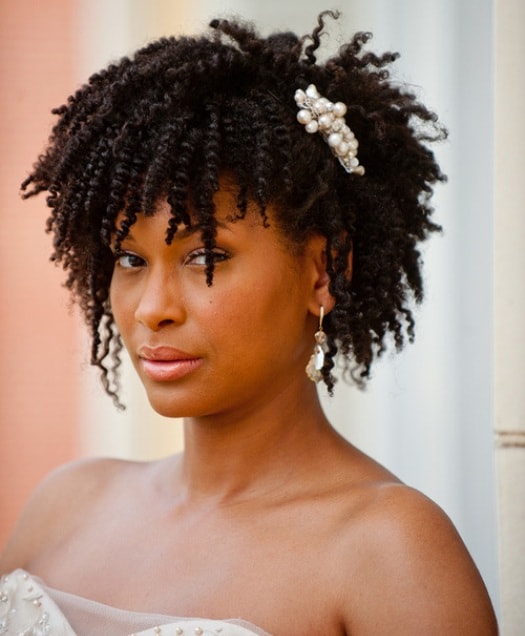 This is one of the coolest and easiest wedding hairstyles for black women. Just pin your natural hair that falls down to create a distinct pattern with a pearl or hair flower.
18.) Vintage Pinup Black Wedding Hairstyles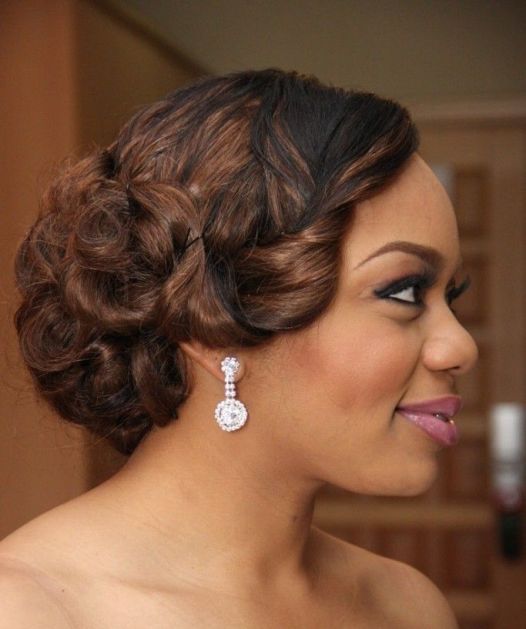 Giving a vintage twist to your hairstyle will hook up your look. The romantic and effortlessly can easily be tried with a gilded barrette.
19.) Low Updo with Flower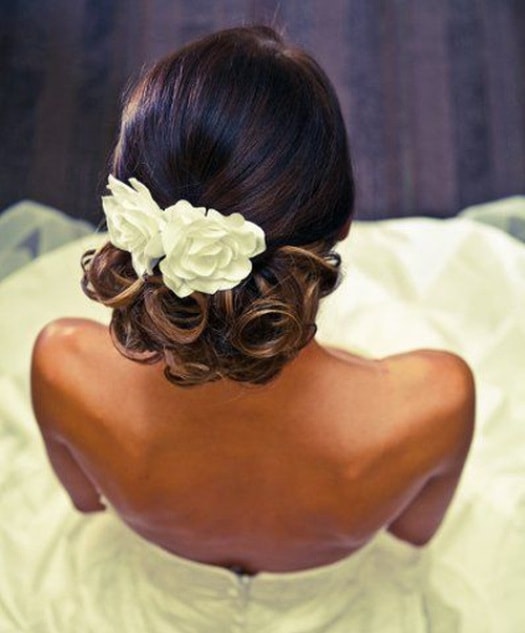 This is the latest trends in black wedding hairstyles. The lower bun is looking more beautiful with creamy white flowers that create miraculous effect.
20.) Pretty Princess Roll Black Wedding Hairstyles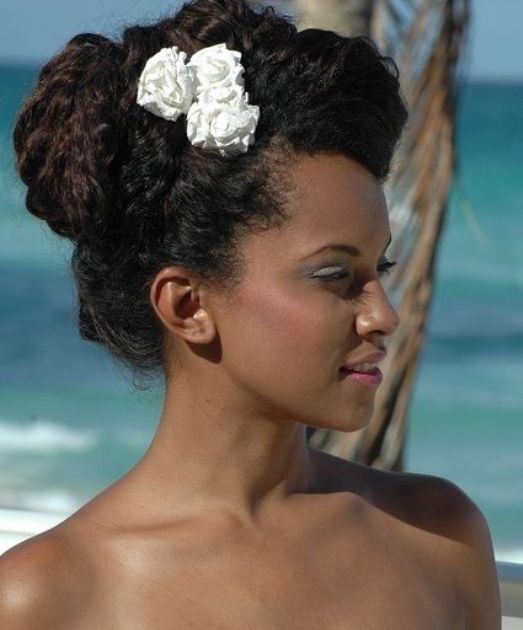 It is your day and you should feel like a fairytale, so why not to opt for the princess look hairstyle. The hairstyle itself is minimal and polished with few bedazzled combs.