Hair color is not restricted to blonde only. In fact, there are many vibrant colors that you can try your hands on. Among them, pastel blue is most loved hair color. It enfolds soft to dark shades that give a feminine touch and does not look loud. Plus you can customize the pastel blue color with ombre highlights and two- two tone hairstyles. Read more, to know breathtaking pastel blue hairstyles.
List of Breathtaking Pastel Blue Hairstyles:
1.) Purple Blue with Bangs and Highlights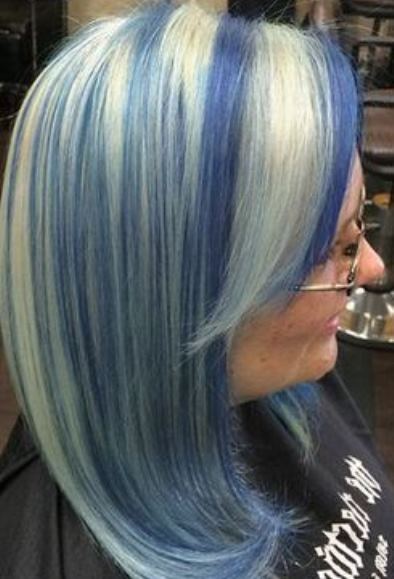 Sometimes less is more. This simple hairstyle speaks volume. Pastel blue color and white highlights together look amazing. Side bangs will work well with this hairstyle. This is definitely one of the breathtaking pastel blue hairstyles.
2.) Twisted Updo with Blue and Purple Highlights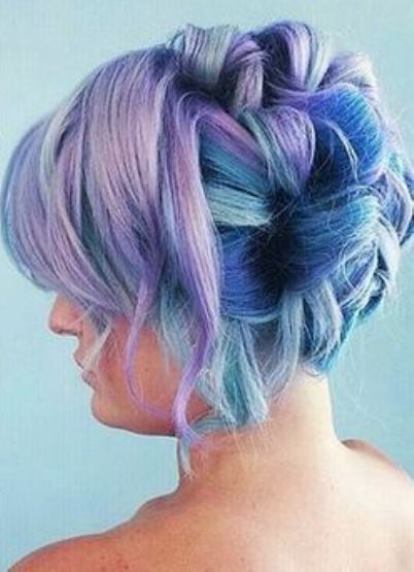 The combination of blue and purple is classic. It gives you two-tone look that is in the fashion these days. A stylish updo will take the entire look forward. This hairstyle is worth trying.
3.) Blue Brown Ombre Curls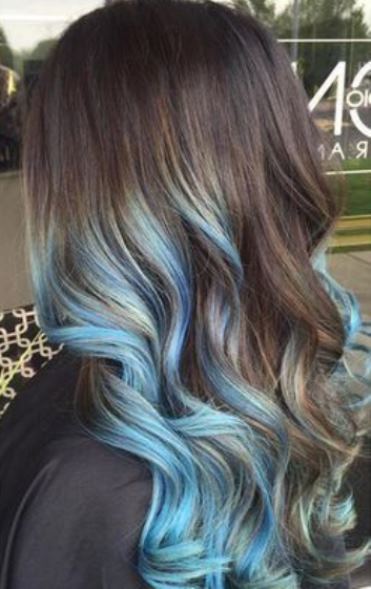 This is one of the modern pastel blue hairstyles. You might get hesitant first for this hairstyle but will not regret your decision. The combination of the brown ombre and pastel blue looks classy. The natural curls will make the look interesting.
4.) Flowing Blue Waves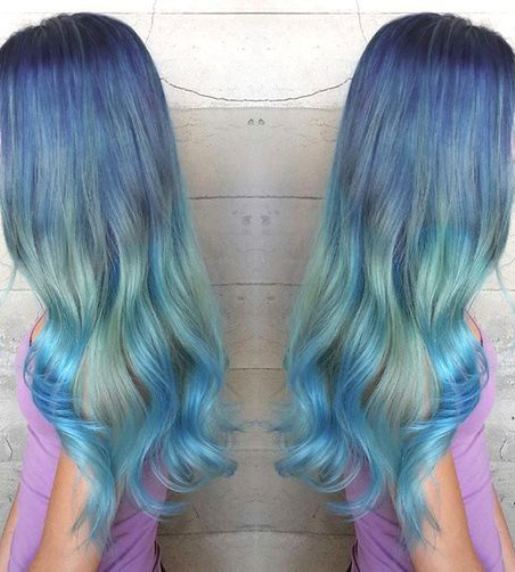 This hairstyle unfolds different hues of the blue, beginning with the darker tone and ending with lighter. The long flowing colored hair looks like waves in the river. This is one of the elegant pastel blue hairstyles to try this season.
5.) Blue Royal Highlights Dark Hair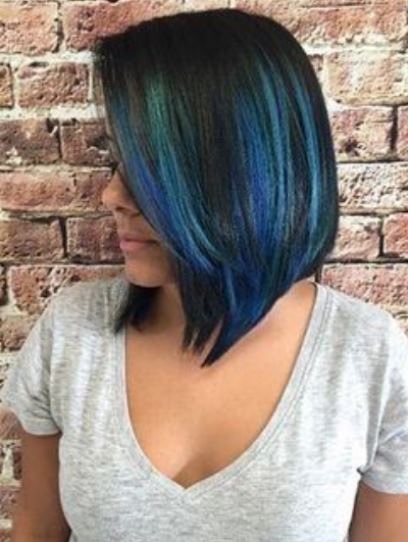 If you want to add some life to your dark locks then you can go for this hairstyle. The royal blue highlights on the dark hair look amazing. This hairstyle will stand out on the short haircut like bob.
6.) Cotton Candy Blue Curls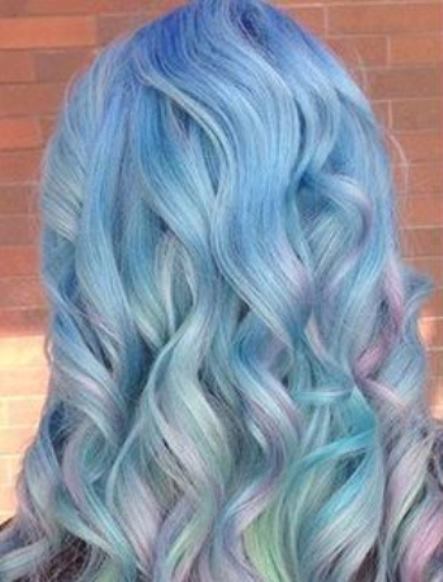 A cotton candy is reminiscent of childhood but it is a bold inspiration of adult hair color as demonstrated in the image above. The chunky romantic curls make this look interesting. This is definitely one of the must try pastel blue hairstyles.
7.) Lavender and Turquoise Waves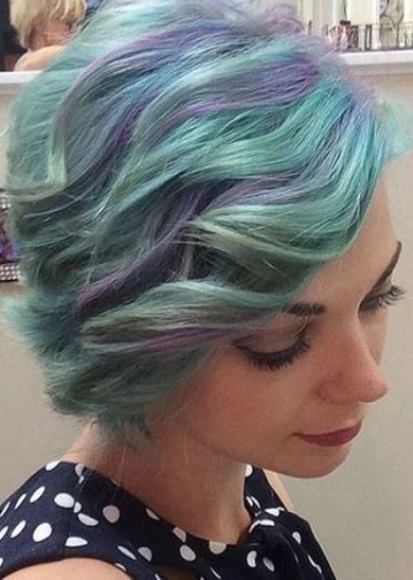 The combination of lavender and turquoise is scintillating. It gives a chic sophisticated look. The turquoise blue with delicate purple waves and highlights is apt for college and gym goers.
8.) Long Blond Locks with Blue Highlights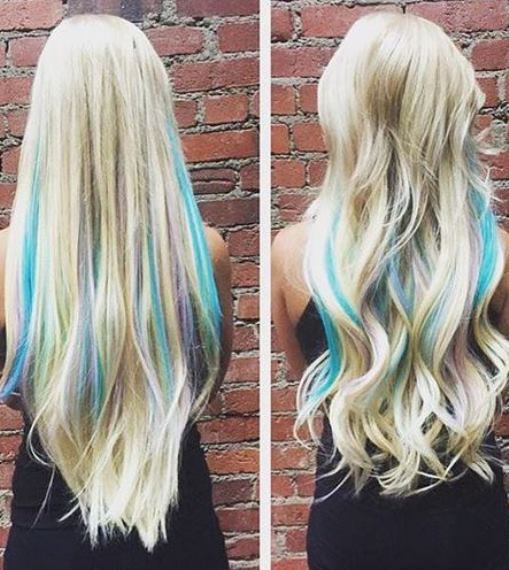 If you want to keep your look simple yet want a funky look then you should consider this hair look. The long locks with sky blue highlights look mind-blowing. This is definitely one of the fancy pastel blue hairstyles 2016.
9.) Pink and Blue with Messy waves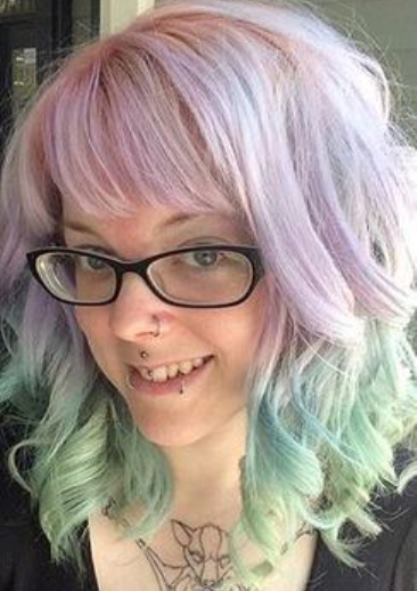 The tousle hairstyle is ruling the hair trend. It looks ravishing with two-tone hair. The combination of pink and blue speaks volume. To take this look a notch higher you can opt for blunt bangs that will beautifully frame your facial features.
10.) Shaggy Waves with Purple and Blue Ombre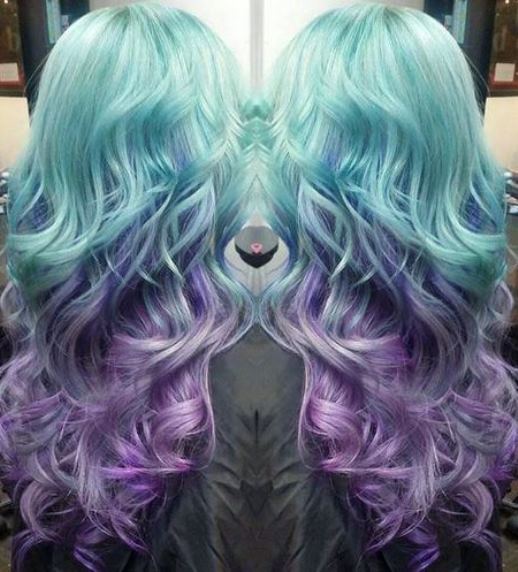 Ombre hair color is a nice choice since it can be achieved practically. The blue and purple color look nice.
11.) Rainbow Ombre Waves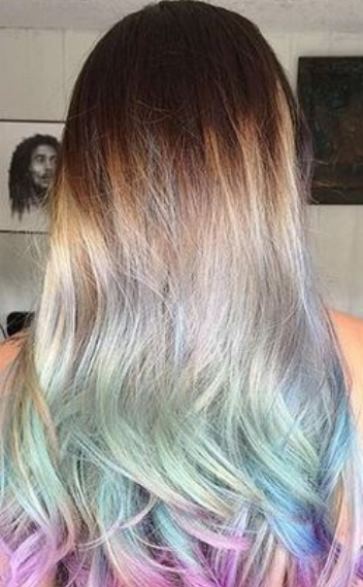 If you want to experiment with different vibrant hair colors that too in a single hairstyle then you can give a thought to this hairstyle. It has all the variations of pastel colors that one can think of.
12.) Turquoise Blue Bob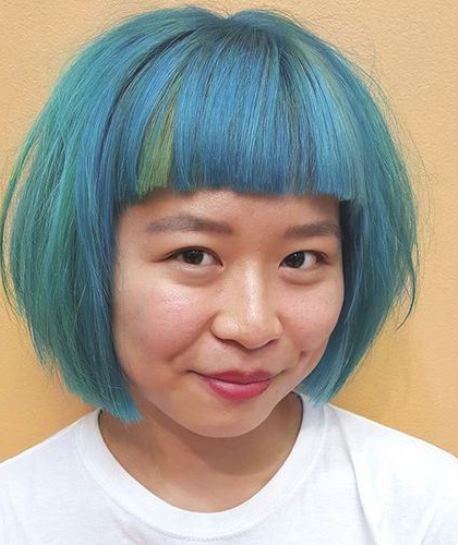 Bob haircuts will never let you down. There are always in fashion. To add a hint glamor to your bob haircut you can consider turquoise blue color with blunt bangs. This quirky hairstyle will definitely earn you loads of compliments.
13.) Ice Blue Soft, Flowing Waves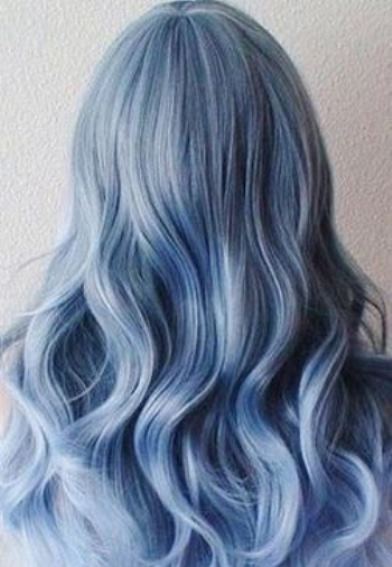 This is a perfect hairstyle for next generation female superhero. The pretty pastel blue shade makes this hairstyle worthy. The flowing waves will give a softer look. This hairstyle definitely needs a shot.
14.) Pastel Blue Soft Waves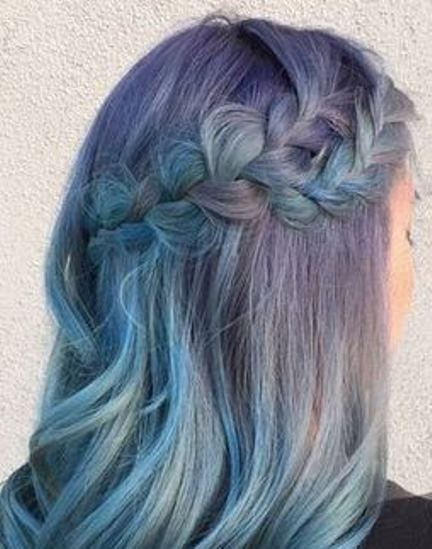 This is a nice example of the romantic hairstyle that you can adorn with a side braid. The luscious soft curls give a nice vibe.
15.) Sky Blue Curls with White Highlights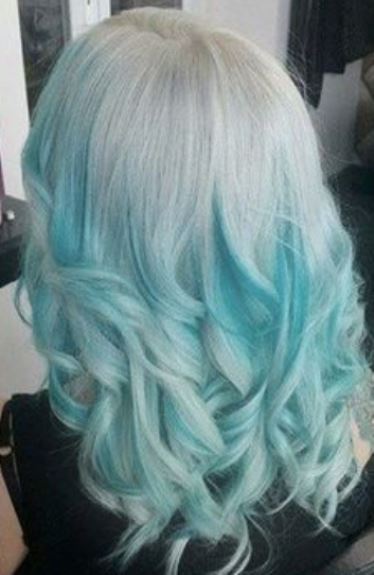 Blue offers plenty of variations and this lovely sky blue color is the best example of it. The highlights give a flattering look.